The new year has now arrived, and if you're looking to enter 2021 looking best as ever, you've come to the right place.
From styling your hair the right way with CHI Hair Care to adorning yourself with a special Karo Koru necklace, to decorating your hands with curated Rachel G resin rings, these must-have pieces are just what you need this new year.
________________________________________
No Bad Hair Days With CHI Hair Care
Sometimes, even just a bad hair day can ruin, well, the entire day. It's time to kiss that good-bye in 2021, because CHI Hair Care can and will take care of that! You can trust CHI Hair Care for the perfect results, all while protecting your hair and keeping it safe.
CHI is no stranger to the game of keeping your hair on point and in style; you may have recently seen on TikTok how CHI Hair Care's Spin N Curls (you can curl your hair without that painful and tiring maneuvering of the hands; Spin N Curls will do it for you.) went crazy viral with thousands of people showering their love for CHI. (See the video here with millions of views and likes.)
That's exciting, but what got us even more excited was to see the many more products CHI had to offer! Follow along and see how we're making 2021 the year we start with good hair…
View this post on Instagram
The CHI Lava Ceramic Straightening Iron
What might be the holy grail of all hair straighteners, this is the one for keeping your hair nice and slick without any frizz, burns, or dried hair. Seriously.
It's pretty much backed by high-tech: "volcanic lava combined with the power of CHI ceramic creates smooth, sleek results without the damaging effects of high-heat styling."
The power of CHI Ceramic infused with volcanic lava derived from lava rocks provides gentle consistent heat during styling. This combination allows styling at lower than normal temperature producing less damage to the hair while offering smooth, shiny results.

Volcanic lava powders offer extreme durability
Mineral helps strengthens the hair
Produces Ions infusing hair hydration and shine
I absolutely loved how the iron plate was lengthened, and much longer than any other iron you'll find. This was so helpful when I wanted to keep all parts of the strands heated from the top to the bottom.
This iron has the capability to heat up to 450 degrees; the temperature also has a lock feature where you won't have to constantly keep pressing buttons- or even worse, accidentally turn in on/off in the midst of action. You'll also love that this has an adjustable digital temperature display.
It is so lightweight; gone are the days when your arms are tired from holding up something so heavy. The CHI Lava Ceramic Straightening Iron is so light and not heavy at all.
This also is able to flip over so easily without tangling your hair! Additionally, the swivel cord ranges all the way to 11ft, so you don't have to stay glued to a spot anymore.
Also, did you know that you can curl your hair using a straightener? Talk about versatile! (and really well worth the price.)
Packaged in a perfect triangular prism that holds the iron securely, the CHI Lava Hairstyling Iron comes with protectant applications and liquids. What a bonus!
Speaking of protection, this will also shut off automatically in one hour in case one forgets to switch off. This wins an A+ on all aspects!
Get yours here on CHI's site.

The newest model is so much healthier for your hair- it'll thank you!
The Volumizer 4-In-1 Blowout Brush
Who doesn't like some volume to their hair? Flat hair is a no-no, and the Volumizer 4-in-1 Blowout Brush is here to help!
Plus, did you hear about how the 90s hair might be coming back? Either way, channel your inner royalty by styling your hair to maximum perfection. Because if anything can help achieve that, it's this one.
Per the YouTube video above,
use the nozzle attachment to power dry the hair

select your desired temperature low for short fine hair, high for medium long or thick hair

remove excess water until the hair is damp begin by sectioning your hair into small or large pieces according to your hair type for a volumized style use the oval brush attachment

begin styling until desired look is achieved

for added volume to your roots grab the diffuser attachment and begin styling or use the paddle brush attachment for a smooth and silky style

multiple styling options in one tool!
The above YouTube video was so helpful for me follow a quick and easy tutorial on how to use the blowout brush. There's plenty more on the channel to help you navigate through your CHI Hair Care journey!
The 4-in-1 Blowout Brush features "Ceramic Technology combined with Ion Technology provide unparalleled shine and reduce heat damage by preserving natural hair moisture."
The Four Brushes:
As said in the name, this one blowout brush offers four brush styles for the price of one which will allow you to try out different styles. Per the description:
Oval Brush: For a volumized style
PaddleBrush: Creates a more smooth look
Nozzle Concentrator: For a direct airflow
Compact Diffuser: For root volume
I liked how I could use on both wet and dry hair (hel-lo, it's perfect for on-the-go after a shower!) and how I barely had any static on my hair while using this brush.
It's so lightweight and easy to use, and my hair felt silkier than ever. This one won't tug on your hair, too, and is overall easy to use. Go and achieve that gorgeous hairstyle!
If there's a brush that can tame hair and style it like it was done by a stylist, this is the one!
Get yours here on CHI's site.

It's well priced and pretty reasonable, and that hairstyle is so worth it.
Save Your Hair
It's been known that certain hairstyling pieces have been found to damage cuticles and scalp, but CHI is definitely not the case; I've never felt safer using the products and my hair feels as silky and smooth as ever.
This is your sign to stop killing your hair with products that aren't so beneficial– go for CHI, the experts of the hair game.
Protect yourself and your hair from heat damage!
At-Home Styling
We all want to look our best, but with easier efforts inside at home. Plus, with consideration to the current ongoing pandemic, CHI Hair Care is exactly what you'll need to achieve an at-home salon look.
Following the YouTube tutorials alone got me perfectly on the road to figuring out how to get my hair just the way I wanted to. Bad hair days can ruin just about an outfit, but that won't be the case anymore!
Even a Beginner Can Do It
I certainly am no professional when it comes to styling hair (perhaps just hair in general), but CHI was so simple and easy to use! The resources provided are plentiful on CHI's site and YouTube.
Even as a beginner, I am so happy that I'm able to achieve that picture-perfect hairstyling that looks even better in person!
View this post on Instagram
Keep Up!
Follow CHI Hair Care on Instagram at @chihaircare and stay in touch with their updates.
Also, pssst… they host some awesome giveaways now and then, so stay on alert for that!
________________________________________
KaroKoru Holds Close To The Heart
If one were to think of jewelry sustainable, carefully thought, and timelessly elegant, Karo Koru would be one of the most prominent brand to rise to mind.
This brand is the obsession when it comes to thoughtful pieces that'll perfectly adorn to your preferred line of height- choker, collarbone, etc- and really, when it comes to all aspects.
Karo Koru is sui generis: special and one of a kind.
Meet The Shani
With gorgeous beads that range all over- handpainted glass, translucent, African metal, pearls– the Shani effortlessly combines them all to create a beautiful collarbone necklace.
The chains are found at the back, in a medium silver tone, and are ended with a deep sepia-tone of a bead. Additionally attached is a tag with the emblazoned brand symbol with Karo Koru intricately written on top.
You are able to adjust the clasp to your liking quite easily, and you won't have any problems with it unable to slide on, due to its high quality craftsmanship.
It is one of a kind, just like every other piece available in store at Karo Koru. That means whichever one you get will be the only one to exist- which makes it extra special.
To shop similar collar necklaces like the Shani, click here.
Detailed Beads With Sentiments
Each bead is curated and sought after individually; most are vintage and reminiscent of the style of the late Princess Diana, whom the brand is deeply inspired by.
It is evident that the beads are not organized in a particular order, yet they match and support each other in harmony. The tones of each sentimental bead- a treasure found to create a bigger treasure- echoes the care and love put into each singular piece.
The end of the necklace is met with a lobster lock that is in stainless steel. The gorgeous silver tone will compliment any skin tone.
View this post on Instagram
High-Crafted Quality
Each jewelry bead is of the best quality possible, and I absolutely loved how every piece was truly one of its own. That's really what makes Karo Koru special: something just for you, irreplaceable, and incomparably beautiful.
You won't find any cheap plastic beads or rusting metal supports; this is 100% genuinely the best of quality, and you'll never find one like it.
The necklaces will bear on your collarbone (or, at your desired level) with a slight sense of weight without, of course, being heavy. It's lightweight but with some sensibility that feels mature.
To browse the entire store, find Karo Koru at karokoru.com.
It's An Art
Karo Koru is a genuine expression that carries so much meaning.
It's inspirational, it's moving, and most notably, there's nothing like it.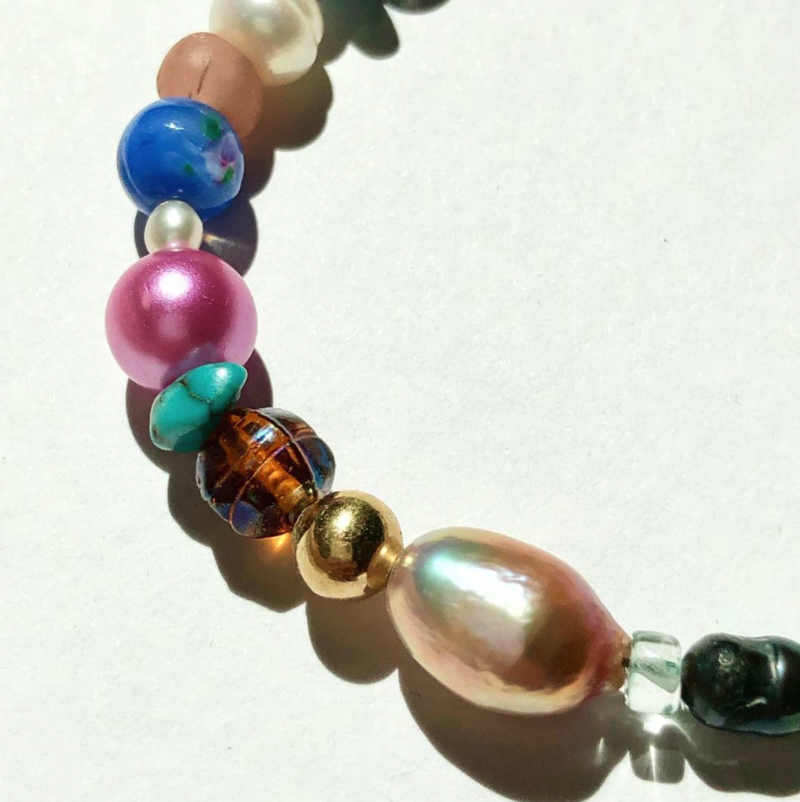 Sustainability
The beads are upcycled and are sustainable; loved and cherished but never actually put into use until it found a home with a Karo Koru piece, it's now your turn to love it on you.
The packaging, too, is sustainable, with a lovely tree-paper feel and color, and the jewelry comes with a canvas-like pouch to store in.
As Karo says, "All our packaging is made from 100% recycled materials and is compostable."
Karo Koru cares about the earth- and wearing this brand is a part in showing your love for our planet.
The Teen Magazine also had the chance to interview the brand creator, Karo Kangas, to further get to know the dynamics behind the creations…
Truly Timeless
Certainly, things can go in and out of style, but this is one that will remain timeless until the end of time.
Any style can be elevated with this accessory, and this might be what is soon to be your staple. Classic and classy is what we would call it.
Whenever you wear this piece, it'll almost feel as if a state of peace and thoughtfulness, as well as good energy, will arrive to you.
Be kind to yourself.

-Karo Koru
The Teen Magazine also had the chance to interview the brand creator Karo Kangas on her brand and her creations…
The Creation of Karo Koru
How did you come to create Karo Koru?
Karo Koru came about when 2020 put a handbrake on our world. I began making jewelry for close friends and family as a distraction and soon realized my passion for doing it.
It was my way of dealing with anxiety and healing myself and others who needed something beautiful in their lives during these scary times. I have been making art since I was very young. Whether it was painting, sculpture, knitting, pottery, dance, my hands were always kept busy and my spirit needs to create something in order to feel full.
Karo Koru was an extension of all my artistic expression. When the pandemic hit, my career as a make-up artist was put on hold so I had to place my creative energy elsewhere and Karo Koru was the happy result of which I am very proud.
The Upcycling Process
Please describe how you incorporate upcycling into your brand.
Working in the fashion industry for over a decade I have seen how much waste my industry creates.
I grew up in Finnish Lapland, surrounded by nature, quiet forests and pristine lakes. Our family lived, in large part, off what nature provided and I was taught at a very young age to value and venerate my environment.
I've carried those values with me and wanted to ensure that they extend to everything I do and how I live. My husband gave me a beautiful string of vintage pearls that belonged to his great great grandmother. This heirloom piece was beautiful but didn't suit my Scandinavian sense of style.
That sparked the idea to up-cycle old jewelry, specifically vintage pearls and beads that are parked in jewelry boxes and drawers the world over gathering dust; unloved and unworn. I started sourcing beads, pearls, glassware, pendants with the one rule that I would only use old treasures for my jewelry.
All our packaging is made from 100% recycled materials and is compostable. I think it essential to heal our planet from the wounds we've inflicted on it for the sake of our children's future.
The Process in Detail
What is your process of creating these necklaces, finding the perfect beads/materials, naming them, etc? Were there specific features you included in the Shani?
I scour thrift shops, estate sales, vintage jewelers, suppliers of dead and old stock, receive donations, and scour the internet for materials.
It's treasure hunting pure and simple and part of the fun of what I do is discovering a huge "score" of old materials that have been long forgotten. It's exhilarating.
Then I get to my home studio and I zone out. No recipe, just letting the materials take their own shape. It's a meditative process and I love the improvisational, (possibly accidental) formula that goes into making any piece. It's jazz and I'm soloing with the materials within my eye-line. That's what makes it so enjoyable as I'm moved by how the materials have as much a hand in making the piece as I do.
When I look at the finished product I always assign it a name of a very close friend or family member that comes into my head. It's nice to infuse each piece with the name of someone I hold dear, a small tribute to the people I love.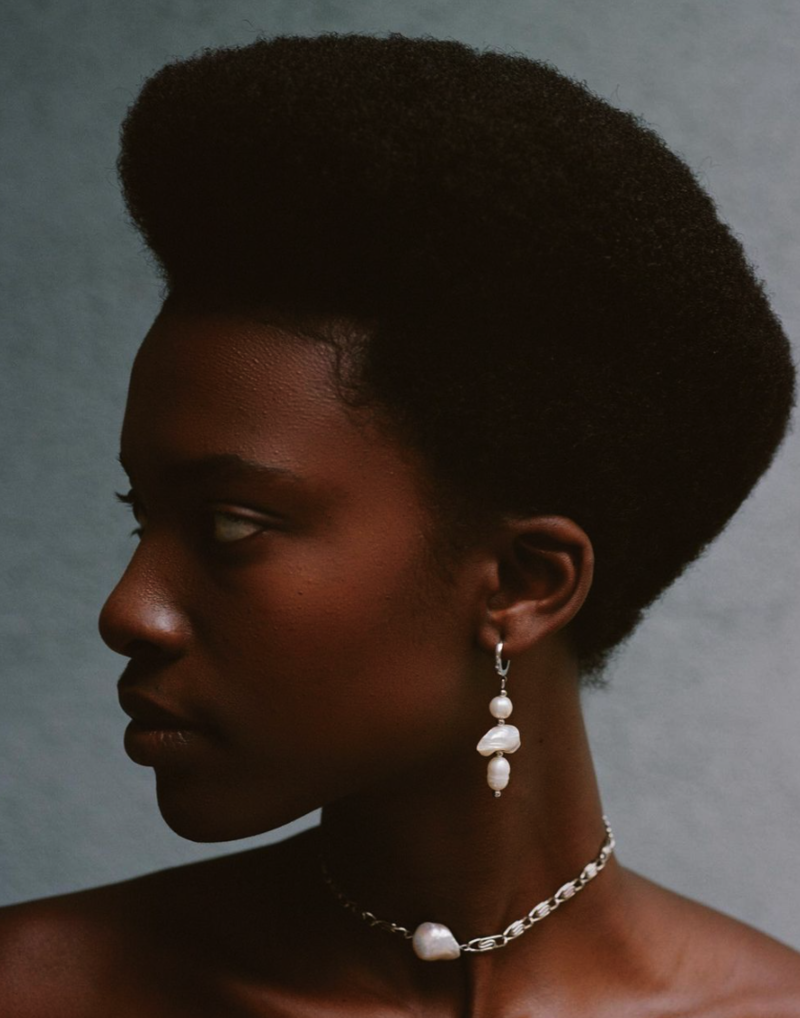 5 Words For Karo Koru
What are 5 words you associate Karo Koru with?
Love. Kindness. Sustainability. Family. Joy
Stay Tuned
If you would add more collections onto your brand, what would come next?
I am very excited as we are in the midst of launching our ZODIAC COLLECTION. During one of my vintage treasure hunts, I hit the jackpot with beautiful silver and gold Zodiac pendants from the 1980s!
That's what I love about what I do, it's absolutely unpredictable and completely reliant on what I discover when sourcing materials. Our growth is dependent on luck and inspiration. Whether designing a tribute line to Lady Di or lucking into a box of dusty Japanese vintage pearls, it's anyone's guess what comes next.
The only constant is an inspiration.
Karo Koru is sui generis: special and one of a kind.

-The Teen Magazine
Keep Up!
These gorgeous pieces can be seen in more imagery on Karo Koru's Instagram, which can be found at @karo_koru.
________________________________________
Much Love for Funky & Fun Rachel G Jewelry
If there's any generation-tailored yet timeless piece that'll remain unique throughout all of time, it's bound to be Rachel G Jewelry.
You may have seen this brand recently on the Gen Z YouTuber prominent fashion figure Emma Chamberlain and model Kaia Gerber. Rachel G Jewelry is sure to be a huge hit with anyone and everyone, because the pieces here are to fall in love with.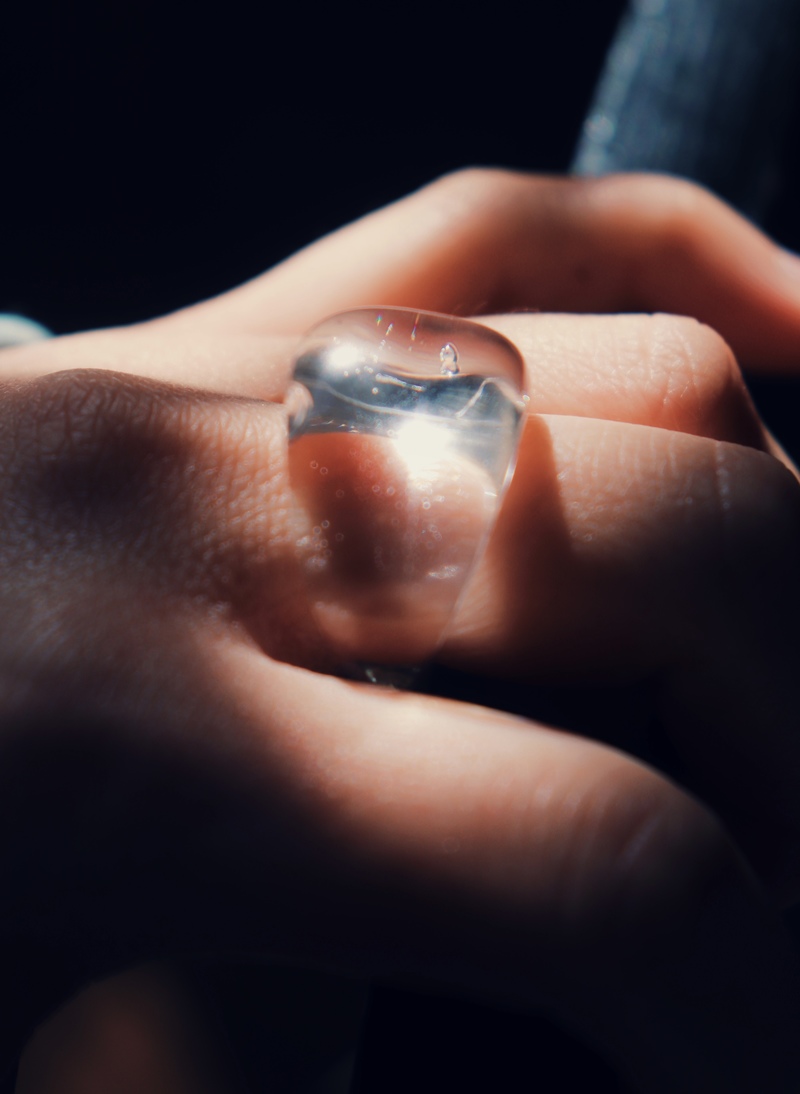 Rings are what's on everyone's must have lists these days; scroll through any social media- we're looking at you, Pinterest- and you'll find everyone's boards with pinned images of the rings.
Rachel G Jewelry's retro resin rings is the one that'll have all aesthetics and fun lovers screaming for. It's perfectly funky, edgy and cool, and sports a vibe of its own.
The Trifecta
In a series that is something parallel of the mysterious and inspiring ocean, The Trifecta is a resin cocktail ring set that includes the three rings in shades Classic Blue, Blue Sparkle, and Crystal Clear.
These variants of the sky colors is something you'll so want to have your fingers to add onto a look.
The Classic Blue
A shade in deep navy, the Classic Blue ring is overall in a solid shade with some addition of light blue glitter sparkles around the edge. The glitter placed on the edge gives it a falling star effect from the top, which is such a feature to love!
The colors are swoon-worthy and has a magnetic pull and charm of its own.
If you would like to order the Classic Blue on its own, it's available at shop here!
Blue Sparkle
A clear resin ring with the addition of a lot of light blue sparkles placed majorly at the edge, this ring is a lighter sister version to the above.
Different angles allow this ring to be in variants of the light blue shade provided from the glitter. It's also fantastic to see the capturement of the sparkles in the clear resin.
Crystal Clear
Yep, you're seeing this right- clear rings (!!!) that are part of the Trifecta. Hey, metal rings are cool, but you likely won't see any rings like these other than with Rachel G Jewelry.
With a wide rim surface at the top, thus the "bubble" effect, this ring will allow light to travel through in breathtaking ways at different angles. It's so eye-catching to see surrounding colors travel through the clear resin ring, and is truly a gem.
Flower Power
Channel your inner y2k spirit with the Flower Power ring. This ring has a magnetic charisma of its own with a powerful, sparky vibe. it's just so rad.
Also, get this: the flower inside is handmade glass flower! How cool is that?
The shades of the flower come in red, orange, yellow, blue, purple, black, and clear. So many options to all be obsessed with- wow!
Shop the Flower Power here for just $25 here at Rachel G Jewelry.
It's Everything of Your Dreams
The bubbly rings are such a look, and will be the center of the attention.
It's larger in terms of rings, but won't distract you from any work. So it's okay to type on, write on, whatever it is that you may be doing while you have these rings on!
The resin rings are also incredibly sturdy; it might be almost as clear as glass (but partly opaque to give it that extra bling and individualness) but it's certainly much, much tougher than pure glass.
Sizing
These rings are perfect to go on any finger (second, third, fourth, whichever!) and come in sizes 7~7.5.
Glossy Effect
As the rings are made of resin, the light will capture on through the translucent surface in the most captivating way.
The top is shaped like a bubble (hence the bubbly rings) and will reflect in just the coolest ways imaginable. The back end of the ring is much thinner.
It's perfectly funky, edgy and cool, and sports a vibe of its own.

-The Teen Magazine
We also had the chance to interview creator Rachel Gjersvik about her intriguing, marvelous brand; learn more about the funky-cool jewelry creations!
The Creation of The Brand
How did you come to create Rachel G Jewelry?
I have always had a passion for accessories and after four years of focusing in conceptual art and metalsmithing at the University of Michigan I graduated eager to create groovy accessories that could reach a wider audience. It formally became "Rachel G Jewelry" after I was included in my first collaboration with a friend from the city and pop singer King Princess. It was previously Rachel Gjersvik Jewelry, but quickly realized my last name was too difficult!
The Creation of Pieces
Please describe the process of creating your items, and what it entails from you.
I draw a lot of inspiration from old jewelry I'd collect as a kid. They're retro, whimsical and always reappear in my work. I create various iterations of each piece till I've refined the design, then begin production on 47th street, also known as the Diamond District in New York. Once I've created the statement piece of the collection, that I'm inspired and amped to create, I begin to build a collection. I try to create 6-8 pieces per collection. The most exciting part of making wearable accessories is that people carry this on their being, and I design pieces that are accessible and meant to be played with. I want my customers to draw their own meaning from my pieces, yet know there was a lot of time and thought put into each piece.
Drawing Inspiration
What was your inspiration for the Trifecta and Flower Power rings?
I actually started playing with epoxy resin in 2016. I had found an old ring from Limited Too that I was enamored by and had to make my own twist on it. This early 2000s aesthetic resonates with me and my character, and I find translucent jewelry extremely beautiful! I had spent a lot of time in Italy and was mesmerized by the glass work I saw in Murano. I bought glass flower beads from several artisans and began incorporating these into my resin rings.
5 Words For The Brand
What are 5 words you associate Rachel G Jewelry with?
I'd say funky, polished, groovy, inclusive and collaborative.
Coming Soon…
If you would grow more collections onto your brand, what would come next?
Stay tuned for Funky Love Coming this February!
Keep Up!
Make sure to follow @rachelgjewelry for some beautiful imagery of these funky, one-of-a-kind jewelry, and to stay updated on new releases!
Photography for Rachel G Jewelry x The Teen Magazine by Kate-Yeonjae Jeong, 2021