Even just a few weeks ago, if you had asked me if I were a tea person, I probably would've said no. That all changed when I met Mizuba Tea Co., and when I say their matcha has truly been life-changing, I really mean it.
Forget about morning coffee- Mizuba's high-quality matcha is everything. (And of course, perfect for any time of the day, too.)
View this post on Instagram
The Teen Magazine had the amazing chance to interview Mizuba Matcha Co.'s founder and CEO Lauren Purvis on her entrepreneurial journey, falling in love with matcha, and much more.
Psst… after tasting some of the best matcha types of Mizuba and creating them myself, let me tell you this: I am most certainly a tea person now. Specifically, a matcha enthusiast.
Meet Mizuba Tea Co
Did someone say pure Japanese green tea? That's exactly what Mizuba's matcha is!
With Mizuba, you can 100% trust its out-of-this-world quality and care.
View this post on Instagram
"We're about direct-trade and transparent sourcing: personally knowing our suppliers & tea farmers," writes Mizuba Tea Co. "We're about being named as a recognized Uji-cha tea dealer by our farmers via the Kyoto Chamber of Commerce. We're about giving back to where we came from, with a portion of our profits supporting our relationships in Japan."
Did you know? Mizuba's matcha quality is so, so, good- and the below facts say it all!
"a single-ingredient, single-origin product
non-GMO, radiation-free, preservative & heavy metal-free, absolutely pure matcha green tea
sourc[ed] from JAS-organic certified farm & 100-year old family matcha tea manufactory
[committed] to the region of Uji–recognized in Japan as the highest quality tea growing region, and as the birthplace of Japanese green tea"
View this post on Instagram
We're about purveying the most excellent matcha possible since 2013 – only the teas we choose, drink, and enjoy ourselves.

– Mizuba Tea Co.
What I really love most about Mizuba is how they truly take into consideration of the historical, thoughtful process of matcha-making from its original Japan, and how quality and taste are of utmost importance to them.
I also truly appreciate how their matcha does not compromise the exceptional flavor with price points, making it accessible for everyone. (Sincerely, Mizuba may be one of the most affordable yet quality matcha out on the matcha!)
My Mizuba matcha enthusiasm is furthered when learning more about Mizuba and their ethics, missions, and what they stand for.
The Daily Matcha
If you're looking for matcha that's perfect to drink every day but not break the bank (because matcha can get pricey!), Mizuba Matcha's Daily Matcha is perfect for you.
In a delicious, healthy blend that's not too bitter but not over-sweetened, having a sip of this flavorful matcha is just heavenly.
Something about this matcha is so good, it's almost addicting. It's probably one of the best days to start off your day- with a beautiful, swirly pastel green drink that tastes just as amazing as it looks.
To shop Mizuba's Daily Matcha, click here.

Psst… it's only $20 USD- affordable matcha and high quality!
As they say, drink your greens- and there is really no better green drink than Mizuba's Daily matcha. When I tell you I'm obsessed with matcha, this specific one takes the award. (And guess what? It's very reasonably priced, too!)
Making our everyday lifestyle a bit healthier and wellness-focused is important, and this Daily matcha is an essential part of that. I love making a cold, refreshing Daily matcha latte in the morning, and sometimes when I'm feeling a little tired and under the weather, this one does the trick.
Flavor profile: light perfume aromatics of toasted vanilla. Creamy mouthfeel with full, milky notes of freshly churned butter. This matcha is sure to refresh.
The color of the matcha is beautiful spring green. It's just as saturated as seen in the pictures- really!
This tastes so fresh and is perfect for a wellness-focused lifestyle. The vivid green drink makes for the best recharging drink that's all-natural. I am so, so impressed.
Within this drink, you'll feel the flavor of subtle earthy green, and mellow matcha. It's not bitter at all, and while it stays nice and deep, there's a hint of natural sweetness, too. Make this your new goodful habit!
Another thing I definitely have to mention is the amazing pricepoint.
Honestly, it is such a deal. Matcha can be extremely expensive with numbers racking up to three digits for the tea, but Mizuba makes high-quality and absolutely delicious matcha accessible. I mean, it's only $20 USD- which is incredible, considering the fresh and quality taste!
I genuinely can't believe how much amount the Daily Matcha carries, too- it is a 40g tin, which can give you about 20-30 servings of delicious matcha. (To put into perspective, this is a lot more saving and tasting than buying a matcha latte every time at the coffee shop.)
View this post on Instagram
I personally enjoyed making a matcha latte out of the Daily Matcha powder. Imagine a glass cup filled with milk (any kind works, oat, almond, you name it!) with ice, and the vivid, rich green matcha flowing in the mixture, creating a gorgeous swirl. Just delicious, and definitely a beautiful sight!
Following Mizuba Matcha's instructions, I mixed in the matcha powder and instructed the amount of water. (At first, it might seem like it calls for a lot of matcha, but don't skip out on the amount it calls for. An overpowered, watery drink without much matcha flavor may not be what you're wanting!)
I personally added in honey for extra taste, although that is completely optional. I loved that I could add in some natural and sweet flavoring!
View this post on Instagram
After mixing in a zig-zag pattern with the bamboo Chasen whisk (yes, Chasen is truly necessary… and we'll definitely talk more about that soon, as it is essential to the art of matcha making.) the matcha mixture created a slightly frothy liquid mix, which I poured into the ready cup of ice and milk.
I can't put into words how beautiful it was to see the vibrant green swirl with the white. It is just so gorgeous and added the touch of magic to the matcha drink.
After swirling with a metal straw, you'll have the complete drink ready to enjoy! In a beautiful pastel green, if there ever was a drink that screamed "I'm beautiful!", this one is it.
Also, I must include this: this tin of matcha really lasted me a while and much longer than I had expected. Such a delightful surprise if you ask me!
The Yorokobi Ceremonial Organic Matcha
If you want to get a little fancier, ceremonial matcha is the one for you. Mizuba's Yorokobi Ceremonial Matcha will completely wow you at how high-grade and high quality it is!
When I say smooth, I mean smooth. When I say deep flavor, I mean deep flavor! These are definitely the top two words that come to mind with the Yorokobi, and flavorful, fancy matcha has never looked better.
To shop the Yorokobi Ceremonial Organic Matcha, click here.

It's time to get fancy and flavorful!
"Yorokobi, translating to "joy" in Japanese, certainly lives up to its namesake," writes Mizuba. I absolutely agree here- the Yorokobi is certainly a cup of joy!
With the Yorokobi Ceremonial matcha, Mizuba ensures to create the smoothest matcha you'll ever come across. This is also the "most umami-filled organic matcha green teas [Mizuba has] come across."
So, what about the organic matcha part is extra special? You'll find that majority of them taste "very tannic and earthy" as Mizuba puts it- but the deep, flavorful quality is possible through Mizuba's different, one-of-a-kind methods. "The care and attention to growing our beautiful Yorokobi result in a velvety, vegetal sweetness that is a joy to drink," says Mizuba.
The perfect, rich matcha flavor does exist, and it's possible with Mizuba. Lighthearted but seriously smooth, relaxing, and well-rounded in flavor, the Yorokobi is the definition of getting fancy and of course, joy.
Did you know?

"Our artisanal Yorokobi is made of 1st flush Spring, single-estate (exceptionally rare!) tencha leaves that are shade-grown for 20 days prior to harvest on volcanic mountain slopes, in soil known as Shirasu. Yorokobi is made of two cultivars, Okumidori & Kanayamidori," says Mizuba.
This 100% certified organic drink is for sure an all-time favorite. I love how it remains true to a floral, pleasing flavor.
You'll also find this super fascinating: this matcha is actually very rare. Single-estate matcha is not common at all, and the majority of like-branded matcha is from a blend of harvests- but this one is not. This means you get to have the full experience of enjoying a cup from a specific region of matcha. That adds to the special spark of the Yorokobi joy!
Plus, get this: this specific matcha has both the cultivars of Okumidori and Kanayamidori, whereas other matches only are from the Yabukita cultivars. You get to experience the best of two worlds with this drink!
Lastly, if you know, in the world of matcha, the Ceremonial is the very top grade. That means this is incredible, premium quality. As Mizuba tells us, "Yorokobi is 100% shade-grown and stone-ground to our very high standards and meets the level of ceremonial grade (suitable for koicha preparation in cha-no-yu (tea ceremony))."
Flavor Profile: A light, sweet floral silkiness evokes thoughts of Spring. Clean and full-bodied, the vegetal depth of the tea categorizes it as pure umami.
If there was the perfect combination of velvety smooth and rich, this one would be it. I love the refined, elegant taste that the Yorokobi carries, and I'm so obsessed.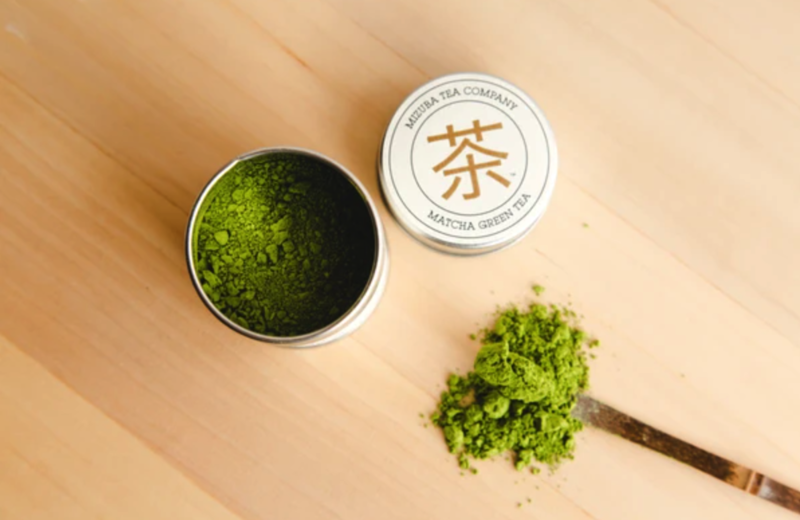 The flavor of matcha is extremely evident and strong here, while never being overpowering. The taste of matcha here is so refreshing, and I love enjoying this at any time of the day.
As the flavor here is deep and mellow, it's also creamy. It makes the most splendid frothy creation when mixing with your chasen whisk.
The color of the matcha here is also a lovely, earthy green, and makes such an awe-inspiring mature color.
The high-quality of this matcha is so supreme and truly outranks any other.
Genuine ceremonial matcha can be rather difficult to come across, but with Mizuba, you can absolutely trust that it is the case.
I also love how this truly sticks to being all-natural and honestly good for you. Mizuba's matcha is only grown with natural, organic fertilizer, and never uses agricultural chemicals nor pesticides.
The Culinary Organic Matcha
Hey, avid bakers and cooks- this one is for you! I absolutely love the sweet-but-not-so-sweet matcha treats, and with Mizuba's culinary matcha, it tastes even better. Seriously.
I personally tried making a matcha Swiss roll cake with Mizuba's culinary matcha, and it turned out so good that I made five more in one week. I'm not even exaggerating!
To shop Mizuba's Culinary Matcha, click here.

Delicious baked treats and cooked meals have never been better.
Virtually any recipe can be made with Mizuba's culinary-grade matcha. Think anything from lattes, cookies, cakes, ice cream, salad dressing, noodles, pancakes, oatmeal…. really, anything! The culinary matcha gives you the power to get creative.
"Most culinary matcha you might find on the market is an excuse for lower quality or poorly stored matcha, but you'll find Mizuba is the go-to for fresh, strong, and delicious matcha for all your favorite recipes," writes Mizuba.
As for quality, you may have heard that culinary matcha as seen as the "lesser" grade of matcha. However, that is absolutely not the case with Mizuba.
"For Mizuba, we couldn't possibly sell a matcha we don't believe in or one that is low-quality. We believe that all matcha should taste wonderful, and our culinary matcha is no exception. Therefore, you can trust in our Organic Culinary Matcha because it is still processed as a true, authentic, Japanese matcha from Uji!" says Mizuba.
Not much changes for Mizuba when it comes to culinary to even the highest grade, ceremonial. Yes- everything is still from Uji of Japan, shade-grown, and traditionally stone-ground.
The only difference? The tencha is "harvested from leaves a little down the stem"- which creates a stronger flavor than others, perfect for cooking, and yet still remains smooth!
To read more about the difference between ceremonial and culinary matcha, read Mizuba's thorough blog post here. This will definitely educate you and you'll learn a little something!
View this post on Instagram
Mizuba's culinary matcha is as pure as ever, and I am thoroughly enjoying combining matcha more and more throughout my lfiestyle- and starting that with the things I create to eat.
This culinary matcha retains its high quality throughout, and the bright green color is vivid as ever.
And guess what? That lovely green color we love will remain throughout your cooking, too! It's so beautiful to see your amazing recipes turn out in the wonderful color we love. The striking green food (or drink!) will make eating more fun and fully enjoyable!
Flavor profile: Mizuba's culinary matcha is a full-bodied, well-balanced flavor experience. We found that it exhibits a lush creaminess, which is balanced out by a savory, grassy sweetness.
"[This] pairs especially well with honey, milk and alternative milk, chocolate, jammy red fruits (strawberry, cherry, raspberry), all citrus, mint, lavender, coconut, anise, ginger, almond, and vanilla flavors," notes Mizuba.
View this post on Instagram
This tastes top-notch as always, and as expected from Mizuba. I love how I can still taste the lovely, dreamy flavor of matcha through the treats I make. The matcha is always noticeable, which I love.
It is also very aromatic and has that deep taste, alongside the grassy, earthy flavor.
I absolutely love how versatile and flexible this matcha is. It's great to use for virtually everything you could think of!
Looking for some matcha-infused recipes to create your next masterpiece? Check out Mizuba Tea Co.'s recipes here!
The Chasen Bamboo Whisk
This handsomely made Chasen bamboo whisk is so professional, and will make you feel like a pro when making your matcha!
As Mizuba says, this is a "half kitchen utensil, half art piece", and I couldn't agree more.
Made with 120 prongs, which is an impressively and incredibly high number, this chasen is one of the best whisks you can find for your drink. As Mizuba informs us, it is "the most a whisk can have: an indication of the highest caliber of quality."
To shop the Mizuba 120-Prong Chasen Bamboo Whisk, click here.

It's time to go pro-mode!
This is exactly what you need to create a smooth consistency for your matcha. It's so easy to use, and pretty simple, too.
The chasen is hand-carved and is of a single piece of bamboo. The prongs are expertly curled inwards at the end, which allows for the matcha to be seamlessly blended into that consistency we love.
The inner side of the chasen features a cone-shaped, tipped point that is made of the prongs put together. This expertly takes part in breaking apart the fine clumps.
The handle is not too short, nor too long. This Chasen is the perfect size to grip onto when mixing your matcha. It's just the right size in terms of functionality.
I also love the emblazoned brand symbol on the handle- a beautiful design feature.
The way you prepare your matcha can totally impact the way your matcha turns out, and it is such a cool, educational experience.
"Chasens bridge the world of art to the everyday. While fundamentally a utensil, the beauty of the detail, material, and its shape make the whisk a treasure of tradition worthy to keep on display and enjoy," writes Mizuba Matcha.
How To Use The Chasen
"The purpose of a chasen whisk is to aerate your tea to create Matcha's classic foam and froth," writes Mizuba Matcha.
Essentially, to use the chasen, you should be mixing in a zig-zag pattern. Think of the letter "M" or "W". One of the most common mistakes is mixing in a circular manner, which does not mix the matcha as well.
Keep mixing, until you create a frothy mixture. Then, you're ready to go on this step!
Below, Mizuba details how to use the Chasen in-depth:
Preheat your chawan tea bowl with hot water. Discard.

Place about 2 chashaku spoonfuls of Mizuba Matcha in your chawan. Pour about 1oz of ~160-175ºF water over your Mizuba Matcha -enough to make a smooth paste. This is called Koicha, or "thick tea."

Use your chasen to incorporate evenly, breaking down any clumps. Carefully pour ~4-6 ounces more water over your tea, filling your chawan.

Use your chasen to make usucha or "thin tea." Using your chasen, you will rapidly move the whisk in an 'm' or 'w' shaped zig-zag motion across the entire width of the bowl, back and forth. The motion should create a nice even froth.

Pro-tip – be gentle! The movement is a rapid motion that comes from the wrist. Don't push too hard on the chasen – this will hurt the tines. It is ok to feel the bottom of the bowl, but again, do not push down on the tines.

Sip and enjoy.
If you need a video tutorial on how to use it, click here for a tutorial.
How To Care For Your Chasen
"Do not store it in its original plastic container. Because bamboo is a natural material and retains moisture, chasens can occasionally be susceptible to slight molding. No need for concern ­– just be sure your whisk is able to air dry. We store our whisk standing upright on its base in mild environment.
Should mold occur, place your chasen in boiling water.
In everyday use, do not wash your chasen with soap. Simply run it under hot water and remove all visible signs of matcha.
Pat your chasen dry."
Additionally, Mizuba details how chasens are created. Click here to learn more.
Want Some More? (Definitely Yes.)
Mizuba Matcha offers a wide variety of matcha types, kits, and other teaware.
If you're looking to start off your matcha journey, I would wholeheartedly recommend beginning with the Daily Matcha. Mizuba offers a Matcha Moment Essentials Set, which includes the Uji Daily Matcha and Chasen matcha whisk.
If you're searching for a complete set, check out the Mizuba Matcha Green Tea Gift Set. This includes a beautiful chawan bowl to create your matcha masterpiece, the Chasen whisk, and Mizuba's signature House matcha.
Find Your Matcha Match (+ Discount)
If you're feeling a little lost on which type of matcha is right for you, check out mizubatea.com.
Up top at the right, you'll find a Quiz option where you can find out which type of matcha is right for you!
Also, this will also give you an exclusive discount for your order. Exciting!
Words From Lauren Purvis, CEO
The Teen Magazine had the chance to interview Mizuba Tea Co.'s CEO, Lauren Purvis. She is extremely and genuinely excited about everything matcha- whether it be the art of tea-making, the quality, the history, and much more.
View this post on Instagram
In this interview, she shares with us her matcha love!
Getting Into Tea
How did your journey with tea begin?
Tea has always been there for me! When I was about 11 years old, my mom would make me a cup of tea every morning before school. I didn't realize it then, but not only did I love the tea itself, I also loved having that moment in the morning with my mom.
Tea was so much more than just drinking a cozy beverage. Tea really is a medium of connection with whoever you share it with.
I continued to realize this as I began to embrace tea as a lifestyle in high school. My passion for tea was like any other of my friend's hobbies. I had friends into sports, art, or music…I just happened to be into tea!
I collected tea, read countless books about tea, and started taking classes about tea online – but most enjoyable to me was sharing my tea collection with my friends. I learned I could drink the tastiest tea in the world…but I never enjoyed it as much by myself than I did sharing it with others. The experience of making friends over tea has stayed with me all through college, and I continue to enjoy that today!
The Creation of Mizuba & Its Special Spark
What led you to create Mizuba Tea Co.?
What would you say to be the extra spark about Mizuba's matcha?
I never actually set out to be an entrepreneur or own a company! I love the word "spark" because that's truly what set Mizuba in action. I started with a pure passion for tea, but it was the spark of encouragement from friends, family, and our tea partners in Japan that really got Mizuba rolling!
Mizuba is 100% built on relationships. I had the opportunity to travel to Japan in 2013. I knew there would be good tea there – I just had no idea HOW good. (Spoiler alert – everywhere I went the tea was amazing).
While the spark was already there, the momentum really started happening when I connected with a tea producer while traveling in Uji, Japan. We struck up a conversation, and after I came home e-mailed back and forth for 6 months. My tea producer offered to send me samples of his matcha, and we've been selling his tea ever since!
It was an incredible gift for our matcha producer in Uji to share his tea with me in the first place, and so it is the gift of my life to share it with all of you.
Having my community around me (including my community of people I work with in Japan) continually encourage me to share my passion for tea and the incredible work of our tea farmers truly was what started Mizuba. I guess you could call it communi-tea. ☺
For me, the relationships I've made continue to feed my passion for tea, and the passion only grows the more fun we have and the more communi-tea we build!
The Exceptional Quality
Mizuba's matcha quality is exceptional; could you tell us more about it?
Thank you! First of all, it is one of the great honors of my life to partner with tea artisans in Japan who work hard to preserve the heritage of Uji matcha and Japanese tea traditions.
There is a lot of marketing out there that uses words like "quality," "premium," "super-premium," etc without defining what those terms really mean. But the teas we choose with Mizuba reach the level of exceptional due to all the incredible work and artistry that goes into crafting true, authentic matcha from the fields to your cup.
View this post on Instagram
Matcha as a term is not regulated (meaning, there is not an official set of standards by a governing body that mandates what can be called "matcha" and the rest just simply "powdered green tea").
So there are a lot of iterations of powdered green tea out there that can not only affect quality, but how are you supposed to determine what the powder you're drinking is even truly matcha? Let alone how do you know what is quality matcha? Let's dive in!
Number One
Look for matcha that is grown in Japan.
Tea originated in China and there are marvelous teas made all over the world. However, in order to be considered true matcha, it must come from Japan for two reasons.
One, Japan is the historical home of matcha. Matcha originated as the only tea used in Japan's iconic tea ceremony. Because of the reverence around the tea, Japan has had years upon years of history specializing in matcha-producing techniques and advancing high-quality growing methods (particularly in Uji, Japan around the region where the first tea seeds were planted!).
Number Two
Secondly, you may have heard of the word "terror". A way to understand terrior is tasting the "character of place" in a flavor.
For example, matcha is famous for its umami flavor (considered a balance, or the pinnacle between sweet and savory) achieved through very specific variables like climate, soil, elevation, cultivars of the tea plant, etc.
Each of these variables specific to a region contribute greatly to flavor. If you tried a powdered green tea anywhere else in the world, it would not have the same character of flavor you have in a matcha from Japan because of the differences in each region's terrior. In fact, you can have different flavors from different terrior even within Japan!
But in general, the flavor that matcha is revered for can only be found when the matcha has been produced in Japan.
Number Three
Matcha can only be matcha if the tea leaves have been shade-grown.
Tea plants are grown in the sun all year prior to harvest. When spring arrives, matcha producers who want to make high-quality matcha will start to put structures or tarps over their tea plants about 3-7 weeks prior to harvest to cover the plants in shade.
If you paid attention in science class, you know plants need sun to survive! But limiting the tea plant's access to sunlight causes the tea leaves to strain to photosynthesize, and the plants end up concentrating their nutrients into the very top leaves. The plant will send chlorophyll and amino acids to the new growth. The concentrated chlorophyll makes the tea leaves naturally deeply verdant, while the amino-acids (L-theanine) contribute to a nice balanced flavor in the final product. So matcha can only be truly considered matcha if the tea leaves have been shade-grown.
Did you know all tea comes from one type of plant? The Camellia sinensis!
Matcha isn't actually called "matcha" when it's growing as a tea plant. The tea leaves themselves, once covered under the shade, are referred to as "tencha." If matcha is not made from tencha tea leaves that have been appropriately shade grown, it can't really be considered matcha and would instead just be "powdered green tea!"
Types of tea are determined how the leaves are processed. For example, "sencha" is called sencha based on how it is processed, and oolong is called oolong based on different processes.
Matcha is called matcha because it is the shade-grown tencha tea leaves specifically that have been stone-milled into a fine powder. Which brings us to our last point!
Number Four
Matcha can truly only be called matcha if it has been stone-milled.
Mills used to grind tea leaves into a powder are called an ishi-usu. If it's quality matcha, these granite mills only revolve about 30 revolutions per second. That is really slow!
To give you an idea, it takes about an hour to grind 40 grams of tea (one of our tins). If the mills ground the tea too quickly, the tea leaves would overheat and oxidize, making the matcha very bitter. Due to mass demand, some matcha in Japan is now milled by ceramic balls in a tank – this isn't necessarily bad, but you'll get varying quality of flavor from teas milled in other ways as opposed to the ishi-usu mill.
View this post on Instagram
At Mizuba, we strive to support farmers who are still using the very slow process of milling tea with a mechanical ishi-usu mill to preserve traditional matcha heritage, and produce the highest quality matcha possible.
On Being the CEO
What about being the CEO of Mizuba Tea Co. do you love the most?
I really love tea and sharing it with people! All the responsibilities I have as a business owner kind of come second, if I'm being honest.
I love tea education, I love sharing tea with people, and the fact that through Mizuba, our producers in Japan get to share their beautiful tea with people from all over the world. In America in particular, I feel like the past 5 years we are having a tea renaissance and I see more and more people get excited about tea than before!
In the 90's, I was told that products like Snapple or Sobé was "tea." Or that all tea that was accessible were tea bags that would be brewed with boiling water (which can be way too hot for some teas and make them just a bitter cup of water). More and more, American culture is waking up to all the nuances of the world of tea and discovering so much about other cultures in the process and giving tea the proper attention it deserves. It's so exciting!
View this post on Instagram
New To Matcha? This is For You
For those of us just getting started with the world of tea, what are some things that we should know when navigating the right way to matcha?
That tea is accessible! There are many ways to enjoy matcha, and no matter where you are starting you can have a great matcha moment. You can experience it so many different ways. Here are my tips:
Basic recipe for matcha drinks: 2.5 grams of matcha (1 teaspoon). Traditionally you would have just 4-6 ounces of water, but you can also make a 8-12 ounce drink as well.
If you do not have traditional matcha tools at home, it's ok! My producers in Japan say it is totally fine to start where you are with what you have. You may use either a blender, thermos with a tight lid, or a mason jar. You can either blend 1 teaspoon of matcha with water in a blender (and easily add milk for a latte there), or shake it up until frothy to enjoy!
If you have a traditional bamboo chasen, chawan tea bowl, and chashaku tea scoop, follow these directions below.
Thank you! Take a #MatchaMoment with us at @MizubaTeaCo!
Keep Up
Give Mizuba Matcha a follow on Instagram at @mizubateaco. Want to tweet about that amazing glass of matcha you just had (and made yourself… how cool!) tag Mizuba at @MizubaTeaCo.
If you need a tutorial or just want some fresh inspiration, check out Mizuba's YouTube channel here.
Also, be sure to check out more of Mizuba's matcha and more tea-related items at mizubatea.com. It's a hard yes that you'll definitely fall in love!