We've been seeing the surge in skating lately in the Gen Z community- and for good reasons, too. It's oh-so-fun and makes for a great exercise while making you feel on top of the world.
It seems as though trends from the '90s are making a total comeback to the present, but I'm here to say skating is definitely here to stay. With Impala Skates, you can have fun with your friends while truly immersing yourself at the moment whilst getting some good exercise!
Impala Skates allows you to have your main character moment skating your way into your destination, and we're absolutely here for it.
With beautiful, pastel-sprinkled, vintage-inspired looks, and the cool chic seaside energy, Impala is skating its way into our hearts, and we're totally obsessed.
About Impala Skates
"Launched in Melbourne, Australia in 2017, Impala is driven by a team of girls with a passion for skating. With a nostalgic throwback to the '70s, '80s & '90s, Impala is bringing back the yesteryears of skate," writes Impala.
Who says skating is stuck in the past? Skating is so back in vogue, and I say with confidence it always will be.
Impala brings on the dainty yet fierce design that is a total trailblazer in terms of aesthetic for skaters.
The Most Iconic Inline Skates Ever
Arguably, inline skates are one of the most fun sports out there and are perfect for your leisurely activities. Looking for some special fun to have with your friends that's original and friendship-strengthening?
Impala's got your back- their iconic, beautifully designed inline skates are exactly what you need. The Lightspeed comes in various shades and patterns, including: Fairy Floss, Sky Blue/Yellow, Mint Flower Power, Pink/Yellow, White, Black/Berry, and Black Fluoro.
View this post on Instagram
Put these on, and you're ready to go!
Meet The Lightspeed
Friends, meet the gorgeous Lightspeed skates: in a classic sky blue and yellow combination, these skates are totally timeless and will be your favorite companion on the streets.
By far one of the most timeless designs I've ever seen that won't ever fade out of trend, I am also very impressed with how well these skates rode on all surfaces! This skate is so durable and is meant to last for all of the fun you will have with it.
Looking to enjoy yourself during me-time or have a blast with your friends? Let Impala's Lightspeeds accompany you.
Shop the Lightspeed Inline Skate in Blue/Yellow here.
The Lightspeed comes in a box that is decorated with the signature Impala girl with dazzling lightning bolds (after all, this is the Lightspeed!) and palm trees, symbolizing the free-spirited Impala community. With the box also comes a manual, so you know exactly how everything works. The box makes it extra special for you to unpack and find your brand-new skates inside!
Although the skates are totally brand-new, like said above, they actually don't require any break-ins. That's right: the majority of the time, with regular shoes as well, you have to wear them in to make them comfortable- but with Impala, you're able to secure them on and start skating straightaway!
This particular Lightspeed comes in a light baby blue, paired with pastel yellow accent laces. It's truly the definition of a timeless design because such solid looks can't really ever go out of style. This one is here to stay with you forever.
The skate itself is more of a boot-like structure with added wheels, straps, and other gears. It's not too heavy and remains as lightweight as possible. I love how durable the boot feels, and it's not easy to get it scratched up.
This is a "durable plastic outer boot with a comfortable, breathable, padded boot liner," writes Impala. The boot liner is on the thicker side to provide you with utmost comfort, and I've never once felt uncomfortable when wearing the skates. Staying comfortable while you skate is important, and I enjoy that Impala ensures this.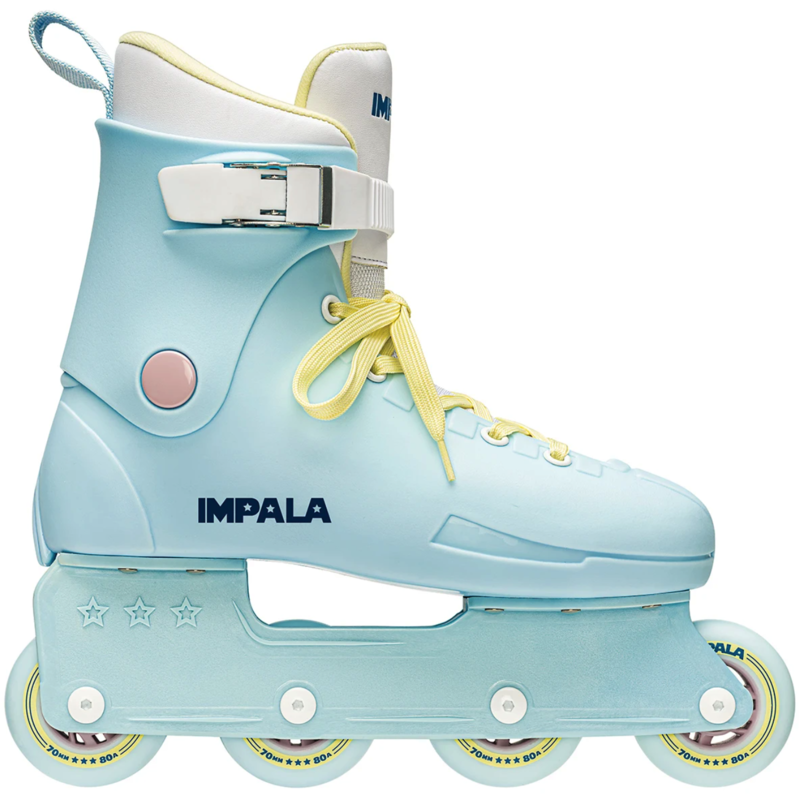 I absolutely love that it's really easy to slip on the boots. Impala boasts they have an "easy entry buckle and lace combo," and it is quite straightforward to see why they say so- because it's true! All you have to do is slightly untie the laces, open the buckle, slip your foot in, and clasp back the buckle! Then, you're good to go.
One of the main points that differentiate between roller skates and inline skates is the wheels. Most noticeably, inline skates have a straight aligned wheel feature- which is something the Lightspeed has as well. "Wheels come with straight alignment, can be adjusted to rockered," says Impala. To fit your taste and style of skating, you can adjust the wheels- how cool is that?
Other design features of the skates include "70mm 84a durometer wheels (also fits 72mm wheels) [and] Abec-7 bearings."
Additionally, included in the box are "optional heel brake and two Allen wrenches." If you're looking for a brake that will allow you to halt quickly and efficiently, the bonus feature is perfect for your use. The Allen wrench is great for screwing in loose bolts and screws should a need for that arise. Quick fixes just got easier with Impala's handy additions!
As for choosing a size, it's not too complicated. "Size options are based on US Women's sizing. Please note, if you are a half size, we recommend going up to the next full size," advises Impala.
I went up by one as instructed since I was stuck on half size, and I am so pleased with how well the skates fit on me! The boot itself is nice and snug, so you won't slip out in the midst of your skating activities, and the buckles make sure you are fitted in securely without feeling overly tight.
These skates are great for beginners, so don't worry if you're an amateur. Easy to learn and get ahold of, Impala makes these skates such a joy to ride!
I absolutely love skating around an empty lot listening to music to de-stress and unwind while getting some exercise in. Inline skating has been proven to be a great workout, and this might just be one of the most fun exercises to do out there!
Inline skating also makes for a great time to socialize with your friends and truly connect with them. Just imagine you and your squad skating around the neighborhood right around sunset- how idyllic!
If you thought these skates couldn't even be more perfect, these skates are also PETA-approved vegan! I love that Impala is making sure to create conscious products- how amazing is that?
Skateboarding Down The Streets & Park
You've probably seen those cool videos of kids flipping and swerving down the ramps at a skate park or even just down the neighborhood streets- and thought to yourself, I wish I could do that!
Well, your wish is about to come true- Impala's Blossom Board is perfect for you to try out and have you at the streets and the park, skating fast and free in no time!
Meet The Blossom Board
Impala's Blossom Board is revolutionary and changing the way you skate. Meant for both the street and the park, this ever-versatile board is also extremely durable with a lifetime guarantee.
Also, we can't ever forget the impeccable, cool design. Made with resin-7 Canadian Maple with a special Impala technique involving epoxy resin, this board might just be the best we've ever come across.
Plus, this skateboard is sustainable. A round of applause for that!
Shop the Blossom Board in Poppy here.
One of the points that make this skateboard so special is its versatility. This is perfect for gliding flawlessly at the skate parks with ramps you can perform tricks on, and also works great on the more coarse surfaces of the streets.
"For skating the streets and the skatepark"

-Janthavy Norton
This one-of-a-kind skateboard features "rainbow prism deck artwork" that has a fierce red and black design. Appropriately named "Poppy" with an abstract-like artwork of the poppy flowers, every time you do a kickflip, the bright red will catch everyone's eyes.
Such design makes this board even more special, and so much more fun to ride!
Another interesting point that we definitely have to focus on is the epoxy resin technique utilized for the creation of this board. "Our skateboards are made by pressing thin layers (each layer is called a 'ply') of wood together, using epoxy-resin glue to hold each ply together," writes Impala.
The board is "Resin-7 hard rock maple complete." Epoxy resin is a material Impala used for much durability and strength. "Using epoxy-resin glue makes a skateboard lighter (because its higher strength allows us to use less glue), stronger, and longer lasting. Epoxy-resin is also superior to the industry standard water-based glue," Impala tells us.
This also gives the board a nice, clear finish, with an intriguing glazed-over look that isn't too flashy and has just the right amount of subtlety.
The Poppy skateboard has a "full shape" with "medium concave." Other design points include "8.0" x 31.5" x 14" Wheelbase." This also features a "5.25" Tensor Alloy trucks, 53mm 95a all-terrain Street wheels, [and] ABEC-7 Impala Pink Rubber Shield bearings."
I had never tried skateboarding before, so this was definitely a really enjoyable, fun experience for me! It did take a few tries to get me skating smoothly, and even as I practiced on the more rough surfaces of the streets, Impala's sturdy skateboard made it possible.
Skateboarding is truly so much fun to try, and gives you a sense of feeling free! It's also a great sport to connect you with other skateboard-loving people. As Impala says, skating is for everyone- and it is very true: Impala is for you, too!
I also absolutely love that the Blossom Board is sustainable. Impala is ensuring that they are taking part in becoming planet-friendly for our Earth by planting 3 trees for every 1 tree used to manufacture their skateboards.
"We care about our impact, and endeavour to create a product that is conscious of this. Throughout all stages of design and production, we are mindful of every detail – from the materials to the manufacturing processes that we use," says Impala.
"We have partnered with the National Forest Foundation (NFF) to donate to their tree-planting program – planting three trees for every one tree we harvest in the making of our skateboards."
Additionally, when I say these boards are sturdy, I really mean it. Impala strives to create products that truly will last you a long while with secure and top quality at prices that are accessible. To define a lifetime guarantee, Impala writes, "It means our skateboards are guaranteed to be free from defects in the material and workmanship for the lifetime of the product."
As Impala says, "Basically, it's designed to last."- and we couldn't agree more. The Blossom boards are definitely worth it, and it is so much fun to try and have a great exercise activity while enjoying yourself!
Wait, There's More!
There's a multitude of options that Impala offers, and there are so many wonderful things to add to your must-have list from a vast range.
Of course, Impala has their classic and vintage-inspired roller skates. These roller skates are not like any else you've seen before, with the coolest and vibrant designs that will make you fall in love with them instantly. Shop your roller skates here.
View this post on Instagram
Skateboards are most definitely in the hype right now, and Impala's range is truly unlimited here! From cruiser boards to longboards and many other styles, now is your time to shine! With out-of-this-world deck designs that will be the star of the skate park, be sure to check out Impala's skateboard collection here.
Impala's also got you covered for all the accessories for your skating adventures. From classic stripe-socks straight from the 90s to face masks, tote bags, colorful wheels, and enamel pins, we're sincerely so enamored. Check out the accessories here. I don't think I've ever seen cuter skating accessories than this!
Be Safe While You Skate
While skating is a relatively safe activity and isn't extremely dangerous in most cases, it is always a good idea to stay protected and safe.
Ditch your clunky guards for Impala's sleek, pastel-inspired colorful protective gear. Impala offers security with an eye-catching design, so you'll be ensured safety and stylish looks!
Impala has protective gear packs, which include coverings for knee, elbow, and wrist pads. Shop your protective gear here.
Keep Up
Be sure to join the #ImpalaSkateSquad on Instagram at @impalaskate and subscribe to their YouTube channel here for the newest releases and updates.
This publication is a sponsored press article. Mentioned prices are accurate and items in stock as of the time of publication.
View this post on Instagram