Summer has arrived! Sunny vacations, movie-like nights, and a thousand memories are now captured in a single frame. The sand is between your toes, you're basking in the sun's UV rays, and you need a book to fill your time. But what reads will satisfy your beachy bookish needs? It's not summer without a summer romance, an intense mystery, or a magical fantasy world, so here is a list of 6 highly recommended books that you can take to the coast with you this summer.
P.S. You can find the physical copies of these books on Amazon, but if you'd like to carry them all at once, you can use the Kindle app on your phone, iPad, tablet, or even on the Kindle gadget itself.
1. A Good Girl's Guide to Murder by Holly Jackson
Goodreads Description
The case is closed. Five years ago, schoolgirl Andie Bell was murdered by Sal Singh. The police know he did it. Everyone in town knows he did it.
But having grown up in the same small town that was consumed by the murder, Pippa Fitz-Amobi isn't so sure. When she chooses the case as the topic for her final year project, she starts to uncover secrets that someone in town desperately wants to stay hidden. And if the real killer is still out there, how far will they go to keep Pip from the truth?
Average Goodreads rating: 4.37 stars
My Rating: 5 stars
Primary Genre: Mystery
Other Genres: Thriller, Fiction, Contemporary
Personal Notes
Amazing. From start to finish, Holly Jackson had me hooked. The book is written in the third person, but it's done so well that it isn't a bother. Jackson has done it in a way where everything is still from Pippa's perspective. At no point do you think 'I know this, and Pippa doesn't', and so you can't figure out who the killer is. She reveals just enough to keep you on your toes, trying to figure it out along with Pippa, but you never know anything until Pippa knows. I love how each character plays an important part, and her relationships with others shape her as a character and further the story along. Any unresolved issues aren't dragged out for the sake of furthering the plot, everything is written with a valid purpose. This book has been sitting on my TBR list for a while, but this article forced me to finally read it and I'm so happy I did. It is the first book in a trilogy, so make sure to take a look at the other two books. I definitely will!
2. You'll Be the Death of Me by Karen M. McManus
Goodreads Description
Ivy, Mateo, and Cal used to be close. Now all they have in common is Carlton High and the beginning of a very bad day.
Type A Ivy lost a student council election to the class clown, and now she has to face the school, humiliated. Heartthrob Mateo is burned out–he's been working two jobs since his family's business failed. And outsider Cal just got stood up…. again.
So when Cal pulls into campus late for class and runs into Ivy and Mateo, it seems like the perfect opportunity to turn a bad day around. They'll ditch and go into the city. Just the three of them, like old times. Except they've barely left the parking lot before they run out of things to say…Until they spot another Carlton High student skipping school–and follow him to the scene of his own murder. In one chance move, their day turns from dull to deadly. And it's about to get worse.
It turns out Ivy, Mateo, and Cal still have some things in common. They all have a connection to the dead kid. And they're all hiding something.
Now they're all wondering–could it be that their chance reconnection wasn't by chance after all?
Average Goodreads rating: 3.78 stars
My Rating: 5 stars
Primary Genre: Mystery
Other Genres: Young Adult (YA), Contemporary, Fiction, Thriller
Personal Notes
I'm sure my five stars mean nothing at this point because this article is full of them, but this book is definitely a five-star read for me, and I wish it had a sequel. I finished it pretty quickly, it was easy to get through and I enjoyed it throughout. In the beginning, when they found the scene of the murder, it didn't feel like this huge murder mystery. It seemed like the writing was focused more on the three main characters and their relationships with themselves, each other, and other people, and I liked this. This is especially true because the book is written from the point of view of Ivy, Cal, and Mateo. So we get to see into their thoughts and their perspectives on everything.
Individually, I didn't like Ivy much, I felt sorry for Cal, and I absolutely loved Mateo. I think I honestly prefer this book over A Good Girl's Guide to Murder, and I'm not sure how to describe why. I think that You'll Be the Death of Me did really good to make the teenagers behave like teenagers. It was a cliche in that they didn't include adults, but they also made stupid decisions and were kind of reckless and it included other people in their school. It had a more youthful take on a murder mystery, and the end was a shock and a cliffhanger, which is very irritating considering there isn't really any plan for a second book. I would highly recommend this book. It's a perfectly quick and intriguing read for a summer's day. If you enjoyed A Good Girl's Guide to Murder, I'd definitely recommend this book.
3. Red Queen by Victoria Aveyard
Goodreads Description
This is a world divided by blood—red or silver. The Reds are commoners, ruled by a Silver elite in possession of god-like superpowers. And to Mare Barrow, a seventeen-year-old Red girl from the poverty-stricken Stilts, it seems like nothing will ever change. That is until she finds herself working in the Silver Palace. Here, surrounded by the people she hates the most, Mare discovers that, despite her red blood, she possesses a deadly power of her own. One that threatens to destroy the balance of power. Fearful of Mare's potential, the Silvers hide her in plain view, declaring her a long-lost Silver princess, now engaged to a Silver prince. Despite knowing that one misstep would mean her death, Mare works silently to help the Red Guard, a militant resistance group, and bring down the Silver regime. But this is a world of betrayal and lies, and Mare has entered a dangerous dance—Reds against Silvers, prince against prince, and Mare against her own heart.
Average Goodreads rating: 4.03 stars
My Rating: 5 stars
Primary Genre: Fantasy
Other Genres: YA, Dystopia, Romance, Fiction
Personal Notes
I really liked the premise of the book, the concept was intriguing, and I think Aveyard did the concept justice. The last couple of chapters had my heart pounding and I was almost skimming the pages, trying to figure out how it would end. The book was captivating from beginning to end, and the end especially makes you want to see what happens next. That ending was shocking, and I honestly didn't see it coming. Mare, in my opinion, is a likeable character. She had a fighting spirit and quick thinking. I'm used to seeing main characters that go from poor to royal being irritating, but I liked Mare; she was always thinking of her true people. The book was pretty easy to get through with only 28 chapters (not including the epilogue). It's a good book that, depending on your reading speed, you could finish in one day at the beach. 10/10 would recommend it.
4. The Invisible Life of Addie LaRue by V.E. Schwab
Goodreads Description
France, 1714: in a moment of desperation, a young woman makes a Faustian bargain to live forever and is cursed to be forgotten by everyone she meets.
Thus begins the extraordinary life of Addie LaRue, and a dazzling adventure that will play out across centuries and continents, across history and art, as a young woman learns how far she will go to leave her mark on the world.
But everything changes when, after nearly 300 years, Addie stumbles across a young man in a hidden bookstore and he remembers her name.
Average Goodreads rating: 4.23 stars
Primary Genre: Fantasy
Other Genres: Historical Fiction, Romance, Adult, Contemporary, Magical Realism, LGBTQ+
A review by The Oxford Blue
5. One Last Stop by Casey McQuiston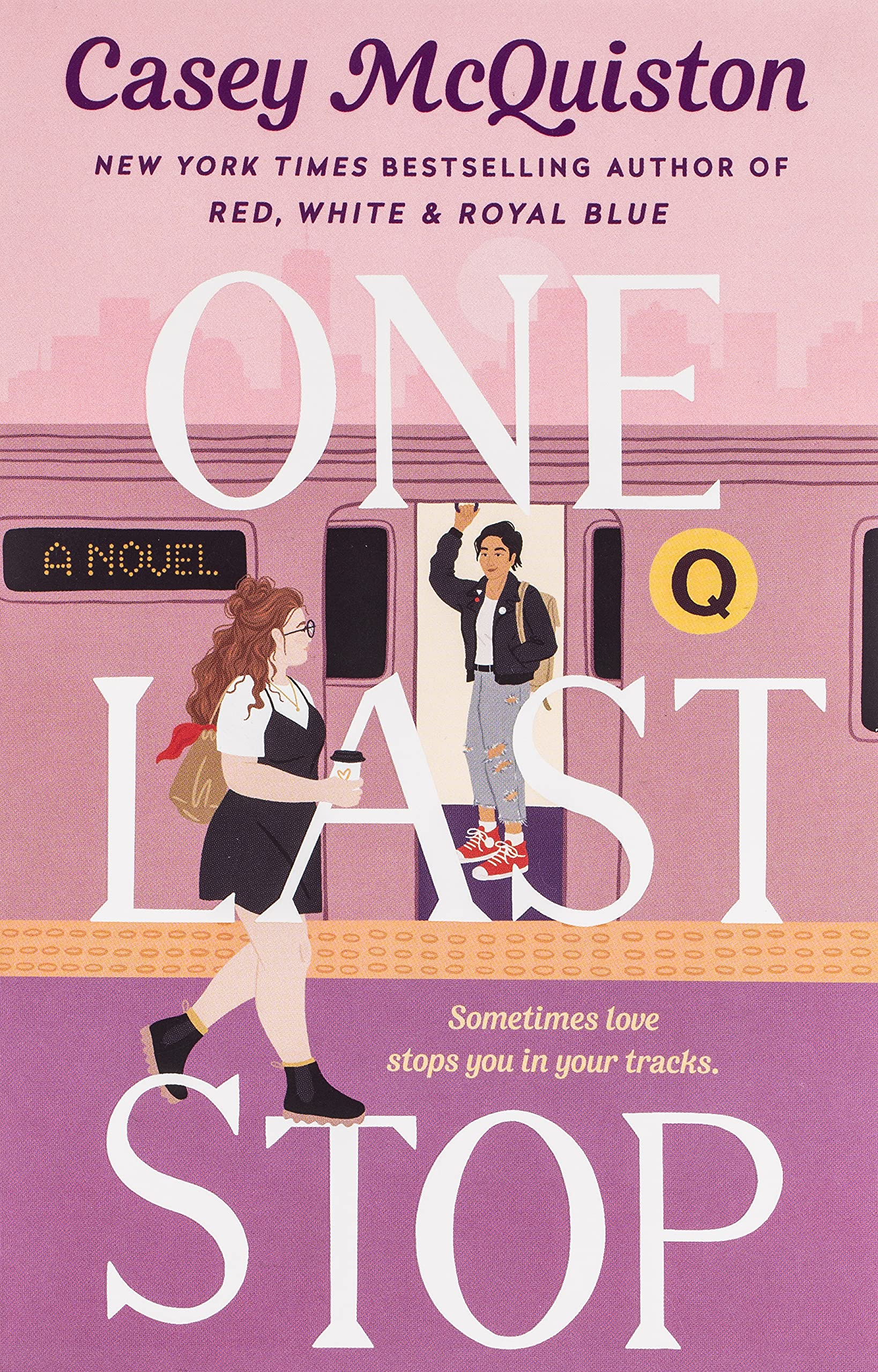 Goodreads Description
For cynical twenty-three-year-old August, moving to New York City is supposed to prove her right: that things like magic and cinematic love stories don't exist, and the only smart way to go through life is alone. She can't imagine how waiting tables at a 24-hour pancake diner and moving in with too many weird roommates could possibly change that. And there's certainly no chance of her subway commute being anything more than a daily trudge through boredom and electrical failures.
But then, there's this gorgeous girl on the train.
Jane. Dazzling, charming, mysterious, impossible Jane. Jane with her rough edges and swoopy hair and soft smile, showing up in a leather jacket to save August's day when she needed it most. August's subway crush becomes the best part of her day, but pretty soon, she discovers there's one big problem: Jane doesn't just look like an old-school punk rocker. She's literally displaced in time from the 1970s, and August is going to have to use everything she tried to leave in her own past to help her. Maybe it's time to start believing in some things, after all.
Average Goodreads rating: 4.04 stars
My rating: 5 stars
Primary Genre: Romance
Other Genres: LGBTQ+, Contemporary, New Adult, Magical realism
Personal Notes
I loved this book. August was a refreshing surprise. She had a complicated past and yet it wasn't the main focus of the story, the plot really focused on the aftermath of her past and how it's shaped her as a person. McQuiston dropped hints about August's past casually and it was put there to further the plot, not just for the sake of a complicated character. It made the book more light-hearted. I loved seeing Jane's character through August's eyes. You really get an insight into August as a character, whilst also coming to like Jane as much as August does. The book is in the third person, but I felt like I was reading in the first person because McQuiston really gets you in August's head. Her flatmates gave me the vibe of a found family trope. August seems to have found her place with them and the city and it really shows as the book develops. Going back to her past, in other books you tend to see characters acting cold, closed off, and untrusting because of their past, and it takes so long to see development that it's just dragged out. With this book, August was open to people from the start. You could see the slight struggle in her mind between old habits and her need to shed them, and honestly, I think the description was a little misleading in her cynicism. Go give it a read. It's the perfect summer romance book with the queer representation you need on your bookshelves.
6. Get a Life, Chloe Brown by Talia Hibbert
Goodreads Description
Chloe Brown is a chronically ill computer geek with a goal, a plan, and a list. After almost—but not quite—dying, she's come up with six directives to help her "Get a Life", and she's already completed the first: finally moving out of her glamourous family's mansion. The next items?
Enjoy a drunken night out.
Ride a motorcycle.
Go camping.
Have meaningless but thoroughly enjoyable sex.
Travel the world with nothing but hand luggage.
And… do something bad.
But it's not easy being bad, even when you've written step-by-step guidelines on how to do it correctly. What Chloe needs is a teacher, and she knows just the man for the job.
Redford 'Red' Morgan is a handyman with tattoos, a motorcycle, and more sex appeal than ten-thousand Hollywood heartthrobs. He's also an artist who paints at night and hides his work in the light of day, which Chloe knows because she spies on him occasionally. Just the teeniest, tiniest bit.
But when she enlists Red in her mission to rebel, she learns things about him that no spy session could teach her. Like why he clearly resents Chloe's wealthy background. And why he never shows his art to anyone. And what really lies beneath his rough exterior…
Average Goodreads rating: 3.86 stars
My Rating: 5 stars
Primary Genre: Romance
Other Genres: Contemporary, Adult, Chick Lit, Humour, Disability
Personal Notes
Honestly, I can't recommend this book by itself. It's the first book in the Brown Sisters trilogy by Talia Hibbert. The series follows these sisters, from the eldest to the youngest, and their relationships with themselves, each other, and their respective love interests. Talia has beautifully brought six characters to life, and even the side characters have relevance and personality. The books are also known for their diversity and representation of marginalized groups, including a wealthy black family, characters on the autism spectrum, plus-sized main characters, Asian representation, and bisexual women. These books are short, light adult romances with realistic, witty characters. Take all three with you to the beach, and you're set for the day.
Last Message
I've only read five out of the six books I've recommended, and they were all highly enjoyable reads. They're all books that I would take with me to the beach. They were quick reads, with good pacing and an enjoyable plot. I haven't read The Invisible Life of Addie LaRue, but it comes highly recommended by people on all platforms, and I've left the link to a review for it. I really liked the concept of the book and I've been meaning to read it. curated list of books for your summer trips to the beach. If you want more information and reviews, search for these titles on Goodreads, TikTok, Amazon, Instagram, and even Twitter; you're bound to find insightful reviews. Beware of spoilers, though! Also, make sure to check the content warnings for all the books, for your own safety.