It's spring, and for many high school and soon-to-be students, one of the first things they think about is how they're going to live for the next few years.
There's no doubt that dorms are one of the most important parts of the college experience – after all, that's what you'll call "residence" for a while. However, making your dorm really feel like home isn't as easy as it looks; From choosing an aesthetic to ensuring it's functional yet stylish, dormitory is a complete process.
Luckily, Dormify is here to make it easy for us. Your "ultimate destination for decorating small spaces" has just about everything you can think of and everything you'll need. From the cutest tassel blanket to electric wall screens to a gorgeous desk, Dormify is what will make your room truly complete.
Buy Dormify at dormify.com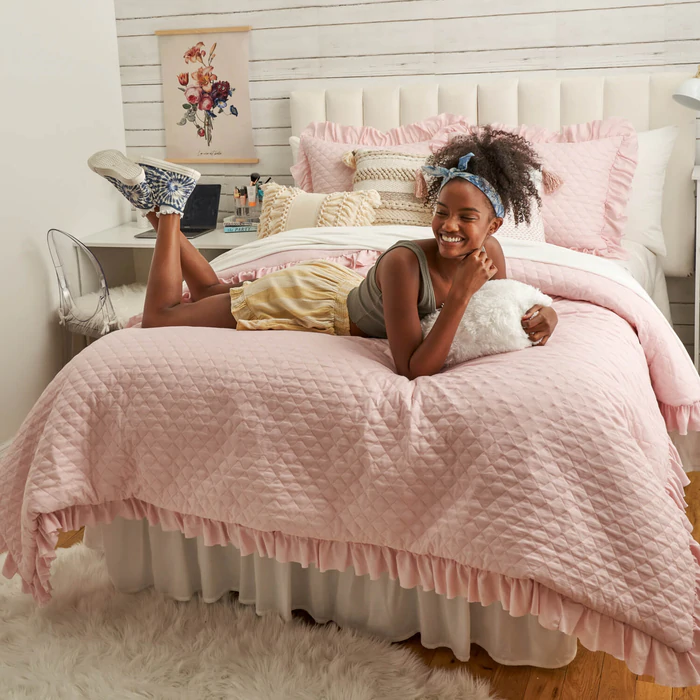 At an affordable price, Dormify offers "exclusive products specially designed for small spaces without sacrificing style". Their designs are both classic and on-trend, and there's such a variety of high-quality items that will make your dorm room feel like it's truly yours.
For the spring season, we've curated our favorite Dormify picks that perfectly encapsulate a chic, comfy, and cozy bedroom. Decorating your dorm is about to get a whole lot more fun!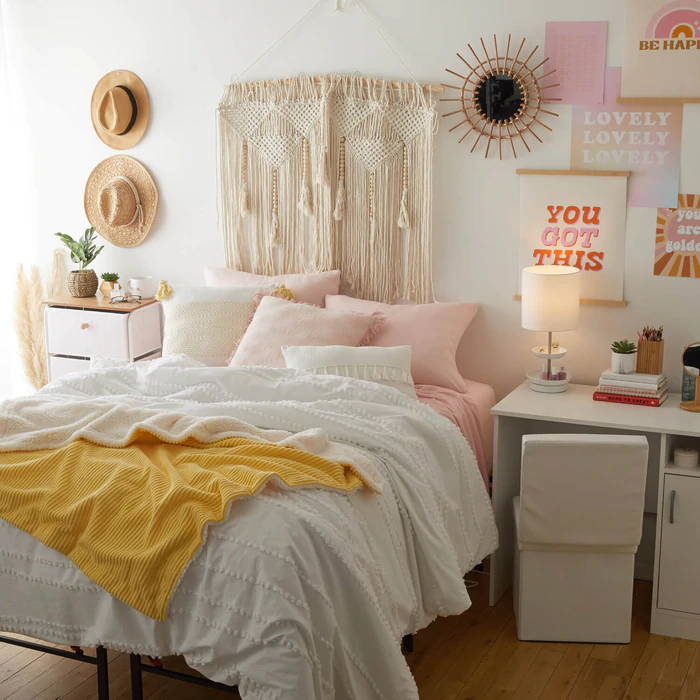 light this up
Whether for late-night study sessions or sleeping with a nightlight, the Shaped Glass Table Lamp is the ultimate mood-setting lamp. This lamp spreads the perfect lighting mood and seriously illuminates your room.
Buy the shaped glass table lamp in blue here.
This gorgeous lamp is all about elegant glaze and golden tones. In a curvy, rounded silhouette, the lamp is topped with a cream-colored shade that filters in a warm glow.
Featuring a light yet sturdy gold base, the lamp itself is abstract and curvy, making it perfect for balancing straight edges. Above the shade is a golden spherical cap to complete the look.
Made of metal, marble and glass, this lamp is very durable and of such quality that you will be seriously impressed.
Assembling this lamp took less than ten minutes and it was quite easy to figure out how to work out its structure. I love how it's so convenient and versatile to put anywhere you want.
With a dimension of 20.5″ H x 10″ W x 10″ D, this lamp is the perfect medium size to put on your nightstand, study desk, or even on a bookshelf . It's tall enough to make a statement but not too much. Huge, so it should be able to fit in most places.
The Shaped Glass Table Lamp costs just US$65 and is such a bargain, especially considering its high quality and classic design. You can bet this lamp will never go out of style!
In addition to the blue shade, the shaped glass table lamp is also available in orange, a fiery and bold shade.
sun on the ground
Rugs are exactly what you need to make your room really cozy. not only do they add a pop of color and fuzziness (literally), but they prevent that cold, hard floor. Hands down, it's definitely a staple in your dorm room.
With the washable yellow geometric rug in particular, it was truly love at first sight. From its bright yellow hue to its washability (yes, you read that right), the washable yellow geometric rug is the definition of perfection.
Buy the washable yellow geometric rug here.
The pale yellow rug features simplistic and cute white stripes and chevron lines. I love that it's noticeable without being too over the top, which gives the room a fresh and collected feel. The cheerful yellow color is as bright as it looks in the photos. I mean it when I say this rug brings the room to life; its cheerful color really brings positivity!
Made from 100% cotton, this rug is so soft. The carpet pile itself is shorter, so it won't shed much. On the top and bottom edges are small tassel designs, which are so adorable.
Plus, this rug is huge. At 4′ x 5'3″, it's big enough for you to lay down comfortably on top with a bunch of pillows and hang out comfortably with friends.
My favorite thing about this rug, however, is that it's machine washable. It's genuinely such a lifesaver for when you need to take care of it – all you have to do is give it a spin. To care for the mat, follow Dormify's instructions below:
"Machine wash cold, tumble dry low. Wash separately in cold water, use gentle cycle without bleach, tumble dry low. If pilling occurs, use a broom to comb through in the direction of the hair. Vacuum compatible. Cut loose threads with scissors, do not pull."
The washable yellow geometric rug costs US$249. It's such a good investment to keep your room cozy and cute, and I love it so much.
A boho basket for your blankets
If you want to incorporate a natural and long-lasting feel into your dorm room, this storage basket is for you. With a bohemian and casual feel, this basket is perfect for multiple uses and will make your room complete and well decorated.
Buy the two-tone natural fiber storage basket with handles in white here.
The basket features a darker colored top and a lighter beige bottom. The entire basket is woven in a lovely pattern, even including the handles on each side. A creamy pom pom is attached to one of the handles which adds to the bohemian vibe and is simply the cutest ever.
Made with 100% jute, the basket is biodegradable and recyclable. I love how eco-friendly it is and its natural look makes the room so inviting and cozy.
This basket is so much bigger than you think. Measuring 43.2 x 43.2 x 43.2 cm and ~ 2.3 kg, this basket really offers possibilities as a tote. It's wide and deep enough to hold lots of things, from your favorite movie night blankets to beach towels.
I was able to fit two huge blankets inside, and I love positioning it right next to a couch so I can watch my favorite shows with the blankets easily accessible. Say goodbye to messy blankets and say hello to this handy basket!
To take care of the basket, Dormify recommends spot cleaning. The basket is also available in black, blue, red and green. The wide variety of colors allows you to adapt it to your aesthetic.
The two-tone natural fiber storage basket with handles retails for US$79. Elegant and functional is its middle name!
Follow Dormify
Be sure to follow Dormify on all social media for bedroom decorating inspiration and styling tips!
Find Dormify on Instagram @dormify and TikTok on @dormify. Want to add inspiration pins to your dream dorm's Pinterest board? Find Dormify on Pinterest at @dormify.