With the holidays approaching, it's time to plan what gifts you're going to buy for your friends and family! If you're looking for a fantastic gift idea that everyone will love, you should consider a subscription box! Whether they like books, make-up, a snack, etc., there's a subscription box for that! Many of these boxes are also quite affordable, so you can either pay for a month and have them shipped to you, or buy the box for a few months and have them shipped to you! For today's article, I'll be sharing the top twelve subscription boxes every teen will love!
Universal yum
Buy here: Universal yum
Is your friend or family a foodie? If so, Universal Yums is a great subscription box for them! Every month, Universal Yums sends a box with snacks from a specific country around the world! This year, some of the countries included the Czech Republic, Taiwan and Greece!
There are three specific boxes to choose from that all have different snacks and prices when purchased. For as little as $15, the Yum Box will include 5-7 snacks, as well as a 12-page booklet with trivia and games. For as little as $25, the Yum Yum Box will include 10-12 snacks plus five extra snacks, a booklet with trivia and games, recipes and more! Finally, for as little as $38, the Super Yum Box will include 18-20 snacks, plus eight more, a 16-page booklet with trivia and games, and recipes!
I sincerely believe this is a gift you can't go wrong with, and absolutely anyone would love it!
square charm
Buy here: square charm
If the friend you are buying for is a makeup lover, Boxycharm is a wonderful idea! Personally, I think Boxycharm is worth it for what you get in the box! For $25 a month, you'll get five full-size beauty products. Premium makeup is included in these boxes, which usually cost up to $175! Or if you want to spend $40 a month, six items are included in the box, worth $215! This subscription set is worth its price, and any makeup lover will love it!
book of the month
Buy here: book of the month
If your friend likes to read, a Book of the Month subscription is a great gift idea! If you buy the Book of the Month as a gift, the subscription is $50 and lasts three months (or more)! After purchase, you will either send an e-mail or a letter to the person of your choice, and they can choose three books of their choice offered by the Book of the month! All in all, this subscription is a wonderful way for people to read more!
scented bird
Buy here: Scented bird
Scentbird is an amazing subscription box that I recommend everyone to try! For $16 per month, Scentbird offers shoppers an 8ml bottle of fragrance (about 140 sprays). Another great factor is that there are also hundreds of fragrance options for you to choose from, from brands like Versace, Bvlgari, Micheal Kors, and more! Scentbird is really fantastic, and I think everyone would love it!
Fun and fun
Buy here: Fun and fun
Fab Fit Fun is one of the most unique and exciting subscription boxes on this list! This subscription costs $45 and boxes are sent out each season. In these boxes are 6-8 full size products in areas such as fashion, wellness, beauty, and more! Personally, I think all the products in the subscription box are incredibly useful and worth it! If you plan to give this subscription box as a gift, you can also purchase gift cards from $25 to $300!
Kinder Beauty
Buy here: Kinder Beauty
Where to start with Kinder Beauty? This subscription box is my all-time favorite for beauty lovers. Created by Evanna Lynch (Harry Potter's Luna Lovegood) and Daniella Monet (Victorious' Trina Vega), the Kinder Beauty Subscription Box offers shoppers plenty of full-size beauty products each month. All of the products in these boxes are 100% vegan, cruelty-free and have a value of $150+. This subscription costs $26 per month if you are interested, and if you prepay three months at $24 per month, you will receive a free box
magic snack
Buy here: Snack and Magic
Snack Magic is a new relativity subscription box with an amazing initiative behind it! Whether you're looking to create a snack pack for your friend or a business of over 200 people, Snack Magic is for you! This subscription box lets you create a box of multiple snacks starting at $45. This concept is unique, and I advise you to browse their website if you want to create a box and find the snacks they offer!
Ipsis
Buy here: Ipsis
Similar to Boxycharm, the next subscription box on our list is Ipsy! For $13 a month, shoppers receive five beauty products ranging from skincare to perfume, nails, and more! I sincerely believe that this box is excellent for beginners and beauty professionals! What I like about Ipsy is that the subscription boxes are based on personal preferences. So if you're buying for a friend, it's essential to know which beauty products they prefer over others, as this will influence the results in the box! If you're looking to buy a subscription box (for yourself or a friend), this box is affordable enough to buy for many months!
Hunt a killer
Buy here: Hunt a killer
Now, if you or your friend are as interested in true crime as I am, you need to check out Hunt a Killer! This subscription box allows players to solve a crime through clues, tips, and other information provided in the box. It's incredibly addictive and a great way to test your critical thinking and detective skills! This subscription box is a little more expensive than the others, as it costs $30 per month, or the most popular option is to buy six months of mysteries for $165.
Pura Vida Jewelry Club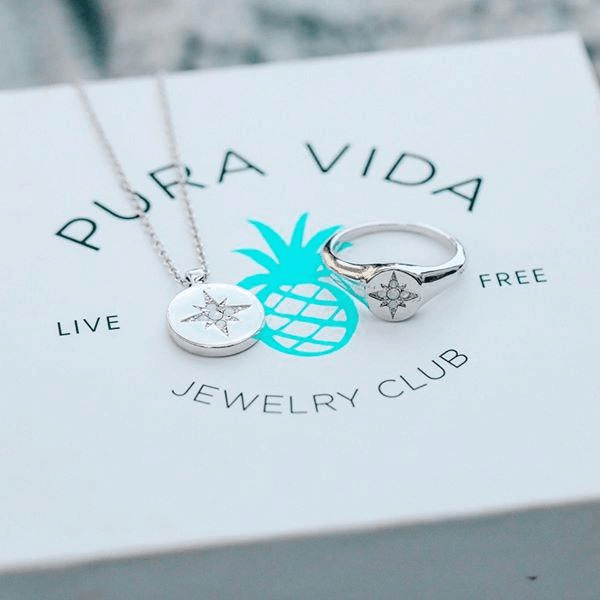 Buy here: Pura Vida Jewelry Club
The Pura Vida Jewelry Club is a fantastic membership for jewelry lovers. Most people know Pura Vida because of their bracelets, but you can get jewelry no one else has access to in this subscription box. For $20 a month ($16 for six months and $15 for 12 months), you'll receive two pieces of jewelry worth $60, plus a free sticker, early access to major sales, and more!
We're officially done discussing ten of the best subscription boxes every teen will love! If you're looking for a last minute gift, I highly recommend considering a subscription box!
I sincerely hope you've found a subscription box that interests you or the person you're buying a gift for! If you're interested in buying a gift set for a friend, I recommend having it shipped to your home, but if you're buying multiple month's worth of packages, have it shipped to your friend!