Fall is approaching, and while 2020 has been a bit unconventional in most aspects of life (i.e., every day is another disaster), fashion this year is flawless. 2020 has seen a return to classic 90s and 2000s outfits that look like they never went out of fashion, and also saw the emergence of more sophisticated styles that are not only super easy to wear, but also super easy to find!
So whether you're staying home or heading out on the town (wearing a mask and six feet apart, of course), these are must-have pieces in your wardrobe this fall. If you're at home: A great excuse to shop online is to look yourself in the eye. If you're away: all the more reason to buy new pieces to look stylish. Maybe match your mask to your top?
Scarf Tops
Scarves are the new thing and they're adorable. Ranging from bandanas to vintage silk scarves, the silhouette is flattering on most body types and looks adorable paired with anything from straight jeans to mini skirts. They are also super versatile; whether you tie it up like a halter top or buy one of the silhouettes with an elastic band in the back, I can assure you that you are going to be obsessed with this style.
Pair it with an oversized jacket or blazer and some cute shoes for the ultimate look!
A girl who exemplifies this look: @josiejabs, an absolutely gorgeous (inside and out) social media influencer who paired this scarf top with a pair of simple flared jeans. Josie's other outfits make me want to drop everything and change my whole wardrobe.
Sneakers
If your immediate response to that was "OMG of course I have sneakers" and you were staring at your dirty old Air-Force 1s, that's not amateur hour. I'm talking about real hardcore sneakers. I'm talking about the Air Jordan 1 Retro Mid in Blue Green sneakers. One of the biggest trends right now is footwear: if your outfit is basic, a pair of incredibly cool sneakers is the perfect way to spice it up. Tank top and jeans, but with a pair of off-white high-top sneakers? Not only do you look like you tried twelve times harder, but you generally look cooler.
One of my favorite Instagram sneaker connoisseurs is @annaastrup on Instagram, who has the best collection of shoes I've ever seen. Here is one of his pairs of New Balances.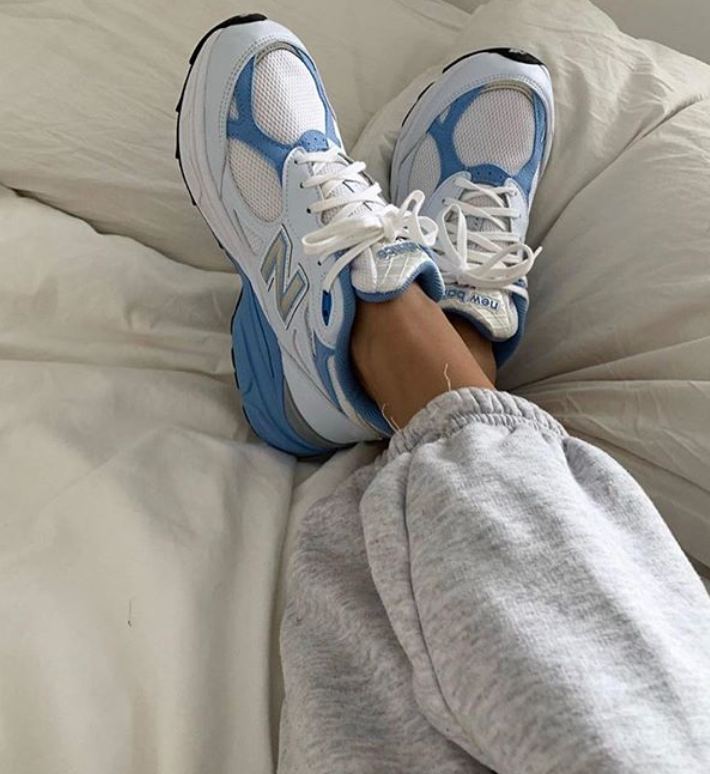 Tennis skirts
If you haven't gotten the memo yet, tennis skirts are the 2020 trend. The schoolgirl look is making a comeback through adorable outfits pairing tennis skirts with scoop necks and a piercing collar, or with a cardigan and a small tank top. Paired with delicate gold jewelry, the tennis skirt look is definitely super versatile and super stylish. Why wouldn't you want to wear cute skirts every day?
@mccall.mitchell on instagram executed the 2020 style beautifully, pairing an adorable cropped cardigan with a sweetheart blue tennis skirt and matching bucket hat!
Blazers and pantsuits
If you're maybe under 25, you've probably never considered donning a blazer and pantsuit for a casual day. Maybe you should? Blazers are great right now, as are trouser paints and matching sets. Pairing a pair of cream long pants with a crop top and a beige blazer gives off the perfect street look and keeps you warm if you live somewhere a bit colder. Blazers are also adorable over a bodysuit or miniskirt worn oversized and belted at the waist for a natural accent! It's the perfect transitional piece because it's not super heavy for the late summer months and isn't too thin or flimsy for cold fall weather.
A girl who represents this look: @hoskelsa on instagram, a former Victoria's Secret angel whose closet I've been dying to have. Elsa paired the ensemble with a small brown shoulder bag reminiscent of the early 2000s.
Sweater Vests
Again, a very academic outfit, but still very stylish. Sweater vests and layering are super trendy right now, especially with a thinner shirt or color coordinated ones. It's also very practical for the fall and will keep you just warm enough not to freeze, but cool enough not to overheat if you live near the south. It's also very easy to dress up or down: with a white button and fancy pants, you're Matthew Gray Gubler in Criminal Minds, and if you team it with baggy jeans, chunky hoops and sneakers, you are too. -cool-for-everything and probably heading for brunch.
@sofiamcoelho on Instagram did it beautifully, pairing this gorgeous cream cardigan with a light blue button. Way to success, my daughter.
Short dresses
Mini skirts and mini dresses are the new trend, and for good reason. Why should I wear pants when I could look ten times better without them? From puff sleeve dresses to silk pieces, the versatility of a dress is unmatched. Fly Away: Underneath a leather jacket with black boots, it's a sharp, girly take on modern fashion. Tucked into jeans, it's a fancy top. With a cardigan or a white t-shirt layered underneath, you are a real fashion icon 2020. If you want your skirt to be a little puffier, you suddenly walk through a European garden and the sky is a light blue. I already imagine it.
As for a mini dress inspiration, it wouldn't be a 2020 outfit report without calling in arguably one of the top fashion connoisseurs on social media. If @matildadjerf wasn't your style icon already, she will be now. Just looking at this dress made me want to run away to Paris and frolic in the Jardin du Luxembourg. His is from http://selkiecollection.com.
Definitely consider getting curtain bangs and buying a puffy organza mini dress and a plane ticket. Just a thought.
And, let it be a friendly reminder: be you. Be beautiful, because you are. Go on and show the world what you've got, and now you can look cute while doing it.