Hopeless romantics, rejoice- if you're hoping to twirl in what might be the most beautiful dress you've ever seen, Cleobella is here to grace us with its presence. Actually, beautiful doesn't even cut the word, to be honest- perhaps show-stoppingly gorgeous will suffice.
Cleobella is a soulful, culturally inspired designer brand with consciousness and value; the sustainable, handcrafted pieces will have you absolutely swooning.
shop Cleobella at shop.cleobella.com
A creation of blossoming textiles and intricate patterns, Cleobella partners with artisans overboard to create pieces that are delicate, thoughtful, and filled with inspirational meanings.
Inspiration: It's An Art
Cleobella's story of how it came to be captures the very core of the designer brand.
In 2006, the brand's founder, Angela, traveled globally with her family for a year, in which "in love and full of inspiration they explored new cultures always leading with their "embrace the soul in everything" mantra."
With previous involvement within the fashion industry, Angela was able to come to create and envision "herself transitioning from being the product to creating the product." By the time the trip was near its end, the beginning of Cleobella had begun to rise.
"From the beginning the vision was to offer globally inspired products that uplift the cultures and traditions of the artisans creating them. In collaboration with artisans the first product was created," writes Cleobella.
Today, the stroke of inspiration from travels and falling in love has now grown to be a rejuvenating yet relaxed lifestyle brand that is recognized all over the world.
"With headquarters in California, a flagship store in Sunset Beach and production in Bali", Cleobella, for countless points, is the very dream of those that are dreamy and dare to dream.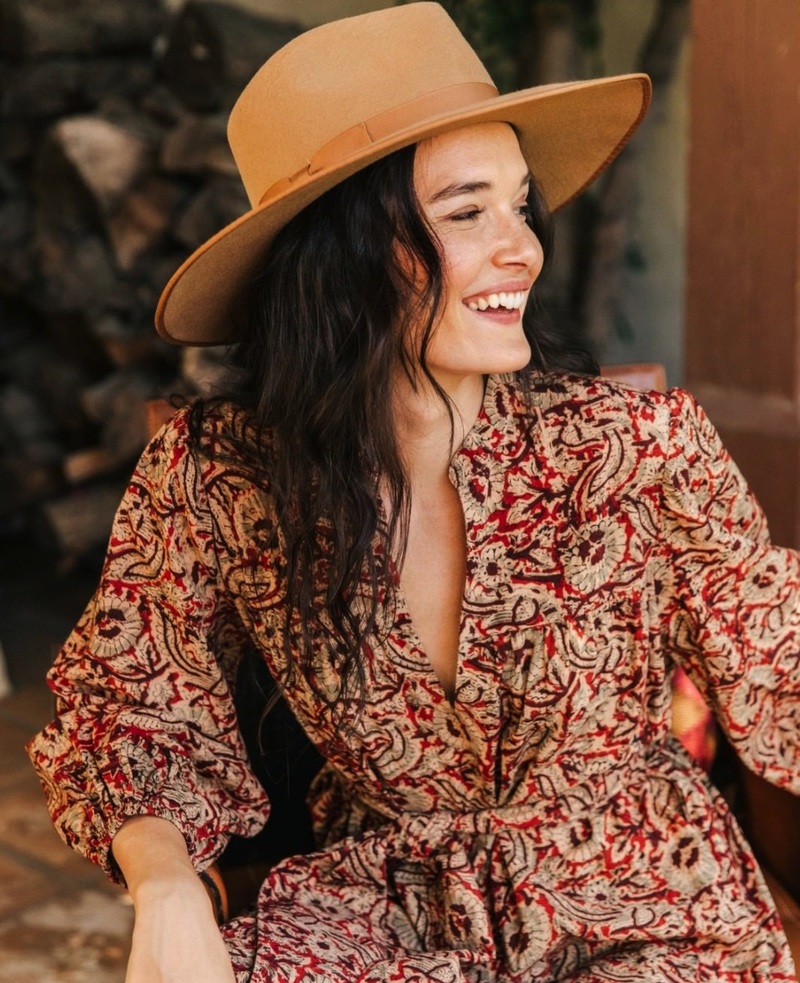 Travel feeds the soul and inspires the artist.

-Cleobella
Cleobella also has a Q & A highlights on Instagram for viewers to get to know the founder further. Click here to read more in the highlights!
The Versailles
Named after the grand palace of French Royals, the Versailles dress is just as opulent as its namesake.
Lined with detailed embroidery, princess ruffles, waist-hugging band, a back lined with iridescent buttons, and overall fanciness and clean-cut elegance, this dress is sure to win your heart.
to shop the Versailles Mini Dress in White, click here.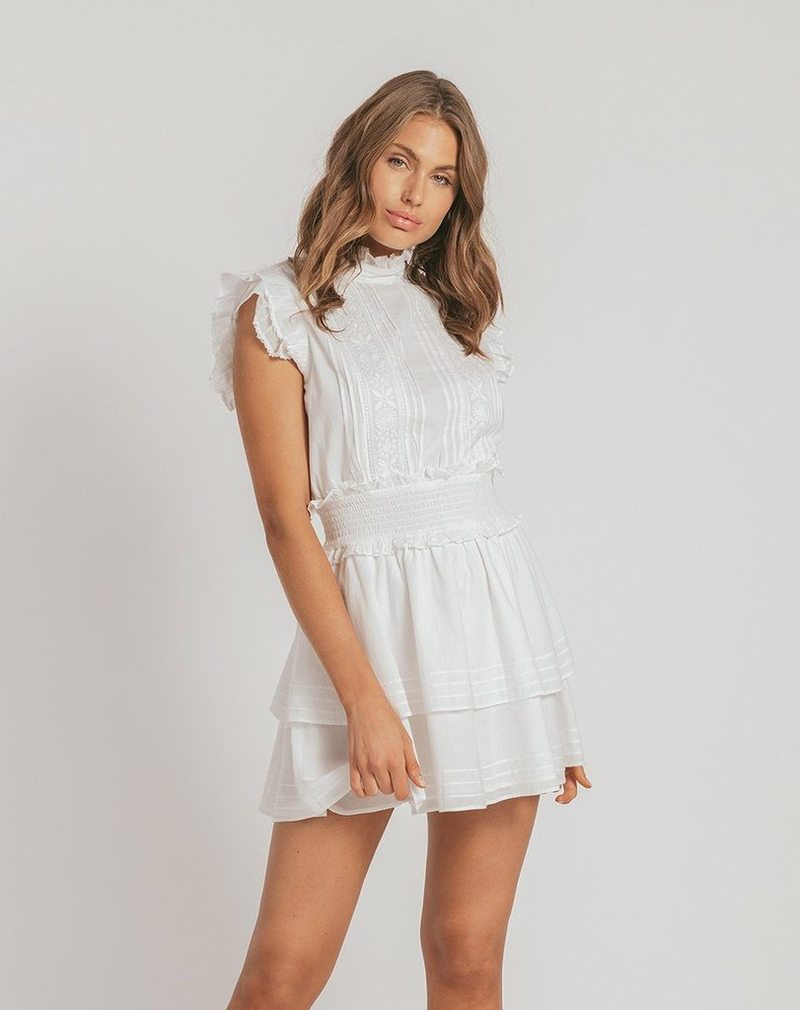 The dress begins with a shorter line of ruffles that are topped with eyelet lace; this wraps around the neck, giving it a two-thirds coverage and a high neckline. The lace is folded in between in shorter spaces, and the dress's top design ends with a three-tier fabric folding.
This gives an absolutely appealing visual, and it is completely comfortable.
The torso of the dress is lined with two main vertical embroidery lines. Both are identical, and each features intricate (and by intricate, we really mean it- the details sewn on are astoundingly breathtaking) embroidery. The edges are lined with multiple borders that are also embroidered on as well.
On embroidery, Cleobella writes: "Each Cleobella embroidered design tells a story and it's [sic] delicate nature makes this work of art an item to be treasured and passed down from generation to generation. Hand embroidery, historically, was a way to personalize clothing and show delicate prints and textures.
To this day, our skilled artisans use embroidery to carefully create designs and patterns to make our clothing as unique as it's wearer. Occasional variations in the design are due to the handmade process, making each piece unique and special."
The detailing varies in shapes and design, but all united in the same general styling and delicacy. There are compass-like, wheelbarrow-like, and floral stitching, to name a few.
The Versailles dress is like a lotus. As a lotus has many layers, each closer you take in the piece, the further you'll marvel at the intricate design that creates so much depth and meaning.
The sides gently cover the shoulder but leave much of it free; large, loose princess-like sleeves are layered in ruffles that are double-lined. A shorter ruffle is in front, with the longer ruffle behind to give it a beautiful overlay. Both ruffles have the classic eyelet lace that matches the neckline for a complementary balance.
Shoulder ruffles of this dress give proper stance to the shoulders and maximize the wow effect of the dress with some ruffles without being over the top.
It is not overly huge nor "poofy" and has just the right amount, and could be seen as a line between "less is more". Less of the gigantic sleeves and subtle, but certainly more in detail, which we're so falling for. Details are always to fall in love with!
The dress comes down to a thick elastic band, which is scrunched with immense lining. We're so in love with how the elasticized waist gives the body silhouette the chef's kiss hug and comfortably lines the body.
Next to the elasticized waist on both sides are- you know it- more lining, with the solid white fabric folded neatly and closely for visual.
The skirt of the Versailles dress is also tiered in two- as all fashionistas know, layering is the key to everything. Each skirt is lined with four horizontal lines that are more opaque than each layer of the skirt. Altogether, the skirt is completely solid, and inside, the bottom half is layered with another inner skirt that is of the same material.
On the back, everything is clean-cut; sweet and simple, the center is lined with six buttons in the shade of an oyster peal with the same gleam of a genuine one. The buttons can be tied shut with a sturdy fabric loop.
The overall color of the Versailles is a solid clean white- a pure shade. Without any color variations and the true definition of a princess in a palace, the Versailles is such a darling dress.
You can't help but feel like a royal in this stunning piece, as if you're dancing in the palace gardens or the grandeur of the golden ballrooms. Be a princess in the Versailles dress, and twirl in delight!
The Versailles dress comes in different variations as well.
In different colors, the Versailles mini dress is also available in the dark black shade to give it more edgy, mysterious radiation. Shop the Versailles mini dress in black here.
If you have a little one- baby sister, daughter, cousin, etc.- and you'd like to match (because matching is always double the fun and double the heart eyes), Cleobella has that just for you! Shop the mini of the mini version here.
View this post on Instagram
Spring 2021 Collection
Cleobella launches Spring 2021 Collection, filled with lighthearted yet neutral, mature handblock prints perfect for the warmer, blooming weather that embraces the upcoming season.
Cleobella's Spring 2021 Collection is almost here! A portion of the collection has arrived already, which is available on site.
Shop the new arrivals here.
The Madelyn
The Madelyn Mini Dress comes in mature purple colors such as mauve and wisteria.
All over the dress are intricate printed patterns that could be described as a paisley take on floral, with daintiness and wildflowers growing freely about.
The dress fabric is incredibly lightweight and flowy and feels like a sashay-able dream. Of fabric that feels at liberty and thin to give your skin the feeling of soft breezes, the Madelyn is a bohemian dream.
The Madelyn begins with a medium neckline with trimmed ruffles that is low and cinched at short interludes. The ruffles themselves are incredibly detailed, with lilac-colored fabrics in tiny circles dotting the outline.
Interestingly, the collar can be adjusted; long bohemian drawstrings are woven through the collar line, which can be gently tugged to your liking if you wish.
The light blush pink tassels at the end of the strings are chef's kiss and are just the perfect addition to a free-spirited, bohemian world. Also, may we add: the softest tassels ever, with their plushness and incredible thread count.
Madelyn mini dress has a v-neckline that is not too short nor too long and offers the perfect amount of coverage. The v-line is connected in a straight line mid-center with 5 buttons in an ivory-like hue that glints entrancingly at the catch of light.
The front torso of the Madelyn mini dress is vertically lined with subtle ruffles that can be noticeable up close, with dainty overlays and texture towards fashion, giving it an intriguing aspect. Four rows of extra-lined fabric going up and down adds an appealing visual.
The sleeves of the dress are puffed, which is a feature romantics and daydreamers are bound to fall in love with; the puff sleeve is ended with a thick elastic material that never tugs or pulls and rests comfortably on your triceps with ease. The elastic is beautifully scrunched (elastic linings, we learn, can be breathtaking) and ends with a thin layer of ruffles to complete the ending of the puff sleeve.
The torso, back, and skirt are lined with extra fabric in a dusty rose shade that is not translucent like those on top, and so are the sleeves.
Like the Versailles, the Madelyn, too, has an elasticized waist; this comfy-cozy and snug waist cinch measures around three inches. Both the top and bottom of the waist are lined with dainty ruffles that add to the overall charismatic style of the mini dress.
The skirt of the Madelyn is also tiered, but less uplifted. The skirt has feels weighted down together to give the skirts a little shimmy and some sashay, and the material gives the illusion of a three-tier instead of two.
Each skirt is of the same translucent material featured throughout the entire dress and is actually connected to each other so no easy breeze can lift the lightweight skirt layer. Right in the middle of the first thinner layer is the placement of the tiered ruffle, and it has been cleverly cinched at brief interludes to give a shadowed look.
What may be the most amazing fabric you'll ever lay your eyes on, the Madelyn's translucent fabric is semi-transparent, but with some very neat exceptions.
If you put your hand behind the first layer of fabric, you'll easily distinguish your hand and the colors, but the intricate pattern will also be displayed on your palm vividly.
Through the somewhat pellucid fabric with intricate printed designs are the blush colored, solid fabric to give the dress its basis.
The back torso of the dress is simply of the pattern, giving rapt attention towards the front with its creative, alternative style and aesthetic.
The Madelyn will easily have you in a state of dreamy imagination where you can prance in a dewy field filled with wildflowers. Rustic, timeless, and effortlessly awe-inspiring, the Madelyn is the perfect piece for spring, if not all time.
Handmade Woodblock Process
"Hand block printing is an artisanal technique of India," writes Cleobella, "This type of fabric printing involves the use of carved wooden blocks where beautiful patterns are created by pressing the carved wooden block onto the fabric one by one."
A technique practiced and perfected for decades, Cleobella incorporated this cultural tradition into gorgeous pieces you can wear.
Block printing, mainly from the area of Rajasthan of India, is a generational passing work that also takes much time, which results in beautiful designs that are complexly detailed. "For each individual color there is a separate block. Once the blocks are made they are kept in mustard oil for about one week to set. This insures [sic] the block won't crack during the drying process. The carvers drill holes into the wooden block to extend its life," writes Cleobella.
Preparation of the fabric for printing is also a separate process of its own that takes immense effort and care. Using resources and tools given from our earth, the fabric is treated without artificial help.
Wooden blocks press onto the fabric with the specific color after the fabric is prepared via the liquid & drying process. This has a certain method that must be done that the craftsmen know by heart.
The printed fabric goes through the block impression, all done by hand, and is washed and steamed when the prior process is complete.
Indigo printing technique is also applied to Cleobella pieces.
To learn more about the handmade woodblock printing process step by step, click here. It is extremely inspirational and educational and will leave you filled with awe.
Sustainability: Cleobella Cares
From creating a small-batch collection to limit inventory to the very necessary, Cleobella has great focus and passion for anything that uplifts our planet Earth.
All pieces are handcrafted by global artisans and created ethically, and the process of the piece makings are also sustainable and created with much consideration.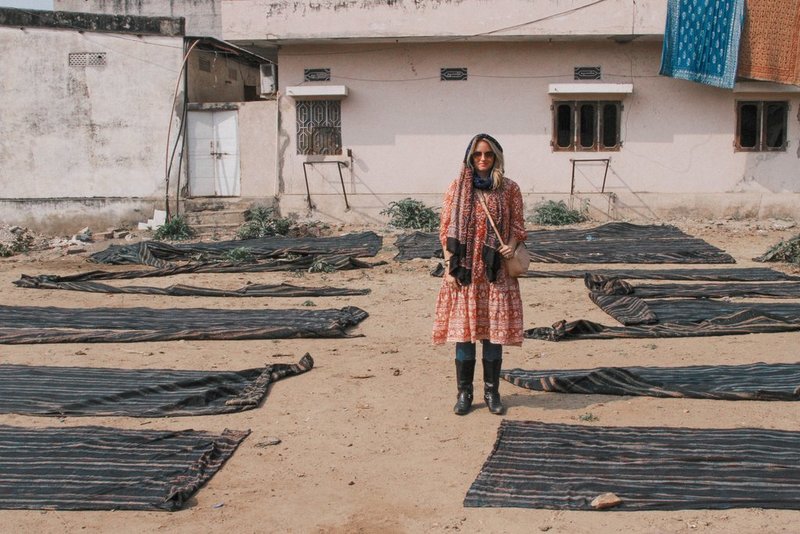 Even down to the clothing tags, sustainability is prominent throughout. The tags are upcycled, furthering and cementing the applaudable length Cleobella goes to ensure the best.
The tags read:
Globally inspired, ethically handmade.

This one-of-a-kind piece was handcrafted by artisans, helping to preserve their craft and create sustainable incomes.

Occasional variations in designs were due to the handmade process, making this piece as unique as you.
Touching and with good value, we couldn't possibly think of anything better than this!
Made With Love, By Hand
No other can imitate not come close to what Cleobella has.
Handcrafted so incredibly well that you could even be incredulous as to how that could be possible, the local traditions and niche crafting and technique that is known by no other makes Cleobella extra special and extra stunning. The cultural influence is prominent, as is the worldly soul the brand possesses.
The warmth and the effort from the passionate process is visible on the pieces and that love travels right to you when you wear the piece.
Process, People, Planet, Philantrophy
"Cleobella's intricate process is signature to our brand, creating every product individually by hand makes each design a timeless work of art. Our aesthetic reflects timeless artistry with modern ease," writes Cleobella.
The brand incorporates "traditional tooling, weaving, dyeing, and beading" to create one-of-a-kind pieces that are reflections of diverse long-established experience from a multitude of cultures. Through working with artisans overseas, Cleobella's partnerships "generate more sustainable incomes for each artisan and create products that are handmade with love."
If pieces could be soulful, it would be rightful to say this absolutely applies here. Cleobella is empowering, with charms unparalleled and designs that evoke a story to be told. It's not over the top and quite effortless, but incredibly put-together with a touch (perhaps a splash) of timeless romance.
It is also very telling of how much Cleobella holds genuine care, concern, and respect for our world. Their sustainable practices are passionate, and pieces are created in mind towards Mother Earth and the Bellas that wear Cleobella.
Philanthropically, the brand also gives back. "Cleobella is a female founded company and we believe that empowering women makes our world a better place. We donate 1% of profits to empower women globally to organizations like Care.org."
With Cleobella
With Cleobella, you feel free. The spirit of this recognized brand is of bohemian wonders and discoveries of travel.
The lovely timeless designs move us with an emotion we can only describe as "hopeless romantics fall in love," but will stand still forever on how one of a kind it is.
We find Cleobella covetable and distinctive- with endless care for our planet that vibrates soulful energy. It's a charming and picturesque style that looks stunning on anyone and everyone.
It makes you feel like the main character of your very own fairytale. No words nor pictures can do Cleobella justice- it's just too perfect.
Visit Cleobella In Real Life
In 2012, Cleobella launched a flagship boutique located in Sunset Beach, California.
The perfect location that matches the curated collection and aesthetic of Cleobella we all know and love, the boutique is open for you to visit!
Come stop by Cleobella at 16792 14th St, Sunset Beach, CA 92649.
"Our little beach boutique is a true hidden gem; it's our happy place. You'll know you've arrived when you spot the crochet Balinese sun umbrellas brought back home from Indonesia. They are meant to make you smile."
Keep Up
Be sure to follow @cleobella on Instagram for romantic and dreamy shots of printed dresses, vintage-esque hats, eye-catching bags, and more.
Cleobella also has a blog- to read more, visit shop.cleobella.com/blogs/blog.
Romantic and conscious, Cleobella is the epitome of grace and goodness. Stay inspired, bellas!
This publication is a sponsored press article. Mentioned prices are accurate and items in stock as of the time of publication.