Delicate romantic pieces are always a fashionable accessory, but overpriced and poor quality jewelry can put a damper on it.
With En Route Jewelry, you'll end up with real, authentic pieces, embodying a fun personality and adding beautiful touches to any look. And, of course, prices that remain honest.
About EnRoute Jewelry
New York-based jewelry brand En Route Jewelry focuses on creating "sensual and accessible" jewelry.
With its chic feminine styling and affordable prices, En Route is just what we all need.
With En Route Jewelry, you'll end up with real, authentic pieces, embodying a fun personality and adding beautiful touches to any look. And, of course, prices that remain honest.

-The teen magazine
See this post on Instagram
New: The Tulip Collection
En Route Jewelry has a new collection – The Tulip Collection.
The embodiment of the gorgeous flower with the addition of elegant white pearls, this collection is the perfect definition of classic and classy.
This new collection features a beautifully designed necklace and 2 distinct earring styles – see the Tulip collection on enroutejewelry.com.
The collection extends to Tulip Earrings, Clover Pearl Earrings and Tulip Necklace.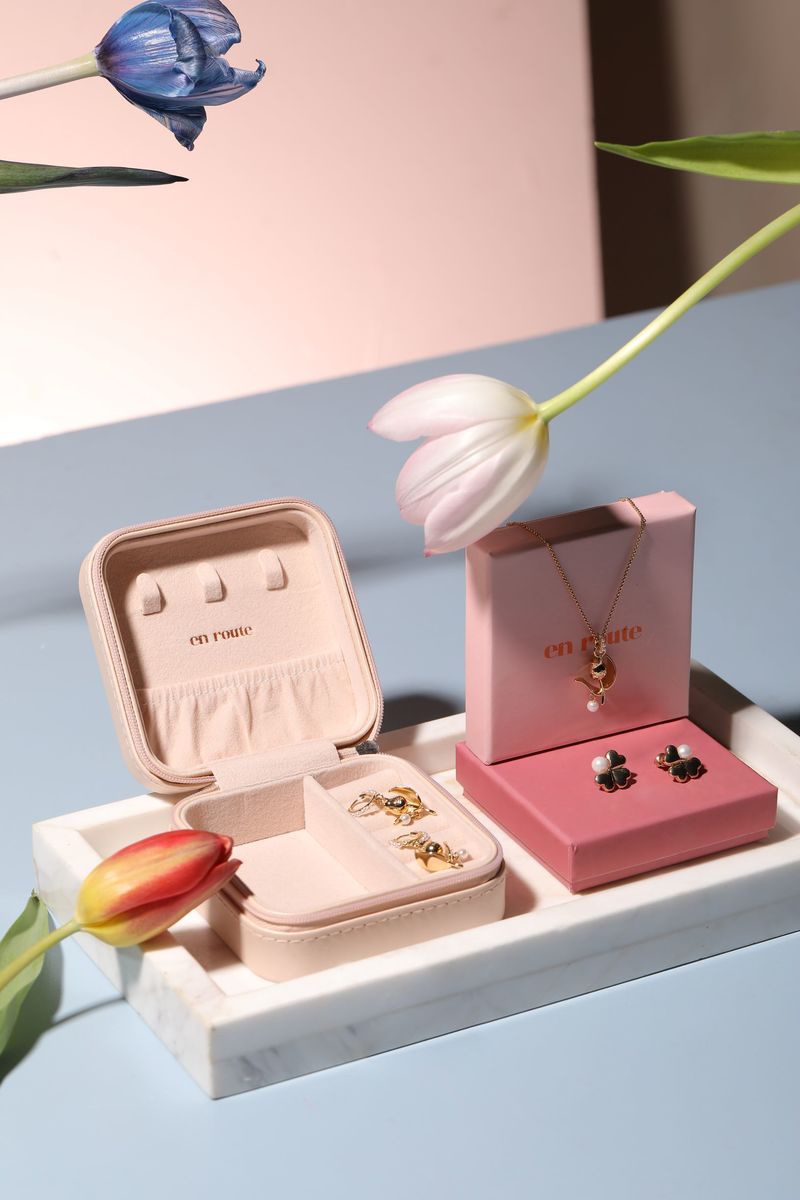 Tulip earrings
These earrings center the piece of a golden tulip with a drop of pearl, two elegant curved leaves, attached to a clasp decorated with pearls.
It really is the definition of warm spring sunshine, but perfect in any weather.
Made of 14k gold plated brass, acrylic, Tulip earrings are also hypoallergenic (lead and nickel free).
Favorite Points
The attached beads are so delicate and lovely, adding functionality to this beautiful earring.
Although the gold color is more golden than you might expect, it complements any look beautifully.
Another interesting feature was the way the En Route brand symbol – a simple and neatly noticeable EN – was affixed to the tulip. Extra points for details!
To buy the tulip earrings, click here.
Elysee Necklace
Well, to say we're obsessed is an understatement. It's a romantic necklace's dream – think frolicking in a wildflower garden and twirling around, all paired with this beautiful necklace.
The Elysée Necklace comes in two different shades: a deep emerald green and a light pale pink.
In pink
After opting for pink, I found the coloring of the gem exactly as shown in the photo. Not too pale for a color to wash out, but perfectly distinguishable while maintaining a soft tone.
The necklace chain is gold vermeil or gold plated sterling silver and the gemstones are cubic zirconia.
Chain measurements are 15″/385mm in length, plus 1.2″/30mm in width – which goes for a collarbone look; neither too long nor too short. All materials are hypoallergenic (lead and nickel free) – so absolute bonus points for that!
Favorite Points
I absolutely loved how the chain isn't very yellow, and while of course retaining the gold coloring, it's not overly fueled by a yellow color.
The jewelry is very shiny and catches the sunlight beautifully, it's so enchanting.
The pink stones joined were the perfect complementary centers of this necklace and rested exactly on the collarbone. It doesn't feel stuck or stuffy around the neck at all. Talk about perfection in looks and length!
To buy the Elysee necklace in pink, click here.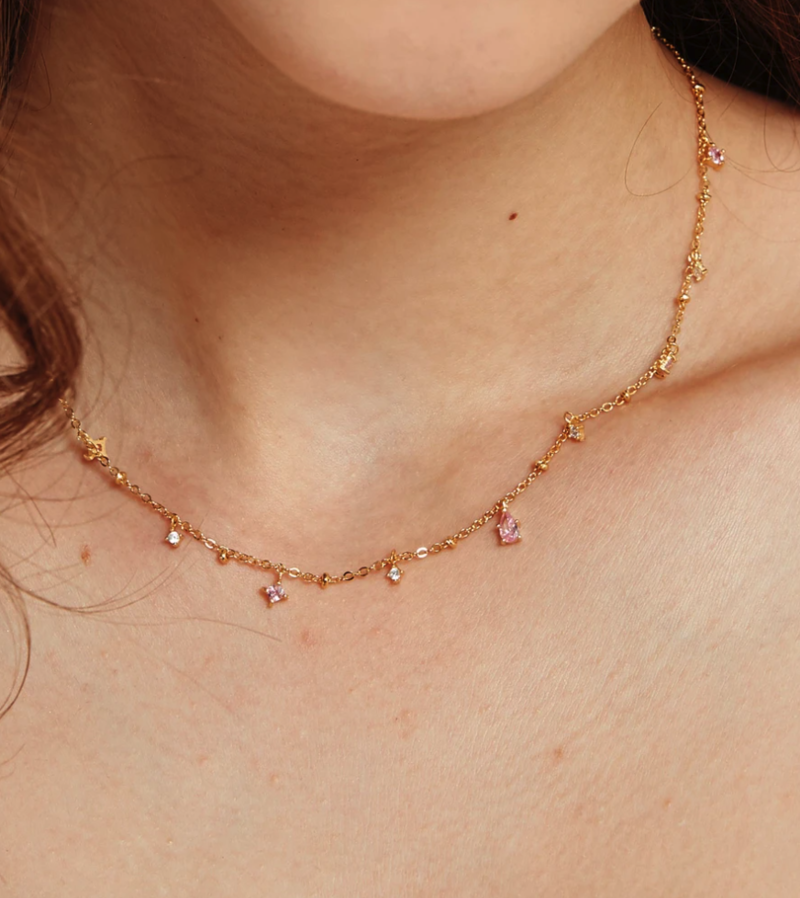 Daily Romantic Rings
Daily Romance rings come in a set of 5, yes, that's right, 5 rings. Especially for its price, it's the perfect accessory that comes in several unique styles.
The 5 ring set includes: a solid and simple medium band gold ring; a hexagonal ring with angles that add a new look; ring carved in the shape of a gem that glistens in the sun; wavy curved ring; and last but not least, a thicker (but not too thick!) gold band with a circular flat button as the centerpiece.
These rings are golden, and therefore on the more golden yellow side of the colorings, and they are magnificent.
The Daily Romance rings will be available in 5 different sizes for each ring – in US sizes 5, 6, 7, 7, 7 1/2, "respectively for layering on different fingers".
Favorite Points
Just like the namesake, they're perfect for any day, anytime, and any occasion. Elevate and compliment everything with these rings.
These rings are perfect for stacking or putting on different fingers for layering. You have the possibility to choose according to your styles. Isn't that just amazing?
It was already perfect, but wait, there's another bonus! En Route is offering a sale on this set of rings right now for 20% off. Get yours now before it's out!
To purchase Daily Romance rings, click here.
Jewelry maintenance
Taking care of your jewelry is important – and En Route has given concise explanations and step-by-step instructions on their brand's site.
To find out how to take care of your En Route pieces, click here.
Trust the quality
En Route Jewelry's pieces are all very strong and compact, with hard-to-scratch cover.
These will not stain, break easily, dent easily, or scratch easily. Rings won't turn your fingers green either! If you want to invest in beautiful, good quality accessories, En Route is your reference.
These qualities must be obsessed with- they are really very well made!
See this post on Instagram
beautiful design
To say that we fell in love with beautiful, light and romantic feminine pieces would certainly be true.
These delicate pieces are perfect anytime to simply enhance anything and any look.
We draw inspiration from youth and pop culture through music, film and photography to create expressive jewelry.

-On the Road Jewelry
Ethical production
"We work with a sophisticated manufacturer located in China. Established in 2007, our manufacturer works as a partner for many well-known American and European jewelry brands," says En Route.
The factory in partnership brings together more than 300 employees who use state-of-the-art equipment, laser cutting machines and 3D printing machines for design visualization.
To ensure ethical production, "[En Route's] The manufacturer is audited annually by a third-party inspection body to ensure a healthy working environment, fair compensation for workers, as well as full compliance with environmental guidelines. Each floor of the plant is fully compliant with standard working conditions (adequate circulation, ventilation and temperature control). All employees are paid with salaries that correspond to the local standard of living."
En Route takes ethical production to heart and ensures that all pieces reflect this.
See this post on Instagram
Packaging
All items will come in a beautiful baby pink box with the brand name centred.
Pieces may be wrapped in plastic to protect jewelry from damage and scratches, but En Route always keeps sustainability efforts in mind.
Some pieces can also be accompanied by an additional beige gray velvet pouch, ideal for storing objects such as rings.
A very reasonable price
En Route Jewelry maintains all the pieces not only with sophisticated design and investment quality, but also at an affordable price.
"Our parts are priced solely on the cost of production. We communicate directly with our manufacturer and are thus able to minimize communication costs on product design and management," writes En Route, "We eliminate the intermediary between us and the manufacturers, so that you can enjoy quality parts without breaking the bank."
No more overspending on jewelry – with En Route you have everything you need. In all aspects, En Route ticks all the boxes!
Looking for sale items? Click here to shop some of the hottest pieces with price reductions!
Continue
Are you obsessed with En Route and want to follow their equally aesthetic Instagram? U.S. too. Find En Route jewelry here at @enroutejewelry_.
You might also want to check out their Pinterest for some amazing pin-worthy images!
See this post on Instagram