If you've been browsing online lately, you probably have come across the recent surge in gua sha routines. You've likely seen the TikTok videos with the jaw-dropping transformations and YouTube channels gushing about their experience- and might just be wondering: what is and how do I gua sha? Which even is the best gua sha to use from all of the different types?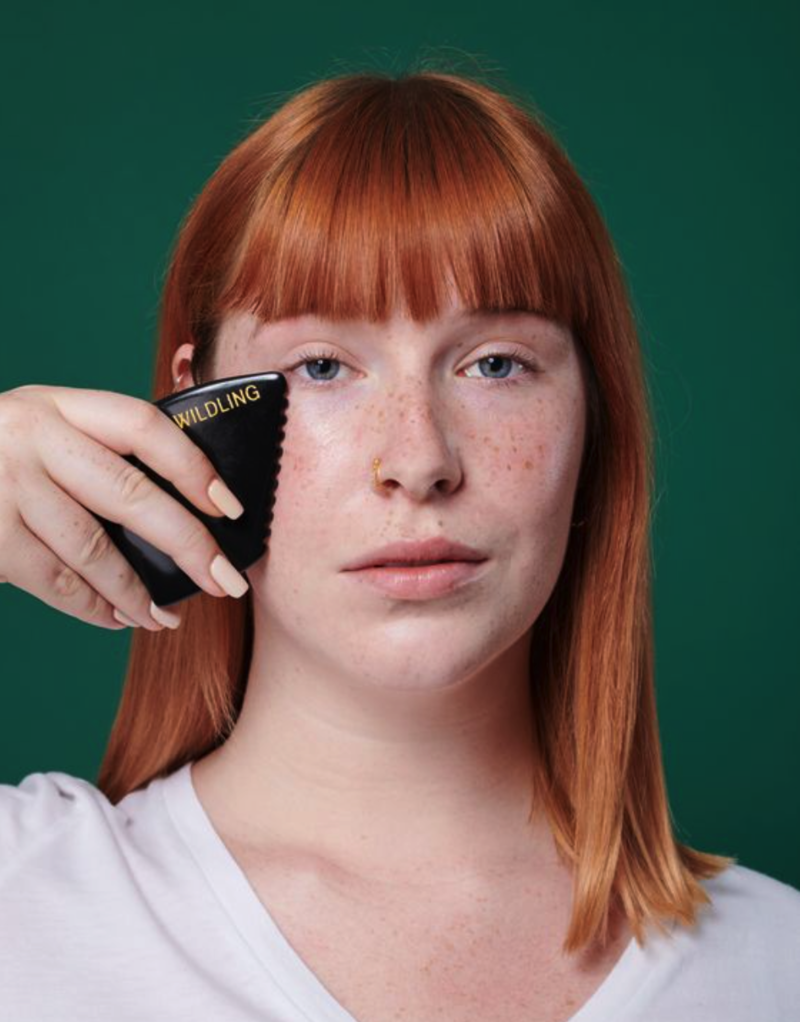 Skincare may seem like it ends right there with the products, but transformative tools like gua sha can completely revitalize your skin. If you're looking for a game changer to amp up your skincare game, Wildling's gua sha is exactly what you need.
Wildling's gua sha is capable of toning, sculpting, lifting, plumping, and can even take away your headaches!
Meet Wildling
"At Wildling, we believe in harnessing the wisdom of nature to restore the body's innate beauty and flow. Wise women across time have maintained their beauty through sophisticated self-care rituals based on a deep understanding of plants and herbs," says Wildling.
"By practicing these rituals today we can restore our connection with nature, transform the skin, and enhance well-being. Wildling invites you to return to simplicity and rediscover a form of beauty that is non-toxic, sustainable, and wild."
Yes, you read that right! Wildling is a brand committed to all things good for your body and our planet. Wildling's products centered around the practice of gua sha including oils and tools are focused on the idea of bringing out the inner beauty of you while transformative giving your face a natural lift. As Wildling tells us, "It's not just skincare. It's self-care."
shop Wildling at wilding.com
Gua Sha is a practice that has been set in motion for over 700 years with its origin from China. Gua sha is extremely beneficial for your skin on honing your facial structure, draining the lymphatic system, reducing facial bloating and swells, and overall improving your holistic well-being. And, as you may have noticed from the raving TikTok videos, it holds the power to bring out the contoured jawlines and cheekbones, as well as glowy, well-cared-for skin.
What's The Right Gua Sha For you?
Wildling offers a brief 1-minute quiz to discover and determine which gua sha stone tool would work best for you. You also get to learn what makes each tool and stone so unique and one-of-a-kind.
To take the quiz, click here.
With this, I was able to find out which Wildling tools were just right for me- follow along to get to know more about the transformative (I am serious about how it's jaw-dropping) results and experiences!
Empress Tool Duo
Gua sha is most famously used on the face to sculpt and drain lymph nodes by the facial area- which is where the Empress Stone steps in. Tension tools like Empress Wand can release the build-up in your facial area, which can help relax your muscles.
shop the Empress Tool Duo here.
The Empress Tool Duo is the must-have when it comes to taking great care of your facial skin- you will feel so invigorated and the power of gua sha can be seen almost immediately after usage, and will also show amazing changes over time gradually.
The Empress Stone
The Empress Stone is patented exclusively by Wildling- so you know it's truly magical and one of a kind.
This is truly the tool to sculpt and shape your face. I've in awe of how much this has shown effects, and so quickly, too!
shop the Empress Stone here.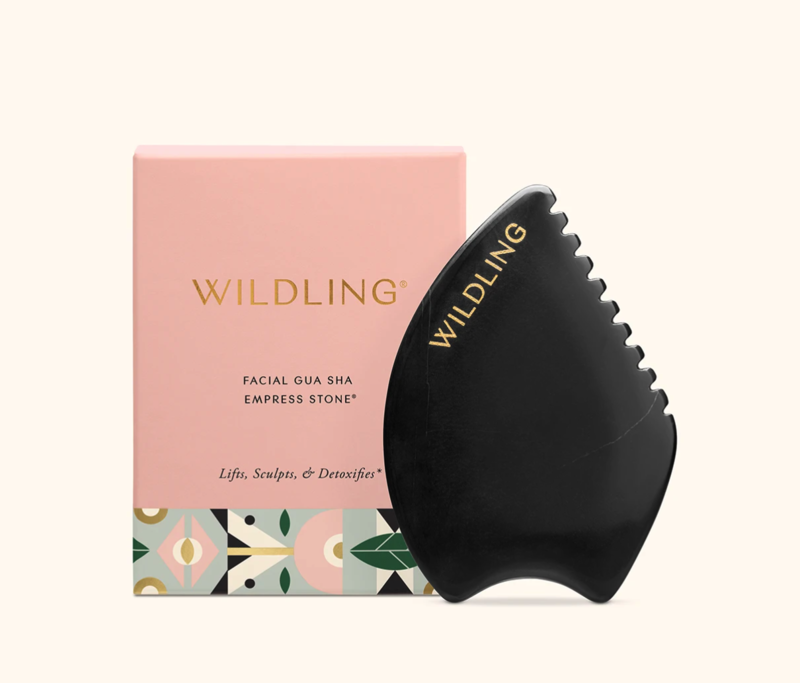 You'll notice that most gua sha tools are made of colorful crystals like jade and rose quartz- but distinctively, Wildling's tools are made of completely black stone. This is because Wildling uses a different type of stone called Bian. "The Empress is composed of Bian stone, an amalgamate of 40+ minerals known for their healing properties. Each edge of the tool is intentionally architected to enhance the practice of facial gua sha, which is a traditional Chinese beauty practice," says Wildling.
Gua sha stones and crystals are known to not only shape up your skin but have healing powers within them as well. Especially given the surge in crystals and the powers in pop culture lately, many of us are keen to know more on this. "Known for its rejuvenating properties, Bian stone was created when a meteor struck a mountain in ancient China. It is said to emit ultrasound pulsations, far infrared rays, and negative ions as a result of the cosmic impact — all of which are known for their antioxidant and anti-aging effects on cells and DNA," writes Wildling.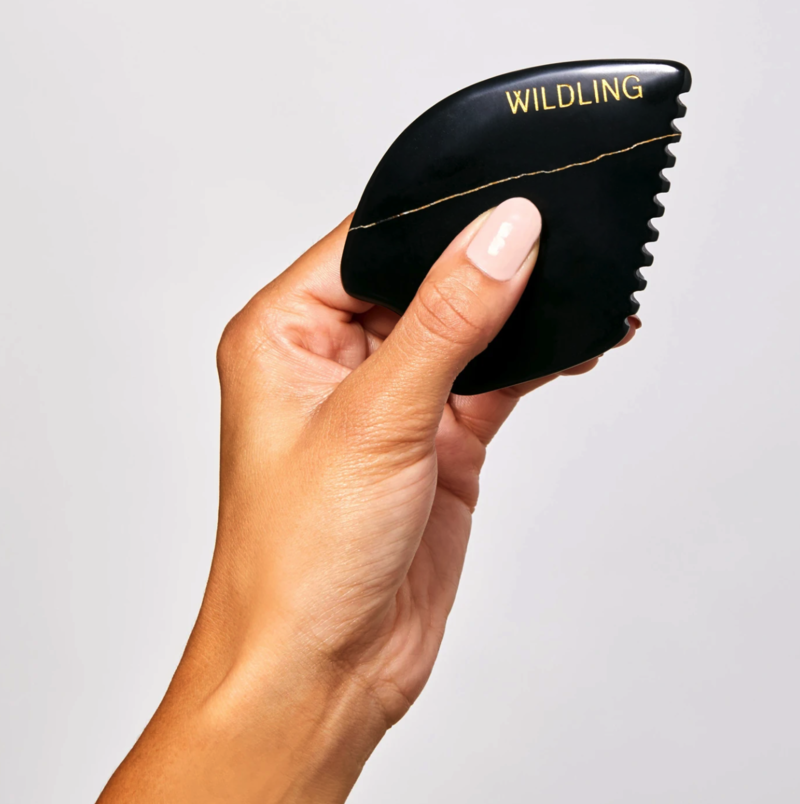 The Bian stone carries some weight to it, which makes it fascinating. It is completely smooth and cold to the touch, which is perfect for morning routines to gua sha your way into the day!
If you touch the Bian stone and lay it on a hard surface, you'll hear a clinking noise. The stone is durable, but delicate, and should be looked after with care.
The Bian stone is completely authentic, and the gua sha stone is a little more extra (in the best way possible) than the typical ones that you will see.
The Empress includes 5 different specific types of sides, which include: U Edge, Comb Edge, the Short Edge, the Pointed Tip, and the Long Edge. I enjoy using the U Edge to perfectly cup around my jaw, the Comb Edge for the forehead- as flat surfaces work best- to stimulate flow. The Short Edge is perfect for around my eye area (gently, of course), and the Pointed Tip to work as acupressure at home to tension points. The Long Edge works wonders for longer strokes- and I like to additionally stroke upwards to the neck as well.
One thing you should always go with when doing your gua sha strokes is to stroke towards your heart. Check out Wildling's tutorial for using the Empress Ritual below.
"The facial gua sha method works by releasing tension in the muscles of the face, smoothing out the fascia, and circulating blood and lymph through the tissues," says Wildling, "It also delivers whole plant actives from our products into the deeper layers of the skin for increased absorption and effectiveness. The result is deeply hydrated, plump, toned, and sculpted skin with a radiant glow."
I am not kidding you, I am completely seeing results straightaway after usage in the morning. I tend to wake up with slightly puffy, irritated skin, which doesn't really make for a great start. The Empress Stone with a few simple strokes has completely swelled down my face and has left it toned and completely woken up.
As the stone stimulates blood flow, I get a natural flush to my face, waking it up. Small lines in my forehead have visibly decreased, as the stone can loosen tension and activate collagen protection- bringing on youthful skin. You will also notice plumper skin as the qi opens blocked areas, pores decreased due to lymphatic drainage and cleansing. Overall, this makes for the ideal detox and rejuvenating experience. This truly works from within to train and tone up your facial muscles to shape it the way you want it to be.
Morning face can be dull and with slightly drooping skin with a more circled face. This gua sha can solve all of those concerns, and you will be able to see results fast. I tell you, within at least ten minutes, my face is as if the morning swells has never happened!
I don't use my gua sha with too much pressure, as light pressure can show great results. I always use this once a day, and keeping this as part of my consistent morning routines has been a total game changer.
"Long-lasting results are best maintained with consistent use, 2 to 3 times a week up to once daily," says Wildling. It's perfect to use every day, but going over once a day may be too much.
To take care of the Empress Stone, wash it with a gentle cleanser or soak it in saltwater. To keep it safe, Wildling recommends protecting it with the Empress Pouch. The padded cotton layer can keep your gua sha intact and scratch-free.
The Empress Wand
Sometimes, I'll have awful headaches and migraines- and I was beyond excited when I learned about Wildling's Empress Wand. Much of my headaches come from tense temples and locked jaws, and the Empress Wand allows for "a gentle release restores the flow of qi and soothes the nervous system, enhancing the effects of [my] gua sha practice."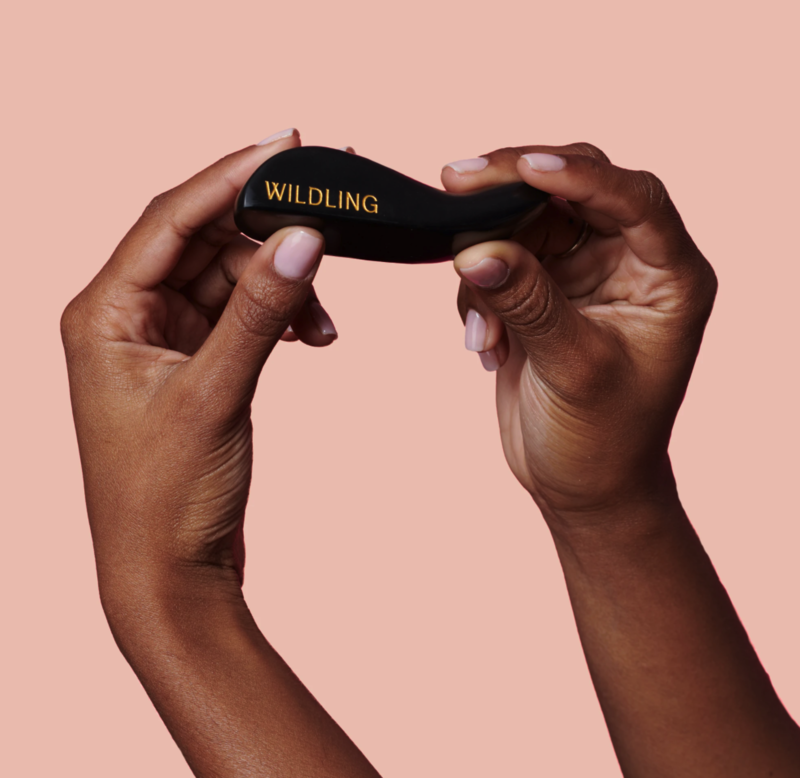 This is "designed to address muscle tension in the face and jaw" so that you'll feel relaxed- and most significantly, that bothersome pain will be gone.
shop the Empress Wand here.
The Empress Wand, like the Empress Stone, is also made from Bian stone- as are all Wildling tools. "At Wildling, pure and authentic medicinal crystals are carefully selected for their skin-healing properties as well as their positive effects on the emotional body," says Wildling, "This practice of "stone medicine" is an ancient Taoist healing technique."
Much of the gua sha practices are rooted in tradition; contemporary studies back the statement of how gua sha truly does work wonders. You may notice white fine lines all across the stone, which were created by a strike of the meteor on Earth- and is a factor of proof that the stone truly is authentic. I don't know about you, but if you ask me, that is incredibly cool.
The stones are sustainably sourced and are rich in benefits. Naturally infused with minerals, the stone to skin method will bring upon a whole new glow as you've never experienced before.
The wand is the perfect length to grip upon, and also is a great travel-friendly size, so you can bring this anywhere and at any time. The wand has three sections- Rounded End, Pointed Tip, and Handle.
Rounded End is perfect to gently soothe away the tension in areas like the jaw, neck, shoulder, brow, and temples.
Pointed Tip, like the name suggests, is much more pointed than others, so that you can truly pinpoint the pressure area and melt the tension away. I like to gently rub the point into more hard-on, pressured areas like the temples. Like a miracle, my headache will be much less severe.
The Handle is quite obviously where you wrap your hands around for use and was created with your easy access in mind. Your hand is able to comfortably wrap around to make for one of the best facial massages ever.
To use, Wildling suggests you "clean your stone prior to each use with warm water and a skin-friendly cleanser or soap." After cleansing my Empress Wand, I will then apply gently and without much force to the tension areas.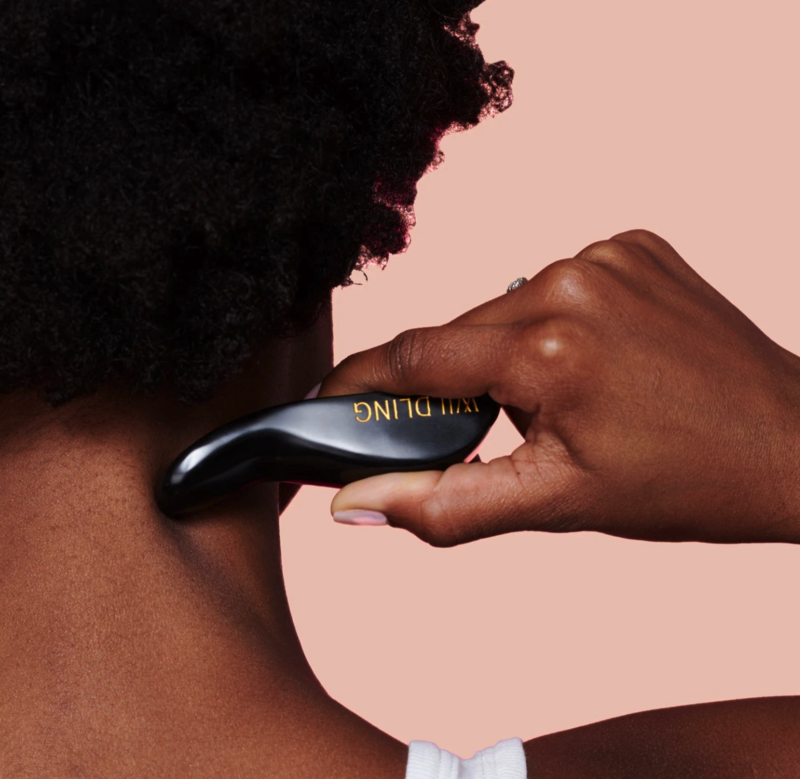 This has truly become a lifesaver and a total must for chronic headaches and even mild ones, for it shows amazing results. As I am rubbing the wand into the pressure points, I can practically feel the tension leaving my body!
Sometimes, I'll accidentally catch myself unintentionally clenching my jaw, and this is capable of releasing that tension in a way like I've never experienced before.
Your face contains complex muscles, and the wand can soothe and massage them on a deeper level. I can't recommend this tool enough, because it really is the best way to relieve tension in a fast effective manner. I don't think anything else has truly worked as much as the wand has.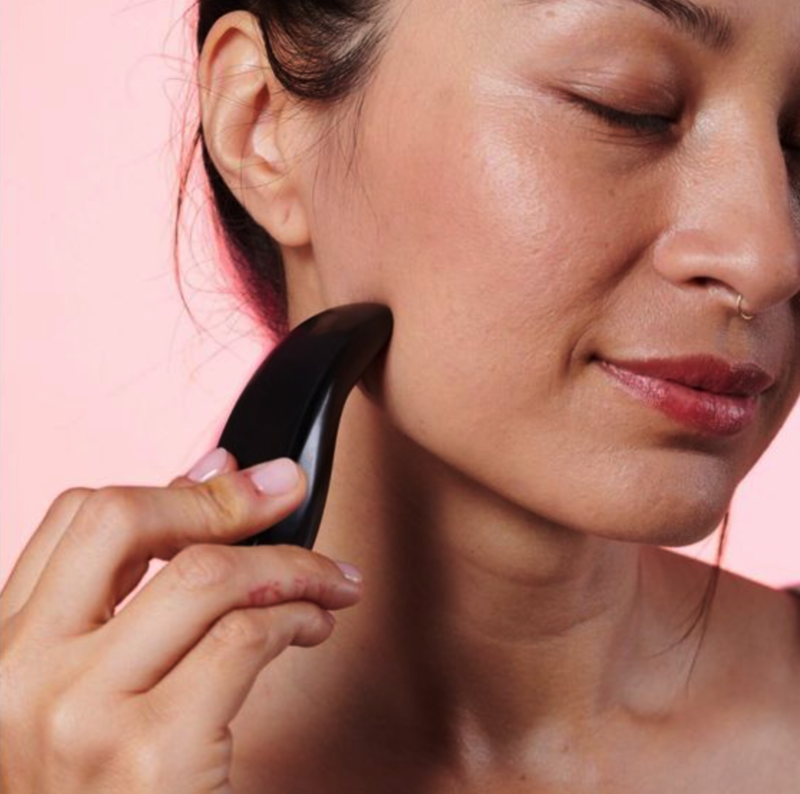 I also enjoy using the sides of the Empress wand to gua sha the sides of my jaw, by my cheekbones, and more. This can help lift and sculpt "by working within the muscle fascia to firm and tone." So, not only am I relieving my tension, but also multitasking this tool as a facial sculpting tool as well. If you want to contour your face naturally, this is most definitely your best bet!
The Empress Wand is definitely now a must in the steps of my self-care, gua sha ritual. I really love the fact that I can target the areas I need loosening of tension on whilst shaping up my face.
The Aura Sweeper
You may have heard about how dry brushing is taking over the beauty industry recently- but in fact, this has been a method used by the Ancient Egyptians long ago.
"The Aura Sweeper is a body brushing tool designed to help stimulate lymph flow, boost circulation, and energize the skin," says Wildling. This tool is meant to encourage blood flow and truly awaken your skin whilst brushing away the dead skin cells. "A daily brushing ritual helps reduce the appearance of rippled skin by bringing blood flow and qi to the area regularly," notes Wildling.
shop the Aura Sweeper here.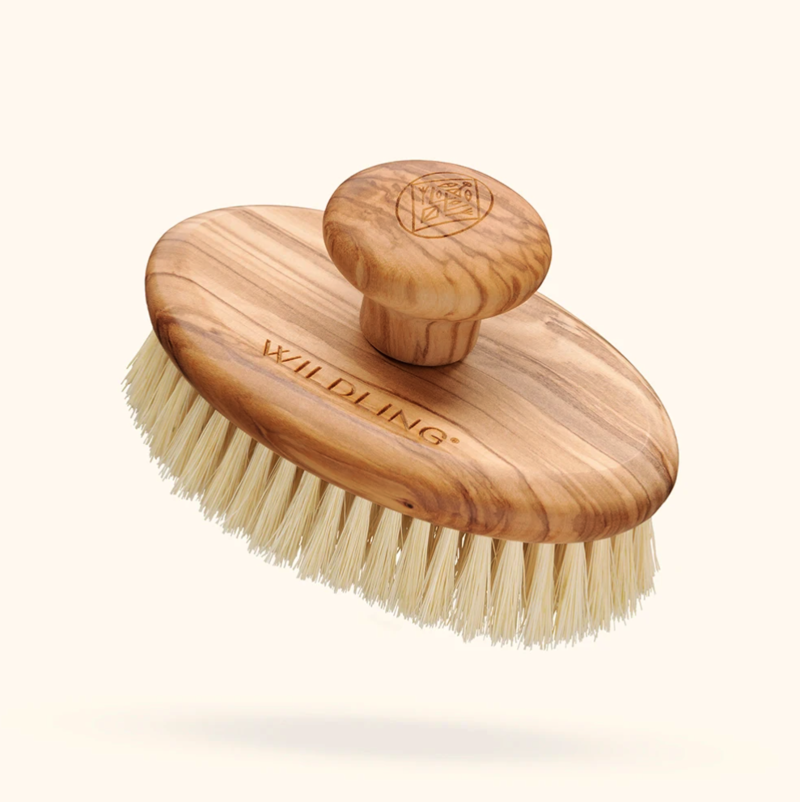 The Aura Sweeper features a handsome wooden body, which is Olive Wood. This Oliver Wood is extra special because it was sustainably harvested from Tunisia, Northern Africa, which as Wildling shares with us, is located in the Mediterranean area. I love that every aspect of the products including the materials is taken into consideration with sustainability in mind.
The wooden handle is quite short in length and has a large knob-shaped design which makes it convenient for you to grasp onto. The base is incredibly sturdy and overall has a simplistic easy design anyone can utilize!
You'll notice that each Aura Sweeper comes with a "Made in Germany" sticker- and that's because it is artisan-made in Germany! The sharp and sturdy Tampico bristles come from the fibrous agave plant, which is then dried and finished to give e your body the ultimate stimulating experience to bring upon the smoothest skin ever.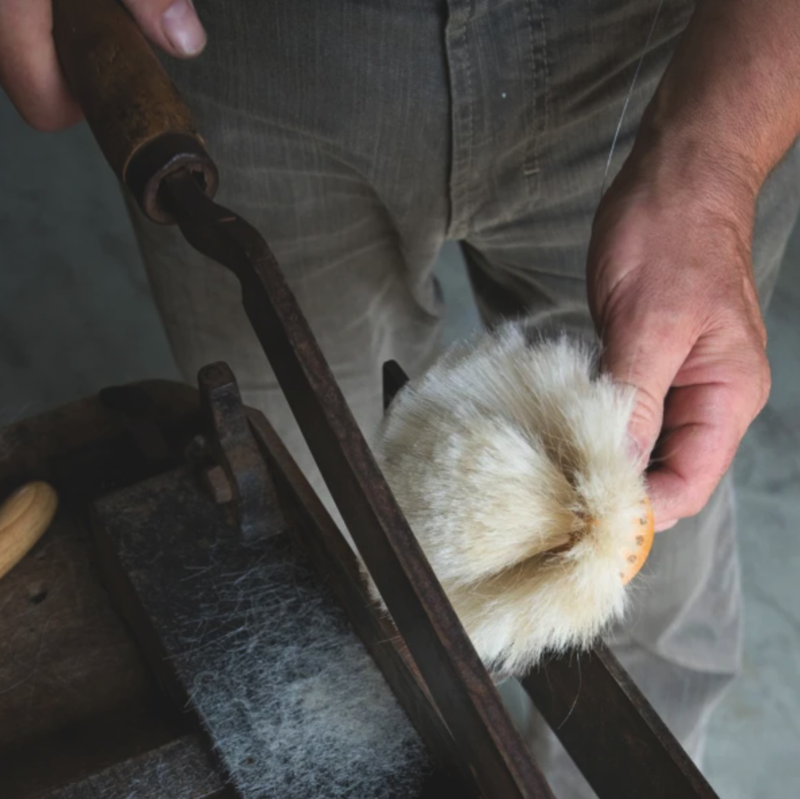 The bristles work wonders for "generat[ing] collagen production and circulation" while it scuffs your skin gently. I love that the bristles are made naturally from plants- it makes the experience feel more whole.
The bristles are on the rougher side, although it is made with usage on the skin in mind. It makes for a thorough exfoliation so that it ensures that the dead skin cells are being buffered away. It may be a little bit stiff at first, but as you use the sweeper, it'll break in to your body to make for the perfect sweep.
To use the Aura Sweeper, Wildling recommends: "Start with naked skin, no oil is needed. This ritual is best performed before a shower or bath."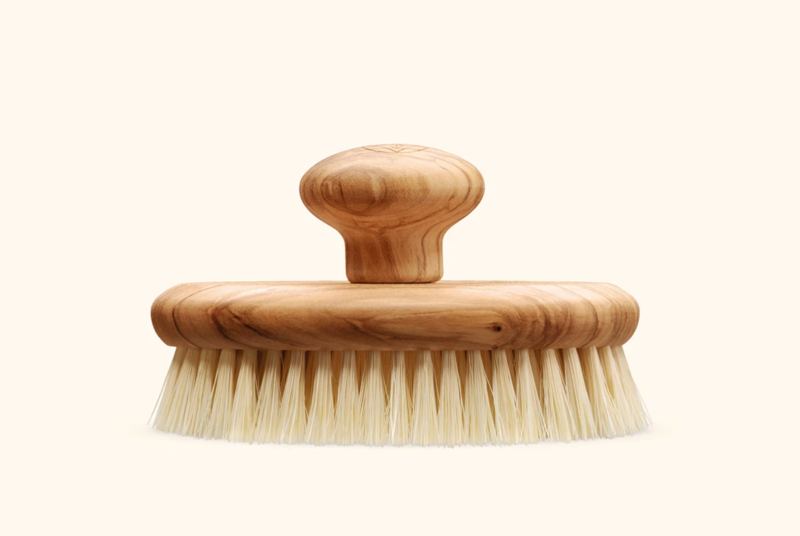 It would most definitely be best to use light to medium pressure. Too hard of pressure may hurt the surface of your skin. If you have sensitive skin, this may prickle at first, but it is a sensation that feels invigorating and awakening and can be handled with most tolerances.
"Your skin may turn slightly red or pink, which is a normal reaction to dry brushing," says Wildling. I noted that my own skin reacted slightly the first time I used the Aura Sweeper, but within minutes it went away. In this case, I lessened the pressure I used to scruff more gently.
To use the Aura Sweeper, follow the below step-by-step guide provided by Wildling:
Begin with the tops of your feet.
Continue brushing up the legs and behind the knees.
Move to the hands and up your arms with circular strokes over your armpits.
For breast health, sweep from the center of the breast outward in every direction.
From the neck, brush downward towards the heart.
Use large circular counter-clockwise strokes on your abdomen. This motion helps to stimulate digestion.
Sweep upwards from the lower back and down the neck.
After using the Aura Sweeper, my entire body felt totally awakened. My skin felt cleansed although I was completely dry, which was a very cool feeling.
In the mornings when I use the sweeper, I feel as though I have detoxed my entire body and system. I have most definitely seen a difference in my skin, and the results are remarkable. My skin feels so much softer and brighter. I love applying my favorite moisturizer after dry brushing to fully complete the experience.
The quality of the sweeper is incredibly impressive- when they say it's artisan-made, it truly is. I can't recommend this product enough- I am completely in love with this!
Wildling recommends that you dry brush three times a week, or daily if you wish. However, more than once a day may be a bit too much.
To clean the Aura Sweeper, simply rinse with water and lay it bristle side down. Storing this in a cool, dry area would be most ideal.
The Aura Stone
If one were to think gua sha, they'd definitely think face- but there's gua sha for the body, too. Wilding's special patented body gua sha is here to tighten, tone, and completely revitalize your body skin.
"It also stimulates energy flow, releases tension, and smooths connective tissue in dimpled areas," writes Willding. This is not only great for giving a refreshing, relaxing light massage but can be great for treating cellulite as well.
shop the Aura Stone here.
Made of Bian stone, the larger gua sha tool makes for the perfect soothing ritual that you'll find yourself looking forward to every time. Skincare is important, and that doesn't exclude body care from facial care!
The Aura Stone is made up of a total of 5 sections- the Wavy Edge, U Edge, Pointed Tip, Comb Angle, and Smooth Edge.
The Wavy Edge is a personal favorite of mine- I just love how it gives the right amount of stimulation to the skin without being too harsh on the pressure. This "delivers maximum fascial smoothing and lymphatic drainage," says Wildling. It should be used "to perform gua sha over larger flat surfaces of the body (thighs, abdomen, sides of the body)." The Wavy Edge feels so gentle on your skin, but also definitely wakes up and perks up your skin, which I love.
The U Edge is shorter than the Wavy Edge and has a slight dipped curve. This is great to contour the smaller areas of the body like the arms, shoulders, and lower legs.
The Pointed Tip is your go-to for a do-it-yourself body massage. Use this to break up tense tissue and relax the body muscles, and to smooth the fascia in the dimpled areas of your body. "Dimpling in the skin can indicate an area where the fascia is stuck to the muscle," Wildling tells us. Using the Pointed Tip to massage those areas to unstick the fascia from the muscle and bring your body wellness.
To use the Aura Stone, I like to first dry brush with the Aura Sweeper to encourage lymphatic flow and activate the tissues to ready for gua sha. As always with gua sha, a smooth, oiled surface works best; Wildling recommends their Aura Activator and Aura Oil to nourish your skin beforehand. Your last step would then be the Aura Stone.
The Comb Angle is perfect to stimulate your skin to produce collagen, and can brighten up dull skin and repair stretch marks. Wildling recommends you use cross friction methods when applying and stroking on skin.
The Smooth Edge has a wide curve to it which makes it versatile for different areas. This is perfect to mainly smooth the fascia and deep-tissue massage your skin to bring our radiance and relaxation.
"Use our Hand & Stone Purifier or clean your stone with warm water and a skin-friendly cleanser or soap. We recommend cleaning prior to each use and storing it in a pouch or other protective vessel, as they are relatively fragile. Even diamonds can break when dropped!" advises Wildling.
For a tutorial on how to use the Aura Stone, see the below YouTube video.
I was amazed to see results straightway; using the Aura Stone in the mornings has truly loosened my morning stiffness and made the start to my day so much better. I enjoy using this at least twice or three times during the week, or even daily!
With the Aura Stone, you'll see results such as completely detoxified skin, as your body is being stimulated and seeng increased lymphatic flow. This also "revs the body's circulatory systems" and the blood flow is managed even better.
Believe it or not, with the Aura Stone, you'll also be hydrating your skin. This is because gua sha rituals require you to moisten up with serums, oils, etc, so that your skin will be completely hydrated and replenished.
Overall, my skin felt so, so, so smooth after using. Especially with the addition of the Aura Sweeper before the Aura Stone, my skin was completely smooth all over like baby skin! The Aura Stone is also capable of "breaking up stagnation in myofascial systems" do that your skin's appearance looks so polished that it's like a filter.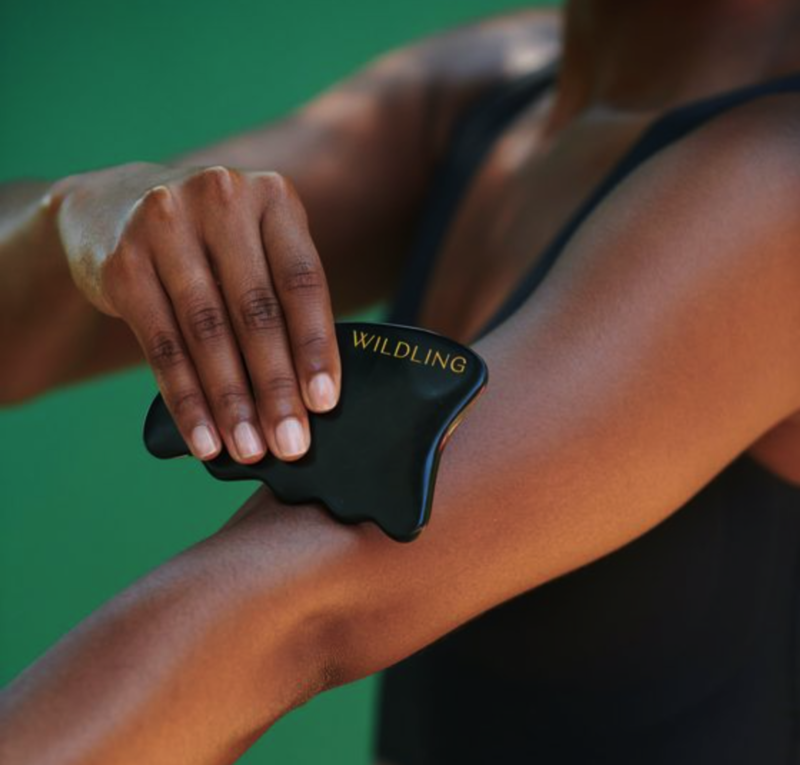 One of the reasons I also love using the Aura Stone especially in the morning is because of the calmness and almost meditative qualities the stone has. The Aura Stone is massaging your body in a different level, which is effectively "melt[ing] muscle tension with myofascial release trigger point techniques."
I adore using this every once in a while when I feel the need for a deep cleanse without the soap, if you know what I mean. The ritual of the Aura Stone feels so gentle and soothing, and is the perfect way for me to reflect in a peaceful manner.
I am truly obsessed with the Aura Stone- your skincare ritual isn't complete without this!
On Sustainability
Wildling is a sustainable brand, and shows great consciousness and efforts to be planet-friendly. From packaging, clean products and ingredients, authentic stones, and planting trees through the Arbor Day Foundation, Wildling is ensuring that everything is done with Mother Earth in mind.
Wilding is also Leaping Bunny and Peta Cruelty-Free Certified, as well as 100% Vegan.
To learn more about their sustainability, click here.
Wildling Gives Back
With gua sha's traditional roots in Chinese medicine, Wildling shows great appreciation and respect that is "woven into [their] foundation of [their] offerings."
"Wildling is founded by 3 non-Asian women. We share a deep respect for Traditional Chinese Medicine and are connected to its lineage via our education and professional training," says Wildling. Each of the founders has extensively trained and studied in the field and truly appreciates the beauty of gua sha and of its remarkable benefits. To learn more, click here.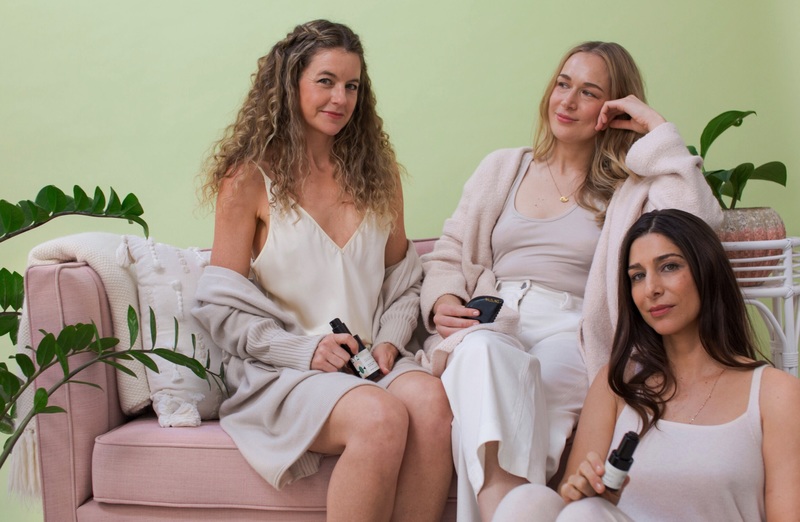 Wildling is committed to giving back and appreciation- and is supporting the AAPI community, also known as the Asian Americans and Pacific Islander community.
"We have discovered that only .6% of social equity dollars go to support the AAPI community," the brand writes, "At Wildling, we support an ongoing initiative to plant a tree for every Empress Stone sold. Our intention is to nurture the Earth and benefit all of humanity. We have chosen to transition this initiative to directly support the AAPI community with a quarterly donation."
Keep Up
Be sure to keep up with Wildling on social media.
Wildling can be found on Instagram at @wildling_beauty, where you'll find tons of informational reels (short clip videos where you can learn how to gua sha in seconds!). Wildling also has a TikTok, which you can follow here at @wildling_beauty.
If you're looking for thorough instructional videos on gua sha techniques and routines, be sure to subscribe to Wildling's YouTube Channel.