On Saturday, in an Instagram post, Kylie Jenner revealed that a Kylie Skin summer collection is coming soon. the caption read "She smells like summer. Are you ready for drop 2?"
See this post on Instagram

She feels like summer ✨ Are you ready for the second fall?
Nearly three hours later, another video was posted on kylieskin, showing three products that Kylie would be launching on July 22 on kylieskin.com, joining the Kylie Skin collection.
"This summer trio is all about the BODY,said the caption.Coconut Body Lotion, Coconut Body Scrub, and our Broad Spectrum SPF 30 Sun Oil. You'll fall in LOVE with these products launching July 22nd with our first shipment restock!"
See this post on Instagram

We are thrilled to announce DROP TWO for Kylie Skin! This summer trio is all about BODY ✨ Coconut Body Lotion, Coconut Body Scrub and our Broad Spectrum SPF 30 Sun Oil. You'll fall in LOVE with these products launching on July 22 with the restocking of our first delivery! Stay tuned for more details..
See this post on Instagram

I'm so excited to reveal Drop Two for @kylieskin! This time it's all about the body 💗 .. Coconut Body Lotion, Coconut Body Scrub and my SPF 30 Broad Spectrum Body Oil ✨ these amazing products will be launching July 22 with the RESTOCK of my first drop! #KylieSkin
Later, Kylie gave a brief explanation about each of her three products in her Instagram Stories. All three products are perfect for summer and after the success of the first drop of Kylie Skin products, there's no doubt it's going to get crazy for these too. Kylie also revealed that drop 1 will be restocked on July 22.
She had previously teased the sunscreen launch in a Youtube vlog a few weeks ago. She had let it slip that a Kylie Skin truck would be hitting the streets of Southern California, selling all Kylie Skin products as well as summertime frozen treats.
Drop 1 Success
Kylie Jenner launched her Kylie Skin Drop 1 nearly two months ago on May 22. The collection sold out in FOUR MINUTES, following a number of positive fan reviews! Kylie had exclaimed on her social media, adding that she was extremely grateful to her fans.
"We SOLD OUT in 4 MINUTES this morning! What is life. Thank you for trusting me with @KylieSkin love love love these products and can't wait for everyone who have one today try."
The products were restocked on June 10.
BACKGROUND
Despite the fact that there is a complete frenzy trying to obtain these products, there have been some light backlash because of some ingredients on the labels, including "fine nut powder". Fans were quick to call out the ingredient because it could cause micro tears in the skin. Still, Kylie Skin promises that "everything is cruelty-free, vegan, gluten-free, paraben-free, and sulfate-free, and suitable for all skin types and dermatologist-tested."
Within a week of the first launch, Jenner shared a Kylie Skin tutorial that got Twitter excited again. The now infamous video shows Jenner washing her face with the brand's foaming face wash, then wiping it off on a fluffy white towel. Upon closer inspection, it is clear that the towel was covered in foundation. But, when fans used it, they soon realized it was really good.
WHAT DOES JEFFREE STAR SAY?
When makeup blog TrendMood posted a photo showing off Kylie's new products, Jeffree Star commented under the post, "Hahahahahha." Judging by his comment, it wasn't hard to see that Star was unimpressed with the products.
See this post on Instagram

#SneakPeek 👀👀 Who's ready for the second drop by #kylieskin #Summer2019 👙☀️💦 Looks like it includes 3 new additions this time for the body! ✨😍 a body lotion, a body scrub and this 3rd product looks like a spray 👀 . . #ComingSoon online @kylieskin* will confirm details and keep you posted. . What are your thoughts? 👙☀️💦 XO #Trendmood ..THANK YOU for this wonderful update! @jessygjini @guadacmartini @izzy062805 @emily_dorann @lipstickforlunch @alvinsumx_ @catherinepoulinmua @alishax1738 😘 . . . #skin #beauty #makeup #makeupaddict #makeuplover #makeupblogger #makeuponpoint #onpoint #makeuplook #makeuplove #makeuptalk #makeuptutorial #makeuplover #makeupaddict #makeupaddiction #makeupdolls #onpoint.
However, in May, after the James Charles drama, Jeffree Star posted a video apologizing and said he would never deal with a situation like this again. That's probably why a fan asked, "mhh, weren't you tired of the drama? Are you the same one that said you wouldn't get involved in any future scandals? Can't keep your own words… Be consistent and practice what you say."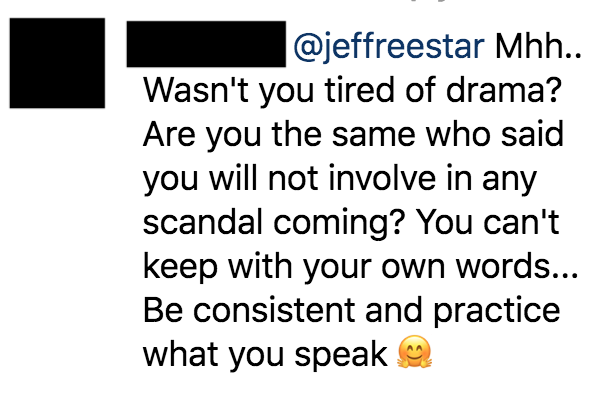 To which, Star replied that "he's allowed to comment on anyone's releases" and "that's his job." He says Kylie's "first drop of skincare was a complete joke and was basically a cash grab".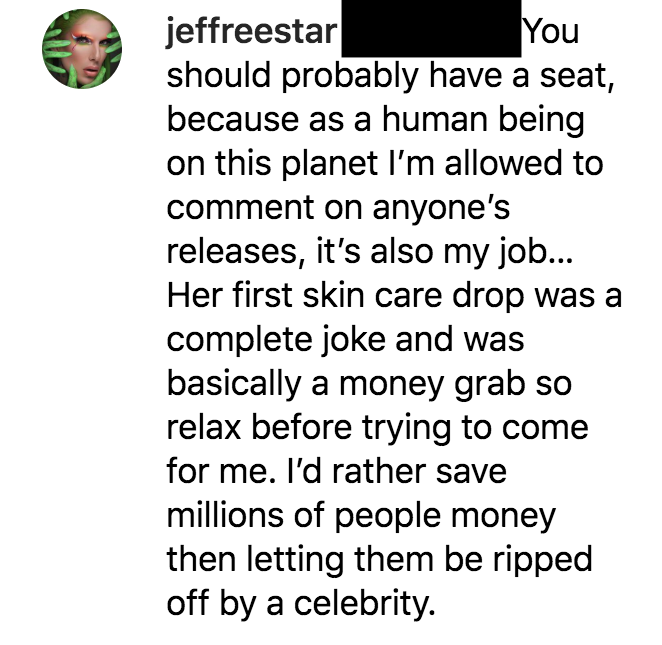 What do you think of Kylie Jenner's new skincare collection? Have you tried it, and do you think it's Jeffrey Star? Let us know in the comments!