Just because winter is a cold and freezing month doesn't mean you should only wear neutral clothes. A splash of color is always wonderful, and Peppermayo is here to prove it with their latest collection of the cutest pastels, prints and patterns.
From wave-length inspired pants and star-outlined tank tops to off-duty blazer and corset designs, Peppermayo always stays one step ahead of the fashion game.
buy Peppermayo at peppermayo.com.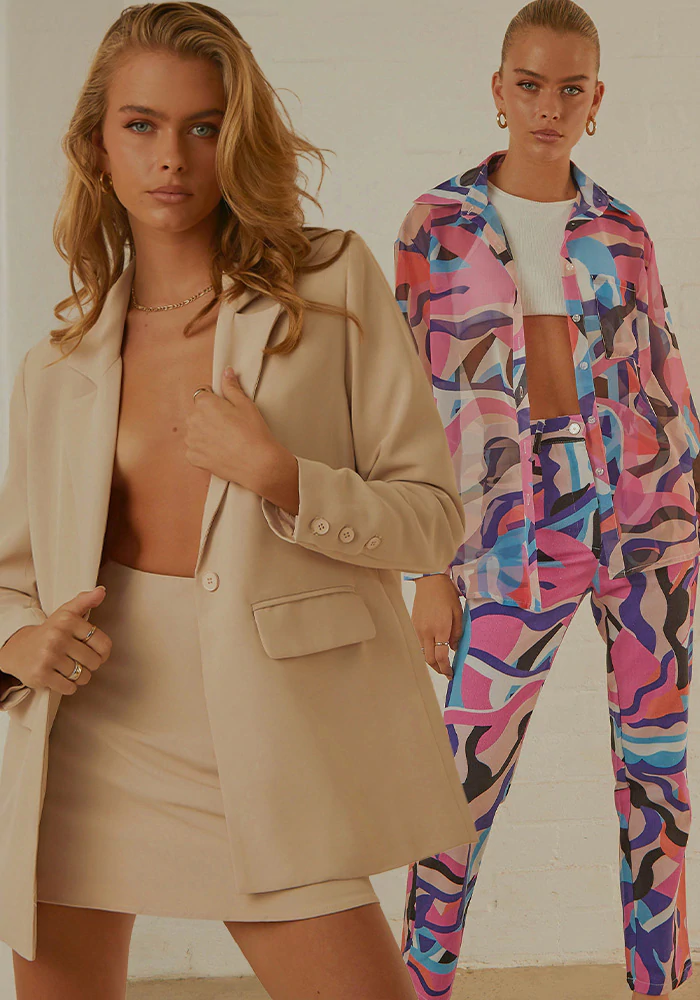 Peppermayo's wide range of diverse outfits is nothing short of obsessed with, and we're so in love with the season's edgy looks.
Sweet, wise and cozy
Call it a cool girly sweater with a pretty pastel hue – it's love at first sight with the Lola Knit Sweater. This exclusive Peppermayo piece is here to steal the hearts of those who love green (because it truly is a gorgeous color).
Shop the Lime Wave Knit Lola Sweater here.
This combination cream and sage sweater features green zebra-like prints on the sweater. It has a unique design all over the sweater without being too extravagant.
Taking inspiration from retro style, the Lola sweater is steeped in both retro styles and today's more contemporary looks.
With a rounded neckline, this jumper is perfect to pair on its own or with a collared shirt underneath. This knit sweater is practically a round neck and is so easy to wear. You'll be surprised how thick and cozy it is – the Lola is perfect for colder winter temperatures.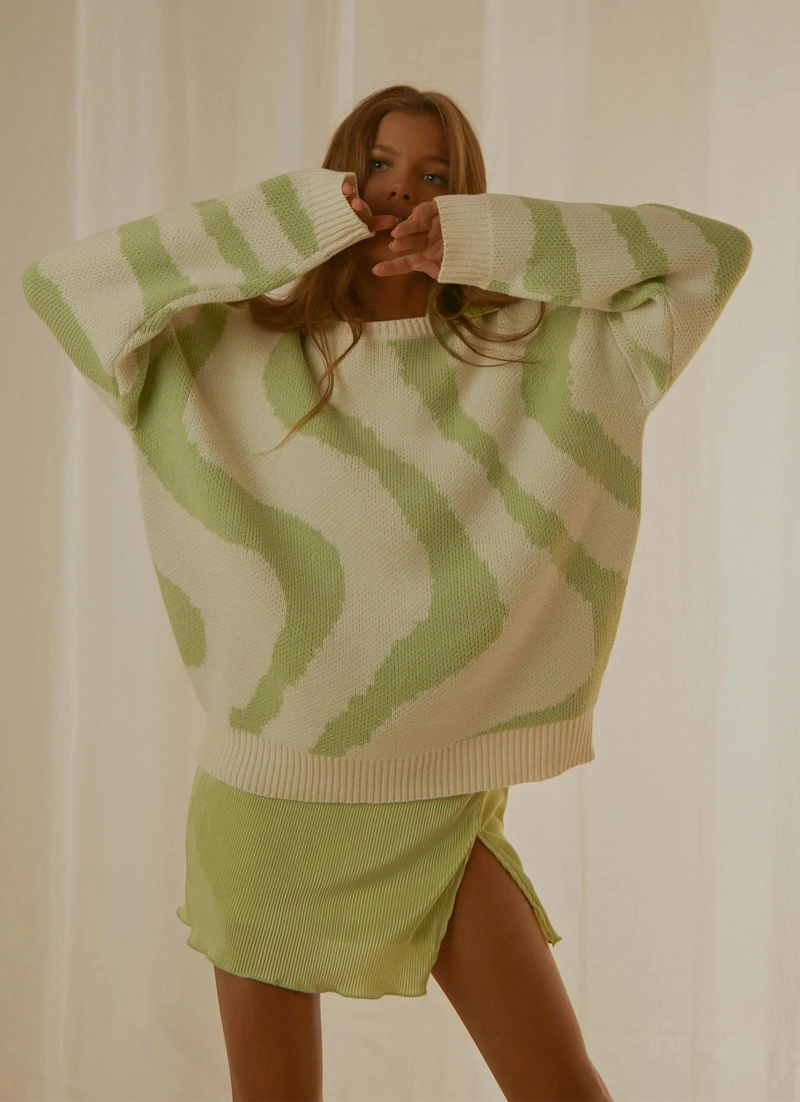 I love the loose, oversized fit it has – everything about it is so laid back, laid back and comfy. If you want to refine your look, you can tuck in your sweater, which will make this sweater look good in every way.
To style the Lola knit sweater, you can opt for everyday chic or cool girl street style. For a more casual look, pair it with your favorite mom jeans and white trainers. If you want to be more daring, opt for printed pants, chunky sandals and vintage-inspired accessories.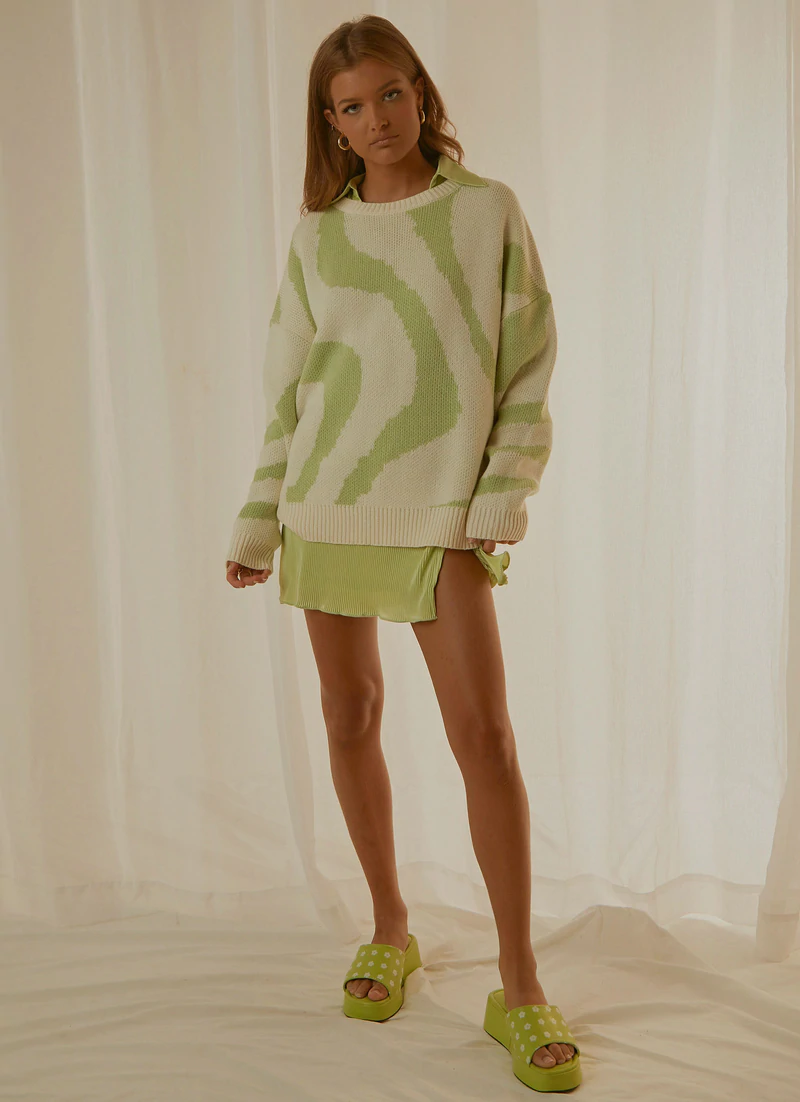 Pretty Skies Blue Patches
The Tulum Nights sweater reminds me of patches of blue sky in different shades, and I love how the sweater is made in the same color but in different hues. From cornflower blue to baby blue to pale eggshell blue, this sweater is such a look!
Buy the Tulum Nights knit sweater in blue patchwork here.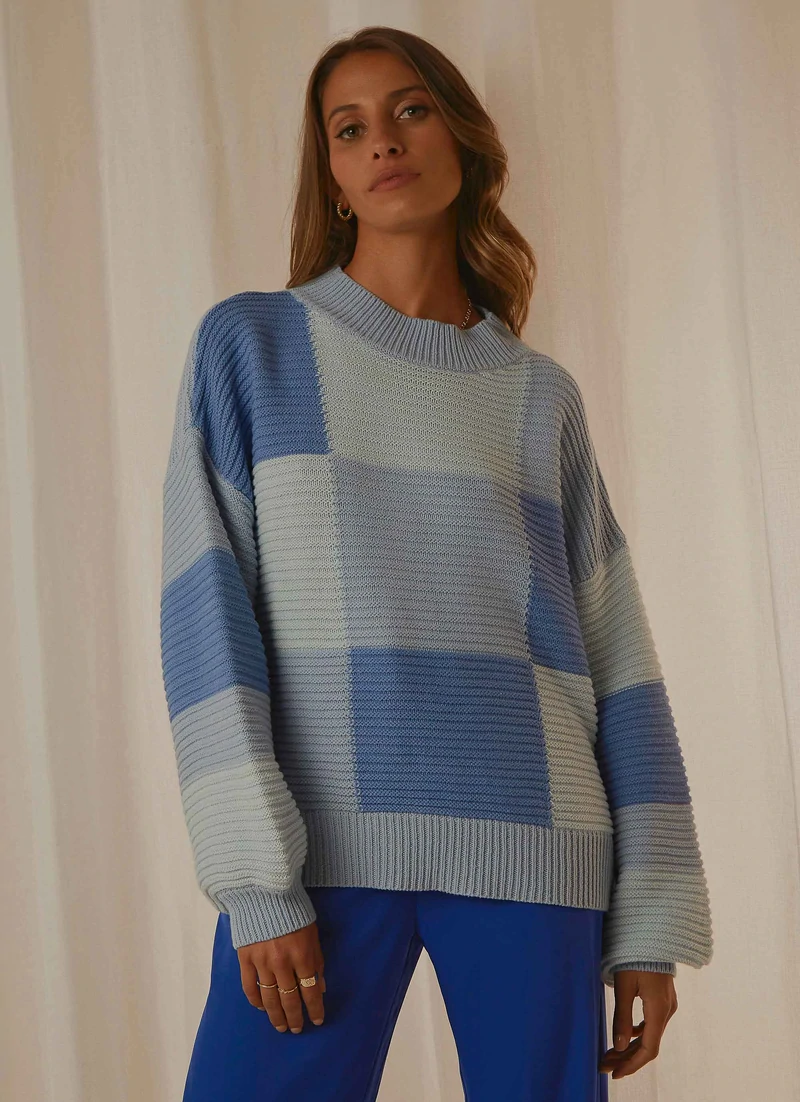 This adorable sweater has a crew neck style with a rounded neckline. While it's definitely not a turtleneck, it almost comes a little higher on your neck. I also have to mention how much I love the knit texture of this sweater – it's really, really comfy.
The all-over patch design is just oh-so-cute, and I can't get enough of it. Her multicolored look also goes with that happy blue feel, and I love how the pastel colors complement each other so well.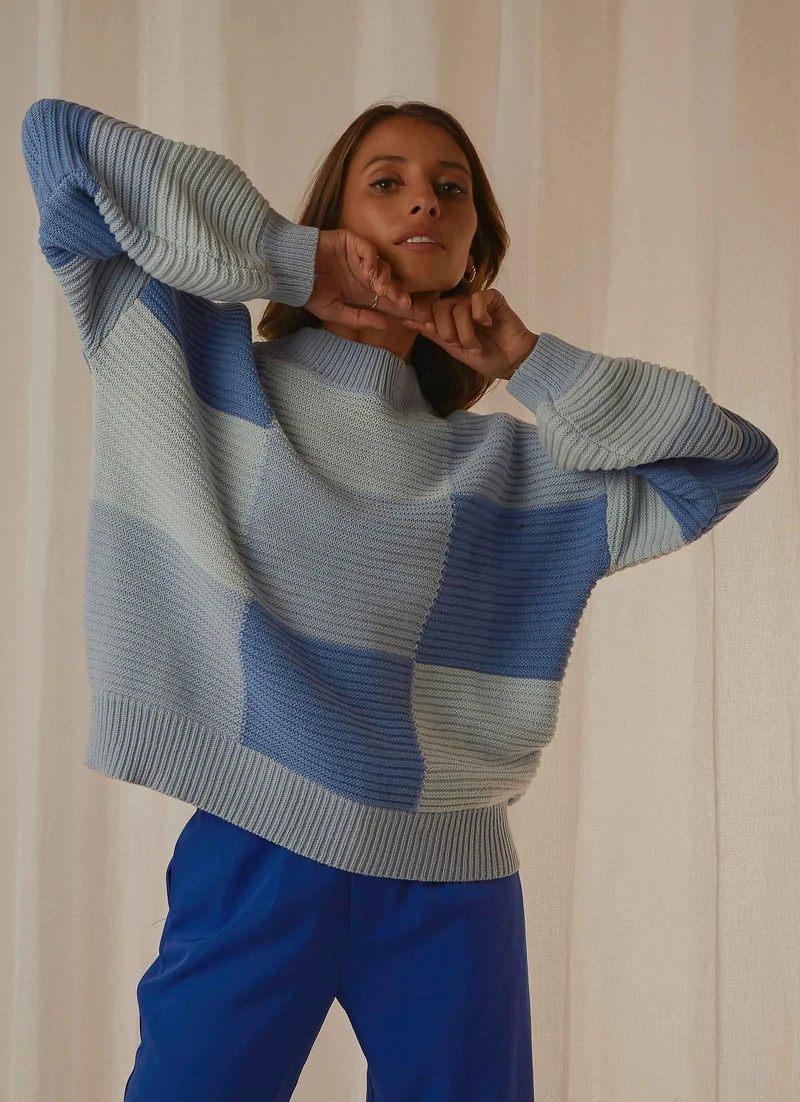 With an oversized loose fit, this sweater is on the wider side, making it perfect for tucking into your pants.
I love pairing the Tulum Nights Jumper with more solid pants, like classic black or gray jeans, and a pair of white trainers to finish the look. This sweater is perfect for mixing trends with the classics!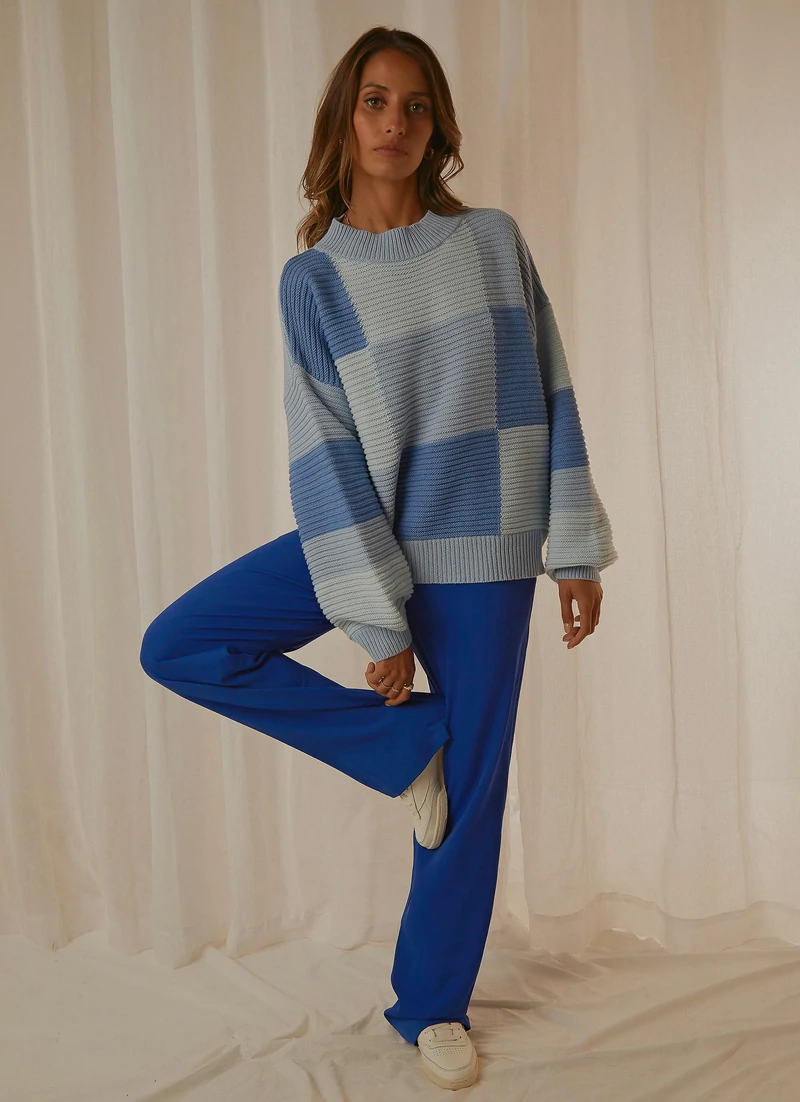 This all-over monochromatic look is such a service, and going all blue really makes a fashion statement.
A touch of pink is always perfect
Ding Dong! Funky pants are calling you… It's time to get groovy! Peppermayo's favorite Electric Avenue pants are back with the Pink Wave, and they're electrifying us with that pop of pink!
Shop the Electric Avenue Pants in Pink Wave here.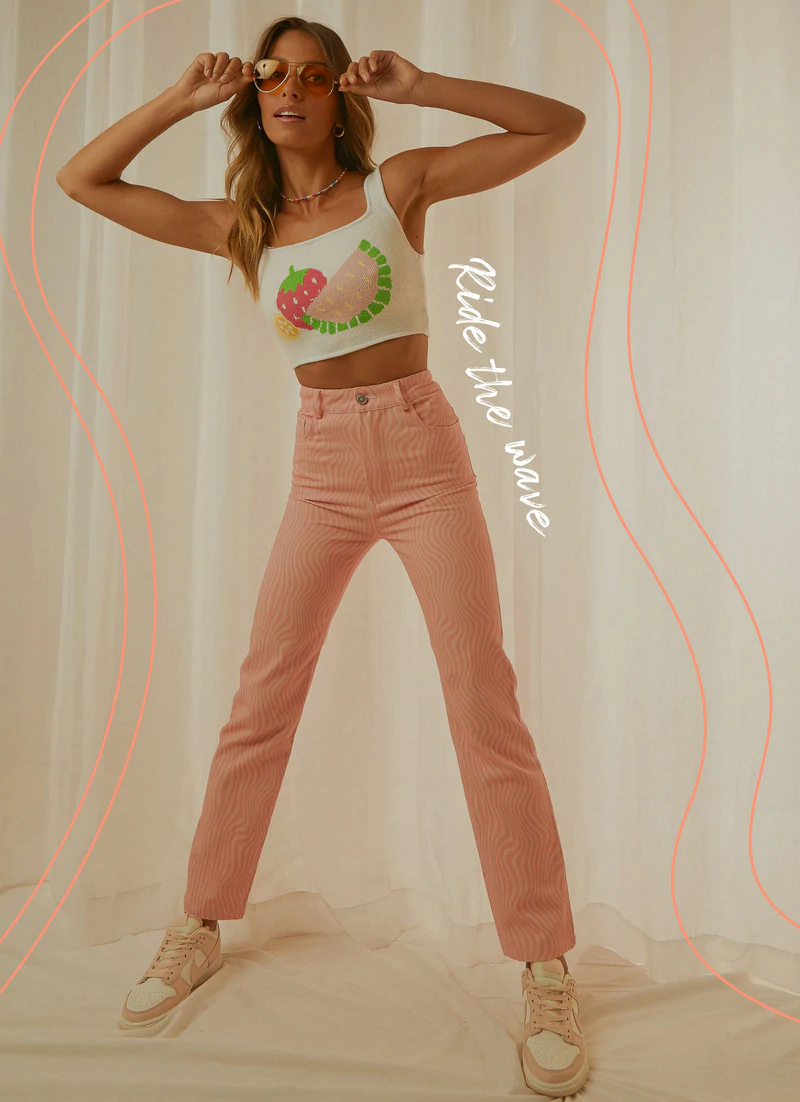 The Electric Avenue Pant in Pink Wave features an almost holographic design with candy pink and pale blush. Waves are printed all over the pants and look pink from a distance until you look closer to reveal the coolest wavy print ever.
I love how the color pink is both bold and laid back. Pink offers a pop of color and positive vibes while being casual enough to incorporate into a look with any simple crop top.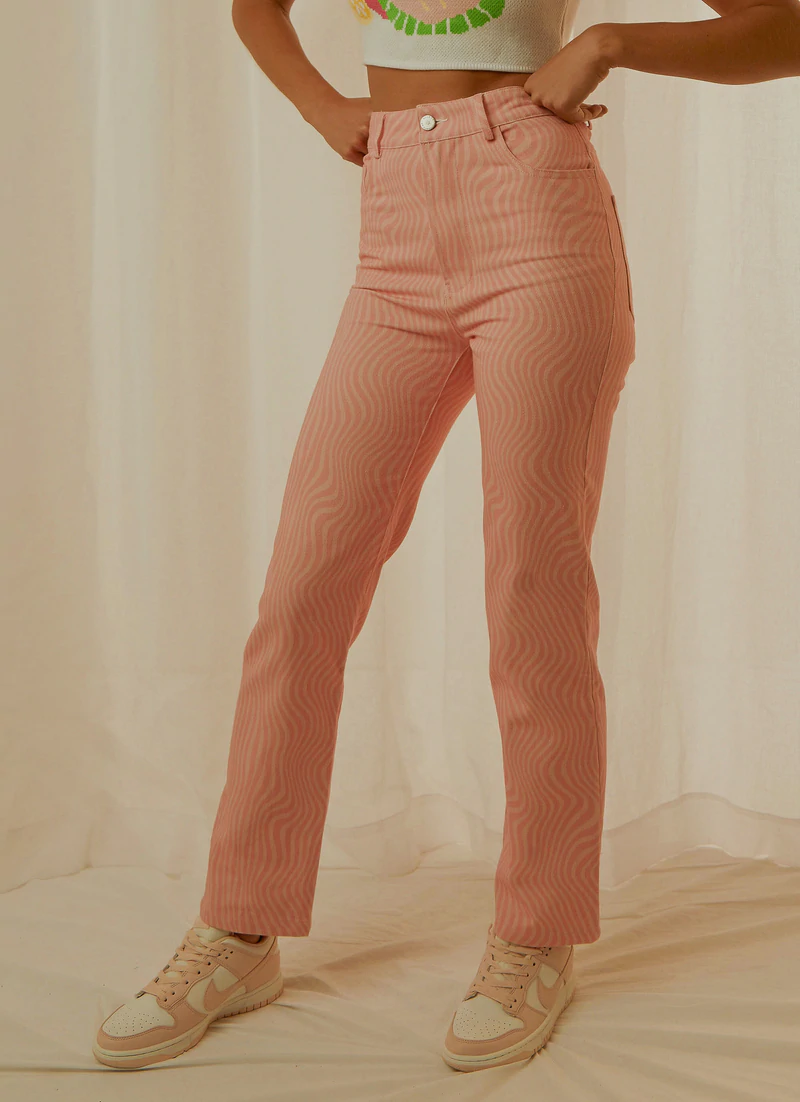 These pants feature five pockets (yes, five!) with a high waisted fit and belt loops. If there is a checklist of all the things pants should have, this one checks everything.
I must say that the Electric Avenue pants have their size game. I love how these pants aren't skinny jeans or baggy jeans, but just in between. It hits your curves in all the right places while being loose where it counts.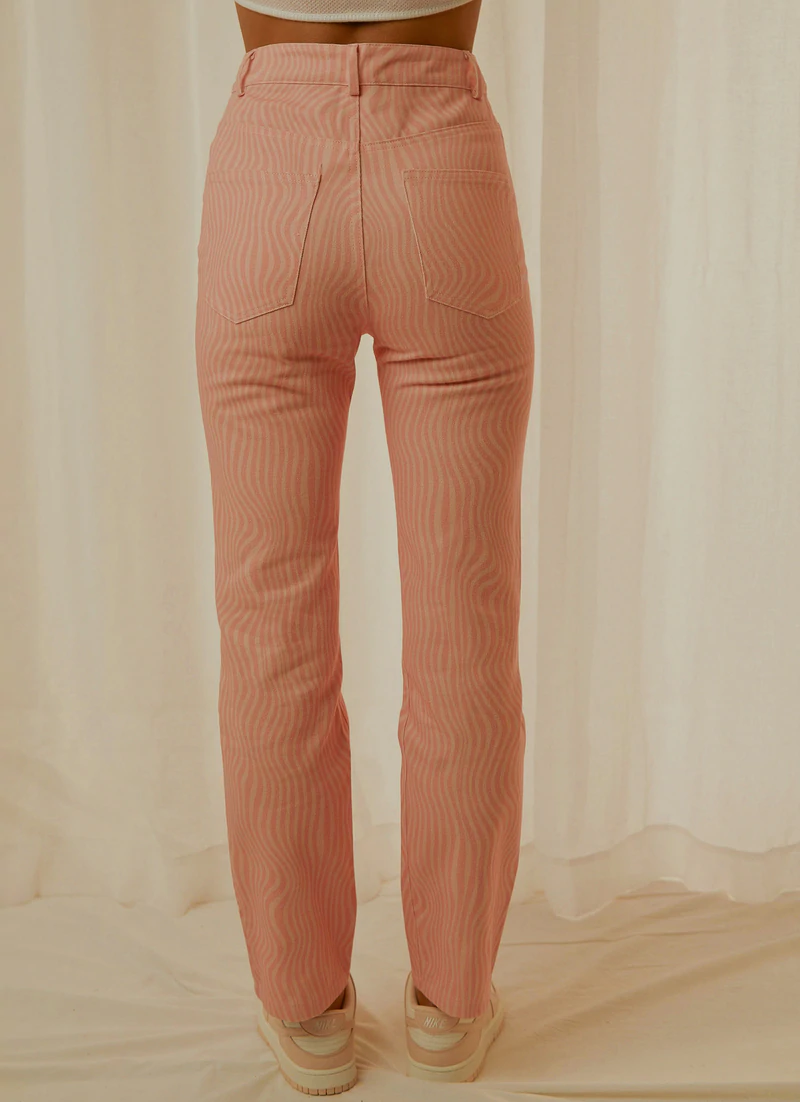 To style these gorgeous pink pants, Peppermayo recommends going with "a retro-style cut, funky hues, and chunky-soled biker boots."
When life gives you lemons
Unsurprisingly, the Market Finds Knit Jumper is another Peppermayo sweater we can't help but fall for…I mean, look how adorable those lemons are!
Shop the Market Finds Knit Sweater in Lemon here.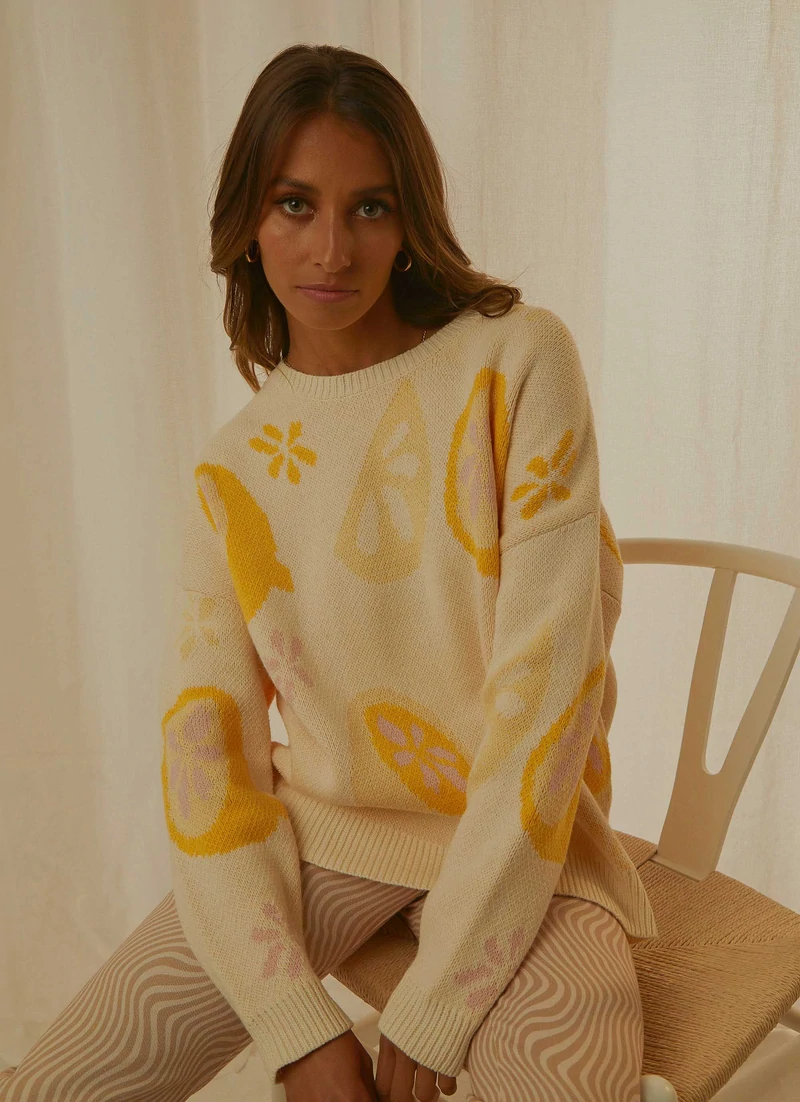 This cute sweater has a pale lemon color with knitted citrus patterns. If a glass of sweet lemonade could be turned into a sweater, this would be it.
The sweater features various lemon designs, ranging from pale sliced ​​yellows to muted sunny yellows.
Little bursts of sun and flowers also adorn the sweater, and it's so cute!
The Market Finds sweater also has a crew neck fit and an oversized loose look. It is made of 100% thick and fluffy cotton and will make you want to hug everyone.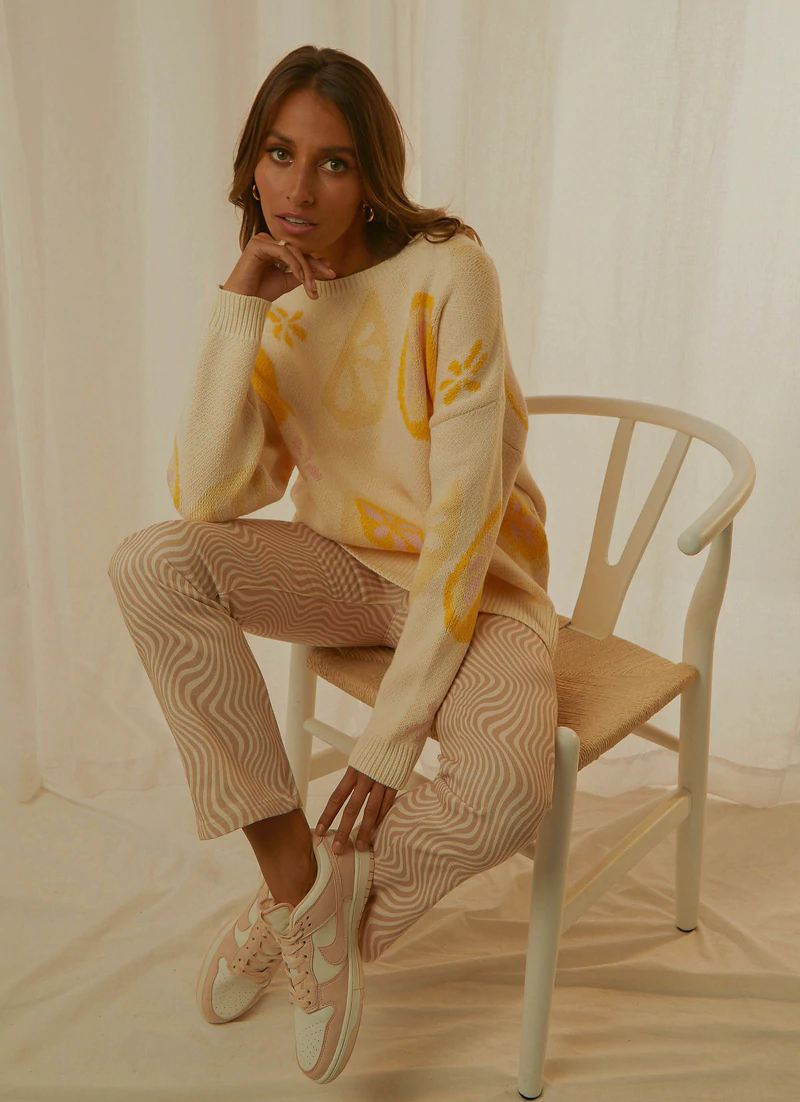 To style this sweater, opt for neutral pants, such as ecru, cream or beige. To match the powder pink shades of the sweater, pink also goes very well!
Neutral and pleasant: perfect for any moment
Another of the coolest prints on Electric Avenue pants, the Neutral Wave is here to take classic beige to another level. Who said neutral colors had to be boring? According to Peppermayo, neutrals box be funny!
Shop the Electric Avenue Pants in Neutral Wave here.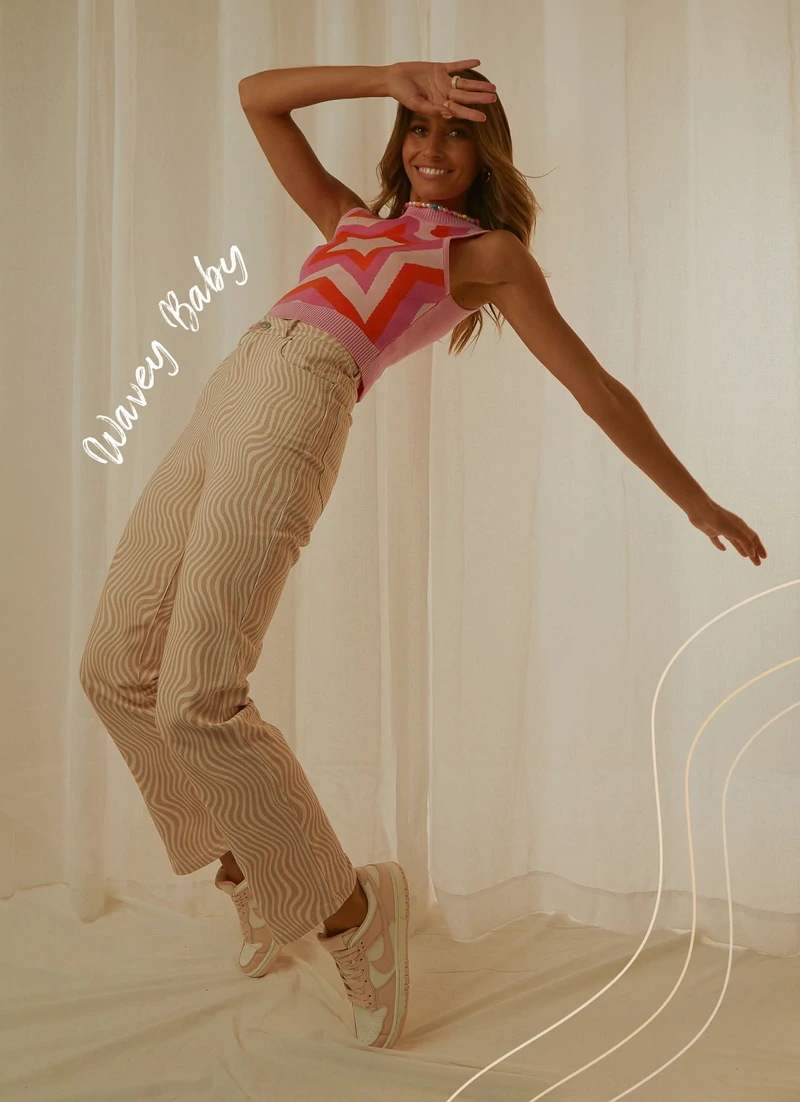 With a one-of-a-kind holographic print featuring neutral waves and swirls, these pants are the definition of cool. I love how the waves create a visually pleasing texture.
While the wavy pattern is inspired by ancient times, I also love how modern it feels; there's something so distinctly 2020 about the style, and the pants easily stand out as part of Peppermayo's signature it-girl style.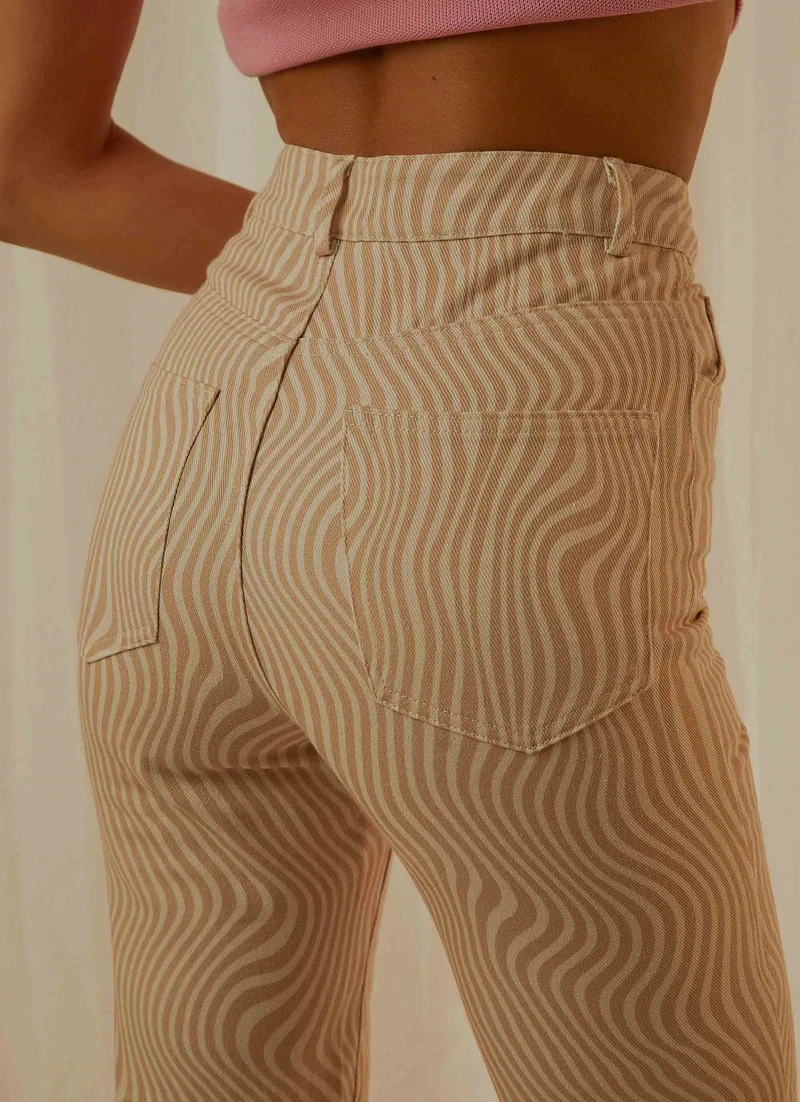 These high-waisted pants feature a slim fit with a feel that's neither too tight nor too baggy. Like all Electric Avenue pants, these include five pockets and belt loops.
You may think beige is a difficult color to style, but it can actually go great with so many different colors.
The Electric Avenue Pant in Neutral Wave allows you many different options for your top; whether it's a pale pastel sweater or a hot pink tank top, it will look trendy and cute.
A romantic dream in lilac
If there was ever a mini dress that made my heart skip a beat, it would definitely be the French Kiss mini dress. With a ruffled bust and sweetheart feel, this dress just makes you want to have a picnic in a scenic park with a ready-made charcuterie board.
Shop the French Kiss mini dress in lilac here.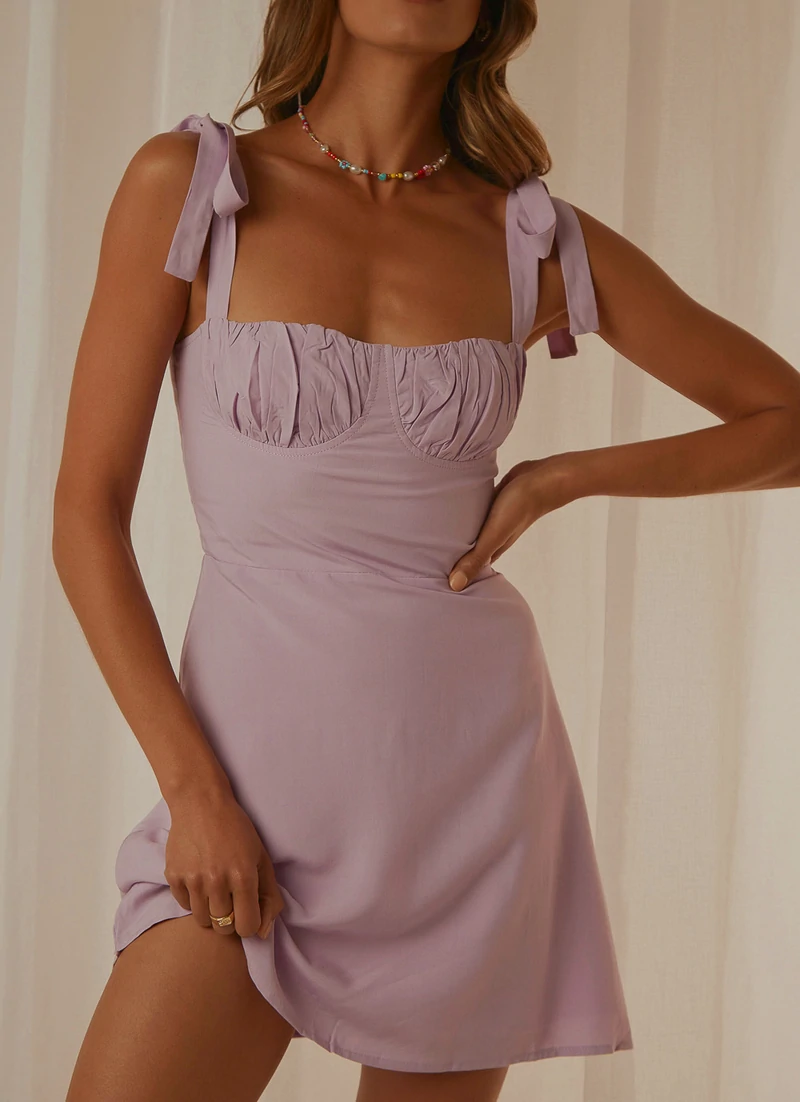 This cute little mini is absolutely obsessed with it. First and foremost, the dress has such a cute silhouette that is not only flattering but easy to pull on. The A-line cut features an invisible zipper and makes the cutest little discreet twists as you turn.
I love the sweetheart neckline and gathered bust; it really adds to the linen feel of the dress and is both rustic and vintage.
The dress has a shoulder tie function, which you can do yourself. Ribbons are always a nice touch!
The lilac color of this dress is so dreamy, and I love that it is perfect for the dreamy aesthetic of this dress. I can already imagine everything: a summer date, a field of flowers with daisies and an illuminated garden party. The possibilities are limitless.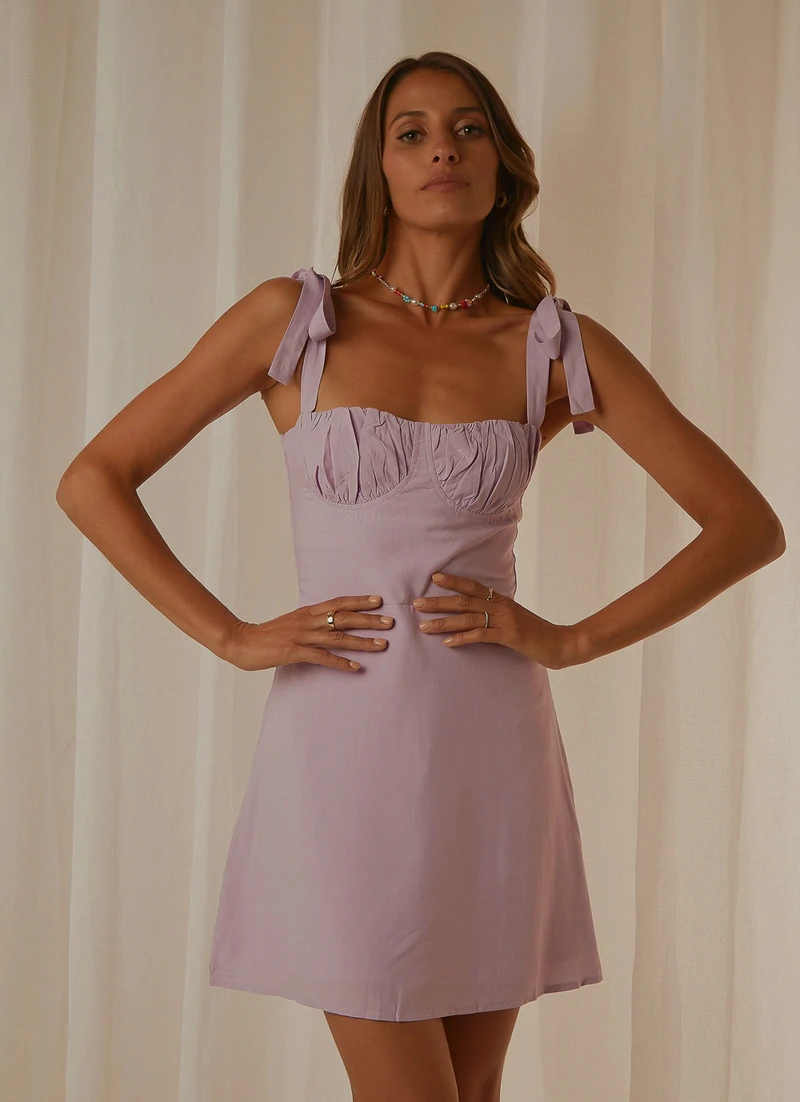 "Pair it with simple gold jewelry, strappy heels and your favorite bag, you'll turn heads and break hearts wherever you go," Peppermayo advises.
Keep up to date with Peppermayo
For practical fashion advice and style inspiration, Peppermayo's social media channels are a must. Be sure to follow their Instagram at @peppermayo and their TikTok at @peppermayo.
See this post on Instagram