Sunshine and fun times are fast approaching, and that calls for glossy and glowing looks. With eyelids glittering with powder-blue shimmer and lips tinted with pink gloss, summertime makeup is all about a fun and flirty vibe.
View this post on Instagram
To achieve such a look, all you need is the minimal and the simple: beauty doesn't have to be complicated if you play by Morphe 2's book.
A beauty collection launched with Gen Z in mind, Morphe 2 is all about inclusivity and lighthearted looks, all at an incredibly affordable price point (I'm talking foundation under $20 and lip gloss for $10!).
View this post on Instagram
With teen TikTok superstars Charli and Dixie D'Amelio at the forefront, Morphe 2 is changing the way beauty is becoming more accessible for anyone and for everyone. From a vast variety of skin tone shades to pops of bright color in its eyeshadows and liners, with Morphe's multi-purpose makeup, there are unlimited possibilities for how you can express your creativity.
Through simplistic yet eye-catching styles, Morphe 2 is redefining the new generation's approach to makeup- and we are so here for it.
Shop Morphe at morphe.com

Shop Morphe 2 at morphe.com/collections/morphe-2.
Shimmer Glimmer On The Eyes
The absolute essential step of applying makeup is hands down the eyes. In a flawlessly balanced way, Morphe 2 combines both bold and shimmery styles.
Always Online Gel Liner and Sharpener
Recently, eyeliners have taken center stage in the makeup world- and for good reason. They totally make your eyes pop, and bring on all the eye-catching drama! Of all, the Always Online Gel Liner and Sharpener takes first place; I've simply never seen anything like it, and it's my new favorite and a must-have in my makeup bag.
Shop the Always Online Gel Liner and Sharpener here- available in 10 shades!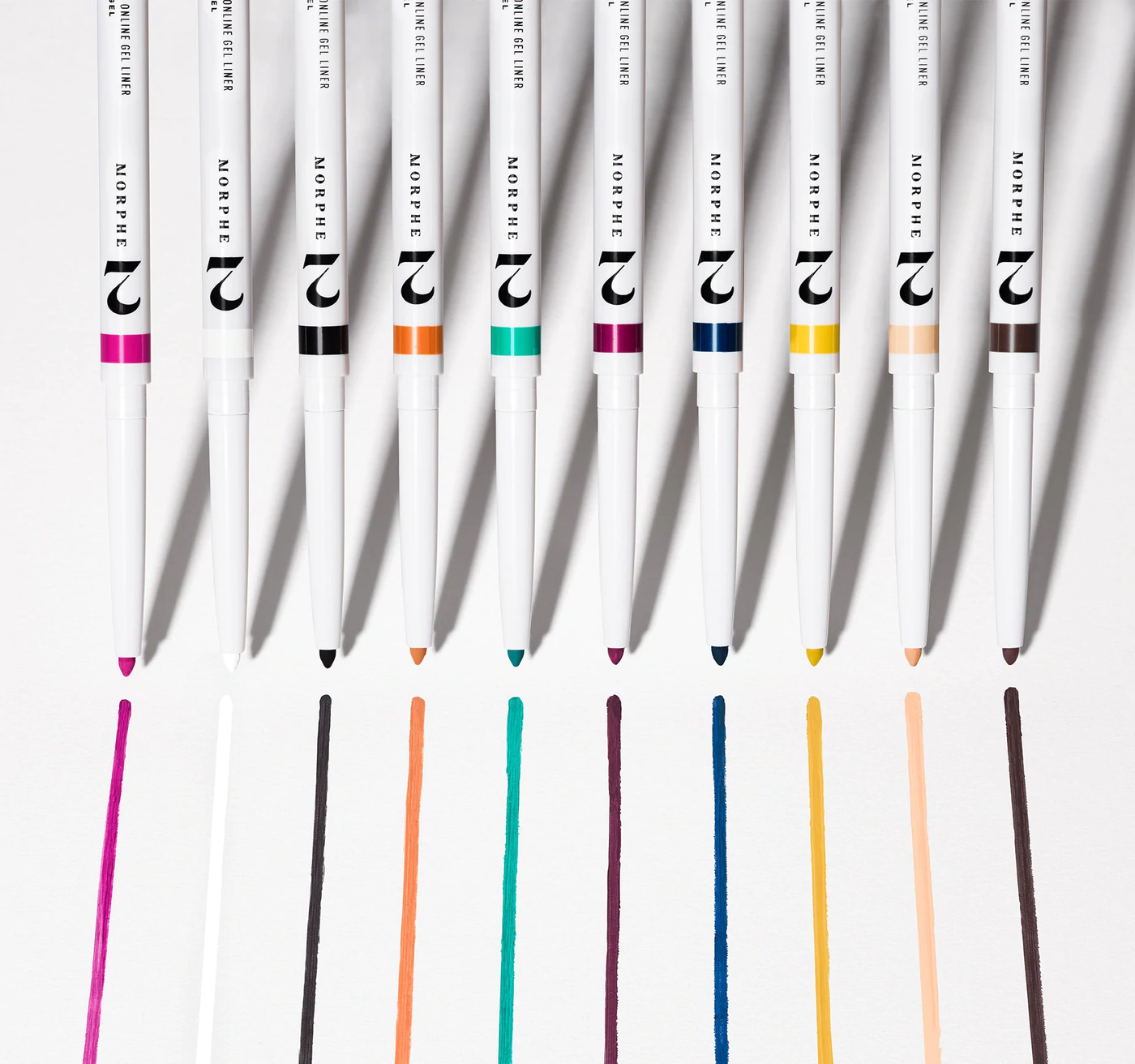 This brand-new launch seriously deserves all the praise. In a single swipe, this eyeliner applies such an intense pigment (the secret's all in the ingredients: vitamin E, jojoba oil, and rose oil). It's completely smudge-proof, making it amateur-friendly and hassle-free. Plus, it's waterproof and transfer-proof, and lasts up to 8 hours! Basically, in other words, this liner is perfect for having fun, your way, worry-free.
This gel liner features a thin pointed tip and an attached sharpener to shape it to your preference. I'm amazed at how convenient it is: as a beginner at makeup, I had no problem applying this at all, and this liner is such a great starter for beginners. It doesn't look over the top, yet makes your eyes truly stand out.
Our top two favorite shades are the Power Off and Fierce Fuschia. Power Off is the perfect go-to for a smoky, jet-black liner, and looks so natural and really enhances the eyes. Fierce Fuschia is perfect for party nights and unapologetically shines in a vivid pink shade.
Eye Wish Shadow Stick
Powder eye shadows are overrated- it's time to switch to something easy on the go. Meet your new favorite: the Eye Wish Shadow Stick. A pencil-like stick that's almost jumbo-sized, this handy-dandy makeup is so simple to use. I like to pop one in my purse wherever I go; it's that easy.
Shop the Eye Wish Shadow Stick here- available in 6 shades!
I love how creamy the texture of the stick is, and after it swipes on, you can slightly spread it to give it that soft look. It looks so natural and truly enhances your features, and works great as either a base for glittery add-ons or as a touch-up liner. The shadow stick also has an attached sharpener.
I also enjoy applying the stick as a lip liner; for some of the pink-tone shades like Upon a Star, Good Luck Charm, and Bubblegum, the liner is totally reusable for different purposes. No exaggeration, I never knew how much of a difference lip liner could make; now I know it's a total must.
This 2-in-1 eyeshadow and liner stick come in six different shades for all your moods and event vibes. Of the available shades, Upon a Star (on the left) is perfect for those glowy summer days that feel so dreamy and relaxing. It's the perfect shade for brunch dates and picnics with your best friends. Lucky Penny (on the right) is the perfect copper shade that brings on some glitz; the perfect serious-but-not bronze, it's a great fit for a night out in the city.
Jelly Eye Shimmer
If you follow Charli or Dixie D'Amelio on TikTok, then you've definitely seen this product before from their beauty routine videos. Dubbed the "Jelly Eye Shimmer," this eyeshadow is exactly what it's named. This bouncy formula is so lightweight and buildable as you swipe on layers as you like. It's the perfect go-to for a bit of sparkle without all the hassle.
Shop the Jelly Eye Shimmer here- available in 6 shades!
Everything about this eyeshadow is to be obsessed with; it's just as glittery as it looks in pictures, and makes your eyes really shine when the light bounces off. If you want to add on more than just glitter, Morphe 2 recommends either "wear alone to shine solo or layer with your fave shadow for a shimmering boost."
I like how it's non-sticky and non-greasy, and can be easily applied with just your fingers. It doesn't actually feel like jelly but has a smooth and solid texture. This compact shimmer has truly exceeded my expectations and might have turned me into a huge eyeshadow fan. I can't go without it, and I love how it really has that sweet summer energy.
If you're having trouble picking out colors (they really are all so cute), try the Woah, a gilded bronze that feels like you're at the beach and sunkissed all over. Or go for the Sunshine, (at the top!) a happy-go-lucky pink that makes you feel like you're in a candy store.
All About That Golden Glow
You can't serve face without having your skin tints all set! Morphe 2's natural, easygoing foundation and concealers are here to create the flawless base for your look of the day.
Hint Hint Skin Tint Foundation
Okay, I think I might have just found my foundation ever. A liquid, spreadable foundation that you can layer on without feeling all stuffy? Yes, please! Coming in the cutest bottle ever with a little squeeze dropper, the Hint Hint Skin Tint foundation is your new best friend.
Shop the Hint Hint Skin Tint foundation here- available in 20 shades!
At first, you might be surprised by this fluid tint, but it really does work wonders. All you have to do is drop a few drops on your fingers or your brush and blend away! "The naturally radiant finish lets your skin shine through while also smoothing and blurring imperfections," says Morphe 2. I love how this tint literally absorbs into your skin and lets your skin shine through (even freckles can still show!) and that you can build on the coverage.
My favorite thing is how lightweight it is- oftentimes, foundation tends to feel a little heavy- but not this one. It's also not greasy at all, and feels matte without reducing the natural glow.
This formula is water-based and feels hydrating and breathable. It's also non-comedogenic and vegan, as well as friendly for everyone to use! Its impressive 20 shade range is "distributed evenly across a range of five skin tones: light, medium, tan, rich, and deep." You'll be sure to find a shade perfect for you.
Hide & Peek Concealer
Have a blemish that needs a quick cover-up? Hide & Peek has you covered- literally. This on-the-go concealer is perfect to tap on to give any problem spot a quick fix.
Shop the Hide and Peek Concealer here- available in 15 shades!
The Hide and Peek Concealer is perfect for getting rid of unwanted spots or brightening dark circles. Buildable and not too heavy, this light to medium coverage concealer will make you look completely fresh-faced. I kid you not, even running on less than an average amount of sleep, this concealer did me wonders! For a completely covered, seamless look, I also love pairing up with Hint Hint Skin Tint.
My favorite thing is that this concealer has a great creamy consistency, which makes it easy to blend into your skin. I found it easy to build on to match my preferred coverage amount, and love that it still felt and looked natural.
Plus, this concealer is all about making your skin feel its best. "Enriched with sunflower oil and glycerin, the formula is made to nourish skin, while calming lavender extract soothes," says Morphe 2. Vegan and ophthalmologist tested, it's also safe to use.
With Morphe 2, you can bet there's something for everyone and anyone. With a total of 15 different shades, the Hide and Peek Concealer makes all of us look our best, all with a single tap of the concealer brush.
Pucker Up, Buttercup
Nothing is more irritating than dried-out lips- which is exactly why we all need a good lip scrub in our lives.
When winter rolls around, our lips are left drier than ever, and even lip gloss can't gloss over the crustiness. However, with your favorite beauty influencer Jaclyn Hill's vanilla mint lip scrub, your lips will be softer than ever.
Shop the Prepped & Polish Scrub here.
This smooth, creamy scrub doesn't hurt your lips when you exfoliate, but only rubs in to clear away any dead skin cells. It has such a rich texture to it that it pampers your lips to a pout. Wondering how? "The super-fine mother of pearl dust is a natural physical exfoliant," explains Morphe 2.
My favorite thing? It smells just as good as it looks, and will instantly cheer you up.
I just love applying this right before bed to make my lips all happy and smooth before applying a lip mask. It's great to have on with you at any time-the little compact scrub is totally travel-friendly.
Brows on Fleek
I've been searching for the best brow tint for the longest time, and I think I might have just found the one. Morphe 2 offers a totally efficient and effective brow tint for just $7 USD, and if that's not a deal, I don't know what is.
Shop the Brow Crush Tinted Brow Gel here- available in 5 shades!
This lightweight gel is totally pro at getting in the right frame of mind. It completely fills in all the spots that need some shaping up, and grooms even the tiniest brow fly-aways with its catch-all style brush.
The colors of the brow gel tints are totally realistic- I was keen on finding a gel that didn't make my brows stand out too much and make them look bulky, but these did the job well. It all looks so natural that you can't even tell that it's been tinted!
I love how mini and cute the brow gel is, and how convenient it is to use. If you ever need aquick touch-up, this one is your best bet.
Brush It All On
To make a makeup look, you need some handy dandy tools. Instead of having to go through the tiring process of getting each brush randomly, go for Morphe 2's complete set that will have it all set up for you.
Introducing the Sweep Life Brush Collection, where life is sweet. The ultimate must-have for all aspiring and professional beauty gurus, this 4-piece synthetic brush collection is here to help you create all the creative looks you could possibly create.
Shop the Sweep Life Brush Collection here.
This sweet collection includes a complexion brush, a rounded blush brush, a universal highlighting brush, and an ultimate packing brush, all in a cute clear plastic bag.
The Complexion Brush is perfect for applying liquid tints- like the Hint Hint Skin Tint- and has a nice slant angle to it that allows you to get the best of it all on your face. Contrary to using your fingers, this brush helps you get on a nice smooth layer that doesn't feel uneven. It's also pretty big and can get a lot done in a short amount of time.
The Rounded Blush Brush is perfect for dusting up the apples of your cheeks with a cute pink glow. I love the tapered end, and it is perfect for smoothening out pink powder and getting some color to your face.
The Universal Highlighting Brush has nice tapered bristles that take it all in one sweep. I didn't think highlighting would be such a hassle, but thanks to this brush, one swipe across my cheekbones and I'm all set!
The Ultimate Packing Brush is perfect for getting into the details. Think adding all the sparkles with Jelly Eye Shimmer. The rounded little brush gets all the parts others can't reach. That's a must-have in my book!
This collection just makes beauty-ing so much easier and helps get down the very basic base. My routine has become so much more efficient and has seriously brought my makeup looks to life.
As Morphe 2 says, "Sweep, buff, and blend your way to a naturally glam time!"
Keep Up With Morphe
Be sure to keep up with Morphe on all social media channels to stay up to date on its latest launches and jaw-droppingly inspiring beauty looks!
Find Morphe on Instagram at @morphebrushes and Morphe 2 on Instagram at @morphe2. Also, follow Morphe on TikTok at @morpheofficial and Morphe 2 at @morphe2.
View this post on Instagram