Trying to formulate an effective skincare routine, but can't seem to? Don't worry, we've all been there.
Fortunately, Bubble helps you say goodbye to stubborn acne and hello to glowing skin that makes you look and feel your best. Aimed specifically at teenagers, the brand is a real lifesaver – and for my part, I can definitely say that it delivers clinical results in no time.
See this post on Instagram
Buy Bubble at hellobubble.com.
With minimalist packaging that's both cute and modern, the brand's items are vegan, gluten-free, and free of the harsh chemicals, additives, and fillers found in other beauty products. Each item is also very affordable and within a teen-friendly budget. Hint, hint: they're all under $20!
What I love is that at Bubble, they truly believe "self-care is more than skincare", by providing mental health resources and donating a portion of their profits to organizations at non-profit. Not to mention, if you don't know where to start and are new to skincare, you can attend their "Skin School".
There, Bubble helps you discover your skin type, create a routine, and learn about topics like skin conditions, ingredients, buzzwords, acne, skincare myths , etc.
Go to skin school now!
That being said, get ready to meet your new skincare favorites! Trust me, your skin will thank you.
Keep it simple: all you need are 3 essentials
Bubble makes skincare shopping so easy! Depending on what you are looking for, there is the Moisturizing Pack or the Balancing Pack, which combine the three fundamental products you need in your routine.
See this post on Instagram
For $39.00, find the Moisturizing Pack here and the Balancing Pack here.
If you have normal to dry skin, opting for the moisturizing pack is a great choice, while the balancing pack is best for combination oily skin. Each includes a cleanser, toner and moisturizer which are all high quality and well worth the investment. Note that you can also buy these items individually and mix them with some of their other items.
Step 1: Clean
The perfect cleansing gel, here is Fresh Start. For daily use, use one to two pumps on damp skin for results that unclog pores, soothe and hydrate skin.
Buy Fresh Start Cleansing Gel here for $16.00.
The cleanser glides on easily to wash away the day so excess dirt, oils, etc. be swept for a clean finish. Formulated with caffeine to reduce redness and puffiness, it also contains aloe leaf juice, lavender floral water, gluconolactone, red algae extract and spearmint to improve and protect your complexion.
I love that it doesn't dry out my skin and the formula is super smooth so that, as the name suggests, my face feels "fresh" without stripping the skin. After only a week, I could already see that the "maskne" residing on my face was starting to clear up. The ingredients also exfoliate and won't irritate sensitive skin, which is an important factor when it comes to finding the perfect cleanser.
Step 2: Treat
With Bounce Back Balancing Mist, Bubble really knows what they're doing. For a quick and easy hydration boost, all you need is a few sprays to help with oil and shine. Don't be shy with it, you can never have too much of this toner.
Buy the Bounce Back Balancing Mist here for $12.00.
For a glow and even complexion, Bubble uses sodium PCA and niacinamide, along with green tea and willow bark extract to keep your skin feeling stress-free all day long. The mist is so light and refreshing, and it makes you feel instantly revitalized without any dryness.
Bounce Back is also exceptional for on the go, especially on hot summer days. Recently, I carry it with me in my everyday bag for immediate refreshment at any time.
Step 3: Hydrate
Hydration is so important, and Bubble's moisturizers are great at getting the job done. Everyone's skin is different, so the brand offers two different moisturizer options: Level Up Balancing Moisturizer for combination oily skin and Slam Dunk Moisturizer for dry skin. As for the different bundles, you can find Level Up in the Balancing Bundle and Slam Dunk in the Hydrating Bundle.
See this post on Instagram
Intended for morning and evening use, massage 1-2 pumps onto clean, dry skin. Best of all, the pump forms the prettiest little flower every time you use it.
Level Up Balancing Moisturizer
With ingredients like PCA Zinc, Yarrow Extract, and Blue Light Protection, Level Up Balancing Moisturizer is gel-based and moisture-replenishing. The best part is that it does this without looking too greasy and repairs the skin from damage caused by solar or artificial blue light.
Buy Level Up Balancing Moisturizer here for $15.00.
This product is a thinner and lighter moisturizer, ideal for oily skin prone to shine, large pores, blackheads and frequent breakouts.
Slam Dunk Moisturizing Cream
Although it has a slightly thicker and richer consistency than Level Up, the Slam Dunk Hydrating Moisturizer is still not too heavy and acts as a conditioner for your skin. It absorbs as if nothing had happened and has the same blue light protection properties.
Buy Slam Dunk Hydrating Moisturizer here for $15.00.
See this post on Instagram
This moisturizer is formulated for drier skin that can struggle with tightness, itching, and dry patches. For this reason, the cream contains ingredients such as aloe leaf juice, vitamin E, avocado oil and hoya lucunosa flower extract which nourish the skin and fight free radicals.
Don't worry, Bubble has it all
Fortunately, it doesn't stop there. Bubble has plenty of other products to add to your skincare routine that won't disappoint.
Erase makeup remover
Every makeup lover should add Wipe Out makeup remover to their collection. With a silky smooth application, it is ideal for removing even the most stubborn makeup products.
Buy Wipe Out Makeup Remover here for $13.00.
As an alternative to irritating makeup remover wipes and cleansing balms, gently use 2-3 pumps of the cream with your fingertips to remove makeup. Then you'll be ready to double cleanse with Fresh Start Gel Cleanser.
See this post on Instagram
As someone who usually struggles to remove makeup without any redness or harsh side effects on my skin, I was impressed with how effective this makeup remover was in instantly melting away my makeup. The texture is very milky and gives a soft finish that I love.
Break Even Balancing Toner
The Break Even Balancing Toner is a golden ticket to rejuvenated skin. Once tested, it is irreplaceable.
Buy Break Even Balancing Toner here for $16.00.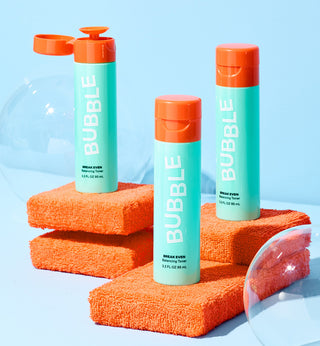 To be used with a cotton ball after cleansing, it is incredibly effective in balancing, smoothing and softening the skin. Unlike other toners I've tried that don't seem to show any improvement, this one definitely works and removes all the dead skin cells.
Come Clean Detoxifying Clay Mask
For weekly skincare days, the Come Clean Detoxifying Clay Mask is my new go-to for plump skin. The Brazilian Violet Mask focuses on purification, removing toxins that typically clog pores.
Buy the Come Clean Detoxifying Clay Mask here for $19.00.
With an incredibly smooth, non-sticky texture, Come Clean also helps clear up acne. In fact, Bubble uses montmorillonite, which is a mineral-rich clay that aims to do just that.
As always, their packaging never fails and comes with a handy applicator brush to eliminate mess and hassle.
See this post on Instagram
For best results, use the applicator provided to apply an even layer to your skin for about 10 minutes until dry. Then rinse well with lukewarm water.
Get the full set
To try out all of these amazing products that we have highlighted, you can purchase the full set which also includes a bubble box, sticker sheet, and bag.
Buy the complete set here for $99.00.
Each article is also endorsed by skincare enthusiast Hyram Yarbro – find his product advice on Bubble's Youtube channel.
follow the bubble
Overall, be sure to shop Bubble through their online site, or you can find them at a Walmart near you.
See this post on Instagram
Keep in touch with Bubble through their Instagram, TikTok and YouTube @bubble, and be sure to tag them with #facetheday to share your experience with their products.