There's nothing quite like salty good hair after a day at the beach or effortlessly tousled hair after days in the sun – and this summer is the perfect time to make your hair goals a reality.
With summer in full swing, heat and humidity are at their most intense times of the year, which can cause frizzy and damaged hair. Luckily for us, Living Proof has all the answers to keep our hair so healthy and coveted.
Shop Living Proof at livingproof.com.
An iconic brand immediately recognized for its sleek, contemporary look, Living Proof is all about integrating technological advancements into a carefully crafted solution for styling and treating hair. "Today, Living Proof is science in action, which means we're at the forefront of scientific discovery, inventing and iterating on the latest hair care innovations that deliver breakthrough results for all hair types and textures. ", says the brand.
For hair care, the brand takes it literally and to heart. With 120 worldwide patents, over 450 formulas, 44 products and over 200 awards, Living Proof is constantly striving to create products that are not only effective but effective.
The latest version of the brand testifies to this; With a range of products created to complete the fresh and flirty summer look, Living Proof has everything you need to have a fun, hassle-free time. This summer season is all about looking and feeling your best, and Living Proof can be a complete game-changer to achieve that goal.
Frizz Begone: Sleek & Shiny is in fashion
If you're looking to keep your hair smooth and shiny instead of frizzy in the summer, Living Proof's Anti-Frizz collection is for you. To follow the frequent care of your anti-frizz routine, opt for a combination of the anti-frizz shampoo and conditioner!
The frizz® Shampoo
Perfect for your daily routine, the anti-frizz shampoo protects hair from humidity while gently cleansing it and keeping it smooth and soft.
Buy it frizz® Shampoo here.
In terms of washing, this shampoo does exactly what a shampoo is made for; it "removes dirt, sweat, oil, pollution and product build-up". but does it in a gentle way that doesn't leave your hair stripped of its natural oil and softness.
I love how clean I feel afterwards, and the fizzy foam makes you feel so positive! Immediately after washing, my hair was so bouncy; he didn't feel parched at all!
The shampoo locks in moisture with the power of multiple ingredients, such as the exclusive Amino Cleansing Complex: a "sulfate-free blend of surfactants that cleanses hair without stripping it"; Jojoba esters, "made to smooth and fight the effects of humidity"; Seaweed polysaccharide, excellent for "protecting hair from environmental damage"; and finally, Phytantriol, added to "preserve hair color and reduce the damaging effects of thermal and environmental aggressors."
Overall, Living Proof has carefully crafted a formula using the above ingredients to ensure your hair won't frizz. This shampoo does its job so well that all of my hair stayed in place, even the flyaways.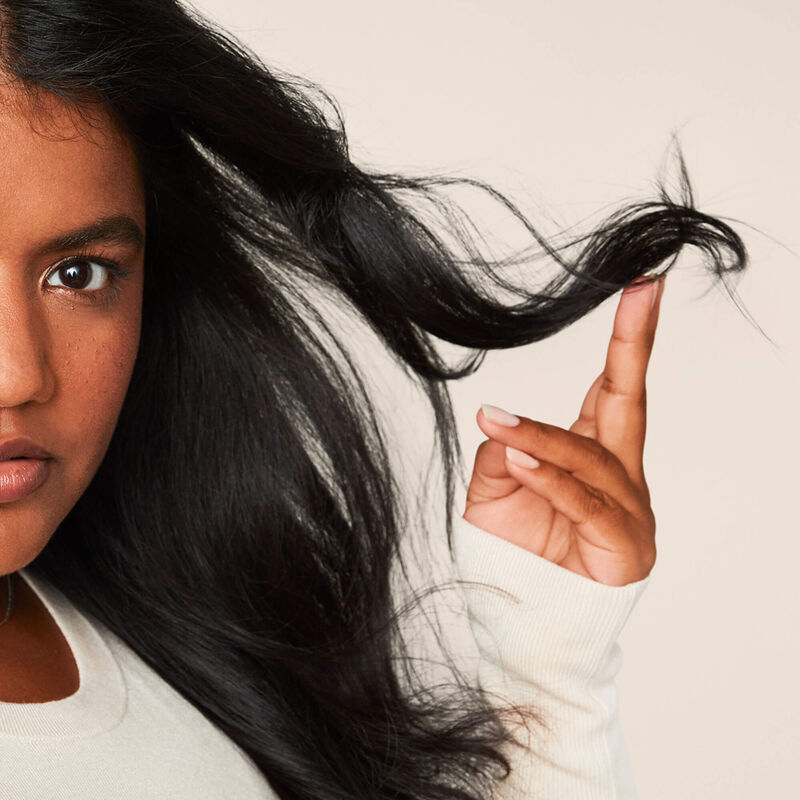 I love that this shampoo makes it so much easier to handle my hair in extreme weather and it also retains the benefits of clean and soft hair, making this shampoo a multi-tasker!
The frizz® Conditioner
The anti-frizz conditioner is the perfect complement to the anti-frizz shampoo; once you have your cleansing wash, this conditioner doubles the nutrition by adding moisture and shine.
Buy it frizz® Conditioner here.
This conditioner not only helps prevent frizz, but also keeps hair softer than ever. Even after just one wash, I immediately noticed how much smoother and silkier my hair was.
Not only that, but this conditioner is able to reach your hair from inside and out, repairing surface damage and preventing split ends. The ends of my hair feel so good, and I love that the quality of my hair has increased dramatically!
This conditioner is great to apply once in a while and works well when applied to the tips of hair strands. I really love that when I run my hands through my hair it doesn't stand up all over the place and tangle!
The conditioner strengthens the hair so well that it keeps the hair in the best texture even in hot and sticky weather. It's so convenient and easy to use, and I love that the benefits show up easily and quickly.
Refresh in seconds
Hair can be delicate; one moment it will be at its best, but the next greasy and in need of a wash. Sometimes we all need a quick second to refresh our hair, especially when time is limited.
With Living Proof Perfect Hair Day™ Advanced Clean Dry Shampoo, you can quickly cleanse your hair with quality ingredients and feel so fresh!
Shop Perfect Hair Day™ Advanced Clean Dry Shampoo here.
This shampoo is like your regular rinse-out shampoo, except it's a lot less hassle and only takes seconds. This dry shampoo works by removing oil and sweat and deeply cleansing the hair.
The results? Soft and shiny hair as if you had really taken a shower in water!
The magic is behind the ingredients; with its fast-absorbing powders, all the inconveniences – oil and sweat – are absorbed. Plus, the powder removal system "reduces surface friction" to make this dry shampoo untraceable. Plus, this shampoo works hard to get rid of all the coarse grease; the sebum balancer manages natural oil so your wash day is extended. Plus, conditioning agents make your hair as soft as after showering, all without the extra effort!
I love that this spray is lightweight and leaves no visible residue; you also can't feel the spray in your hair. The spray has the most fantastic, light and airy scent ever, and smells just amazing.
On the busiest days, this quick spray will leave your hair looking better than ever – there are no bad days with this!
The bigger the better
The saying "bigger is better" absolutely applies to hair when it comes to volume; however, there are times when bad hair days make it impossible to achieve tousled volume.
But as they say, nothing is ever impossible; With Living Proof's Full Dry Volume & Texture Spray, in just a few sprays, it's entirely possible to have that lived-in, carefree look!
Buy the Full Dry Volume & Texture spray here.
This texturizing spray has many benefits, volume being one of them. No matter what style you try with your hair, you'll always need a good amount of volume, and this spray comes in handy for that.
Not only that, this spray can lift even the finest and finest hairs. Just a little extra volume can completely revive the look of your hair and make it look livelier. The spray is also buildable, so you can adjust the amount of volume added as desired. I really like that the spray is not heavy at all and is actually quite light.
In addition, this spray can serve as double protection against heat! This spray can provide heat protection up to 410°F/210°C, making it the perfect accompaniment for your favorite hairstylist.
I love that this spray gives instant results. As soon as I applied this spray and my hair flowed well, I immediately saw my hair achieve the desired volume and feel so much cleaner (this spray is able to absorb oil!). I love how this spray works magic on my hair.
This spray also has such a refreshing feel and scent and will seriously put you in a good mood. Take this bottle with you for a quick spritz, and you'll be ready for the day!
Healthy scalp = happy hair
Although the scalp is one of the most overlooked aspects of hair care, it's actually one of the most important parts of keeping your hair healthy. For those who struggle with dry scalp and thinning hair, Living Proof's easy-to-apply, instant Scalp Care ARevitalizing Treatment may be just the thing for you.
Shop Scalp Care Revitalizing Treatment here.
Scalp Care Revitalizing Treatment is a treatment designed to create tangible change by improving hair from the root. The results? Fuller, thicker, well-groomed hair that will instantly put you in a good mood.
This treatment incorporates the Healthy Follicle Complex™, which targets the appearance of thinning hair. The complex is a calculated combination of yeast proteins, zinc salts and encapsulated activities; according to Living Proof, it "acts as a scalp fertilizer to promote thicker, fuller, healthier-looking hair."
Plus, the treatment includes a blend of peptide ingredients, jojoba esters and vitamins to plump hair fibers for more volume, add smooth shine and nourish the scalp to ensure it doesn't feel dry and scaly.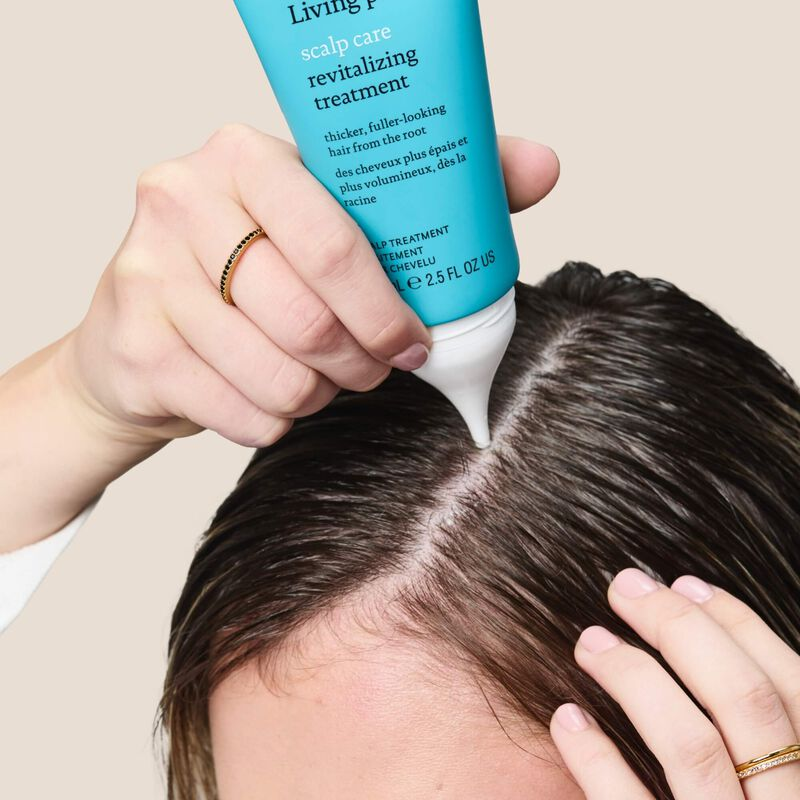 To use the treatment, simply apply the treatment to your scalp, whether your hair is dry or wet. This treatment also comes with a massage applicator, which you can use to gently massage the treatment into your hair for a relaxing moment.
I really enjoy the sweet scent of the treatment; it doesn't have a strong scent while still putting you in a calm and collected mood. As soon as I applied it through my roots, I could feel my hair much smoother within hours. I especially saw a huge difference in how my hair lay where it belonged; it looked so much more complete.
I love applying this treatment at night so I can wake up with instantly volumized and fuller hair. It's the perfect leave for the next morning and it's so easy to make!
Take the hair care quiz
If you're looking for advice on your hair type and the best way to treat it, look no further than the experts themselves! Living Proof has an easy-to-take hair care quiz that offers personalized product recommendations and more details on caring for your hair type. I love how informative it is and how such a helpful and individualized resource it is! To take the quiz, click here.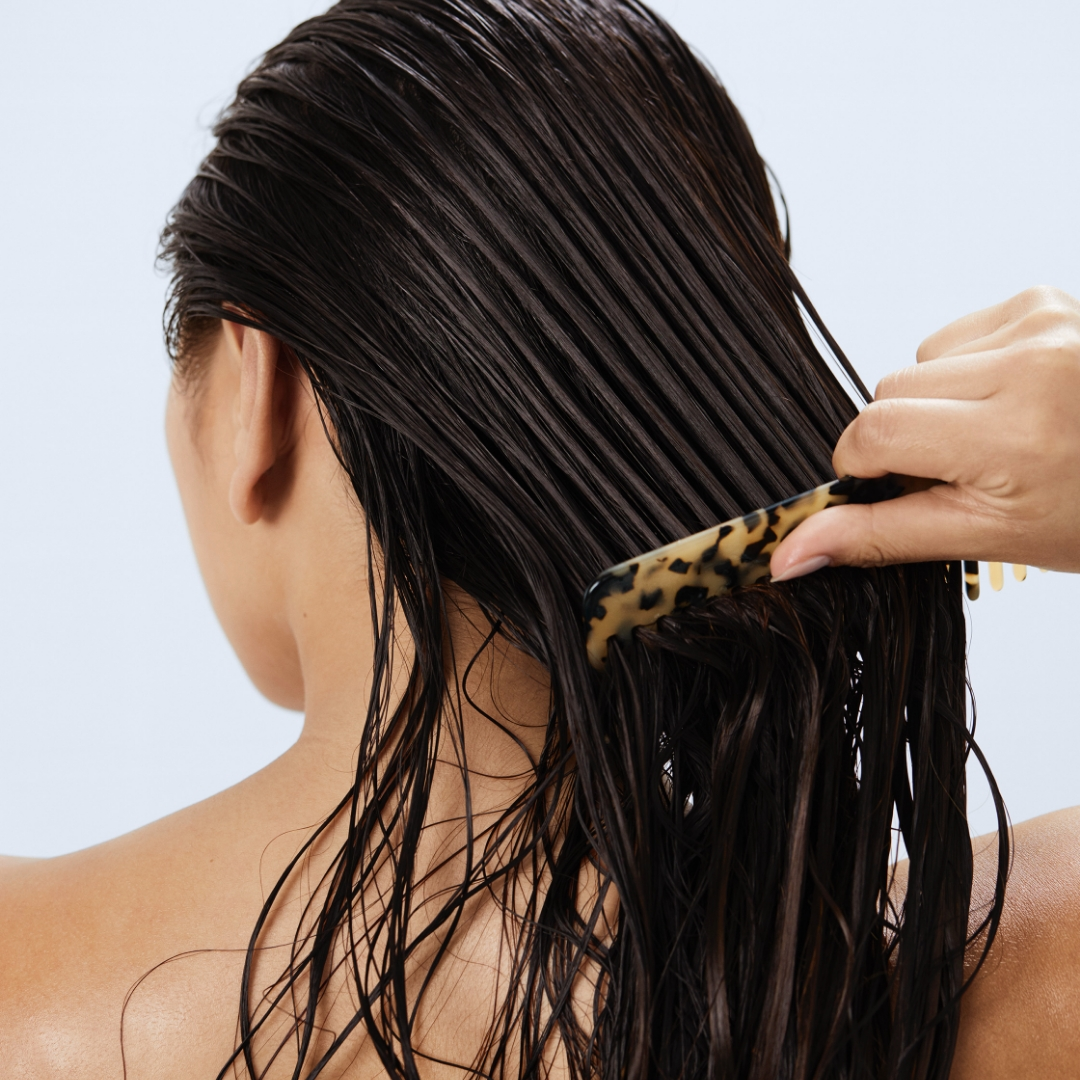 Follow the Living Proof
Be sure to follow Living Proof on all social media to stay up to date with their latest releases! Find Living Proof on Instagram at @livingproofinc, Twitter at @livingproofinc, YouTube to Living Proof and Facebook to @livingproofinc. Plus, Living Proof's pages are filled with informative and helpful hair care tips and advice, doubling your social media scrolling into an easy-to-digest education.
With Living Proof, you'll be all set for summer (and beyond!) with shiny, healthy hair that will make you so happy!