I've finally found the skincare brand that effectively checks all the boxes. Clean, simple, and comprised of good ingredients? Check! Easy items that are fit for everyday use? Check! An adorable pink with a minimalist design? Check again!
Go-To Skincare will honestly meet your expectations and so much more; this cutesy skincare brand most definitely makes it to the list of my skincare must-haves. Cutting out all the fussy, overcomplicated "stuffs", Go-To is the true master of making skincare more fun.
View this post on Instagram
I mean, hello? Look how cute the skincare products look!
Go-To Is Redefining Skincare As You Know It
Founded by Australian beauty editor and author Zoë Foster Blake, Go-To was founded from a wide depth and range of knowledge of skincare products. Zoë understood the need to properly simplify the "intimidating, complicated and confusing" side of skincare- and thus, Go-To was born.
"Go-To is a simple, effective range of skin essentials based on best-in-class botanical ingredients. Our products are formulated in-house to be as effective as possible, while being as gentle as possible. We want even the most sensitive skin to be healthy, happy and calm," writes Go-To.
So, how do they work their magic? It's simple: they don't believe in all the overloaded faux-science (Go-To does, however, believe in thoughtfully formulated skincare), and just doesn't have the time for the stuff that don't work. "Every Go-To product is created by a very fussy ex beauty-editor who knows what actually changes the skin, what harms the skin, and what is nothing more than hollow marketing," notes Go-To.
Plus, they just know what it means to make it fun- and keeping it "less stressful" whilst providing "people confidence, rather than strip[ping] them of it (and their cash)." Go-To knows how to keep it real!
Okay, so now that you know about your new favorite skincare brand, it's time to delve into the products that pretty much gave it a whole new glow. Let's dive in, shall we?
This Facial Oil Is My Hero
The powers of this skincare hero will sincerely stun you- in a good way. If you're thinking, "what could this magic oil possibly be?", Go-To has an answer for you:
"A terrifically powerful, fantastically lightweight facial oil that deeply hydrates, soothes, revitalizes and completely protects the face against bad guys trying to make it unhappy," says Go-To, "It's your daily skin booster and new best friend."
I couldn't agree more. I am totally raving about the power of this facial oil, and the Face Hero is appropriately named for being a total hero.
Shop Face Hero here. Available in both Single and Twin Pack.
So, what's so special about the Face Hero? I'm glad you asked.
The Face Hero has 10 potent plant and nut oils that were carefully chosen for their powerful benefits. "This supercharged face oil boasts a bucket load of essential fatty acids, vitamins and antioxidants, as well as anti-inflammatory properties and write-home-about-it nourishment," says Go-To.
When I used Face Hero, the facial oil actually went all the way beyond the surface- I could just feel it! I loved the way my skin completely absorbed the facial oil. It didn't leave any residue, which was amazing, and really proves that my skin really did take in all the superpowers of the oil.
My skin felt so hydrated and nourished, and it was like it had consumed some real skin food. It was visibly brightened and it looked so glowy. I was so happy that my skin didn't feel greasy, too.
Did you know that the Face Hero is also a form of investment and insurance? Really! According to Go-To, Face Hero can "insure your face against fine lines, dark spots, dryness and ageing inflammation."
Plus, anyone and everyone can use this facial oil- including you! This is great for all skin types.
If you have oily or compromised skin, don't shy away from using facial oil- oily skin is not exempt from needing its hydration, too. Plus, the Face Hero has a lightweight formula that doesn't feel like it's clogging up your skin. As a skincare enthusiast who feels somewhat iffy about the super heavy products- this has my stamp of approval.
If your skin is "very dry, dehydrated or mature"- this is so powerful that it will actually completely nourish your skin. Plus, the Face Hero is dermatologically tested to be suitable for sensitive skin.
Wondering how to use the Face Hero? Go-To's got you. "Massage five or so drops over the face, neck, and décolletage, after cleansing, and before face cream," advises Go-To, "Also great mixed into your face cream as a snazzy booster, or your foundation for serious glow."
For when to use it, both morning and nighttime works perfectly. If you're doing it in the morning, make sure that it goes "after your cleansers, toners, treatment products/serums and before your SPF and makeup." For the PM routine, the "Face Hero goes on after your cleansers, exfoliants, toners, treatment products, and serums."
This Mask Makes You Look Even Amazinger
I love sheet masks- and I think Go-To Skincare has fueled my love for sheet masks even more. Their Transformazing collection has truly been a game-changer for making my skin glow in a short period of time.
Shop Transformazing here. Available in both Single and Six pack.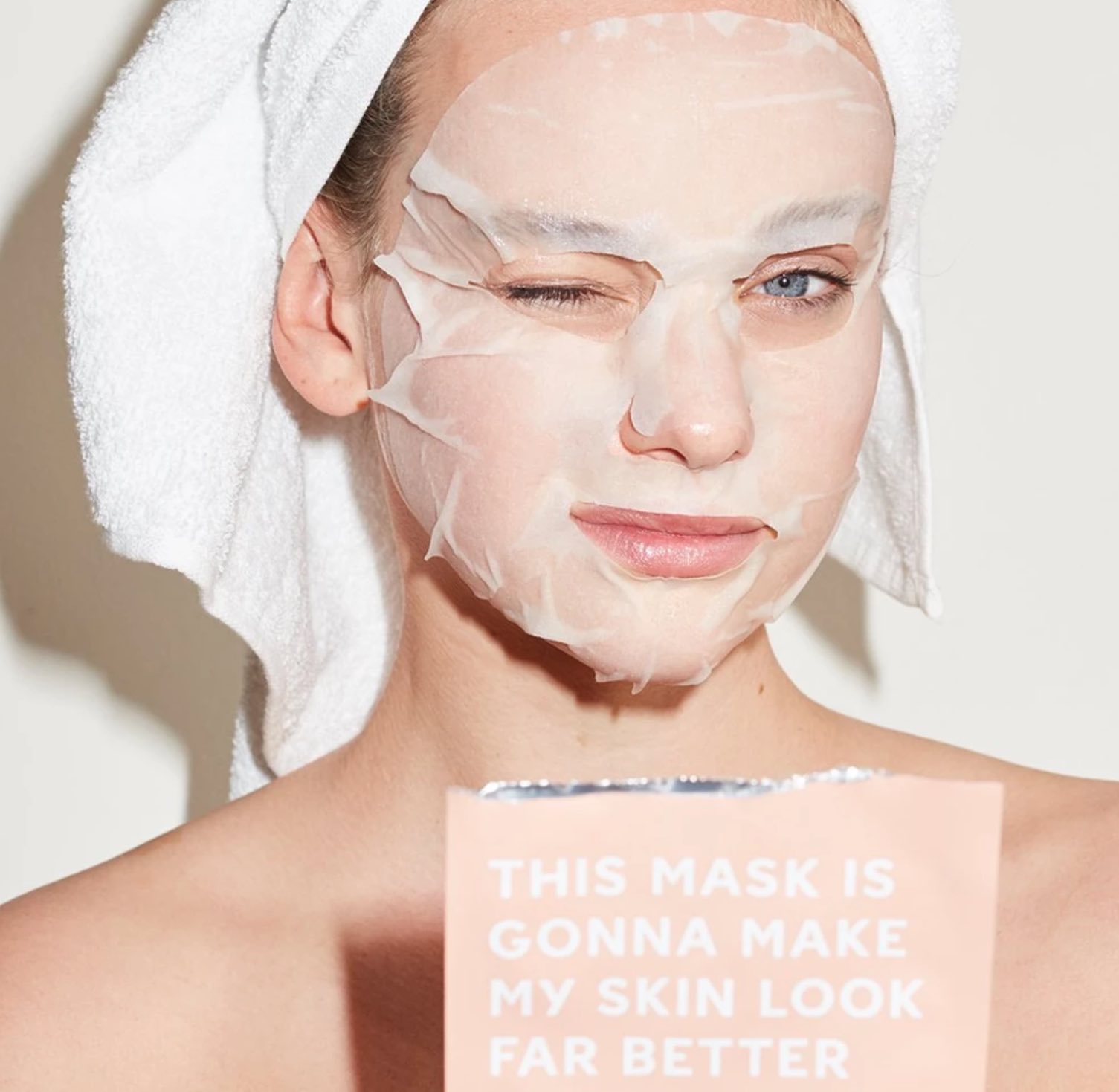 "Transformazing is a serum-drenched sheet mask that transforms your skin (even thirsty, sad, hungover or tired skin) into very amazing, very glowy, very luminous skin," says Go-To.
What's in this serum is really what makes the magic work- and it's so fancy you might just gasp. "Starring fancy native botanical superstars kakadu plum, finger lime, and tasmanian pepper leaf for bright, even-tone skin. Also featuring niacinamide (super brightening, hydrating and healing) and plenty of line-plumping and moisture-retention thanks to hyadisine," writes Go-To.
The sheet mask is just like all others, with a high-quality sheet fabric feel that's completely drenched in the skincare magic that will make your skin feel alive in the best way possible.
I love that this mask shows its effects in just a mere 10 minutes. My skin looks bright and hydrated, and it is seriously glowing after the Transformazing. "It's the ideal preparation for makeup, and sensational after a long flight, or no sleep"- says Go-To, and I couldn't agree more. This will wake up your skin from all the tough things it's going through in a few minutes.
This also smells amazing. With the natural fragrance of peony and white jasmine, this mask just smells so heavenly, and I am obsessed.
After using the mask, my skin was left feeling oh-so-soft and it truly plumped up my face with hydration. I also love that the Transformazing isn't crazily overpriced- this will definitely be my personal go-to. For just a quick treatment that is easy on you and your skin with radiant results, there's not a single flaw!
Wondering how to use the sheet mask? Go-To includes instructions below:
"Apply to cleansed, exfoliated skin, and leave for 10 minutes. Remove and tap in remaining essence. Follow with oils, moisturizer, and makeup. Note how perfectly it applies! Rejoice!"
Want to know when's best for applying this mask? Anytime in your AM or PM routine is perfect- I love following up with a generous slathering of creams and oils to keep it happy and hydrated as well. The mask also serves as the perfect base of glowing skin to apply makeup on afterward.
This Special Cleanser is For Feeling Fancy
We're all familiar with the regular cleanser that foams up- but have you tried an oil cleanser?
That's right: with Fancy Face, you can knock out more than just one target. With this oil, you can clean off grime, makeup, even zinc sunscreen effectively- all to reveal the softest skin you've ever felt.
Shop Fancy Face here.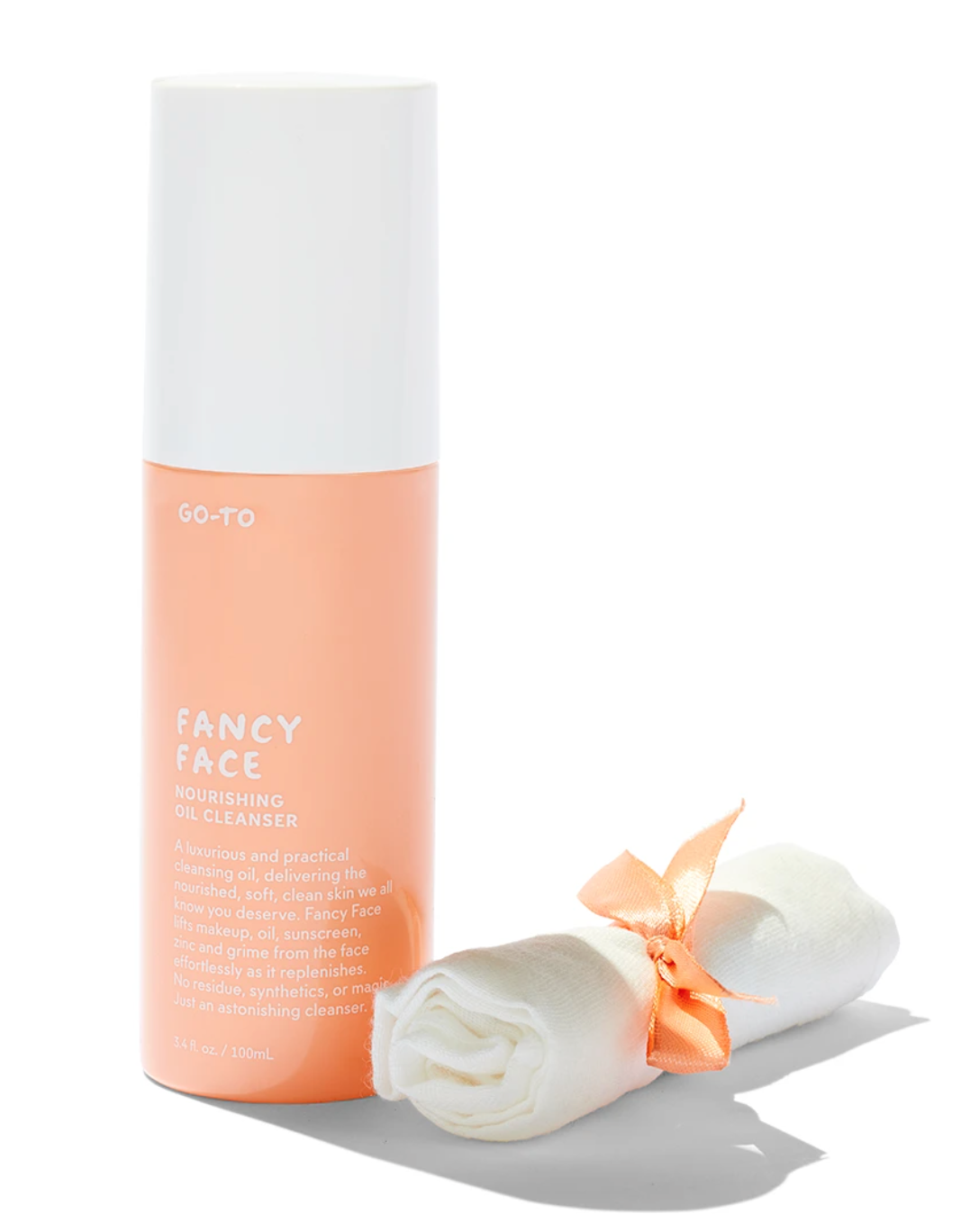 You're probably thinking, using oil? To clean? I was just as shocked as you were, wondering how that worked- but Go-To offers a super simple, non-complicated answer that explains it all.
"Oil cleansers attract oil, and in doing so, dissolve all your makeup, SPF, dirt and excess sebum, leaving you with clean, soft skin, minus the over drying and tightness. Oil cleansers do not make your skin oily, nor do they clog pores. They replenish the skin with vitamins, antioxidants and essential fatty acids, balance oil levels, and hydrate the skin."
I guess you could say this works conversely in a way! But with this, Fancy Face doesn't just clean your face- it does so much more. Remember those times nothing could do away with your waterproof makeup or your mineral sunscreen? This is the answer that you've been searching for.
So, what's the secret? The key is in the ingredients. "Featuring five botanical plant oils (camellia, sunflower, sweet almond, argan, passionfruit seed oil), antioxidants (vitamin e), and essential fatty acids, Fancy Face replenishes as it removes," says Go-To Skincare. All these oils- which are fancy just like the name of this special oil cleanser- are formulated together to create that seamlessly smooth, flowing feel.
"Clean beauty" is a term we're all keeping a sharp eye on lately- and this product will match your standards. Free of "silicones, parabens, PEGs, sulfates (SLS/SLES), GMOs, mineral oils, petrolatum, synthetic colours, synthetic fragrances or animal testing"- there's not a worry to have with this item. I'll definitely be using the Fancy Face as part of my daily routine for sure.
If you're wondering if you and Fancy Face are meant to be, the answer is yes. Made for all skin types, Fancy Face is the one cleanser that you can absolutely trust in not stripping or de-hydrating your face- in fact, the opposite! "This nourishing oil cleanser is as much a must-have for mature or dry skin, as it is for young, oily, and heavily made-up," says Go-To.
Just like how you're feeling right now, I was totally hooked- and the results had me delightfully stunned.
First of all, let me just say that this smells amazing. This beautiful scent is light and airy without feeling overpowering, but it's the kind of scent that lingers around and makes you simply feel happy.
The oil doesn't feel sticky or greasy, and instead feels instantly hydrating and even better applied to the skin. If there's anything that could work its way through melting through the toughest of leftover products on your face, it's this. The Fancy Face feels as though it is melting away the excess and leaves you with a completely clean face. I love how gentle it is compared to your regular foaming cleansers.
My face instantly felt so smooth and hydrated. (I mean… when winter comes around, you can bet I'll be sticking with this one.) I love how I could use the muslin cloth to wipe away when done, and my skin felt calmed and cleansed. There wasn't any residue, and my face was completely nourished.
Want to know how to apply this fancy bottle of magic oil? Glad you asked- it's easy!
"Apply 3 pumps of oil into your dry hands, and massage into your dry face in circular motions. Enjoy this bit. It's nice. Hold your face cloth or muslin under the hot tap and get it nice and warm, then wipe the face completely clean. For bonus points, cover your face in the cloth and compress it on for 10 seconds first," instructs Go-To.
Every bottle of Fancy Face comes with a complimentary muslin cloth. The Posh Cloth is perfect for gently wiping away the face after applying the Fancy Face.
How-To: Fancy Face from Go-To Skin Care on Vimeo.
I love applying my Fancy Face as part of my PM routine- it's perfect to wipe away the day's sunscreen, alongside any other grimes, dirt, and makeup. Fancy Face is great to use prior to a double cleansing- if you're looking for a recommendation, give Properly Clean a shot!
But there's no pressure to always make it nighttime to use the Fancy Face. "Starting the day with an oil cleanse is a nice way to balance the skin's oil," says Go-To, "And of course, if you are removing your day makeup before reapplying makeup for an evening event, Fancy Face is 100% your guy."
This Exfoliator Swipes Away The Bad
Let me tell you this: exfoliating is so underrated, and is such an essential part of a skincare routine.
Go-To makes this step of your skincare routine so convenient, easy, and even fun, and with the Exfoliating Swipeys, you'll have the cleanest, hydrated, happiest skin in just a single swipe!
Shop Exfoliating Swipeys here.
The Exfoliating Swipeys are meant for single-use, meaning you can get it all in one swipe and dispose of it- easy as that. These "exfoliating pads [are] soaked in an all-natural solution that gets rid of dead skin cells and hydrates the skin."
So what makes these Swipeys so special and a total must to go on your skin? Well, first, we have to talk about how not every single exfoliator is the same.
"A chemical exfoliator, for example, (which uses naturally-occurring acids to remove dead skin cells, usually AHAs or BHAs) tends to give a far more thorough, even result than scrubbing your face with harsh, jagged particles," explains Go-To. ("Which is why we much prefer it," they add.)
"So, we combined the well-documented effectiveness of lactic acid, the most gentle of all AHAs, with ultra-hydrating essential oils to create a face exfoliator that thoroughly removes dead skin cells (the cause of dull skin and congestion), refines skin texture, minimises the appearance of fine lines and deeply moisturises. And all in 60 seconds, and using just one sweet, disposable little cotton pad," says Go-To.
Important: When using AHA products, wearing daily SPF becomes even more crucial.

– Go-To Skincare
Just like that, in under. a minute or so, just. a few easy, quick swipes will leave your skin feeling flawless! Still not sure if it really is that easy? The below video will have you totally convinced. Just some swipes after cleansing, and bam!
Just a note- make sure not to overdo it, as great as the Swipeys feel, because that may leave your skin feeling sensitive and raw. Go-To also recommends that you incorporate exfoliating in the nighttime routine.
Well, let me tell you: I don't think my skincare life has ever been the same after using these! After just a few swipes, my skin felt so smooth, fresh, and clean. The results are simply stunning- all my bumps and off textures were gone, and my skin visibly looked hydrated and charged. Plus, it smells great too!
I just love, love, love that it's so easy and efficient, not to mention that it's effective. It has all the three e's that you should always look for with skincare, which is amazing.
A lot of exfoliating can feel harsh, especially when it feels like it's stinging your skin- but that's not the case with Go-To's Exfoliating Swipeys. It feels so gentle, and even works great with dry skin.
This Balm Is For Puckering Up
I've been having the worst case of dry lips for the past few weeks- maybe even going at months- and it's been pretty horrible. Dry lips don't sound too bad until the corners of your mouth start to peel painfully!
I had always felt that keeping my lips happy and non-cracked was difficult- namely because I was having trouble maintaining its moisturized, hydrated state. That was until I met Lips!- and my lips haven't been the same since.
Well, for those in search of healthily smooth lips (aren't we all?)- Go-To's Lips! are here to get you to pucker up.
Shop Lips! here.
"This natural lip balm has been meticulously formulated (by a very fussy beauty editor with stratospheric standards) with ultra medical grade lanolin, nourishing apricot kernel, avocado, almond, evening primrose, vitamin e and jojoba oils, as well as beeswax and soothing calendula and shea butter to ensure your lips are genuinely nourished, protected and conditioned," says Go-To, "Offering pure moisture and a barrier to keep that moisture in place = pretty great lip balmery, actually."
This too, of course, is free of all the toxic ingredients (silicones, parabens, PEGs, sulfates (SLS/SLES), GMOs, mineral oils, petrolatum, synthetic colours, or animal testing) so if you'll excuse me, I'll be lathering on Lips! all day long.
View this post on Instagram
When should you apply lips? Honestly, anytime you need it! Right before bed is definitely a must- and even underneath lipstick as Go-To suggests. Day or night, Lips! keeps my lips hydrated and nourished.
I love the smooth feel of this lip balm- it glides on so easily and doesn't feel sticky at all. The Lips! balm almost melts onto your lips when you apply it on, making it really easy to absorb in the goods. After having it on for a few hours, my lips felt like satin and were probably the smoothest they had ever been. Also, it gives my lips a glossy look which I'm obsessed with.
Also, I can't not talk about the berry scent. It smells fragrant and delicious, and the lush pomegranate scent really brings it together. If there's a balm to rave about, it's this one.
Keep Up
Thanks to Go-To, I think this gorgeous shade of pink may just be my favorite color ever now. Go-To Skincare's perfectly curated Instagram also features that beautiful hue in informational graphics and glowy closeups- be sure to follow them at @gotoskincare.
They've also got a YouTube- be sure to subscribe to their official Go-To Skincare channel and have fun with your go-to skincare-ing!