The universal truth: Acne sucks. Those pesky pimples are painful, embarrassing, and quite a hassle to cure, but what if I told you you could remove your pimples and still look out of this world cute? Hey, skincare multitasking is a thing!
Introducing Starface: the most fun acne skincare product ever. Acne patches are the hype right now, and rightly so, but the famous Starface takes it in an exciting direction: a face full of stars.
Buy Starface at starface.world
Do you have a button? No problem; tap a cute little star on top, wait a few hours and bam! Your pimples will be noticeably flatter, smaller, and on their way to disappearing for good. Acne care doesn't have to be boring or so serious – with Starface, you'll look adorable while you're zapping pimples.
Teen magazine put the patches to the test and tried Starface's bestsellers and exciting collabs to see the results for ourselves. The results? We're starry-eyed and over the moon with Starface power, no pun intended.
The Big Yellow: Hydro-Stars
To burst? Have a star! Those pesky, annoying pimples don't stand a chance against Starface's best-selling hydrocolloid pimple protector – when they call it a star, they mean it; these button patches are stars in the treatment of acne.
Buy Hydro-Stars for $14.99 (1 refill 10.99) here.
Hailed as "Starface's Flagship Product" and their very first product release, these star-shaped hydrocolloid pimple patches are renowned for their magical performance in eliminating your pimples.
How it works? Easy! When you stick a star on your pimples, the stars "pull pus out of pimples, block outside bacteria, and prevent you from poking and picking (which can cause scarring)." It's been proven to really work, and it's garnered a huge following of enthusiastic fans for good reason.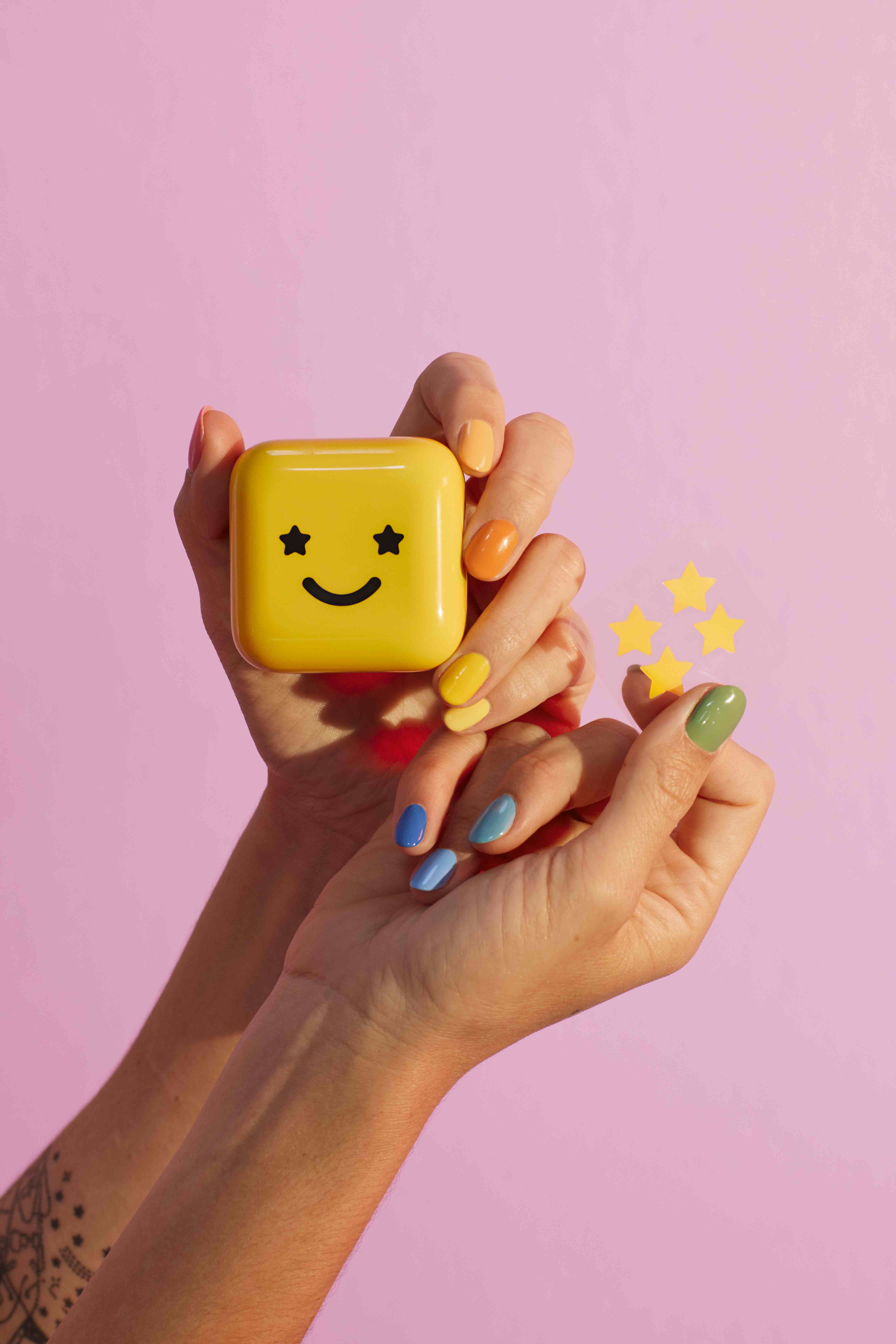 So what is hydrocolloid, the star ingredient in these patches? (No pun intended!) "Hydrocolloid is a moisture-binding blend of natural polymer particles," says Starface, "Hydrocolloid is clinically proven to help absorb fluids and reduce inflammation. to reduce pimples overnight."
To work a starface patch, simply find a pimple, stick on a star patch, give it some time – about 6 hours – and peel it off! Overnight, the patch will eliminate large pimples and reduce inflammation. I tell you, there's nothing better than waking up with a noticeably smaller pimple in the morning after just sticking on a sticker! It's as simple as it gets, and it's truly out of this world.
Plus, the patches are contoured to really stick to your face without falling off so quickly. Moreover, it also protects your skin from outside bacteria and prevents you from picking the pimple to avoid scarring.
These 32 100% hydrocolloid star patches come in the cutest little yellow case (I mean…is it cute or is it cute? It has to be the cutest thing I've ever seen!) with a mirror inside, then you can admire your pretty star look all day long.
On your marks, get set… Take off!
These stubborn pores seem to tend to clog our noses, causing a lot of irritation. However, with Starface Lift-Off Pore Strips, you can unclog them in minutes!
Shop Lift-Off Pore Strips for $5.99 here.
One look and you might think it's just a pretty pore strip – but don't underestimate these strips – they're pretty powerful too. When you remove the lovely bandage-like product, it will gently yet effectively remove dirt and oil, leaving your skin feeling clear and clear.
It's also perfect for sensitive skin: it's gentle on the skin and won't leave your skin feeling dry or irritated. With the addition of aloe vera extract, your skin will feel quite calm and soothed, and will be hydrated after removing the strip. When you touch your nose after removing the strip, you will notice that it is smooth to the touch!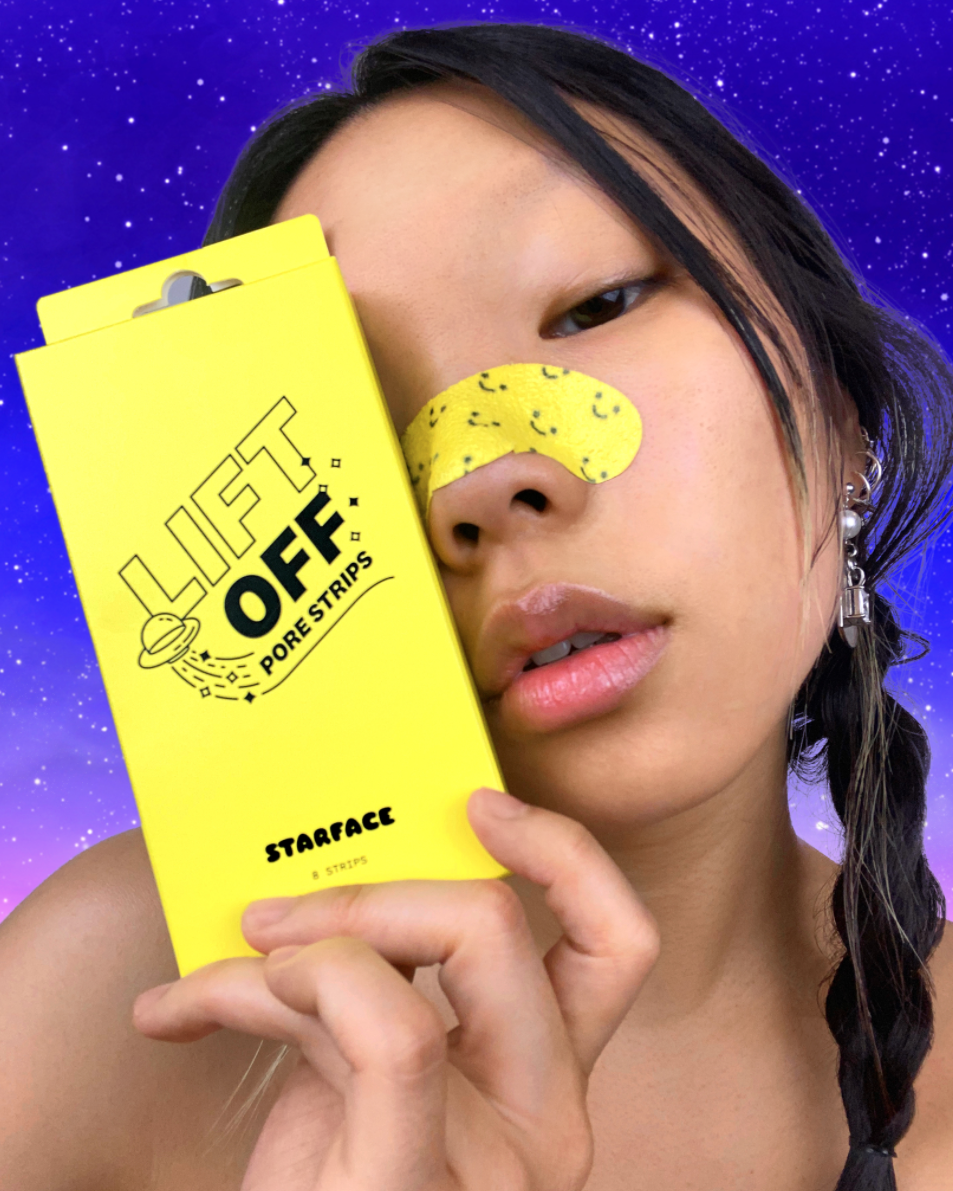 These strips come in a set of 8 which come in handy whenever you need to get rid of those blackheads. To use it, follow the instructions below from Starface:
Start with clean, dry skin, then moisten your nose thoroughly.
With clean, dry fingertips, press the peeling into the skin, sticky side down.
Leave on for 15 minutes or until the strip is completely dry.
To remove, peel the edges and lift.
Admire the galaxy of grime extracted from your pores.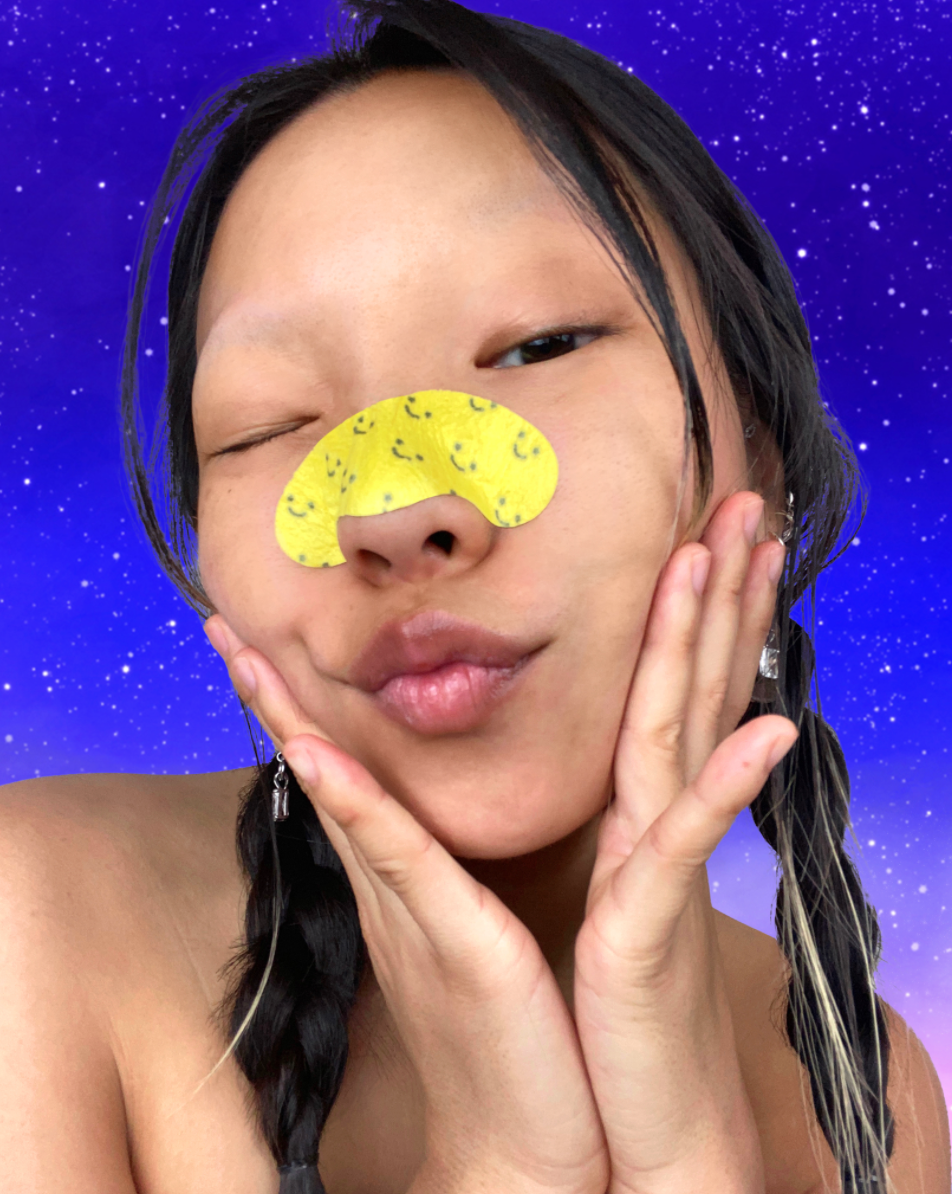 When you apply the strip to your wet nose, it almost perfectly molds to the shape of your nose like paper mache. It's quite comfortable, which is always a bonus.
I love how the strips are so convenient to use – it's easy, simple and quick. The effects are noticeable right after use, and I must say that the effectiveness is definitely 10 out of 10. You really have to believe in the power of these pore strips!
Fresh and Cool: Space Wash
The one thing you can never skip in a skincare routine is face wash – and Starface's Space Wash is out of this world. It makes you feel so fresh and clean, and just makes you feel refreshed.
Buy the Space Wash for $10.99 here.
This herbal solution aims to be clean, not just to cleanse your skin to the fullest, but also with clean ingredients. Inside and out, it's filled with nothing but good things. Space Wash is for sensitive and acne-prone skin to help reduce the number of sore, painful breakouts and pimples.
So what sets Space Wash apart from all the other acne cleansers? "Unlike drying acid-based formulas commonly found on the market, Space Wash gently removes makeup, dead skin cells and acne-causing bacteria and digs deep to cleanse and nourish. the skin while healing infections below the surface," says Starface.
You can actually feel the cleanser physically removing that layer of dirt and oil as you wash, and it's the best feeling to wipe everything off after your quick one-minute wash, morning and night.
The Space Wash creates a nice lather when you lather it on your skin. After use, it will be noticeably smoother, less greasy and much happier. I love that it doesn't strip away moisture and still feels soft. This way you really know you can use it day and night every day without damaging your skin in any way.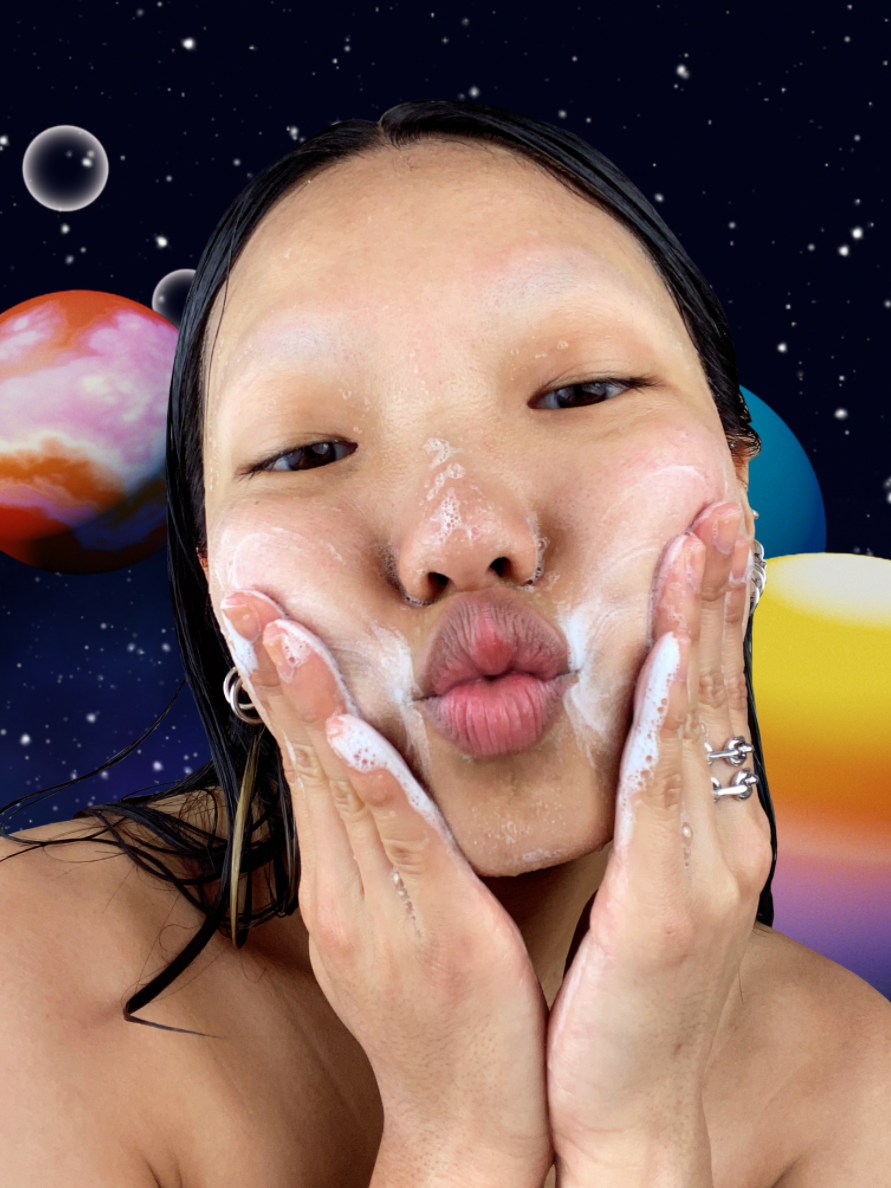 Vegan, Non-Comedogenic, Safe During Pregnancy or Nursing, Sulfate-Free, Cruelty-Free, Fragrance-Free, No Artificial Colors, Paraben-Free, Phthalate-Free, Gluten-Free
Hydro-Star (but with powerful salicylic acid)
When it comes to breaking down pimples, we can divide it into two stages: emergent and active. When it comes to those pimples that have peaked and are about to emerge but aren't yet at skin level, we can count on our superstar: the Hydro-Star.
Think of the ordinary star, but for pimples that are under the skin but bother you more than ever. These painful pimples, however, can be dissolved by the power of the Hydro-Star.
Buy Hydro-Star Salicylic Acid for $12.99 here.
Made with hydrocolloid and 1% salicylic acid, it's not just your usual standout. The combination of the two ingredients dissolves under the patches to "dissolve dead skin cells and unclog pores, as well as speed the healing process of acne."
The best of all? It brings out all those nasty pimples on the surface and makes it easier for you to remove them! In this way, you can treat acne that could not be reached.
These patches are designed to adhere to your skin without falling off so easily and protect your face from foreign bodies which are not prohibited. Plus, you won't be tempted to pop those pimples – because that will scar your skin – and overall, you'll get all the gross pimple gunk out.
These button patches come in a pack of 32. I love their positive light blue color and the holographic design of the patch pack. Talk about a spacious and cool design!
Plus, I love how great they are to apply on the go – you'll always look cute no matter what.
The iconic Elmo is here to save the day!
This iconic collaboration with Elmo is simply, hands down, the best thing ever. Who wouldn't want a bunch of Elmo on their face? Not only Elmo, but Elmo's other friends are on the list, and Starface really does us good to take care of our acne.
Buy the Elmo Bundle for $35 here.
The Elmo pack includes Starface bestsellers such as pimple patches and pore strips, all mentioned above but printed with the cute face of our beloved character Elmo.
There's something so magical and whimsical about having a childhood TV character all over your face, helping you zap those pimples (ugh…acne, ain't- right?), and look so cute and effortlessly cool. The bright and bold red design brings out the inner joy in us.
Of course, as with all other Starface products, Elmo products work their magic, helping us achieve the skin of our dreams: happy, clean and acne-free.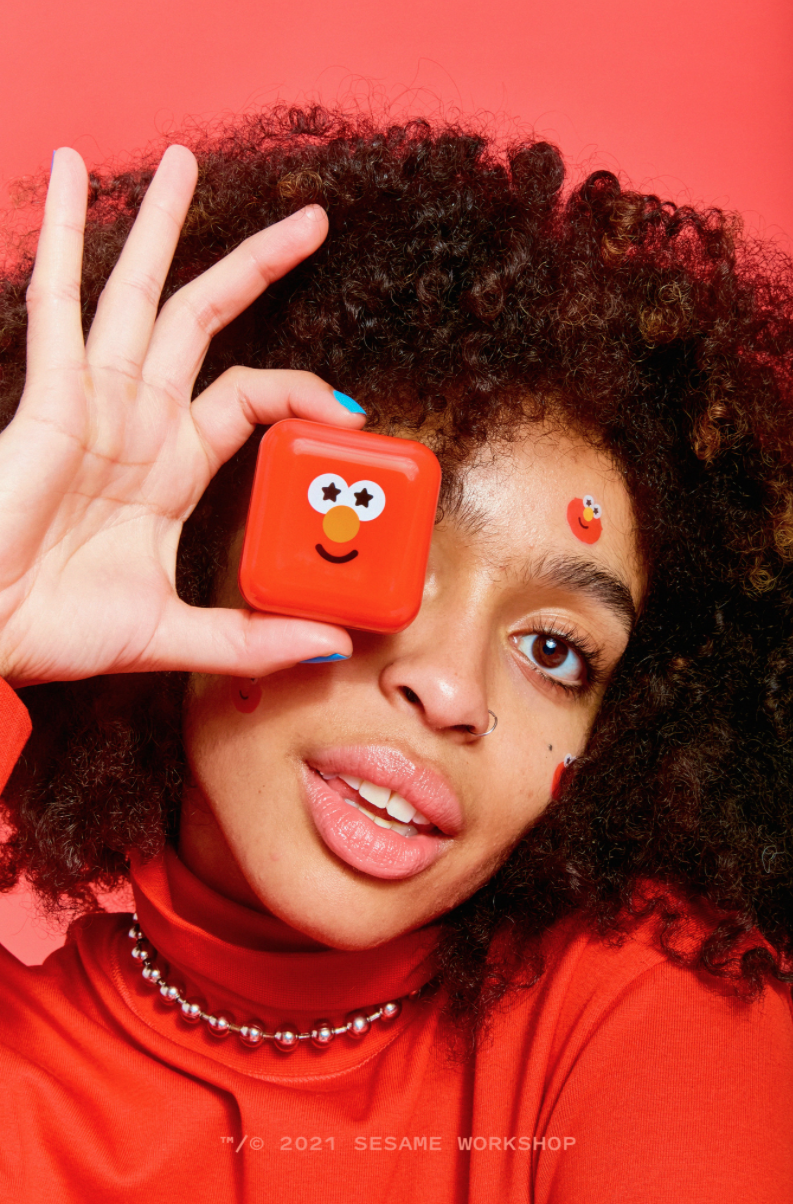 Moreover, this collaboration gives back to this world. "In honor of this collaboration, Starface will donate $10,000 to Sesame Street Workshop, the non-profit organization behind Sesame Street, as we are committed to Sesame's mission to help children become more smarter, stronger and kinder," shares with us.
Starface redefines our vision of acne
Acne has a negative correlation with being, well, just plain awful. It's painful, embarrassing, and just not a very pleasant experience, but Starface makes acne skin care fun.
Starface doesn't just patch colored stars; it's revolutionary and completely changes the way we treat our skin.
Starface is here to show your skin some love, no matter what it's going through.

We offer pimple treatment options that are both effective and cute. At the end of the day, acne positivity is the name of our game.
Follow Starface
Starface is fully on your favorite social media platforms, and you should totally connect with the brand to keep up with their latest launches. You might want to keep an eye out for their collabs – they must be obsessed. I mean, with previous collabs like Hello Kitty and Sesame Street, we can't help but get excited!
Find Starface on Instagram at @starface, TikTok @starface (so you can tag them while you do the TikTok dances with your stars) and Discord @starface.