Their looks are delicious, their tastes each more delicious than the other… The secret is in the summer fruits… Of course, your dexterity. Come on, see what you can do with these delicious fruits!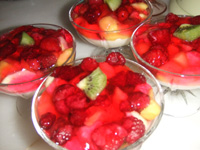 JELLY CUBES
Material
1 packet of jelly
Cherry, apricot, grape, watermelon, melon
Deep bowl, freezer bowl
Preparation of
1. Cut the fruit into small pieces in a bowl.
2. Prepare the jelly according to the recipe on the box.
3. Place the fruit in the freezer bowl, pour the jelly over it.
4. Refrigerate for at least an hour. Once frozen, carefully remove it from the mold. Here is a suggestion to get rid of mold easily: Put the ice cube tray in the tray filled with hot water and turn it upside down when the jellies soften a bit. You will see, it will not be difficult at all.