As most of us approach our second or even third month of confinement or quarantine, it's obvious that we could all use a little TLC (tender love and attention). Many of us feel pressured to "make the most of" the time we have, but too many forget the importance of maintaining decent mental well-being and not being too hard on ourselves- same – self-care is a big part of that.
The ultimate personal care subscription box should make pampering yourself effortless and hassle-free, leaving you feeling cared for and ready to take on the world.
I found two boxes in particular that I would recommend to teenagers looking for something all-inclusive but quite affordable to use right now and reviewed them based on factors that I consider important: consideration of user, price and quality. In no particular order:
1) Self-care boxes
Who it is for:
So you want to give yourself a present, but you're not sure what…something aesthetic…a cheeky touch of mystery…and you don't want to spend a fortune on it – Selfcareboxes has what you need. 'you need. !
Selfcareboxes has beautiful all-inclusive boxes in a range of themes, their best seller being the Pink Skies box which I tried. The beauty is that the customer service is so good that there is such flexibility with themes and new ideas to list on their Depop page.
Some of my browsing favorites were their personalized horoscope mystery boxes and floral themes including sunflower and lavender.

Price:
£12 so nothing that will break the bank!
The box I received:
Contents:
Lindor Strawberry & Cream X5 Chocolates
X1 Pink Butterfly Iron-on Patch
X1 Pink Velvet Scrunchie
X1 Dark Flower Necklace
x1 pair of cute cloud earrings
X1 Rimmel London Pink Quick Dry Nail Polish
X1 Pink Rose Clay Mask
Garnier X1 fabric mask
fairy lights
User Consideration:
I was so impressed with how thoughtful everything was from the packaging, everything was so well put together and so eco-friendly! The cotton balls were really soft like clouds in which the gifts floated (which I plan to use to sprout watercress in the future).
I had a tag with my name on it and a handwritten, painted note with a beautiful quote that made me feel really special and pampered, after all self-care is all about working from the inside out.
Quality:
Considering all the thought and consideration that has gone into the box and the quality of the products provided, I would say these personal care boxes are well worth the money. Everything was true to the "Pink Skies" theme and the customer service was impeccable from start to finish.
The surprise of opening the mystery box to exceed my expectations was such a great feeling! There was a good level of balance, not too much of one thing and a solid mix of products to keep you satisfied. Lighting up the string lights with everything in the box made it so exciting!
The products were enough to facilitate a number of fun projects – ironing a patch on a denim jacket, painting my nails, making a face mask, and indulging in my chocolates, all from the comfort of my fairy-lit bedroom. That's what I call all inclusive.
Globally:
Overall, Selfcareboxes does exactly what it says on the box. As a user, all you have to do is pay a small amount of money and the rest – careful selection of products, selection of a theme of your choice, packaging to make you sing the soul – is for you.
To buy yours, go to:
Repository: @selfcareboxes
Instagram: @_selfcareboxes
2) Hello Calm
Who it is for:
Does life weigh you down? Does your stress keep piling up, whether it's homework, work, or even dealing with this pandemic on a day-to-day basis? Do you have that friend who checks on everyone and takes on too much?
It's the perfect gift to show your appreciation to that friend or just as important to yourself. It can be purchased all at once or as a subscription for effortless pampering all year round.
Hello Calm, owned by the teenager herself, Emily Jones, was created to "ease some of that pressure, where teens could support teens". So whether it's watching your friends or supporting Emily's business, there are always ways to support each other.
Price:
£14 (on Facebook and Instagram)
£22 (on Etsy)
This is the box I received (although I do want to point out that it was beautifully wrapped with scented tissue paper!)
Contents:
X3 Soft Headbands
X2 bath bombs (one in "Ruby Red" and the other in "Very Berry"
Postcards X2
x1 pink tea light candle
X1 small long notebook
X1 Cherry Flavor Lip Balm
X1 Candy Kitten Watermelon Vegan Sweet Bag
Cute pink air freshener X1
X1 Belgian Milk Chocolate Hot Chocolate Stirrer with Marshmallows
And tons of quotes, recipes, and lists for mentally nurturing self-care!
User Consideration:
The amount of consideration that went into this box was probably my favorite thing about it! It's not just about the hardware items that come in the box.
I was so impressed with the number of personalized items, recipes, quotes, mental health tips and more that came with the lovely products and I pasted them around my room as helpful reminders to take care of myself . Having vegan candies rather than gummy ones I thought was a really thoughtful touch, especially since I only eat halal candies.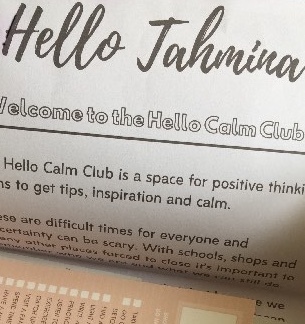 Quality:
The number of different products was amazing and what it lacked in terms of conventional value for money, as the products were all very affordable, was made up for in consideration, care and a sense of thoughtfulness.
There was a huge variety of products with notes explaining some of them like in the notebook and plenty of edible goodies to sweeten life for me! The level of professionalism in branding, given that Hello Calm is a company of a teenager for teenagers, was extremely inspiring to me.
Globally:
Overall, Hello Calm is something that I loved, so much that I decided to send a box to my best friend too! It's perfect for showing someone how much you appreciate them and puts kind words we find hard to express in a cute package.
To buy yours, go to:
Instagram: @hellocalmboxes
Facebook: @hellocalmboxes
Etsy: @hellocalmboxes