Aesthetics, believe it or not, have been around since 1735. Back in the 1990s-2000s, jocks, emos, the horse girls, and the prepsters were among the popular aesthetics. Fast-forward to 2021, Instagram and TikTok are exploding in popularity and because of them there are so many more aesthetics that have become a dominant part of pop culture and fashion. Cottagecore is a term that has recently gained popularity during quarantine, and there are millions of soft girl hashtags on TikTok.
With the advent of social media, new styles for a new generation have emerged. Especially with apps like TikTok, teens now really value dressing in a way that makes them feel comfortable and confident.
Many Gen Z teens often find themselves stuck between aesthetics or confused about which aesthetic they like most. I also used to be so indecisive that I would take more 'Find my Aesthetic quizzes' than was considered healthy. I turned to YouTube and Instagram, but they weren't much help to me either. There weren't many articles that could help me, so I decided to write one to help others find their aesthetics.
Different Aesthetics
An aesthetic is how you express yourself visually. A person who identifies with a particular aesthetic would have a dress style, a taste for interior design, a preferred medium, or a blog that carries certain visual similarities with the aesthetic.
There are already a plethora of aesthetics available, ranging from color-specific to food-centered. Anything under the sun can become an aesthetic. It's easy to imitate the multitude of pre-existing aesthetics because it's simpler to copy than create. That's why you hardly ever find new aesthetics. Let's take a look at a few pre-existing aesthetics.
1. Grunge
Grunge is all about downplaying the body's silhouette and appearing "untidy" in an attempt to emulate the cool look of pop musicians in punk and heavy metal rock bands. This, like other popular trends, dates back to the 1980s and has remained a core aesthetic ever since. The overall look rejects traditional societal expectations and protests against the prevalent materialistic trends and preppy fashion. Oversized jackets and hoodies, wide-leg jeans, platform sneakers or combat boots, and band t-shirts are all part of the look. Because this is a dark aesthetic, keep the colors neutral, black, or gray. Since the entire aesthetic revolves around the rejection of current traditional and flashy trends, it will make you feel comfortable while also feeling a little edgy.
2. Soft girl
The soft girl aesthetic is a subculture that grew in popularity because of TikTok. Crop tops, mom jeans, chunky sneakers, and tennis skirts dominate the trend. This subculture was inspired by Y2K and 90s clothing. Among the most popular brands for this aesthetic are cute, nostalgic brands like Fiorucci. The soft girl aesthetic mainly consists of pastel colors, and there are a variety of different cute outfits that fit the soft girl aesthetic.
3. Emo
Emo is a slang term used to describe a subculture influenced by the hardcore punk scene. The term's meaning has shifted dramatically over time as the definition of "emo" can vary, depending on the subject and decade. Many members of the emo subculture wear their hair with choppy layers and side bangs. They use black eyeliner and eyeshadow for makeup and may have piercings in the lips or nose. Black or dark clothing, skinny jeans, band tees, converse sneakers, and hoodies are examples of emo clothing. Layered studded/white belts, rubber bracelets, and striped arm warmers are popular accessories.
4. Vintage
Every decade has a resurgence in modern trends at some point, and the vintage aesthetic is no exception. Various elements from previous decades inspire this aesthetic's look, such as band T-shirts from the 60s, bellbottom jeans from the 70s, an 80s color palette, and styling from the 90s. You can effortlessly achieve a vintage aesthetic outfit by mixing some of your modern pieces with pieces from previous decades. It can be as simple as incorporating a pair of retro sunglasses, a bandana, a patterned shirt, or high-waisted bottoms into your outfit.
5. Baddie
This aesthetic emerged in the 2000s and grew to peak popularity on TikTok and Instagram, with many popular content creators and influencers adopting the baddie aesthetic. This look is associated and heavily influenced by Instagram models and beauty gurus such as the Kardashians or the Jenners. This aesthetic evolves with the trending mainstream media and culture of the time. Currently, it's all about camo tops, form-fitting dresses, bodysuits, sneakers, oversized tees, sweatpants, hoodies, long acrylics, and wigs. The baddie look is about confidence and empowering females to feel their best. They always look like a million bucks. Brands usually associated with this aesthetic are Nike, Adidas, and Forever 21.
Related read:
How to Look Boujee on a Budget by Boitumelo Maenetja
6. Dark academia
Dark academia is a social media aesthetic and subculture that focuses on higher education, writing and poetry, the arts, and classical Greek and Gothic architecture. It was prominently featured in the clothes worn by Ivy League and prep school students in the 1930s-1940s and is a continuation of varied pre-existing aesthetics based in the artistic periods of previous decades. European cultures have had the most significant influence on dark academia. With a color palette of neutral, subtle colors, such as black, dark greens, navy blue, and browns, dark academia's visuals stem primarily from the upper-class European culture of the 19th century.
You can achieve this look by wearing turtlenecks, cardigans, plaid skirts, checked trousers, brogues, and varying shades of brown. Layer coats with blazers, mix monochromatic ensembles and immerse yourself in a world of Byronic heroes and literary excellence. Dr. Martens or Chelsea boots are the usual shoe choice. The subculture is confined to social media such as Tumblr and Tiktok.
7. Artsy aesthetic
This aesthetic is about feeling a passion for art, nature, painting, and flowers. The Art Hoe scene was developed around 2015 for POC (people of color) by a Tumblr user known as sensitiveblackperson. It celebrates diversity, nature and appreciates high culture. The use of the word hoe signifies the reclaiming of an offensive term used against people, particularly black women. Yellow, amongst other primary colors, is a key color in this aesthetic. Colorful art socks, mom jeans, graphic tees, and colorful hair ties are staples worn by members of this aesthetic. Famous art hoes include celebrity actress Amandla Stenberg and stylist Rian Phin.
8. Cottagecore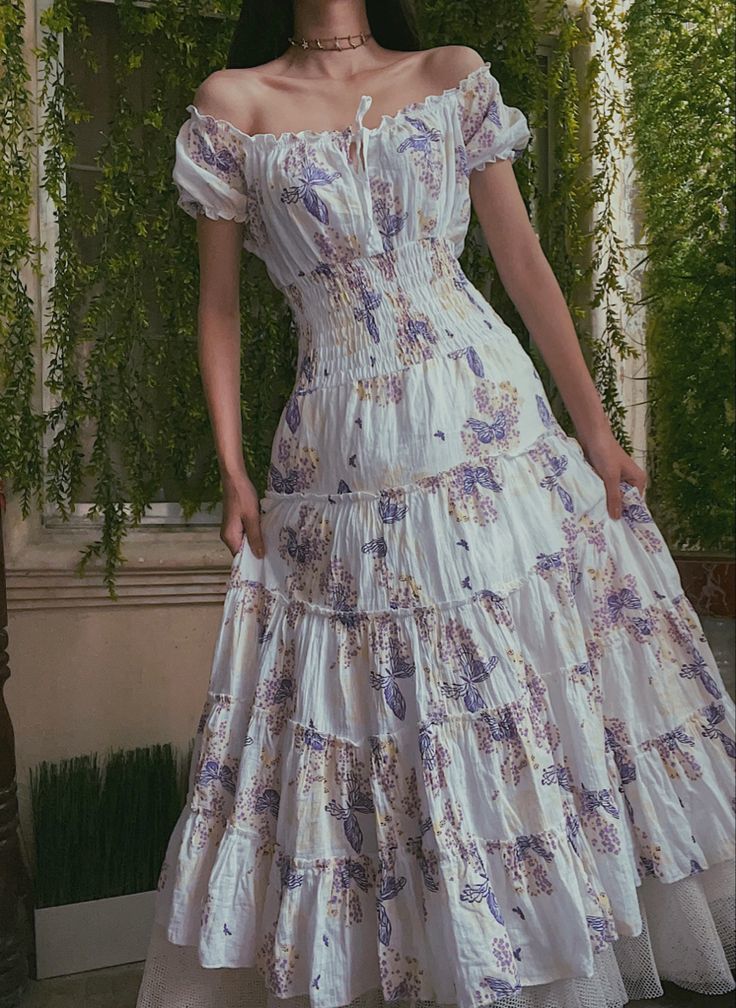 The cottagecore aesthetic is a design trend that emphasizes a comfortable, cozy country home and embraces the idea of a simple, sustainable lifestyle where one is in sync with nature. It reached global recognition in 2019 after being promoted by influencers on Tiktok, Tumblr, and Instagram. However, this aesthetic is actually much older than you may think. Cottagecore seeks to remove traditional stigma and stereotypes from the aesthetic's cultural past. It includes clothes with a naturalistic vibe, such as long flowing dresses with ruffles and floral prints.
9. Kawaii
Innocent, childlike, and playful: three words that describe this aesthetic. Kawaii is a Japanese term and aesthetic which originated in the 1970s. It refers to the distinct concept of affirming childlike and pretty things that are sure to make your heart skip a beat. It is a blend of one's individuality, pastel colors, and a bucket load of cuteness. Childlike clothing with cute animals and Kawaii characters, such as Hello Kitty, are part of the look. To achieve a Kawaii look, you can wear a bright-colored shirt with bold prints and jeans or a long sleeveless white dress with a colorful long sleeve underneath and cute hair accessories. Layering your outfits well is a vital part of the Kawaii aesthetic.
10. Indie
View this post on Instagram
This subculture was hyped up by Gen Z, and as we know, anything touched by Gen Z turns to gold. It quickly rose to fame through Tiktok in 2019. Being a subculture based on individuality and independence, it gives main character energy. It is similar to the original Indie aesthetic of the 2000s as the color scheme isn't that different, but it has paler, less intense colors. It consists mainly of thrifted clothes and monochrome ensembles. An Indie Kid would usually match their accessories with core colors in their outfit. A few central staples of this aesthetic include jean/leather jackets, beanies, oversized tees, baggy jeans, and bucket hats. If you are looking to shop for some Indie items, some great places to shop include Vans, Thrift Stores, and Francesca's.
11. Y2K
This aesthetic initially rose to fame in the 1990s and was defined by icons such as Missy Elliot, Christina Aguilera, and the famous girl group Destiny's Child. Y2K stands for Year Two Thousand. As all good trends do, it resurfaced recently and became prominent on Instagram and Tiktok. It is a distinct aesthetic that incorporates fashion, hardware design, and music that shines with optimism. This aesthetic relies on vivid colors and futuristic looks. Baby tees, baguette bags, tied front tops, velour tracksuits, and double denim items are a key fashion items of this aesthetic. You can shop for this look on Etsy, Vestiarre Collective, or Grailed.
12. Skater girl
Skater (also known as skatecore) is an aesthetic centered on skater culture that surfaced in the 1940s. It wasn't until the 1960s that women, such as Patti McGee, began popularizing the sport. The Golden Era of the skate scene was the 1970s. Which was transformed again in the late 1980s and early 1990s by influences such as Cara-Beth Burnside and Elissa Streamer. Skater Girl fashion varies, but there are some fundamental staples. Skaters typically wear comfortable and loose-fitting clothes – this allows more motion while you're on the board. Some key clothing items may include:
Shorts and tank tops
Cargo/baggy pants or slouchy jeans (straight-leg, mom, etc.)
Shoes with flat soles
Sloppy shirts
Long-sleeved shirts and over-sized tees
13. 90s aesthetic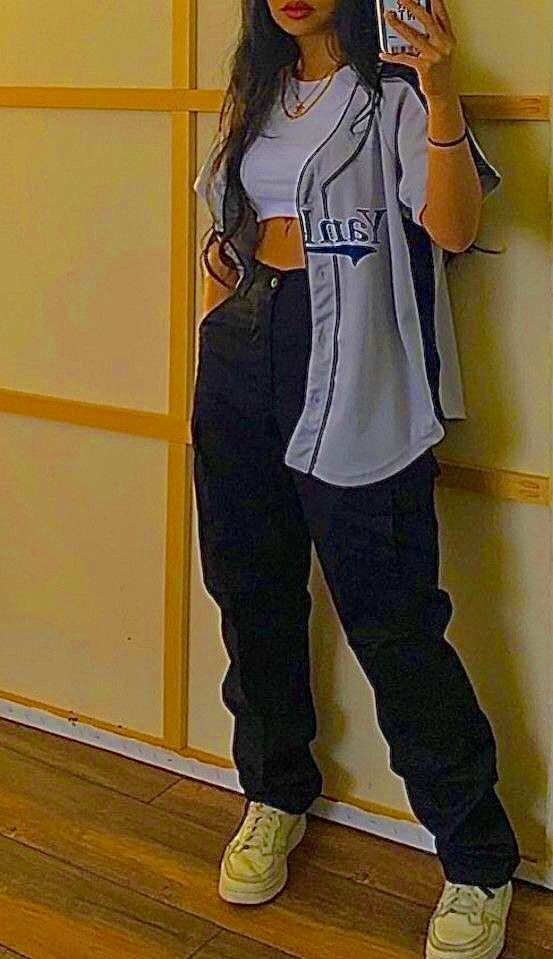 The 90s look evolved from the current replication of 1970s-90s fashion. The retro-style can be seen in a variety of genres, including fashion, photography, and even furniture. It displays originality and distinctiveness.
In the past, thrifting or wearing second-hand clothing had a bad stigma attached to it and led to one being seen as poor. But within the last decade, thrifting has become more and more popular. As people began pushing the idea of sustainability and recycling, thrifting suddenly blew up. People began loving the idea of re-wearing or re-purposing old clothes to save the environment. As thrifting started gaining momentum, the 90s aesthetic became more defined. When you think of thrifted clothing, most people automatically think of old, oversized t-shirts with some rock band on them and baggy jeans. That's what defines retro fashion. Other accessories that could be retro could be oval or circular sunglasses with red or yellow lenses or leather belts.
14. Light academia
Meet the gentler, softer side of the academia aesthetic. Light and dark academia are subcultures of the "academia" style that draw inspiration from major educational institutions, such as Oxford and Yale. Interests include museums, art galleries, boarding schools, and old novels. The social parts of light academia, such as hanging out at bakeries, bookshops, libraries, and cafés, emphasize positivity and self-care. It is akin to the cottagecore aesthetic, but with a greater emphasis on education. Everything revolves around the warm and joyful aspects of existence. Below is a list of a few items worn by light academia enthusiasts:
Tweed blazers
Headbands
Turtlenecks
Corduroy jackets
Knee-high or ruffle socks
Cardigans
Mary Janes or Oxford shoes
Cable knit sweaters or jumpers
Button-up shirts/dress shirts
Sweater vests
15. Vsco
A VSCO girl is a person whose style is influenced by the VSCO photo-editing program. The software allows you to create and apply filters to your photographs, making your Instagram look more cohesive.
The VSCO female aesthetic is essentially the beachy-cool, laid-back vibe of a carefree California girl. The #VSCOgirl Instagram hashtag is full of photographs of girls who have embraced the style. This style comprises white sneakers or Birkenstocks, high-waisted trousers or shorts, oversized T-shirts, and scrunchies. Messy buns are also a component of this style. VSCO-inspired clothes can come from brands like Brandy Melville and Urban Outfitters, Crocs or Vans. Beachy accessories like cowrie shell necklaces, Fjällräven's Kånken backpacks, and scrunchies are staples of this aesthetic.
Things to consider when choosing an aesthetic
Different Approaches You Can Take
There are two main perspectives that one can take when looking for an aesthetic. There is the top-down approach and the bottom-up approach.
Top-down approach: This is when a person is initially made aware of an aesthetic before participating. They do thorough research. To use a popular aesthetic as an example, someone who discovered a blog about Dark Academia and then decided to read "The Secret History", enroll in a philosophy course, and buy new clothes is following the top-down strategy.

Bottom-up approach: A person who uses the bottom-up approach is interested in the numerous facets of an existing aesthetic and discovers the community for that aesthetic through their interests. To give another example, a person with a light-colored, vintage fashion style, a flower garden, and a knack for baking would strive to think of a name for their aesthetic.
Personality
Personality carries a significant deal of weight; it represents an individual's character and establishes their mood. Clothes facilitate the expression of one's innermost ideas, goodwill, and feelings. The choice of clothing for an occasion, time, or mood reveals a person's taste.
If you are an over-the-top person with a bubbly personality, you wouldn't mind wearing unique clothing that draws attention because you aren't afraid to stand out. You wouldn't choose an aesthetic such as the emo aesthetic, but rather something like Kawaii.
Financial Stability
Financial stability is an important topic many people don't discuss. Having an aesthetic is great and all, but you shouldn't break your bank account trying to maintain an aesthetic. If you can't afford your desired aesthetic right now, that is okay! Save for a few years, and then get the wardrobe and room of your dreams.
This is better than spending your last cent on an aesthetic you settled for (and don't really like). If you are impatient and can't wait a few years to save enough money, then start slowly. Buy a bag for $10, then a pair of shoes, then a top, and so on. Before you realize it, you will have accomplished the aesthetic you wanted without going broke.
How to find your aesthetic
Please remember that having an aesthetic is not necessary! There are billions of people who are unconcerned about mood boards, playlists, or clothing. Most people follow their society's beliefs about what is and is not acceptable. This is a non-essential Internet subculture rather than a required ability. If you do, however, want to find your aesthetic, read the following instructions:
1. Look at your closet
Consider the clothes you own. What are your favorite pieces in your wardrobe? Take these items out and consider why they make you happy. Notice their similarities. You might find that you own a lot of colorful sunglasses, leather jackets, baby tees, and shoulder bags. This indicates that you enjoy Y2K or Indie Fashion. If you prefer dark colors and own a lot of non-bright clothing, then you might consider the emo or e-girl aesthetic. Remember, your wardrobe is the foundation of your style.
2. Find inspiration
Begin with family and friends whose fashion sense you admire. Spend time on social media observing how friends and celebrities dress, from casual clothing like crop tops and leggings to work-appropriate jackets and turtlenecks. Blogs are full of fashion advice and inspiration, so select a few fashion bloggers whose style you admire and browse their archives for your favorite looks. If you enjoy the fashion sense of a celebrity or an influencer, attempt to find out who that person's stylist is and look to them for inspiration. Another excellent source is fashion magazines. Learn about different styles and find the ones with which you most identify.
Your actual style inspiration will not come from a single person. It will most likely be a mash-up of different people's stylistic influences. So go to Pinterest or Instagram and start stalking celebs, models, style icons, and anyone else you want to grab some style inspiration from.
It is critical that you distinguish between what style you like/admire and what style you genuinely wish to emulate.
3. Make a Mood Board
Once you've found your inspiration, compile pictures of the different clothes, styles, and aesthetics to create a mood board. A mood board is a visual presentation or collage consisting of images, text, and samples of something in a composition.
After creating your mood board, look at everything on it. At first, it might look all over the place, but that's okay. If you look closer, there should be a central theme connecting most of the images. The purpose of having a mood board is to help you visualize your aesthetic. Being able to go back and look at your mood board would help clarify what "your" aesthetic is.
Related reads:
The Ultimate Guide to Making Your Own Digital Vision Board by Megha Puskur

A Guide to Manifesting Your Future with Vision Boards by Mia Bennett
In the above mood board, there is one relevant thing. The images all convey a sense of elegance and sophistication. This might indicate that the person could have a "Light Academia" aesthetic.
4. Get to Know Yourself
You can't create or find your fashion style and tastes if you don't know yourself. You need to know your preferences, your fashion "dos" and "don'ts", and what makes you feel comfortable.
Here are a few questions you can ask yourself:
My dominant fashion items are _________.
For jewelry, I like (simple and understated/over-the-top) statement (jewelry/no jewelry).
If I had to wear the same outfit every day, what would I wear?
What does my go-to outfit look like?
For shoes, I like (sneakers/ heels/ flats/a bit of everything).
Do I feel most comfortable in loose clothing or form-fitting clothing?
Wigs or natural hair?
Makeup, subtle makeup or absolutely no makeup?
My fashion style is (dominant category), I like (fashion jewelry/shoes/accessory) to be (style), and I like to integrate in some (secondary style category).
5. Explore different aesthetics
There are a plethora of aesthetics that exist. So, before you commit to an aesthetic, explore the different aesthetics out there. There's a trend on TikTok where people try out varied aesthetics each week, and you could do the same.
Knowing what your aesthetic is, is often a personal experience and a decision made due to our psychology, surroundings, communities, and varied ways of thinking. As a result, it's better to examine all options rather than just being exposed to what aesthetic options are available. You could be a skater girl this week and a VSCO girl next week. There's absolutely nothing stopping you!
Aesthetics aren't just clothes and mood boards: They are a visual expression of you, your vision, and your dream life. They are a way to help you create a cultural identity. You could combine multiple aesthetics to create one that is uniquely your own.
PS: If you're still confused about which aesthetic is right for you, there are a few 'Find My Aesthetic' quizzes linked below 🙂
What is my aesthetic quiz
Find my aesthetic
What's your aesthetic
What is my soul aesthetic
What will your 2021 aesthetic be