Picture this: it's been a long night, you're in your pajamas, curled up on the couch, eating your favorite ice cream and literally wrapped in the fluffiest blanket ever…if that's not the definition of "time to relax," what is that?
When I say I've never slept so well since getting the super cozy Sunday Citizen blankets, I mean it. Restless nights are long gone and there's nothing better than staying cozy and chic with the brand's signature plush fabric.
Buy Sunday Citizen at sundaycitizen.co
With their timeless yet attractive pastel and minimalist designs, Sunday Citizen is easy to love. Its ecological and sustainable production keeps our planet at its heart. Add the fact that their affordable luxury products never skimp on quality, and it really is utter perfection.
They say home is where the heart is. Our goal is to help keep our hearts radiant with joy so that our homes truly become our place of happiness.

-Sunday Citizen
See this post on Instagram
The XOXO throw
It's mating season, and what could be better than snuggling up to your loved one in a blanket that says it all?
"We're not saying it's better than roses. Just that it's radically soft, gorgeous and machine washable, and nothing says I love you like a cozy hug," says Sunday Citizen – and we don't. could agree more.
Shop the XOXO throw in rose-off white here.
This cozy blanket isn't just your regular blanket, it's double-ply. The XOXO throw is "made with two layers of our signature Snug fabric blend" and a double knit. It's true: one wasn't enough, so Sunday Citizen made this blanket twice as sweet for the best Valentine's Day hugs.
This limited-edition blanket is so plush, it literally feels like you're wearing the most luxurious bathrobe in the hotel at all times. If I could, I'd go anywhere wrapped in this plaid.
In a cute way, the cover features the catchy and beloved phrase "XOXO" all over the cover. It's as if he sent you so many kisses!
I like how it's playful and not too serious. The adorable blush color adds to the charm, and it feels chic and feminine, all in the best way. It's so cute that Valentine's Day season doesn't limit it; it looks adorable draped over your sofa all year round.
Plus, get this: the XOXO throw is hypoallergenic (soft for everyone and anyone!), thermo-regulating (maintains that body temperature – stays warm all the time!), and oversized (big enough to share, even !). The blanket really knows how to keep you warm!
The Versailles Throw
If the Versailles Throw could be described in one sentence, it would be "pretty in pink". This beautiful throw features a swirling design of unforgettable elegance paired with the prettiest pink color.
Shop the Versailles throw in red-off-white here.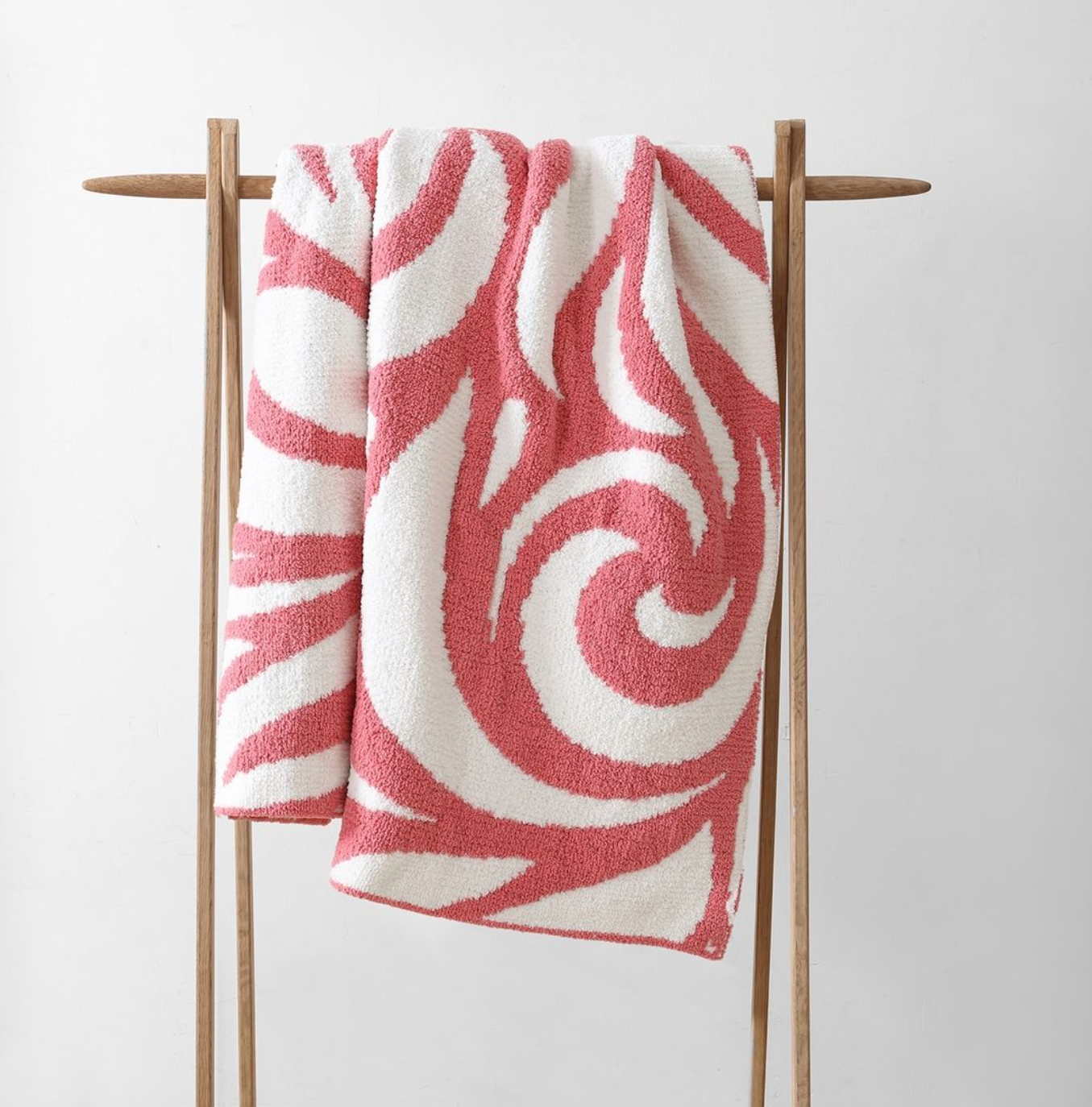 The blanket has a pattern that is so distinctly Versailles; from its curved swirls of rose red and off-white, the pattern almost creates a dancing effect. The "floral pattern adds a feminine touch," says Sunday Citizen, and we love how delicate and pretty it all looks.
The cover itself is a statement about the design; Who said covers had to be boring? The design is so unique and one of a kind, and has a beautiful energy that lights up any room it is draped over.
See this post on Instagram
What's so amazing about this design is that it's so contemporary without being too the low; it's modern with a touch of charm that will resonate for years. The pink color punch adds to the chic feel of the blanket and makes you feel warm and truly at home.
Just like the XOXO throw, the Versailles throw is double fitted. Made with two layers of Sunday Citizen's signature cozy fabric blend, this blanket is super soft, so soft it 'lasts even after machine washing and drying'.
And of course, as always, Sunday Citizen is here to take care of you; the Versailles Blanket is hypoallergenic, thermoregulating and oversized – perfect for days when all you want to do is get cozy and catch up on your favorite Netflix show.
Lumbar cushion with braided pompoms
Not only does Sunday Citizen have fluffy blankets, it also has fluffy pillows!
The Braided Pom Pom Lumbar Pillow from Sunday Citizen is here to take solid color pillows and intriguing texture to the max: with fun pom poms and delicate braids, this pillow is all about the details.
Shop the Braided Pom Pom Lumbar Pillow in Off White here.
This lumbar pillow comes in a size so long it's perfect for throwing in the middle of any size bed. Perfect as a decorative piece and great for accenting your pillows and bed, the Braided Pompom Lumbar Pillow is an interior design enthusiast's dream.
Available in a variety of five different shades, this pillow is an expert at combining solid colors and textures. With a waffle knit style on one half of the cover and a delicately braided style on the other, the pillow is finished with eight pom poms in total.
It gives classic bohemian and neutral vibes simultaneously – we call it the best of both worlds!
The pillow has an easy-care removable cover; all you have to do is "just take it out and put it in the washer and dryer". The cover is made of microfiber and is so comfortable and soft as butter."
Our signature fabric blend is designed to be super plush yet breathable, and it stays radically soft for years," says Sunday Citizen.
The Braided Pom Pom Lumbar Pillow is made of memory foam (it will be flat at first, but will soon reach its beloved fluffy state) and is perfect for providing back support. Plus, this pillow is perfect for all seasons, hot or cold. When it comes to quality and comfort, Sunday Citizen is at the top!
The Crystal Powered sleep mask
I'm picking up good vibes – how about you?
This sleep mask takes good energy to the next level – filled with glass beads and natural stones like amethyst, rose quartz and clear quartz, your afternoon nap is about to be completely over. relaxing and energizing.
Buy the Crystal Powered sleep mask in white here.
This one-size-fits-all antimicrobial eye mask is so silky and smooth to the touch and provides total darkness for deep, uninterrupted sleep.
Large enough to fully cover your eyes to the fullest and even your ears, the Crystal Powered Sleep Mask is your go-to for falling asleep when and where you need it. It turns out that sleeping at the airport isn't impossible anymore, thanks to Sunday Citizen – add noise reduction to eye masks and you've got the best airport sleep!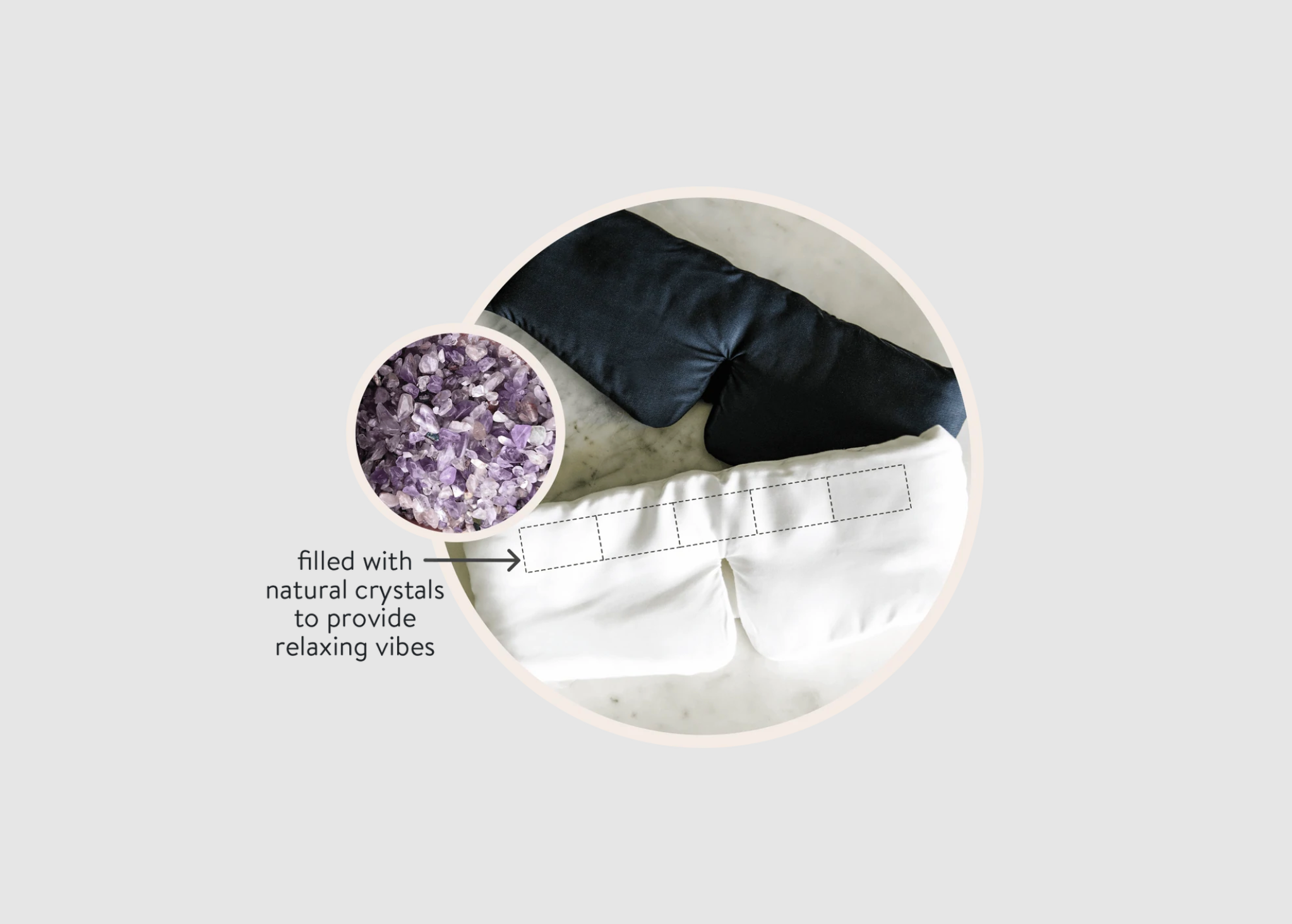 Made with "a soft elastic band that wraps around the forehead", this eye mask is easy going but tight enough to stay in place, even if you're rather fidgety in your sleep.
The sleep mask is lightweight and filled with natural gemstones. Part of Sunday Citizen's Om Wellness collection, this mask is all about bringing good and living your life to the fullest. "From your yoga practice to your nap, our Om collection is made up of crystals to help you spread good energy whenever you need it," says Sunday Citizen.
Follow the news of the citizen of Sunday
Be sure to follow Sunday Citizen on Instagram at @sunday.citizen, TikTok at @sundaycitizen, Pinterest at @shopsundaycitizen and Facebook at @sundaycitizenbrand.