If you love Scandinavian design – that chic, clean and effortless look – Postery is the right place for you. For anyone who enjoys decorating their personal space with a defined aesthetic in mind, Postery is the place to go when decorating your walls.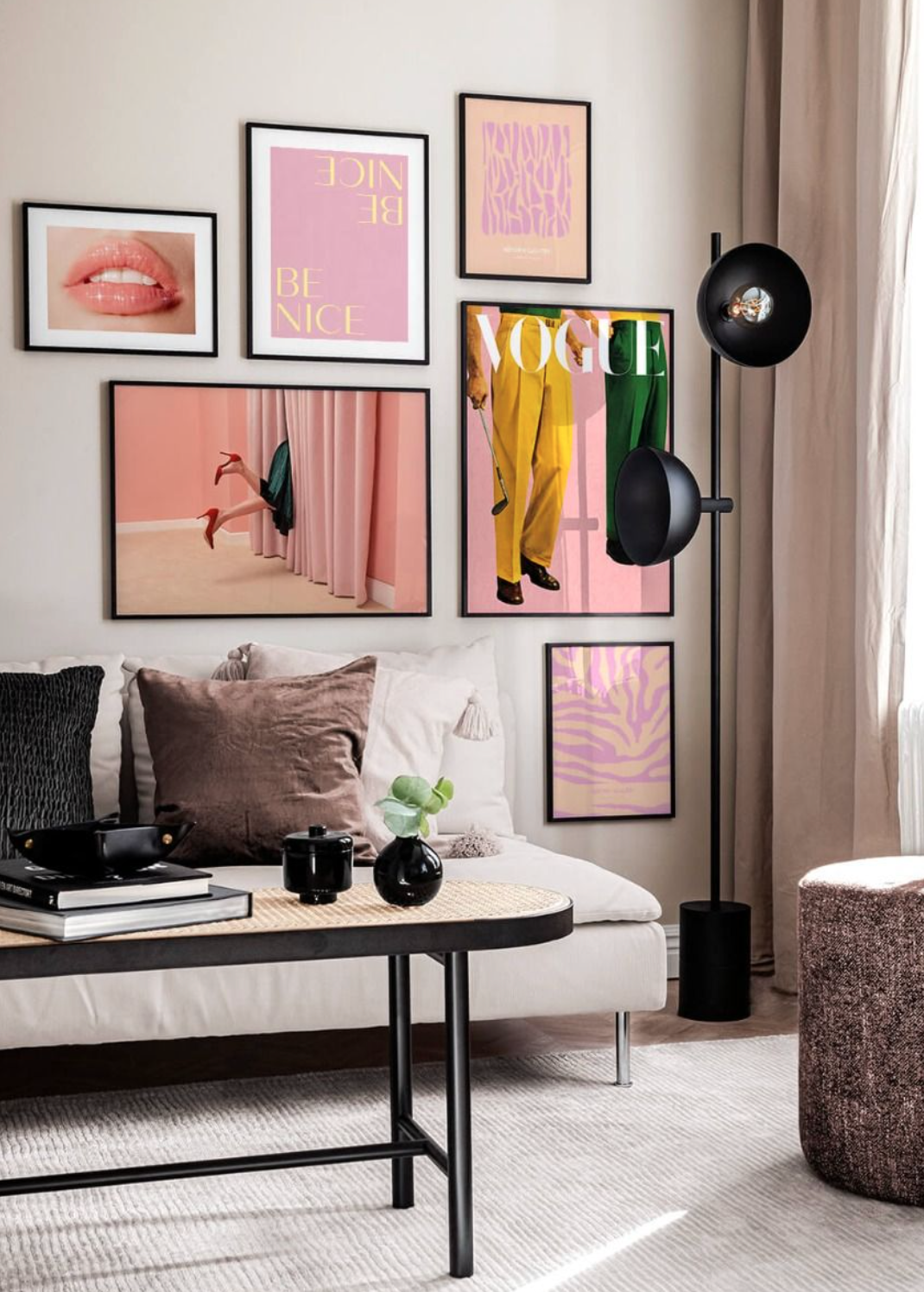 When it comes to high-quality, well-designed posters, I have to say that Postery is a real game-changer. There's a unique and stylish approach to designs that will flatter every room, with artwork and designs that are both on-trend and timeless.
Buy Postery through postery.com.
You will be seriously surprised by the wide range of beautiful artistic designs that will completely give your walls a makeover!
Our wide range of posters, frames and prints online offers something beautiful and trendy for every room. Whether you're looking for cute posters for your kid's room or trendy posters for your living room, you'll find them here at Postery.com. We always have the customer in mind with our low prices and fast deliveries. Buying prints online should be painless and without long waits for delivery.

We are passionate about interiors, design and trends. We understand the value of combining prints and posters with interior design to transform your home into a thing of beauty. Browse our magazine, our collections or our various gallery walls for ideas and inspiration. We want to make buying prints online both fun and easy.

-Attach
A special discount, just for you
In addition to beautiful styles, high quality and reasonable prices, Postery also offers a special discount code just for you!
Use code THETEENMAG15 for 15% off everything. This is valid for 3 days – until October 4!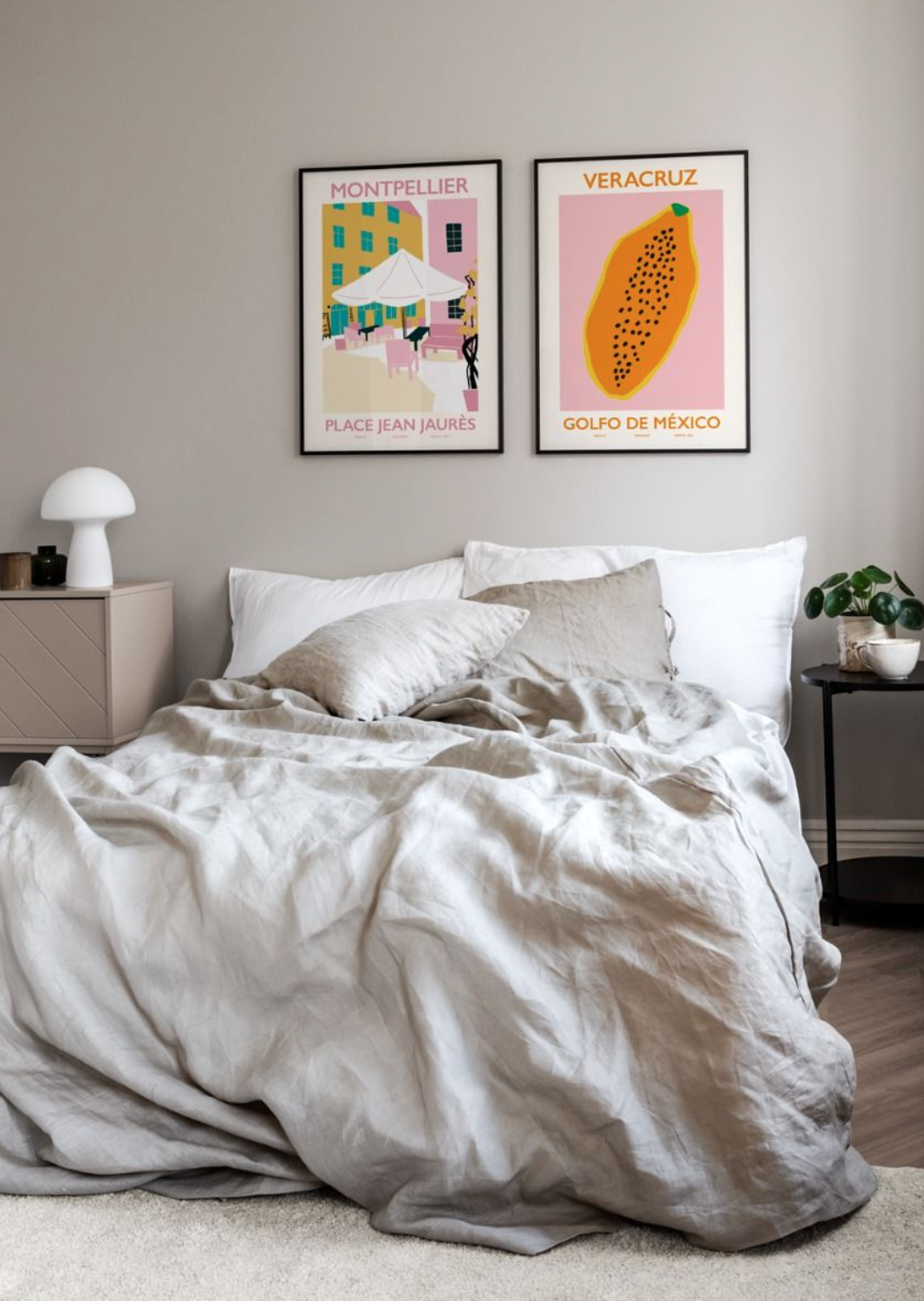 A bouquet of tulips to brighten your day
There is nothing prettier than a pretty bouquet of flower arrangements. Tulips symbolize perfect love and new life – without a doubt, it's definitely a good idea to bring good energy into your home!
Buy Garden Flowers, Tulips Poster here.
This beautiful poster in light colors brings lightness to your interior. Perfectly suited for an open kitchen, bedroom or any other space, this special bouquet of tulips will brighten your day. Plus, one thing is for sure: this bouquet will never fade!
This pretty floral arrangement features white and orange tulips, with large blooms angled upwards to bask in the sun. The colors complement each other so well, with a softness to the florals and the color palette that makes her look so dreamy.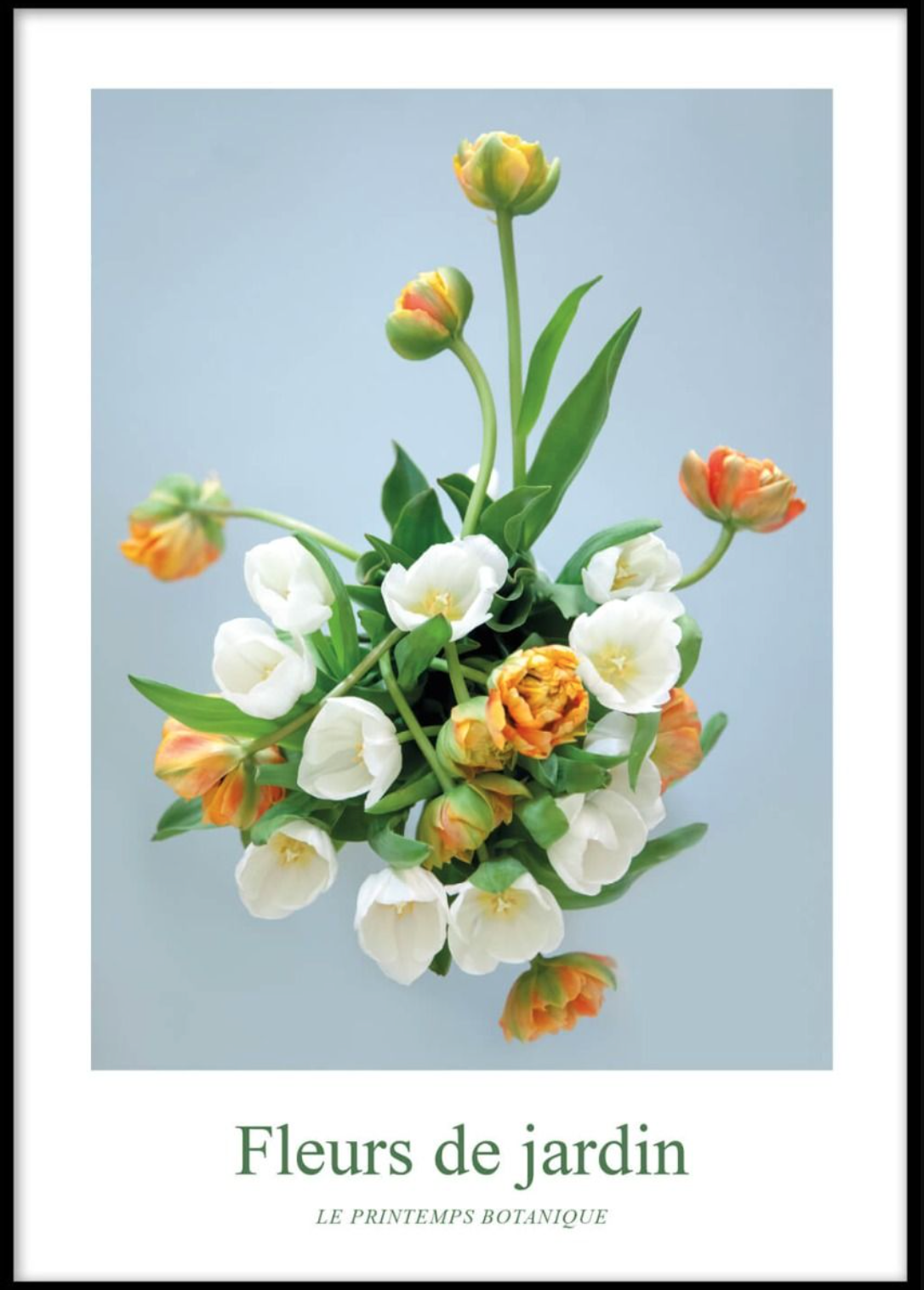 To hang this poster, you can pair it with other designs from Postery's floral collection with similar but unique styles or even use it as a standalone poster.
Using it as a centerpiece in a well-lit room works wonders in the room! With the built-in white border, this design is beautifully framed and looks so elegant and timeless.
Now that we have the beautiful floral poster, the next step is to add the frame! Posterity's high quality frame is truly the perfect material to complete the whole piece.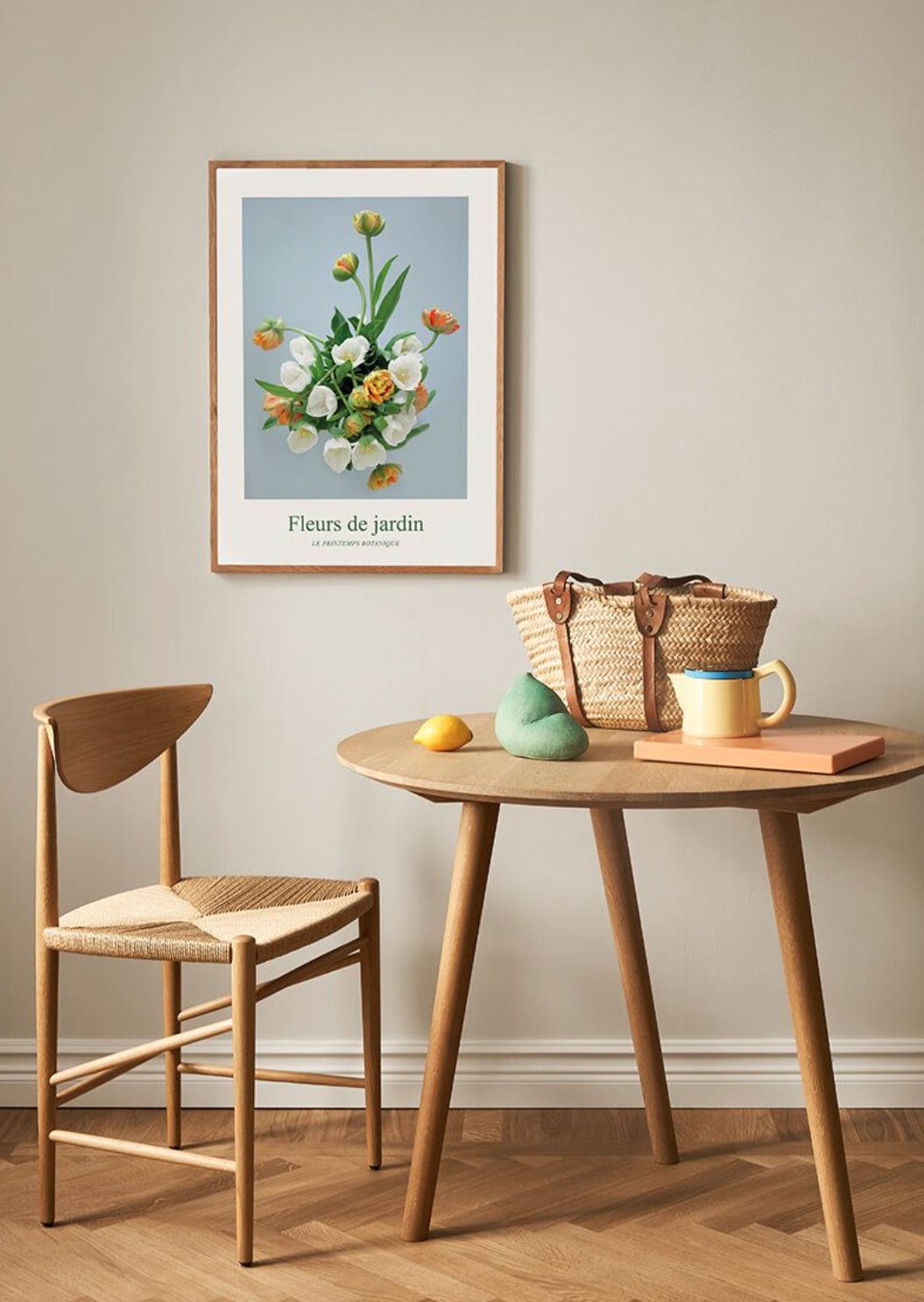 Pair it with a gold frame. Buy the Premium Gold Aluminum Picture Frame here.
To complement the lighter tones, I opted for a gold frame – and was blown away by how beautiful it was!
With a light metallic color that picked up pale colors well and wasn't too strong without being too weak of a golden glow, this frame exceeded all of my expectations. If there's one mount to love, it's this one!
Mid-Century Modern Calls
Nothing is more reminiscent of Scandinavian design than iconic Bauhaus design.
Buy the green Bauhaus poster here.
Inspired by the famous Bauhaus school of art, this poster features a circular, minimalist take with beautiful sage green colors.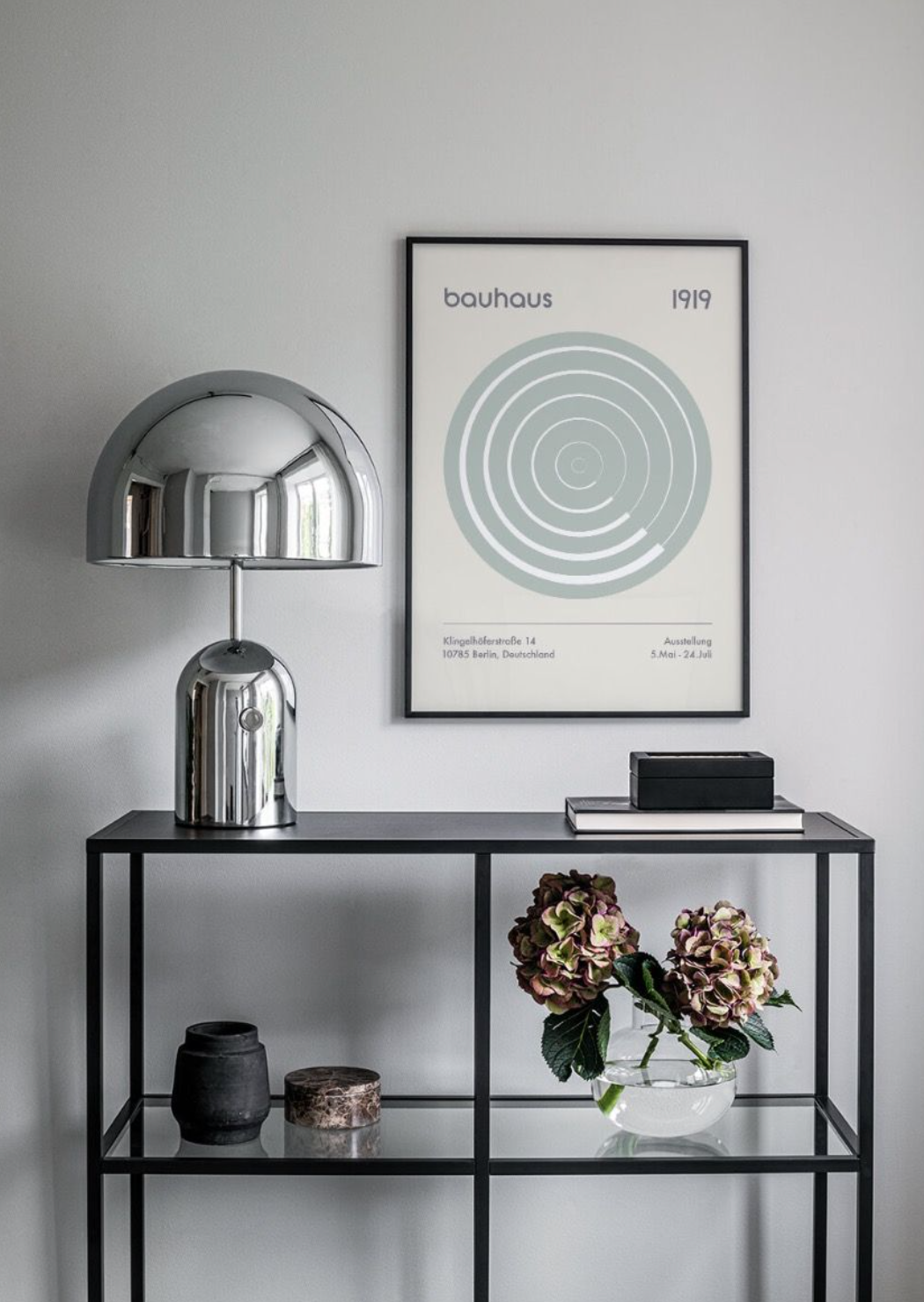 The simplicity of the poster is what makes this poster extra special and so alluring. This graphic poster features "fixed geometric shapes that fit perfectly on a graphic gallery wall".
I love how it is so timeless and clean – it will look great anywhere and everywhere!
You can also pair this beautiful sage green toned poster with other Postery designs as shown below. This creates the perfect ambience of calm and tranquility!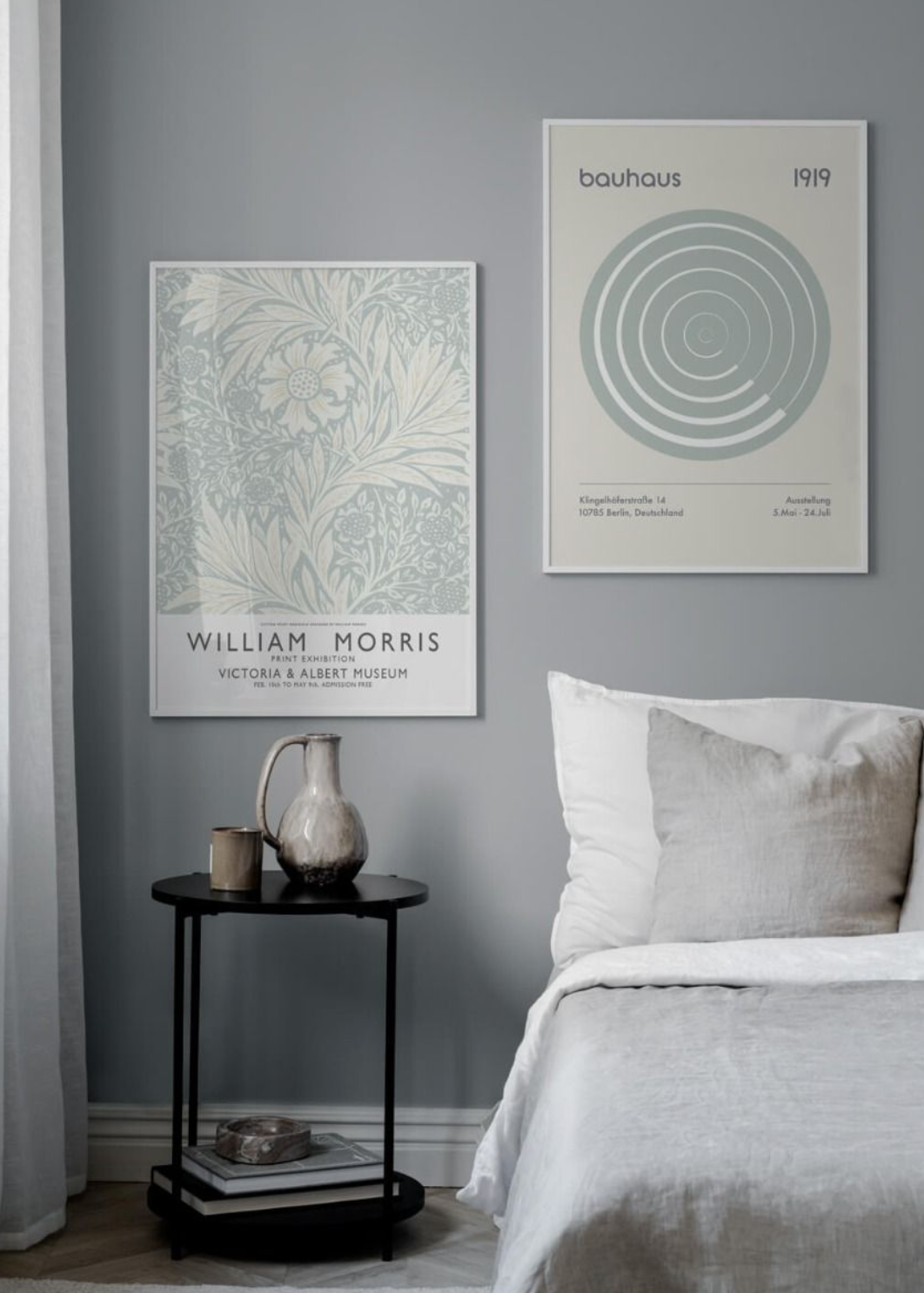 Complete this poster with a Postery frame. To match the clean, modern and vintage style of the Bauhaus poster, I opted for a black frame.
Pair it with a black frame. Buy the black wooden picture frame here.
The black wooden frame is simply modern and a classic take on Scandinavian design.
"We offer quality wood framing in a sleek, contemporary design that suits any home and any style. The glass is made of high quality, lightweight and shatterproof acrylic glass for a safe home! Postery said.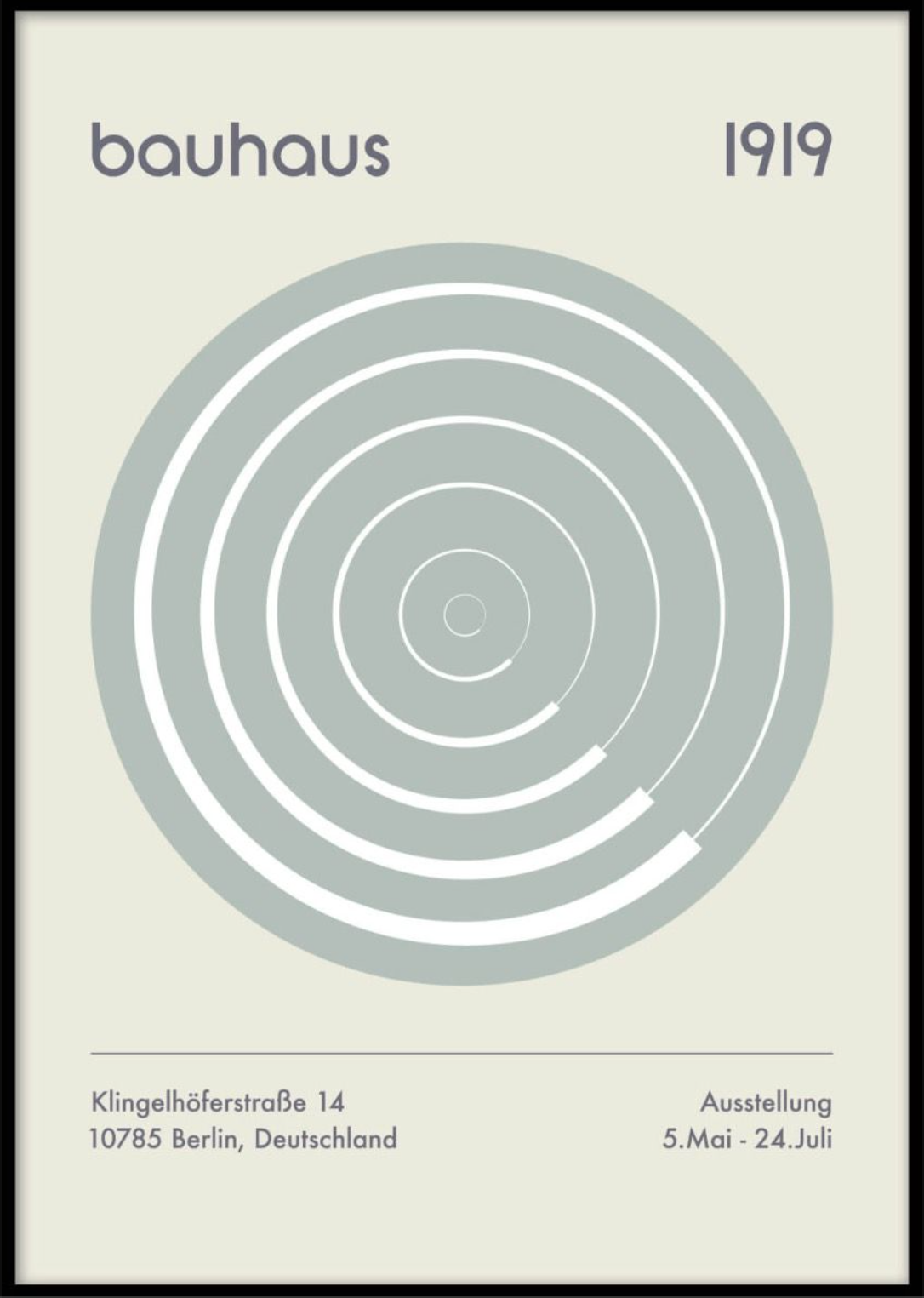 The frame material is so solidly nice, with a nice weight that's neither too light nor too heavy. This complements the Bauhaus poster so well and goes well with all the other designs!
Matisse's Ensemble Three
Nothing has been more popular than Matisse's iconic cut-out artwork. Seen all over Pinterest, the renewed love for this work is captured in Postery's Matisse Cutout poster series.
"[These posters] are inspired by the French artist Henri Matisse, we have created a series of prints with characteristics of his famous use of color and form," says Postery. "Inspiration for artwork and posters comes from contemporary trends, while we pay homage to the original style of Henri Matisse."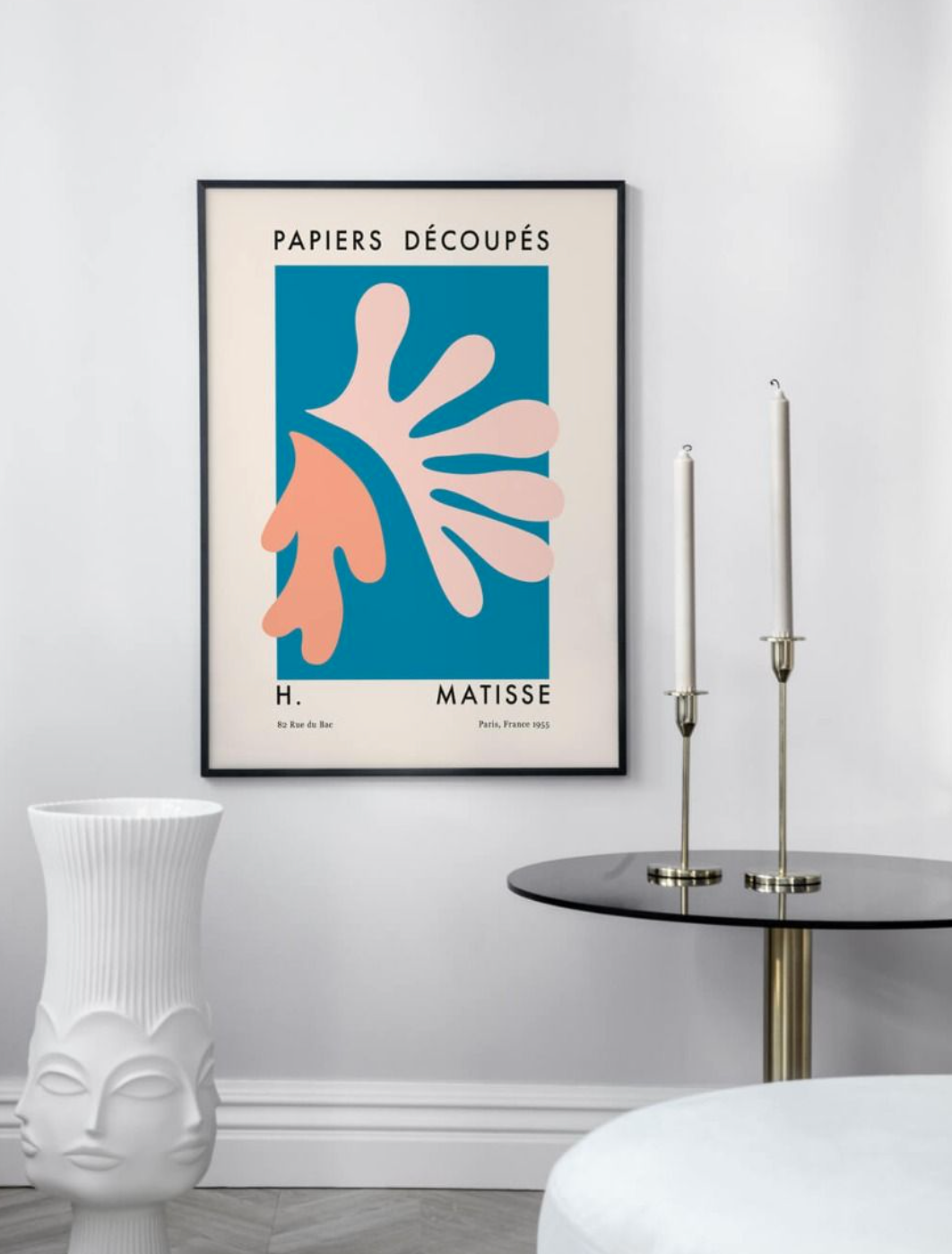 Immediately I knew this would be the perfect opportunity to combine the Matisse posters in a series – and I'm sincerely thrilled because the walls have never looked so good! As Postery says, "Posters in this series are a great choice if you want to bring more color into your home!" – and they couldn't be more right!
Art serves to nourish the soul, and what could be better than having a series of them in your room?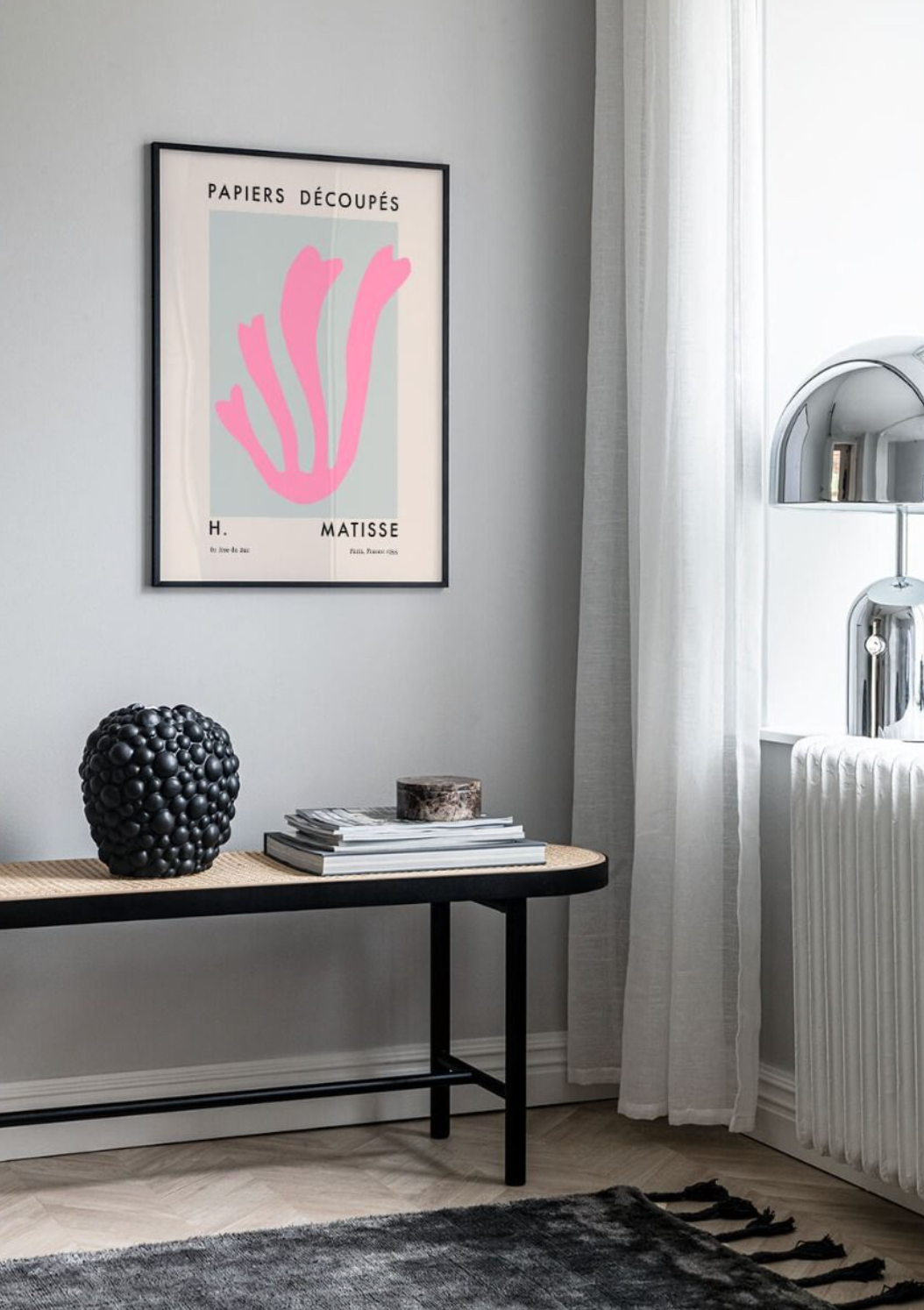 Buy the Matisse cutout in pink here.
The Matisse cutout in pink is a "graphic illustration of a pink sheet against a blue rectangular box with a beige background. The illustration also contains text in beautiful fonts at the top and bottom.
The bright, almost neon pink of the leaf cutout contrasts nicely with the pale blue of the poster.
The leaf shape is almost geometric, adding a nice texture and dimension to the piece.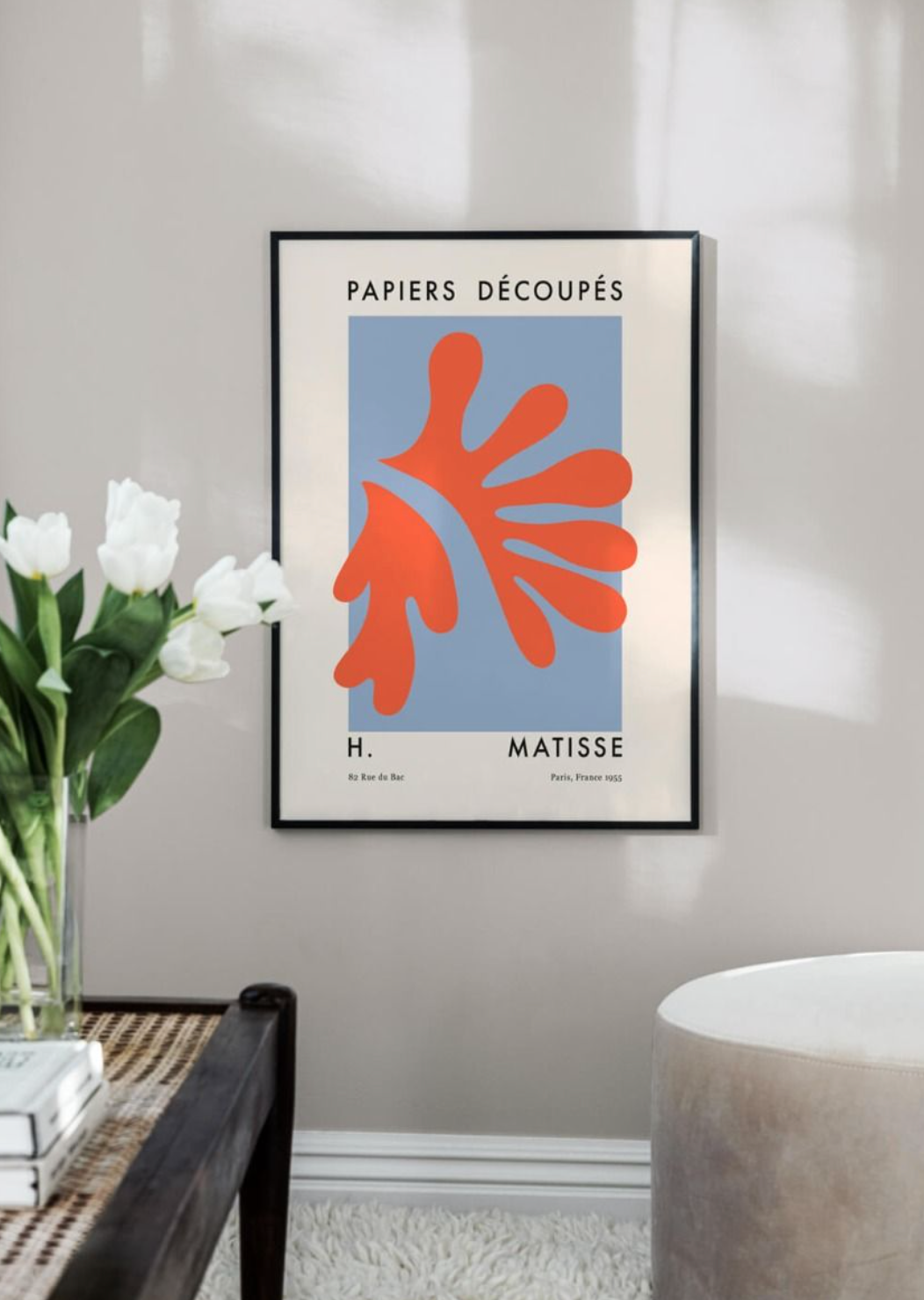 Buy the Matisse cutout in orange here.
The Matisse cutout in orange features a lovely bright orange lead with curved rounds and the baby blue background is the perfect ode to the complementary color wheel.
I love how it has two parts of the leaf branching off of each other. It's a chef's kiss!
Buy the Matisse cutout in beige here.
This super cute poster is perfect for all pink lovers! The poster features a pale beige curved lead on the pale pink background.
Perfect as a stand-alone feature of part of a gallery wall, this piece is all about lighthearted, playful and adorable!
Now that we have a trio of these stunning designs, we need to frame them before we hang them in a row! The aluminum frame in premium black is the perfect choice for these posters, as for all other posters, as its designs blend well with others.
Pair them with a black frame. Buy the Premium Black aluminum picture frame here.
"We are proud to present our popular black brushed aluminum picture frame with a sleek straight profile, carefully selected to showcase our posters in an exceptional way," says Postery.
'The glass is a quality Plexiglas for a lightweight, shatterproof frame that gives patterns razor-sharp – and is safe, for example. the children's room. The frame profile is 10mm wide and 18mm deep.
Postery's commitment to quality
Postery goes above and beyond to ensure the highest quality of its poster and frame products.
For us, a poster is not just a poster and a frame is not just a frame. Quality and finish are paramount.

-Attach
"All of our posters are printed on premium 240gsm paper with a matte surface finish. The paper is archival safe, meaning it won't yellow over time," the company promises.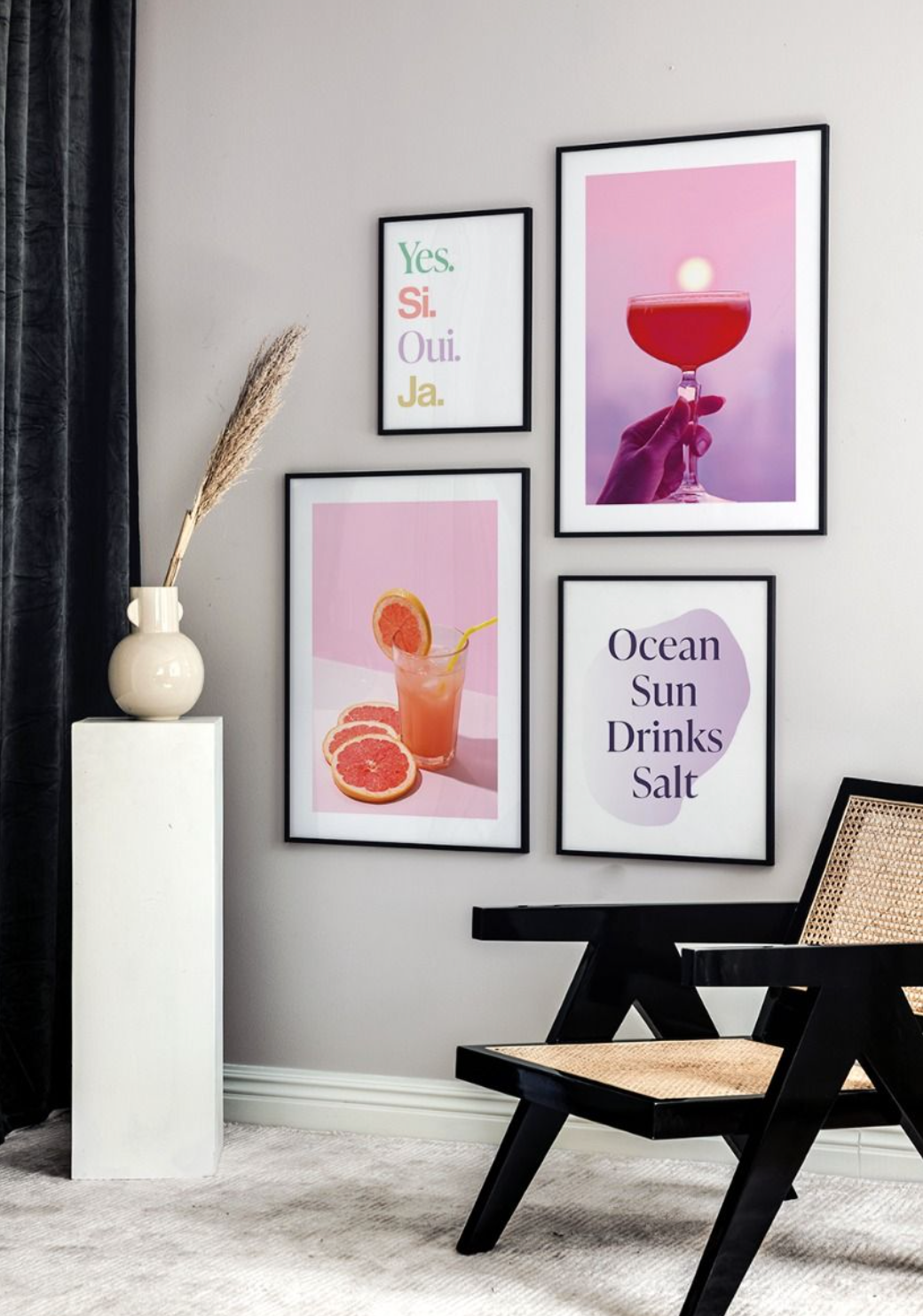 Plus, the poster paper is FCS certified and printed with ISO 14001 certification. When Postery says high quality work, they mean it. I have never seen a poster with such clear quality before with such durable material!
That's not all! Postery's frame play is second to none, too. "Our frames are of the highest quality, all with an exceptional type of 1.2mm plexiglass," says Postery. (Their plexiglass looks so clear than regular glass but much more durable and lighter. Also, both sides are protected with film, which is more than impressive.)
Plus, Postery offers a variety of options to complete your wall decor. Made from real wood, Postery offers colors of black, white oak and aluminum frames in black, white, gold, space gray and silver.
Plus, they have all sizes too! From "21×30 cm (8 ¼ x 11 ¾") up to the large 100×150 cm (39 ⅜ x 59″) – whatever poster you have, there will be a frame to match it!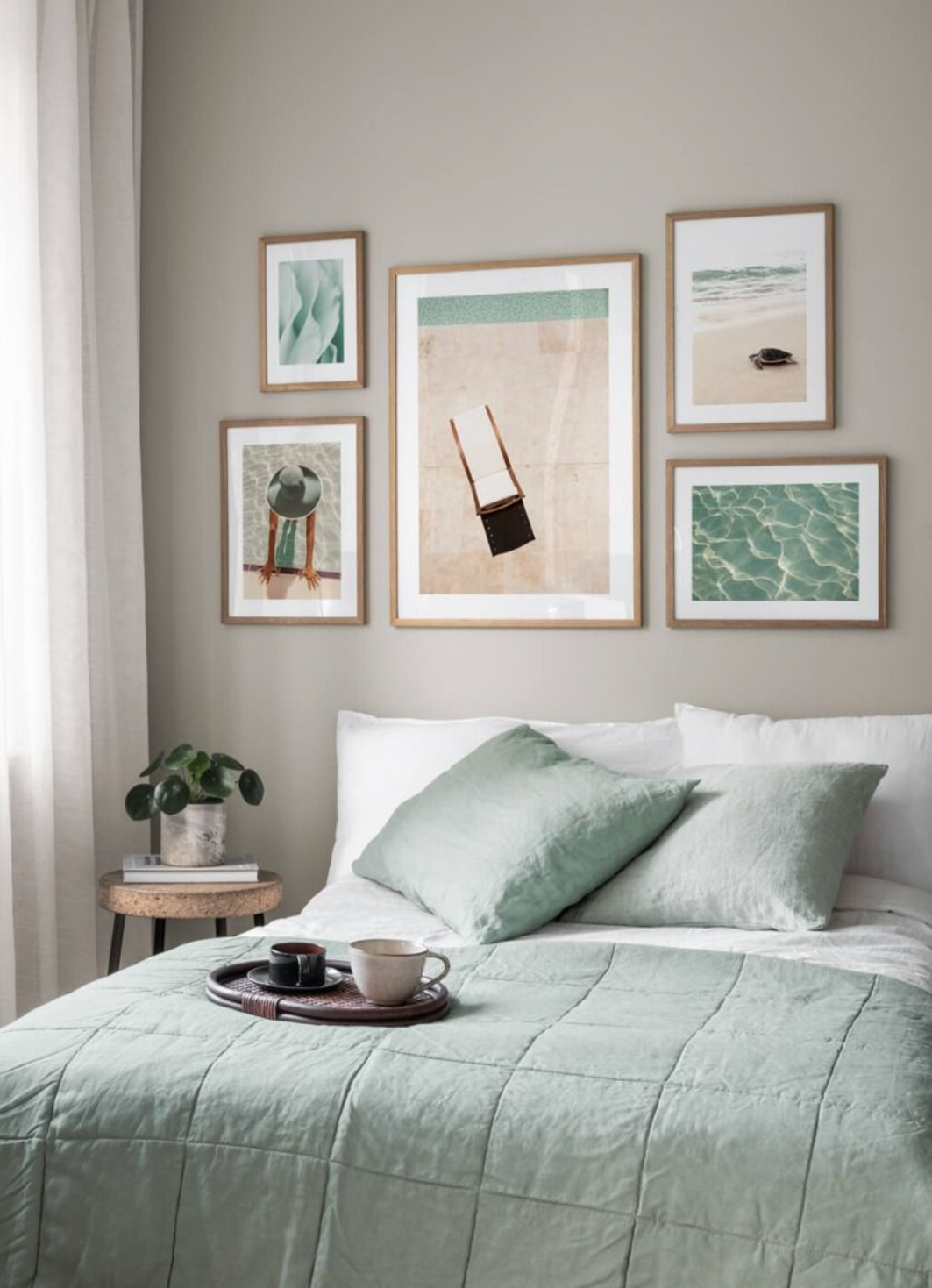 Poster love our planet
"From the beginning, our design philosophy has always put longevity first. We prioritize lasting style over passing trends. Every piece should last a long time. We want you to enjoy our products for ten years," says Postery, "We combine this design approach to reduce our climate impact and work with suppliers of the same high standards."
"Our print product supplier is a climate-neutral certified print shop and a family business. This means that they care a little more about future generations. Environmental work is a natural part of everything they do, which makes best in class on the Swedish market," says Postery.
Indeed, Postery has been climate neutral since 2011 (for more than ten years!) and " [compensates] 100% of their own emissions".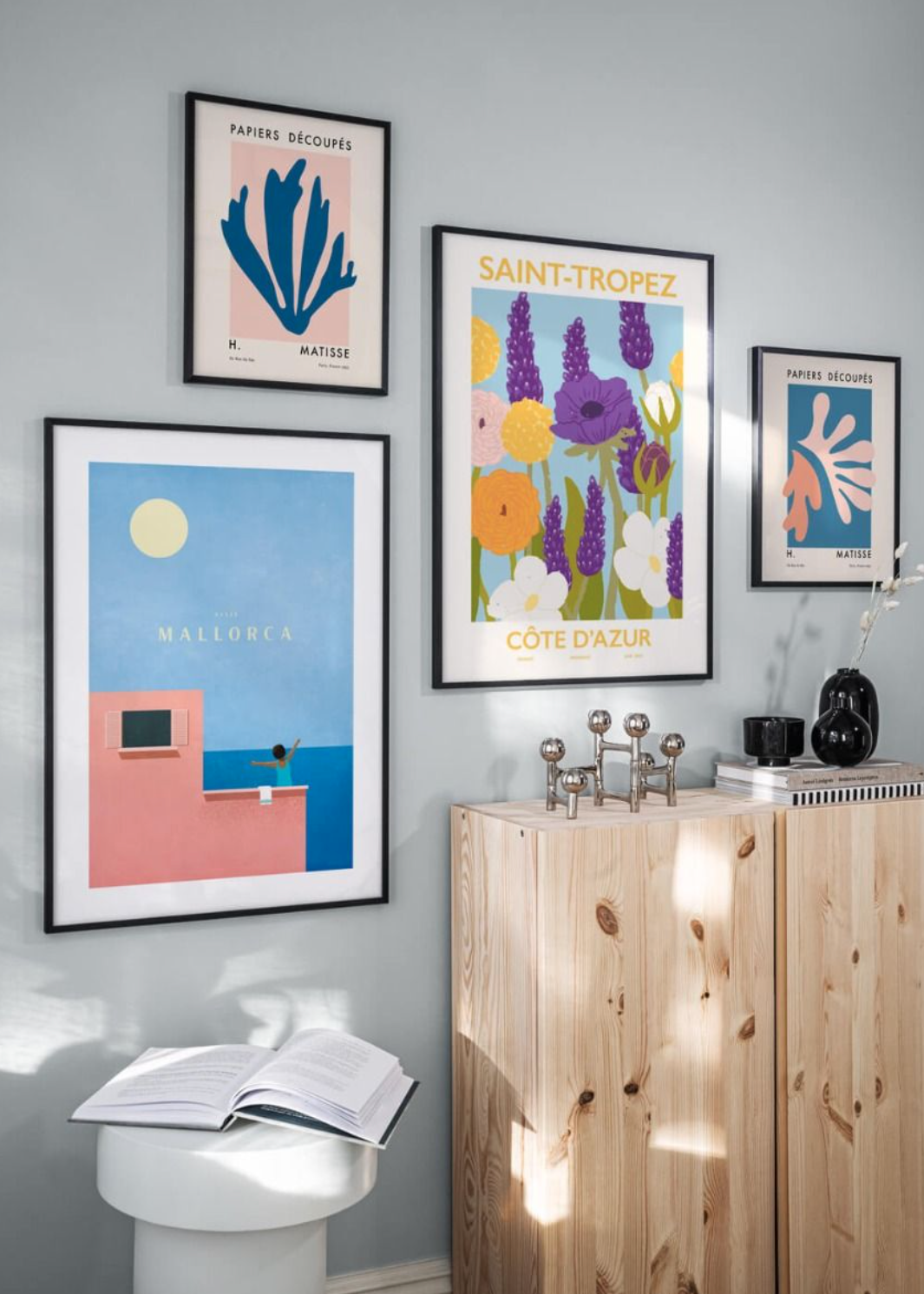 follow the poster
Be sure to follow Postery on Instagram at @posterycom and Pinterest at @posterycom!
This post is a sponsored news article. Prices quoted are accurate and items in stock at time of publication.
All images courtesy of Postery.