Sheryl Sandberg once said, "In the future, there will be no more female leaders. Just leaders. Amy Howe (President and COO at Ticketmaster) and Kelly Ungerman (Senior Partner at McKinsey) strive to embody this statement with incredible courage and immeasurable persistence. Kelly and Amy are sisters (to each other), mothers, wives, daughters, and above all, eloquent and passionate leaders. Through a series of seven questions, Kelly and Amy highlighted valuable lessons they learned about being businesswomen, balancing a leadership position with family life, and camaraderie between brothers and sisters in the same field.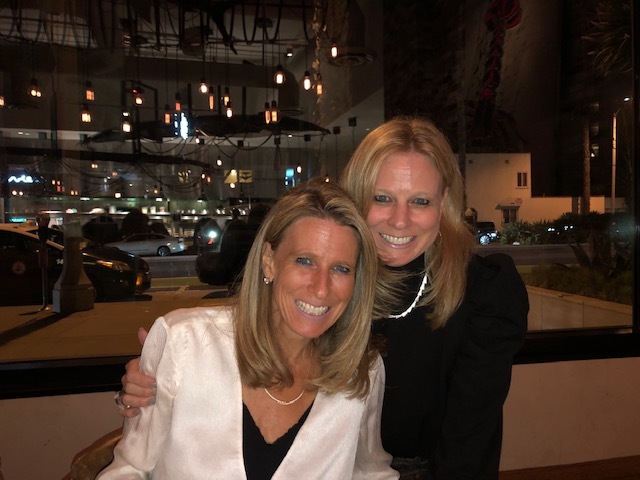 When asked to introduce herself, Amy Howe, an executive at ticket master shared a very simple, yet profound answer. She said: "Some days and years you're the chief recruiter, some days you're the chief strategist and other days you're the chief firefighter." This provides insight into the multi-faceted position that Howe occupies. At Ticketmaster, Amy and her team strive to bring the seemingly basic concept of "ticketing" and bring it into the digital age. Kelly Ungerman, who has worked her way up the corporate ladder at McKinsey for more than two decades, says she spends most of her time "…leading America's digital and customer experience practices." She works with multiple retailers and customers to transform their customer experience and ways of working to be more "…agile and raise that metabolic rate." She adds that she has a particular passion for diversity and the inclusion of women in business. Obviously, both sisters have very heavy jobs that involve a lot of hard work and resilience.
Businesswomen are often exposed to new facets that can change or improve their overall view of the world. So when asked how being businesswomen has changed their view of the world, the two sisters gave some very unique answers. Howe was quick to answer that question, saying that she and Kelly grew up at McKinsey, which teaches you, "…from day one, having a voice, which is really important in the world of The way they talk about it is, "you have an obligation to dissent." She went on to praise Kelly as a senior partner since less than 5% of senior partners were women when Howe left McKinsey. a conversation about her day-to-day life, the point that most struck Howe's response was when she said, "…you get to that point when you're sitting in the boardroom advising CEOs and more often than not, you're the only woman in the room. You get used to it. You're trained and taught a special set of skills, and you don't think about the fact that you're one of the only women piloting complex projects and issues." She went on to say that, as he True, there aren't many women at the top, being able to navigate really tough conversations with the male egos of the world is still essential.
"…more often than not, you're the only woman in the room. You get used to it."
Plus, so many kids today think the only way to succeed in life is to go to an Ivy League or a top school. Amy and Kelly went to Cornell University for their undergraduate degree and then attended the nation's premier business school, Wharton (University of Pennsylvania) for their Masters of Business Administration. Given that these two women went to such prestigious schools, asking them if they thought their life paths would be different without going to an Ivy seemed essential. Although both Kelly and Amy agreed that great schools come with better access to recruiters and career opportunities, the facet that set them apart was their determination to take advantage of all their opportunities. If they hadn't done that, they certainly wouldn't be here today. As Kelly described it, once you step foot in the door of a school, no one necessarily cares what school you went to. It's almost never a conversation at our meeting tables. So, in short, what we can take from this is that where you are going is not who you will be. You are defined by your choices, not by your environment.
Many women in leadership positions around the world have said that the hardest part of their job is not the job itself, but balancing family and work life. Especially at present given the COVID-19 pandemic where most are required to work from home, the lines for a work-life balance can become blurred. Former PepsiCo Chairman Indra Nooyi once said that women can't have it all. When asked to explain this generalized statement, Nooyi explained that it is impossible for women to be the best CEOs and leaders, but also to match the perfect [society-determined] roles of a mother who attends every event of her child, of a wife who is constantly there for her spouse, and whatever those roles are. Amy and Kelly fundamentally disagreed with Nooyi's statement.
When asked about it, Kelly said, "…Everyone has to have their own definition of what it is to have it all, because at some point something has to give." Following this, Amy said very candidly, "I think you have to be willing to accept help, which is a difficult thing to talk about because not all women can afford help and many are in different situations." Following this, both women agreed that they felt that at times they thought their careers would get in the way of them being a good mother, but now they feel differently. Amy added that her work in a leadership position not only inspired her three boys, but also gave them a living example of how to fall many times and get back up with grace. Especially in the box office industry when all shows and tours are canceled due to the COVID-19 pandemic, Amy has to keep falling and getting back up. Both conceded that of course it's inevitable that there will be times when they're on the road when they don't want to be, but at the same time, having careers always makes them happy and like they are much better mothers. Kelly explained that it is impossible to have that perfect perfect balance, but the most unbalanced moments are the ones that build character and add a little padding to your back. More importantly, she explained, "…at some point or another, you have to find the metrics that matter." Whether it's spending weekends with your family, nights out, or whatever else you can define, you need to prioritize and always try to make up for lost time.
"…the most lopsided moments are the ones that build character and add padding to your back."
Through this incredible conversation I had with Kelly Ungerman and Amy Howe, not only did I learn a lot about their balance between high profile jobs and family life, but I also got to observe their grace, their kindness and their brotherhood which was evident from the start. . Kelly and Amy, throughout our call, constantly built each other up, which was not only heartwarming, but also a call to action. Sometimes competition, even within our own family, can blind us; in the grand scheme, the trivial grades and distinctions over which siblings argue are miniscule and unimportant in life. No matter who you are, everyone has something to take away from these incredible leaders. These beacons in the business world will pave the way for many more businesswomen to emerge as leaders, so that, as Sheryl Sandberg quoted it, "…there will be no more female leaders. Just leaders.
"The trivial grades and accolades that siblings argue over are tiny and unimportant in life."