Raise your hand if you've ever said "I'm bored" or "I don't know what to do"… Well, looks like all of us are raising our hands- whoops!
Sure, you can always Netflix & Chill, but you can't really connect with someone that way. And besides, there are so many other fun things you and your friends could do that would leave a wonderful memory of your friendship.
This is where The Adventure Challenge steps in.
View this post on Instagram
Genuine fun is calling your name, and trust me, you'll *actually* find yourself enjoying the moment.
This link will cure your boredom:

Create memories through theadventurechallenge.com
I don't think I've ever found myself so excited about something to do with my friends- you guys, if you're looking to have a blast, this is really the answer.
Scratch Off, Have Fun, Click & Snap
The concept's quite simple and exciting:
You've got the book, with 50 unique challenges for you and your friends to complete.
Each challenge is covered up, which you'll have to scratch off- and once you receive the challenge, there's no backing out!
After completing or during the challenge, snap a film photo of you and your friends to place inside the memory book.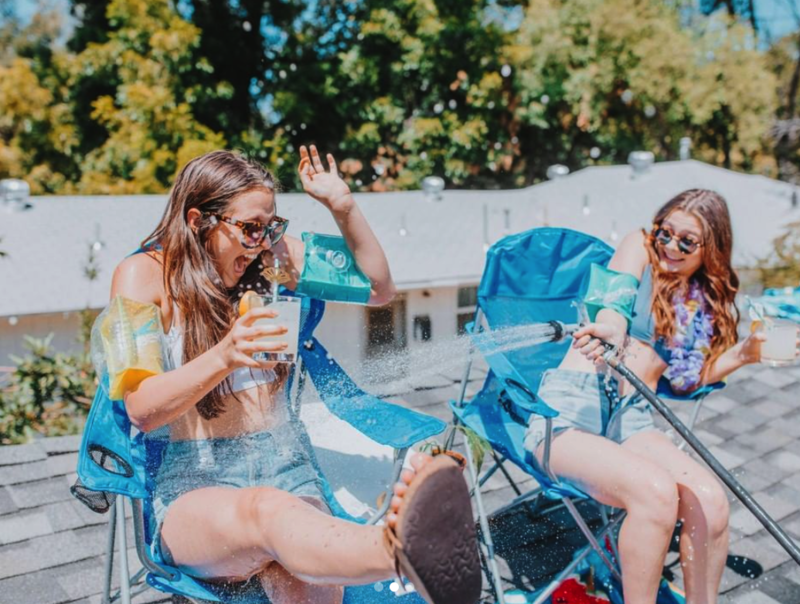 What are you waiting for? So much fun is awaiting you!
Meet the Friends Edition Camera Set
Coming with the complete set of everything you and your friends need, the Friend's Camera Set includes a Friend's Edition memory scrapbook with 50 unique challenges for you to take on alongside a Limited Edition Lomography Signature Instant Camera.
Shop the Friend's Camera Set here.

Psst… it's also on sale right now, so hurry!
Upon first glance, you'll find a neatly presented box with a box for the camera and one for the book- and adventures that will be one for the books. (no pun intended!)
About The Friend's Edition Book
This book is the book to cure your boredom… behold, The Friends Edition!
Made effortlessly easy for any user to navigate, this book sets it all out for you.
Since the challenges are scratch-offs and essentially a (delightful) surprise, you might be wondering: how am I supposed to prepare ahead of time? What if the situation doesn't cooperate?
Well, The Adventure Challenge is always one step ahead of the game and has prepared everything for you!
Hints, So You're Not Completely In The Dark
Kind of like a legend to a map, each challenge will have an image(s) that hint at what the challenge will entail. For one, utensils mean you'll be having a meal, waves mean you'll get splashed, a sun means the activity is best for daylight, and so on. Everything that you'll need to think of ahead, the hints will give you all that you need.
There's also a Table of Contents (talk about probably the best organization and thoughtfulness ever!) which lists in chapters what the adventures will be like to give you an idea. Such as, "Rainy Days"- so next time when it rains, you won't ever be gloomy with nothing to do- or "Party Hangs"- meant for your entire squad- or "It Takes 2 Baby"- challenges for you and your bestie to complete.
Wondering what the challenges will cost? The Adventure Challenge has your back on that one, too. On top of the scratch-off is a small dollar sign, which will tell you around how much of a monetary expense you'll be expecting. Much of the costs are free, and others that estimate the cost range for you. Having fun doesn't always have to be expensive!
Not sure what time to do the challenges? Hey, there's an answer to this, too! Next to a small clock icon, the book will tell you what time would be best for this activity. For example, there's some that read "Anytime", "Before Dark", "Before 9 PM", and such.
That's not all; it tells you how much time the challenge will take as well. That way, you can set aside some hours for designated adventure time- and hints of how much of a range of time to expect.
Challenges & Rules
Each page contains two challenges, which don't necessarily have to be completed in a particular order. Each challenge will contain a layout of:
A scratch-off box for you to find out your challenge
An intriguing challenge title under the scratch-off box. (Alphabet Slappers? Eggspert Designers? Full Send Grape Bobbing?)
How much to expect for costs, when to do the challenge, and how long the challenge will take
Icons that hint what the challenge will be (and for you to prep ahead)
Four long lines with enough space for you to write some words about the fun you had. Think of it as a journal, but so much better- Journal 2.0!
A section with "Photo Here" and a sticky strip to paste on your Instant Film photo. Ah, memories!
The Friends Edition also lists some rules:
Disconnect to Reconnect: no phones here! (well… unless it's for a challenge, perhaps.) Connect with real people. (May I add, as an old soul, I'm loving this rule.)
No Take Backs: if you scratch it off, you've got to do it! I say that makes it all the more thrilling.
Document the Journey: snap the fun with your sleek film camera, and write a little entry to go along with it. It's like a diary-journal, but so much cooler.
Show It Off: can't forget to share it on social media! Be sure to tag #theadventurechallenge and #friendsedition.
Also, can I just add: I'm absolutely loving the heavy-stock paper and its top-notch quality. You won't ever have to worry about any wear and tears during any of your adventures!
About The Limited Edition Lomography Signature Instant Camera
"The Adventure Challenge has teamed up with the award-winning Lomography Automat Instant Camera to give you beautiful colors and that irresistible Boca effect that produces professional-quality instant photos every time," states The Adventure Challenge.
That's right; this camera is pretty top-notch and arguably one of the best film cameras around. With this exclusive camera, you'll be capturing moments you'll be able to look back on forever.
Package Includes:
Lomo'Instant Automat Camera
Remote Control Lens Cap
Colored Gel Filters
Inspirational Shooting Tips
Photo Stands and Photo Clips
Friend's Book
The camera is a sleek white that comes in the perfect size for adventures. You can easily fit in your hands without it being ever too small not too big- just the right size that even Goldilocks would approve of it.
It's shaped a bit like a box- a box that'll capture countless memories on film- and is quite lightweight, which I really liked. Yay for not having to carry around anything heavy during fun-time!
View this post on Instagram
Down in specific sections, you'll find gorgeous calligraphy in silver with inspiring words: "Explore, Create" and "You're my best adventure."
This is pretty much the camera for anyone and everyone- cute, handy, and easy to use!
If you're a bit unsure on how to use this camera, the set includes a digital manual (being conscious and saving paper & trees… again, the thoughtfulness here is just heartwarming.) that'll explain everything for you. This is not hard to use at all, and in no time, you'll have a blast snapping pictures and moments in time!
Extensive Camera Features
The Camera features are incredibly extensive, with amazing add-ons you'll absolutely enjoy:
2 Shooting Modes: Auto Mode and Bulb Mode
Fully Automatic Shutter: shutter speed is already set for you- less hassle, more fun
Super Straight-Forward Zone-Focusing: that satisfying click and focus… yes, please!
Unlimited Multiple Exposures: you can layer up your shots
Lens Cap Doubles as Shutter Release: due to sensors, "the lens cap also functions as a remote control for the shutter release!"
Interchangeable Color Gels: add these on to add some extra pizzazz!
Automatic Electronic Flash: you have the choice to keep flash, or not, or maybe let it automatically do it all for you
Exposure Compensation Control: with Auto Mode, you can try +1/-1 brightness balance for lighter or darker shots
Tripod Mount Compatible: set it up if you'd like to steady your pics!
Uses Fujifilm Instax Mini Film: the instant film that's widely found and available. easy peasy!
Splitzer Compatible: make these snapshots works of art
Digital Exposure Counter: you don't have to worry about how many shots you have left anymore. This counts the amount of exposure you have left while you keep snapping those amazing pictures!
Old-School is Cool
I absolutely loved how the film images turned out; something about going old-school and seeing the nostalgic quality adds to the thrill of being able to see your photos and how it turned out.
The color is vibrant, which puts you in the memory, and the 35mm film has the coveted, distinctive style that'll make the camaraderie and joy in the photo truly show.
View this post on Instagram
Also, another bonus: the camera is not disposable- meaning with this kind of film camera, you can keep using it with a supply of film exposures!
The Adventure Challenge also includes a note: "Film and batteries not included. The camera uses Fujifilm Instax Mini Film and two (2) CR2 batteries, sold separately. You can find these online or at your local electronics store."
The Fujifilm Instax Mini Film is pretty much the standard film for any instant film camera, which is available anywhere and everywhere, ranging from your local Target to Amazon.
It's For Everyone
Wondering if this adventure applies to you and your crew?
Of course it does!
It can be just you and your bestie, your entire squad- and you can be of any age to take on this challenge, from younger teenagers and above.
As The Adventure Challenge says, Adventure doesn't discriminate!"
Redefining "Hanging Out"
Hanging out has different definitions according to different people- but The Adventure Challenge is completely redefining what it means to have fun- genuine fun that will have you and your best friends holler and hoot, laugh-until-your-tummy-hurts kind of enjoyment.
Hop on in; you're here for a thrill!
The Adventure Challenge is redefining what it means to have fun.

-The Teen Magazine
Real fun leaves a lasting adventure that you and your pals will think back to with much nostalgia, look over those snaps of films, and recall the times you actually got to know each other and have fun.
Strengthening Bonds
In the era of the digital world, relationships with some of our loved ones can feel somewhat blocked. Watching shows or texting each other is great, but sometimes, getting down to some active fun and adventures of our dreams can be just what we need!
The Adventure Challenge provides you just that.
This one-of-a-kind, fantastically innovative idea will give you the chance to connect with your squad on a whole new level.
Lasting Fun, Forever Memories
Let me tell you this: The Adventure Challenge will give you the most fun you've had in a while.
Tug of war on a Slip n' Slide? An epic bake-off? Bubbly in the tub? Oh, it's on!
Challenges that are thrilling, affordable (with price ranged estimated for you already- wow!), and bond-building can't possibly be found anywhere else.
You and your friends will genuinely have a blast, and you'll be left with one of the best memories ever- and photos to look back on!
Woo-Hoo! More Cool Stuff
Just when you thought it couldn't get any better (because seriously, now you'll never have to say "I'm bored" ever again), the Adventure Challenge has even more great stuff for you and your pals!
Got an S.O?
Nothing's cuter than couple stuff, and if you've got a partner, you'll definitely enjoy doing the Couples Edition. Date nights have never been more exciting!
Family Time, Quality Time
Connecting with your family members is now taken to a whole new level with the Family Edition.
These shared experiences will definitely be cherished forever.
Going Solo
You can be your own best friend (after all, you're the one you're with your entire life…) and you can complete challenges by yourself, too!
The Solo Collection has its own solo edition book, camera set, and more.
Alone time is now exciting time.
Get Them All
The Adventure Challenge offers different mixed bundles for every possible option- (which is probably the best thing ever- no hassle, just fun!)- but if you're looking to collect every book, the Ultimate Bundle is just the one for you.
That's what I call a deal!
Keep Up
Be sure to follow @theadventurechallenge on Instagram!
Psst… they also host some awesome giveaways now and then, so make sure to turn that blue follow button white!
View this post on Instagram