We sleep for almost a third of our 24 hour day, 7 days a week, all year round – we really do spend a lot of time in bed. From there, we can definitely say with confidence that how we sleep really matters, which is why having comfortable blankets and sleepwear is key to a happy life.
This is exactly what Sunday Citizen stands for. The lifestyle brand embodies all that is dreamy, pleasant and rested; just a glance at their entire product range gives you the idea of ​​a refreshing, calm and nurturing vibe.
The thing about Sunday Citizen is that it really promotes a balanced and zen lifestyle, which is such a beautiful concept that comes to life.
buy Sunday Citizen at sundaycitizen.co
This holiday season, give your love all wrapped up in a cozy blanket of joy. No, really, take it literally with SundayCitizen's durable and peaceful sleepwear. The brand is the perfect image of what a hygge, soothing and comfortable lifestyle is all about!
We are curators of soft. Chill seekers. We believe in comfort above all else.

– Sunday Citizen
Throw blankets for a cozy winter
I really don't think I've had such a good nap since wrapping myself in the soft blanket of Sunday Citizen.
When I first got the idea of ​​their cozy blanket, I think I took my breath away – it was extraordinarily soft with an almost woolly texture that I had never felt before. Guys, Cloud 9 is physically real!
It's no surprise that Sunday Citizen prides itself on its special feel. "We have a weak spot when it comes to keeping things comfortable," the brand explains, "That's why we've designed unique fabric blends that promise to be always soft, durable, and easy to wash! "
Sunday Citizen's range of throws feature a unique design that is unlike any other. Below are our two personal favorites – the Bali and the Casablanca.
The Bali Poster
The Bali Throw features a lush tropical design with an abstract leaf pattern that any nature lover would love. Paired with the ever-neutral Sahara Tan and Off-White colors, the blanket adds a touch of warm, toasty traditional vibe to your room.
Shop the Bali Throw Blanket in Sahara Tan & Off White here.
With slender, curved lines forming a repeating pattern of fig leaves, Sunday Citizen draws inspiration from the vibrant jungle for your bedroom in soothing, soothing tones of light beige. It's the perfect accent piece for your retreat.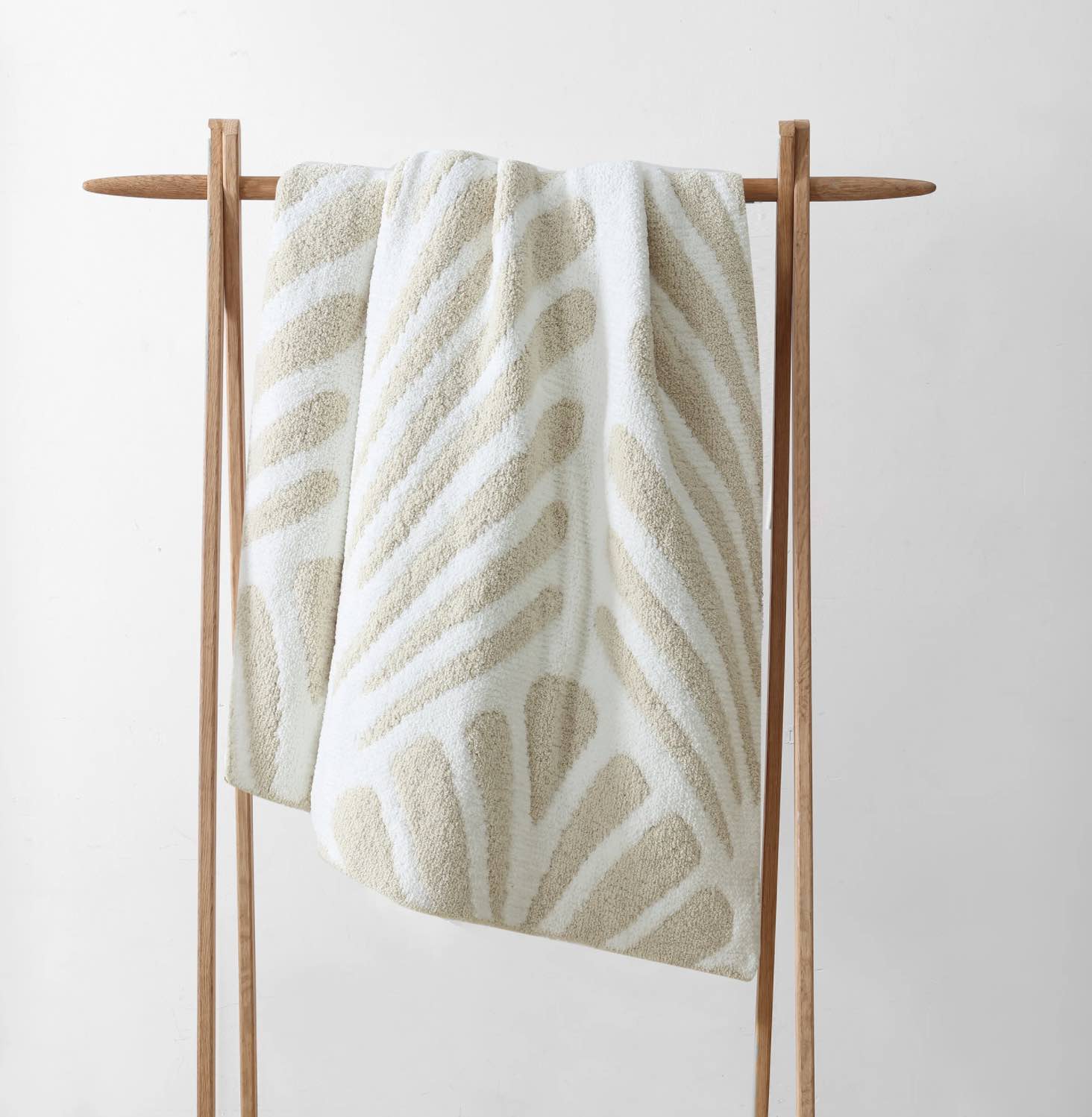 The blanket is so soft and has the perfect thickness and heaviness. If I could wrap this around me forever, I probably would!
With Sunday Citizen's specialized textile texture, this blanket will keep you warm during the winter season. The Bali Blanket is "made with two layers of our cozy fabric blend to keep you warm and cool (figuratively speaking)," says Sunday Citizen.
If you're looking for quality, carefully crafted parts, you've come to the right place. This blanket will definitely cuddle up to you for a long time.
The blanket is double knitted which makes it soft and fluffy to the touch without being fuzzy. The thermoregulation function allows you to adapt it to your body temperature – so no chills at 2am or overheating during the night! It's also hypoallergenic, so anyone can enjoy its softness and have the best Sunday afternoon naps.
Plus, it's oversized, so you can let it drape elegantly over your bed and keep it on you without getting cold feet. What a win-win!
I love that it is double sided. Whether it's mostly Sahara Tan with Off-White touches or vice versa, it never fails to look good.
The Bali Throw Blanket also comes with a matching Bali Throw Cushion.
The Casablanca Throw Blanket
This gorgeous blanket features a lovely pattern of elegant daydreams and swirls – and will be your new favourite.
Shop the Casablanca blanket in sage and off-white here.
The Casablanca blanket has an air of elegance that is hard to put into words, but the heartfelt eyes I give to this blanket say it all. This unique yet timeless design is perfect for adding a layer to your bed or anywhere else, from your accent chair to your loveseat couch!
"Soft touch fabric in lovely earthy colors contrasted with white creates a blanket that decorates and makes you feel so warm and delicious," says Sunday Citizen.
The beautiful blend of sage and off-white creates a palette that I would call "inspired by herbaceous and soothing eucalyptus." The colors are just beautiful and go really well, especially in a bedroom.
Just like the Bali blanket above, the Casablanca blanket is also double knit and very comfortable. Drape this oversized blanket over you while you have a little holiday movie marathon, and you'll be ready to end 2021 on a comfortable high.
The Casablanca plaid is available in 11 different shades. Look how pretty they are all individually – I'm obsessed.
See this post on Instagram
The above is the Casablanca Blanket in Rusty Rose. I may just be in love!
Spa Evening And Waffle Bathrobe
We've all wished we could wear a super soft blanket. Well, it looks like our wish has come true – now it's a possibility with the Snug Waffle dress!
Made from the same fabric as the Sunday Citizen blankets, this waffle robe is the perfect must-have item for a truly relaxing spa day, any time, any day.
Buy the Snug Waffle bathrobe in light white here.
The Clear White color is such a classic; you simply can't go wrong. It's also so comfortable, you'll feel like you've got a cozy oversized cardigan draped over you.
This ultra-soft and cuddly bathrobe feels like getting a teddy bear hug 24/7. "Our signature fabric blend is designed to be super plush yet breathable, and it stays radically soft for years," says Sunday Citizen.
The Snug Waffle bathrobe is hypoallergenic and can be worn on all skin types and by everyone. The softness of the cozy bathrobe is simply unmatched.
It also comes with a matching tie for your waist (screams) and pockets (screams louder). As if this bathrobe couldn't get any better, it's also machine washable. How practical!
This bathrobe makes you feel like you're staying in a fancy hotel in the comfort of your own home. "The unique waffle texture elevates the humble robe to the level of luxury hotel whimsy, making it the perfect piece to wear while you practice all forms of self-care," says Sunday Citizen.
So go ahead. Put on the Snug Waffle Dress, take a bubble bath, choose your favorite book to read, and treat yourself to a day of self-care, because you deserve it.
A mini pillow for your favorite chair
You can never really have too many pillows – and more of the Snug Waffle Mini Pillow is just what we need. "Like extra support for your head or lower back, or just a nice little something to prop up on the bed or sofa; this cuddly cutie does it all," says Sunday Citizen.
This multifunctional mini pillow is available in thirteen different color options. I think maybe I should start a collection because they are just adorable!
Shop the Snug Waffle Mini Pillow in off-white here.
With a raised design that's classic but also cool with a waffle texture, the Snug Waffle Mini Pillow is perfect as an accent piece on your sofa or as a small pillow for your bed.
This pillow is made from 100% microfiber and is filled with memory foam – oh yes, the coveted filling. It's the perfect place to rest your head for true comfort or even your back for support.
With a washable cover ("Just remove and toss in the washer/dryer," Sunday Citizen advises), this pillow is tougher than it looks. (Although, of course, we should treat precious things with care.)
My favorite thing? Both sides of the pillow stay cool – so if anything, that's absolutely a bonus in my book.
It's so cute to really throw anywhere and everywhere – and it's such a handy little pillow for any occasion, while still looking good!
Follow the news of the citizen of Sunday
Be sure to follow Sunday Citizen on Instagram at @sunday.citizen, TikTok at @sundaycitizen, Pinterest at @shopsundaycitizen and Facebook at @sundaycitizenbrand.