Hey Upper East Siders, Gossip Girl's fifteenth anniversary is coming September 19th! Over the years, the iconic television series has had an impact on 21st century fashion around the world.
The show's designers took extra care to ensure that each outfit was perfect. Former Gossip Girl costume designer Eric Daman told Fashionista, "Blair has never rehearsed a headband in six seasons, and Serena has never worn the same pair of shoes or carried the same bag." From Blair's signature headbands to Serena's chic ensembles, Gossip Girl made sure each character had a unique signature style that reflected their personality and story.
What really stood out about Manhattan teen closets was that they often didn't conform to the fashion trends of the 2010s. While some looks might seem dated and easily forgettable (sorry Vanessa), others were simply stunning. Today we're going to be counting down our 10 best Gossip Girl looks of all time!
1. Serena and Blair's matching dresses
We live for this matching look! The matching ensemble looked put together, but carefree enough to hit the streets of New York. B and S were spotted wearing open backless sheath dresses stolen from Eleanor Waldorf Designs. However, the bright and contrasting colors are what made these outfits shine. Each girl also wore metallic high heels and a string belt in the opposite color. This whole scene was chef's kiss.
2. Blair's Ellie Saab wedding dress
Blair's wedding dress to Chuck Bass seemed perfect for the occasion! There was something very special about Blair stepping away from the classic white ballgown. It looked like an unconventional yet elegant dress for an unconventional and unpredictable relationship. It showed that she had grown from the high school prom queen we knew in Season 1 to a mature young woman who was no longer obsessed with living a fairy tale!
3. Serena's green dress
Even though 95% of the population would look like Tinker Bell in this mini dress, Serena Van Der Woodsen looked unique and beautiful. The drama surrounding this dress made it even more memorable! Blair tries to ruin her mother's fashion show, so Jenny tries to save the show by having the socialites parade instead of the models. However, Serena accidentally ends up wearing a dress designed by Little J. Of course, the whole crowd ended up loving this quirky looking dress.
4. Blair's red ruffled dress
Blair looked absolutely stunning in a bright red ruffled Oscar de la Renta dress. She also wore a matching necklace donated by Prince Louis and pink pumps. The whole outfit makes her look like a real American princess! Not to mention, this is the iconic scene on the train where she sees Chuck for the first time since finding out he was shot.
5. Lilly's wedding dress
At Lilly's FIFTH wedding, she decided to go for something more understated. Perhaps she felt exhausted by her last four obsessive and manipulative husbands? For her wedding to Rufus, she chose a fuchsia dress with ruffles at the neckline and turquoise raindrop earrings. The colors were perfect for her modest wedding at the botanical garden. All in all, the dress looked like a perfect way to start a more down-to-earth, family-oriented chapter in her life.
6. Max's yellow and blue striped suit
One of my favorite things about Gossip Girl's style choices is how they've focused on men's outfits as well. Many shows overlook outfit choices for male characters because they think people notice them less. However, Gossip Girl managed to give each male character a distinctive style that matches their story and personality. This costume has eye-catching colors and distinctive patterns that help make the outfit stylish and sophisticated! This bold and daring outfit is perfect for Max, who isn't afraid to try new things or stand out from the crowd!
7. Zoya Lott's school uniform
I live for the laid-back, schoolgirl vibe of Zoya Lott! Her outfits look normal and realistic for a girl her age – something many high school shows struggle with! In the original series, the characters often spoke through their school uniforms. Zoya, however, decided to make her uniform more casual – which could be a nod to the fact that she doesn't feel the need to fit in. Upper East Side. Either way, we dig this oversized sweatshirt which is paired with a matching plaid skirt (in official Constance Billiards colors of course).
8. Serena's gray lace dress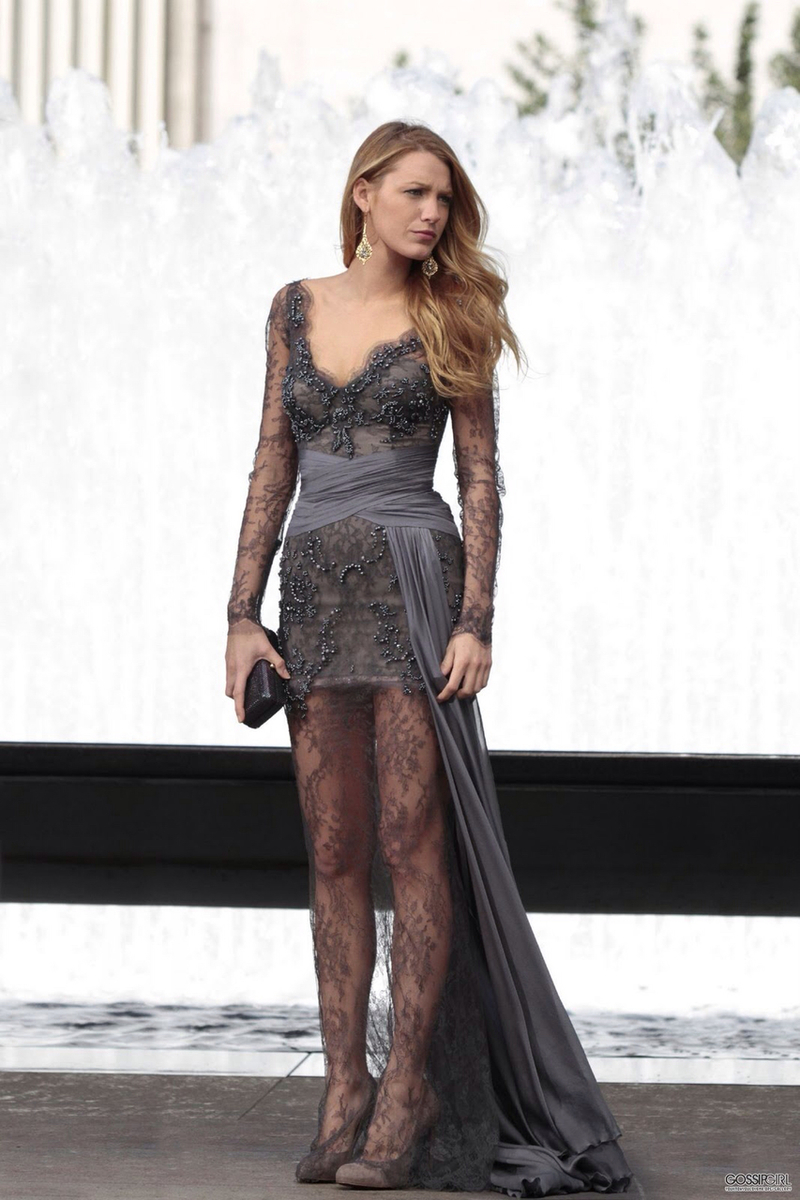 This dress screams it-girl! It highlights the cleavage and the skin in an elegant and sophisticated way that would be appropriate for a ball or a New York event! I'm in love with all the beaded details and the lace sleeves. After all, who could forget that jaw-dropping dress from Zuhair Murad?
9. Jenny's gothic uniform
Speaking of Little J's style evolution… she rocks this rebellious e-girl look! Jenny is dressed in a way that is completely different from the other Constance girls. Sounds like a full character ark, considering that in season one all she wanted to do was look like Blair's minion! In this episode, she decided to wear a basic black top and jacket and paired it with pops of color, like her red handbag and metallic boots. This look was actually inspired by the evolution of Taylor Momsen's personal style! As Queen B herself says – "she's the goth barbie of NYC!"
10. Blair's Prom Dress
This is perhaps the most meaningful and romantic outfit worn on Gossip Girl! Chuck, who is secretly in love with Blair, decides he wants to make sure Blair has the magical prom she's dreamed of since she was little! This includes making sure she's prom queen, buying her dream dress, booking the penthouse at the Plaza, and sabotaging her corset because he thought she looked better without it. He anonymously sends her this black Marchesca prom dress which is perfect for a prom queen! The Gossip Girl costume designer told E-Online, "A Simon Tu tiara crowns him with sparkling crystal rosettes. Simon is one of NYC's best kept secrets; her beautiful boutique is a gem and only a stone's throw from Bloomingdale's." This strapless black prom dress with a gold peacock design is sure to go down as one of the best looks in Gossip Girl history!
What outfit did you prefer? Who do you think has the best gossip girl style?