More than ever, the fashion world is ever-changing, with new trends being introduced seemingly every week; from classic throwbacks being brought back in style to edgy modern looks, there is always a way to express ourselves in our own one-of-a-kind ways.
If there ever was a brand to not only stay on top of all the trends but generate it themselves, it would be none other than one of the most beloved brands on the internet, Princess Polly. The go-to place for all the hottest pieces of the season, the brand is all about the effortlessly put-together it-girl vibes.
Shop Princess Polly at princesspolly.com.
The adorable trends we all love may seem too fast-paced for the fashion world, but Princess Polly is here to integrate sustainability with style. With their Sustainably Made Collection, the brand is making an applaudable effort to keep our planet safe while looking cute and chic.
From the everyday must-haves like crop tops and summer-ready tanks to even romantic dresses perfect for a memorable night out, Princess Polly is redefining the definition of fashion.
Saving Our Planet With Style
Fashion doesn't have to be negative for our planet; when carried out with a conscious mission, anything can be possible. Take Princess Polly's sustainability efforts: through tangible impact, the brand is here to make a change to keep our earth stylish and clean.
"Our mission is to make on-trend fashion sustainable and accessible."
"We're making on-trend, sustainable fashion accessible to everyone by rebuilding our entire supply chain to source all of our products sustainably," says Princess Polly, "We're also doing our bit in the movement for positive lasting change in our industry, to put people, the planet and community first."
From using organic materials and lower-impact materials, ethical manufacturing, 100% recyclable packages made with recycled materials, hundreds of thousands of dollars donated each year, and empowering thousands of women, Princess Polly is genuinely turning fashion into an outlet of good for the world. To learn more about the brand's mission, click here.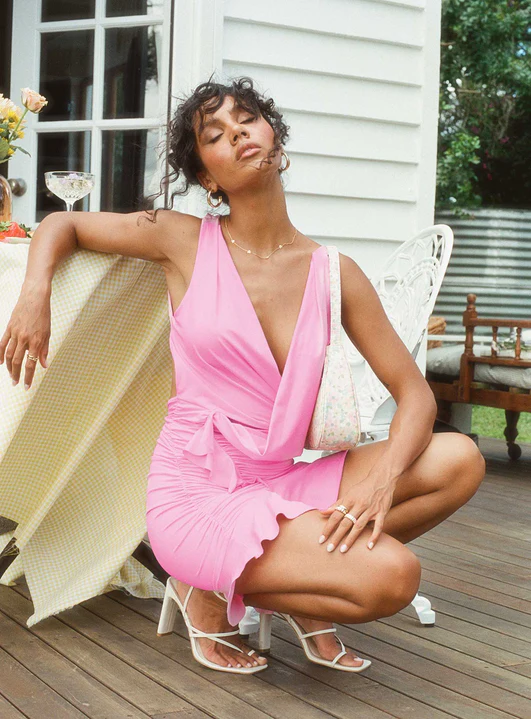 The Sustainably Made Collection has a stunningly wide variety of adorable pieces, and we couldn't love them more for their do-good impact and their chic designs. This summer, fill your closet with the best of today's trendiest styles while remaining friendly to our planet with Princess Polly's latest and cutest sustainable pieces!
The Organic Tilly Top
The sunny days of summer are calling; step out into happy, laid-back days with the cutest white tank!
Shop the Organic Tilly Top in Off White here.
This crop top is all about the romantic, daydream-like look. A modernized version of the trendy countryside style, this top features ruffle detailing at the top of the square neckline. The bust has a gathered detailing to give it a stunning, accentuated look.
I especially love how this piece is simple with an all-white look but is also filled with adorable designs. It's the perfect combination of flirty and chic!
I love how easy this piece is to wear; the elasticated neckline and fixed straps make it so easy to slip on.
Not only that, it's also easy and versatile to style with any bottom pieces! Pair this top with your favorite floral midi skirt or denim shorts, and you're all set for a gorgeous day out in the sun.
The Organic Classic Tank Top
If you're looking for the best easygoing tops for both nights out and for days in, look no further than Princess Polly's Organic Classic Tank Top. This must-have tank top is the most versatile piece ever, and looks effortlessly cute!
Shop the Organic Classic Tank Top in Red here.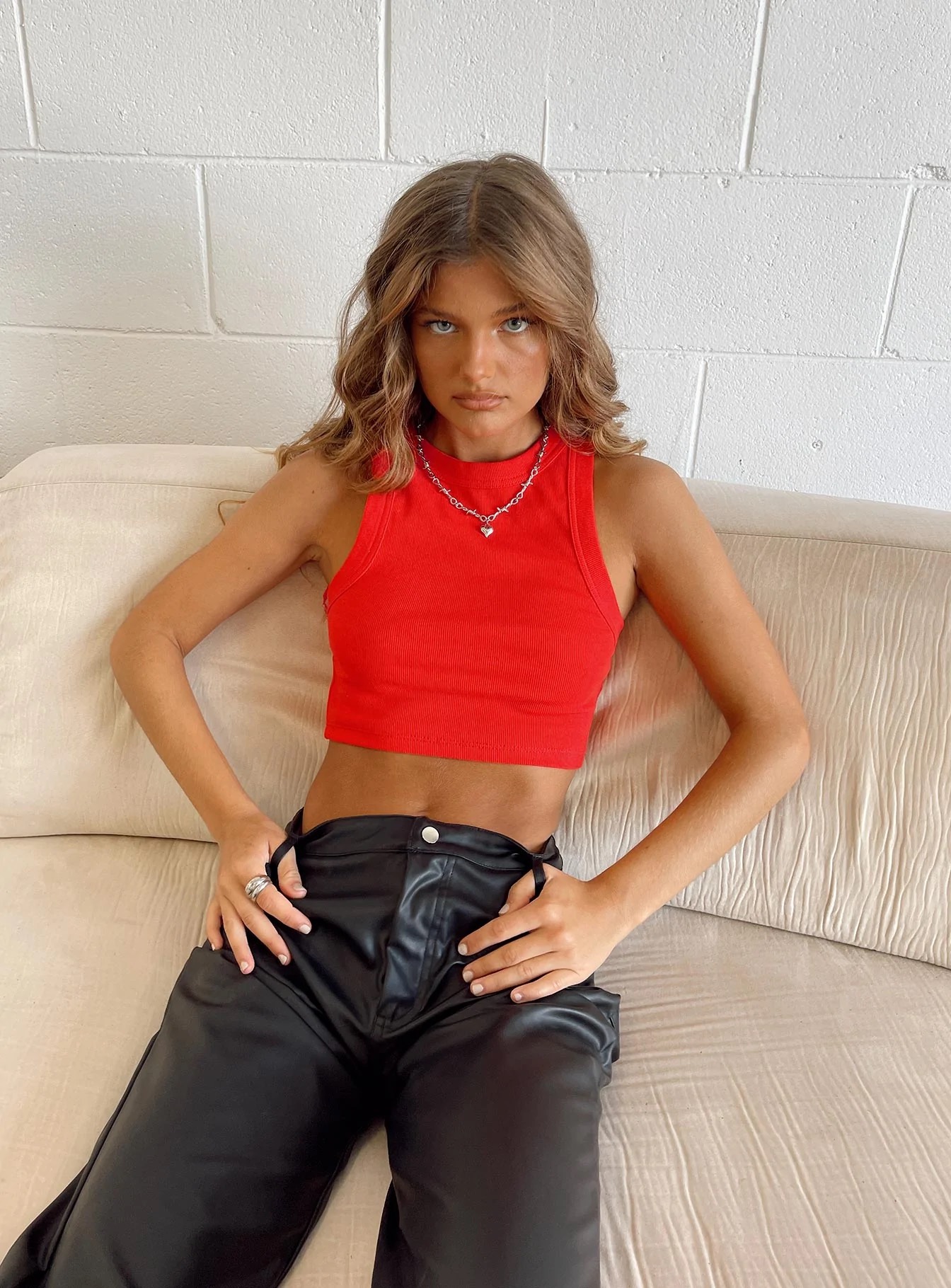 This slim-fitting tank top is the most comfortable piece ever. I love the simple look it has; with a rounded neckline and racerback style, it is the most timeless tank top design ever. The cropped length gives it a touch of modernity.
This tank top fits so flatteringly and looks so good without even trying. The red shade is a bright, bold shade that will instantly make you feel confident and pop with color!
This tank top is made with 95% organic cotton 5% elastane- and is completely committed in the quality of its fabric, as it is "cotton grown with no non-organic pesticides, herbicides & fertilizers."
Wear this top with your favorite dark denim shorts or a frilly white skirt, and you're all set!
The Frankie Cropped Sweater
It may be summer, but you'll always need a little sweater to throw on for the sudden chilly moments.
Shop the Frankie Cropped Sweater in Cream here.
The Frankie Cropped Sweater is so effortlessly modern that it won't compare with the other sweaters. This gorgeous sweater is made with the fuzziest, softest knit material and feels like wearing a hug.
This white sweater features a vertical white lined texture all over; the simple print makes it so that all focus goes to the silhouette of the shop-length-long-sleeve design.
It's so comfortable, and it feels even better to know that it's made with sustainable materials such as 97% recycled post-consumer polyester and 3% conventional elastane.
This sweater has a relaxed fit, but can be sized to fit more snugly. Either way, the cropped length makes it perfect to pair with your favorite pair of high-waisted trousers. It's all about the laid-back, business casual looks with this one!
The Celena Mini Dress
We're spending our summer days dreaming… and this lovely pink dress is fit for the dreamiest fairytale. Meet the Celena Mini Dress: a pale pink, blushing dress, this piece is just such a sweetheart.
Shop the Celena Mini Dress in Pink here.
The dress immediately captures your attention with a cowl neckline, and I love how it has a flirty yet chic vibe. The dress then follows into a slim-fitting dress that has a skater-style flare around the hem, making it a cute mini.
With an open back that's crisscrossed over with a lace-up fastening, the Celena Mini Dress is all about taking in the spotlight. The ties in the back make a large cross-over with another smaller one at the bottom.
This mini dress is perfect for pictures; with its soft material, it looks as if it's a silk dress and has a pretty flow to it. Plus, with its invisible zips at the side, it's secure while never showing anywhere!
I love that it's made with 100% Recycled fibers, and that it is friendly for the environment! The fabric makes this one of the softest dresses ever, and the flattering fit is everything.
The Organic Zia Flare Pants
When it's time to make a statement, look no further than the Organic Zia Flare Pants. This all-black denim is all about the edgy, cool-girl look. It's giving total rockstar's girlfriend vibes!
Shop the Organic Zia Flare Pants in Black here.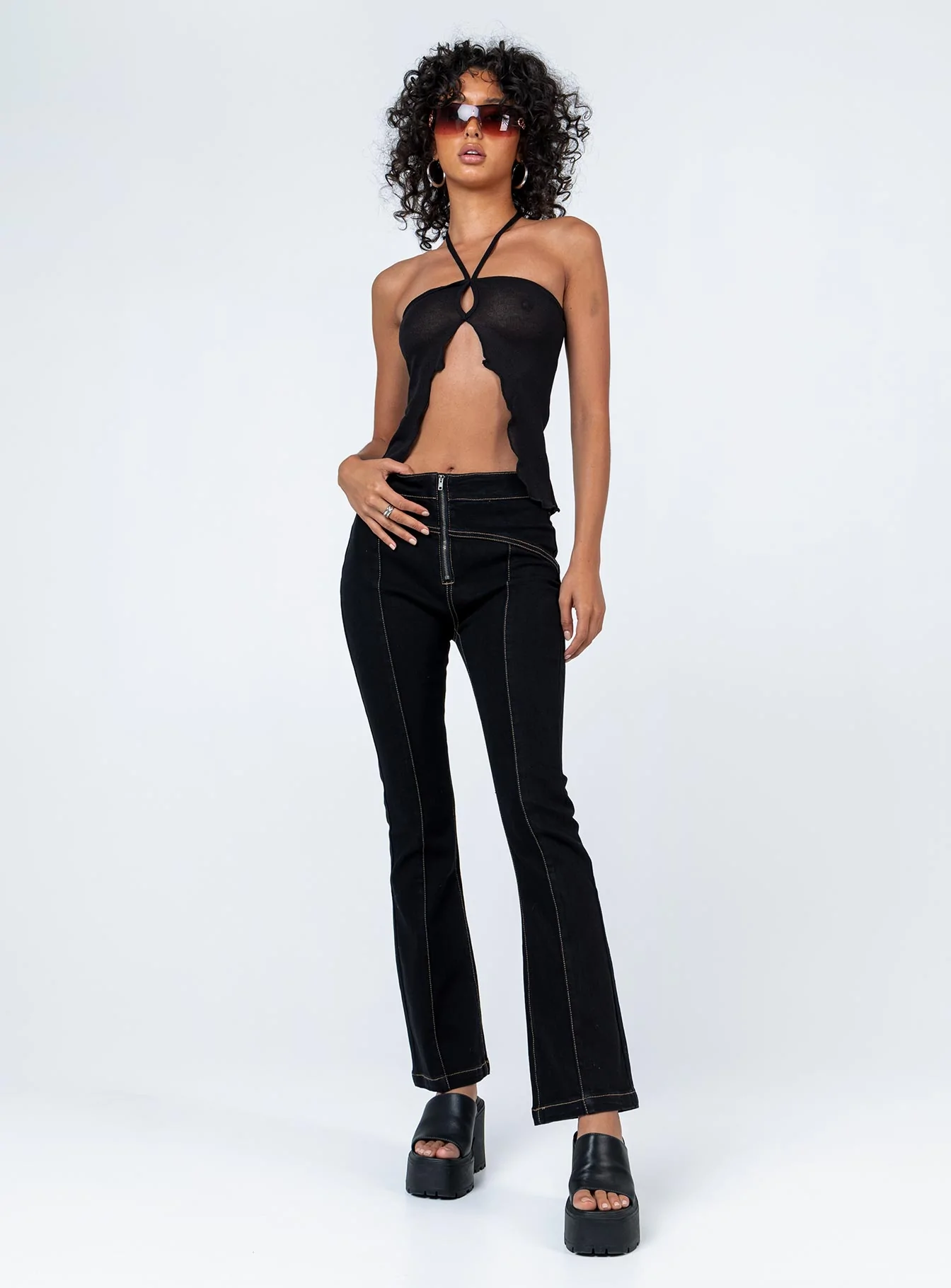 This Princess Polly Exclusive piece features black denim with an interesting-to-look-at design. In gold-like contrast stitching, there are lines that go over the jeans, giving it a cool geometric look. I love how the lines give the pants perspective and accentuate the silhouette.
These jeans are anything but old and classic; with a completely modern zip fastening that reaches all the way to the top, these jeans aren't your average pair. I love that the tall zip almost functions as a design, and how comfortable it is!
The jeans are also so comfortably stretchy, and almost feel like structured jeggings. It's so easy to wear these out to just about anywhere and is so much easier to move around in than your standard jeans.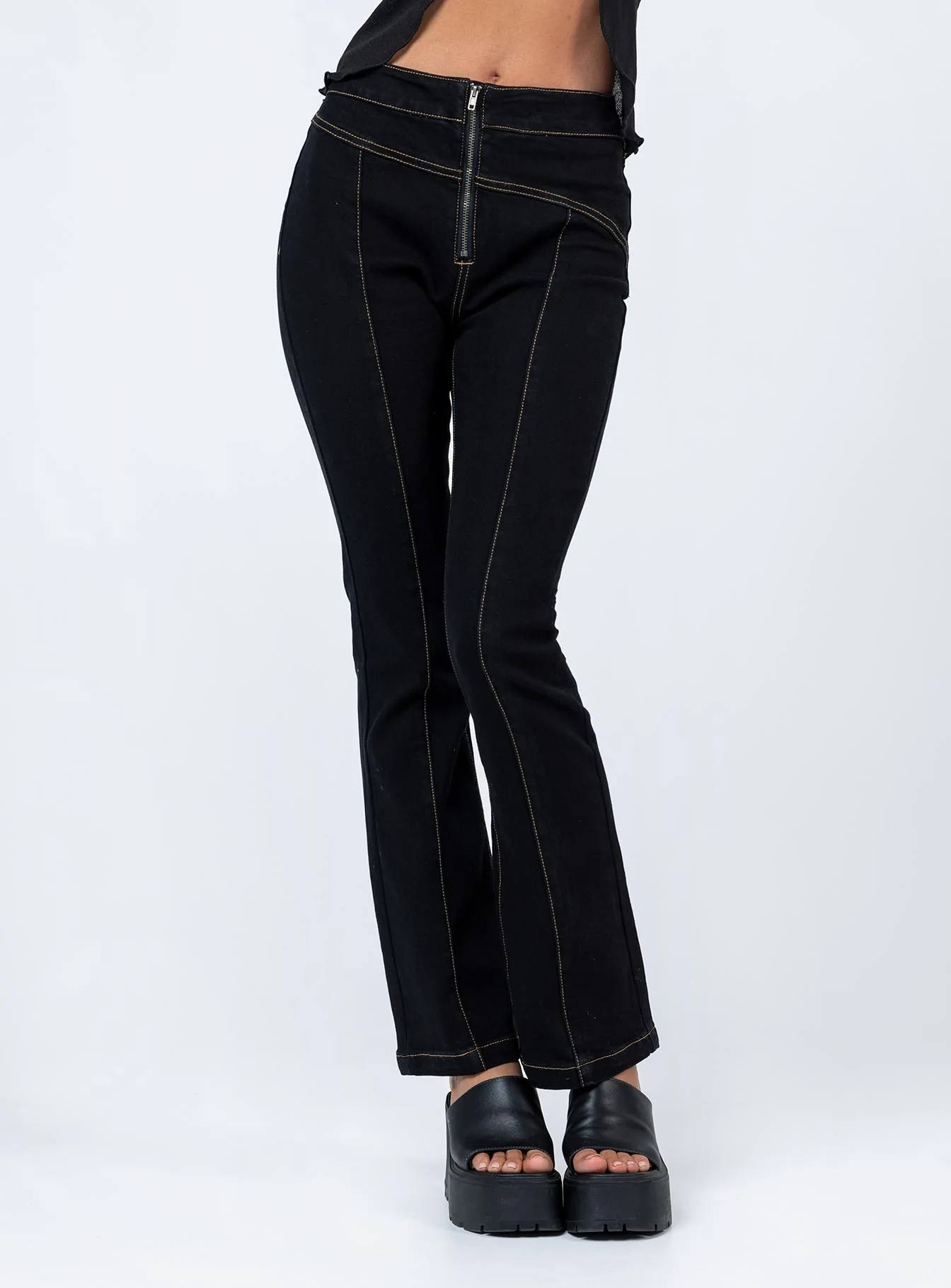 These jeans have a slight flare at the end that isn't too dramatic but is just enough to be a show. Complete with a Princess Polly patch at the back, these jeans are all about having some fun!
The Organic Take Care Charity Baby Tee
Simple and bold is the ultimate combination for getting an important message across- and the Organic Take Care Charity Baby Tee embodies exactly that.
Shop the Organic Take Care Charity Baby Tee in White here.
This minimalist white baby tee features an eye-catching design that is sure to spark a significant conversation for saving our ocean. It's also wonderful knowing that "100% of sales from this collection will be donated to the charity 'Lonely Whale' supporting their work in Ocean Conservation."
In an all-over white top, the front of the tee features a faux fur graphic print that features the number "52" in a stylish design. The number is actually Lonely Whale's logo; the number symbolizes the 52 Hertz Whale, also known as the loneliest whale in the world.
I love how the graphic print has a baby blue fuzzy texture to it, and it also feels like a teddy fabric!
The shirt's design is more than just a cute number, however; it's about signifying support for our planet and advancing conversations that need to be held.
The 100% organic cotton fabric is comfortable and breathable, and I love that it's a genuinely well-made quality that will last for a while. I love how it's so effortlessly a vibe of its own, and how versatile it is!
The Organic Protect Charity Baby Tee
Showing your support for our planet can be chic, too! This adorable baby tee not only features an informative graphic, but also supports charity for a good cause. That's what we call multi-purpose at its most stylish!
Shop the Organic Protect Charity Baby Tee in Green here.
The Organic Protect Charity Baby Tee was made in collaboration with Lonely Whale, an organization dedicated to "prevent[ing] plastic waste from entering the ocean." 100% of sales from this piece will be donated to Lonely Whale.
This cute baby tee features a cute graphic on how to help our ocean, with helpful tips such as recycling, cleaning beaches, and so much more. I love that it displays advocacy with an accessible design!
The graphic design, paired with blocky text, makes for a simple-to-read and minimalistic look.
The tee has a flattering slim fit, and I love how the 100% organic cotton material is so comfortable to wear. The deep forest green color is also gorgeous, and this pretty shirt is such a stylish way to show your support for the ocean!
The Kerri Top
The absolute essential that every closet needs? A neutral tee that's good to go for everywhere and anywhere. Namely, a black crop top called the Kerri.
Shop the Kerri Top in Black here.
This long sleeve top is genuinely the most comfortable thing ever. The top is made with recycled fibers, and I love how it's snug without being tight. It has a wonderful stretch to it, and the fabric has a ribbed material, which gives it a cute detail.
This top is also all about being simple while providing an opportunity to add any accessories. The wide neckline is perfect for any of your favorite necklaces, which pops against the all-black hue.
I love how lightweight the Kerri Top is; it's perfect to wear for all seasons and makes the perfect base to layer with anything!
The Myah Mini Dress
The internet is in love with the corset look and the color green for dresses- so why not combine both? The Myah Mini Dress takes the best of both worlds with its jaw-droppingly gorgeous design and silky look.
Shop the Myah Mini Dress in Green here.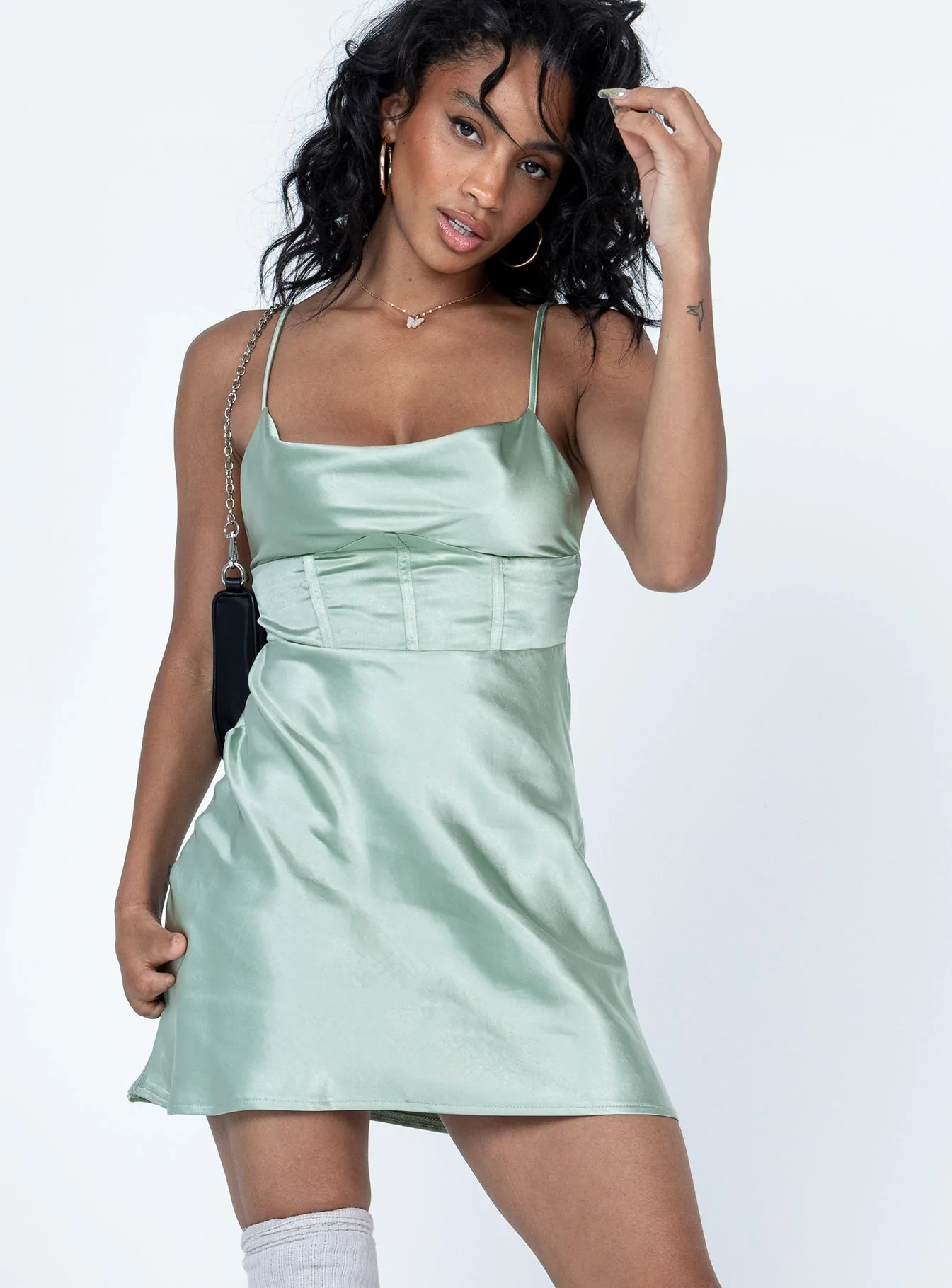 This Princess Polly Exclusive mini dress features a cowl neck that creates an intriguing neckline that follows into a corset waist. I love that the corset look features rigid vertical lines that are classic to the corset style.
The back of the dress is a simple thin shoulder strap, which is adjustable. Not only that, this dress is also functional as the side zips can't be visible!
What most pulls you in about the dress is the alluring fabric; with a silky, glossy look, it feels so elegant and refined while playing by the rules of the latest trends. I love that the dress is made with 100% recycled fibers, and that it's doing its part to help the planet!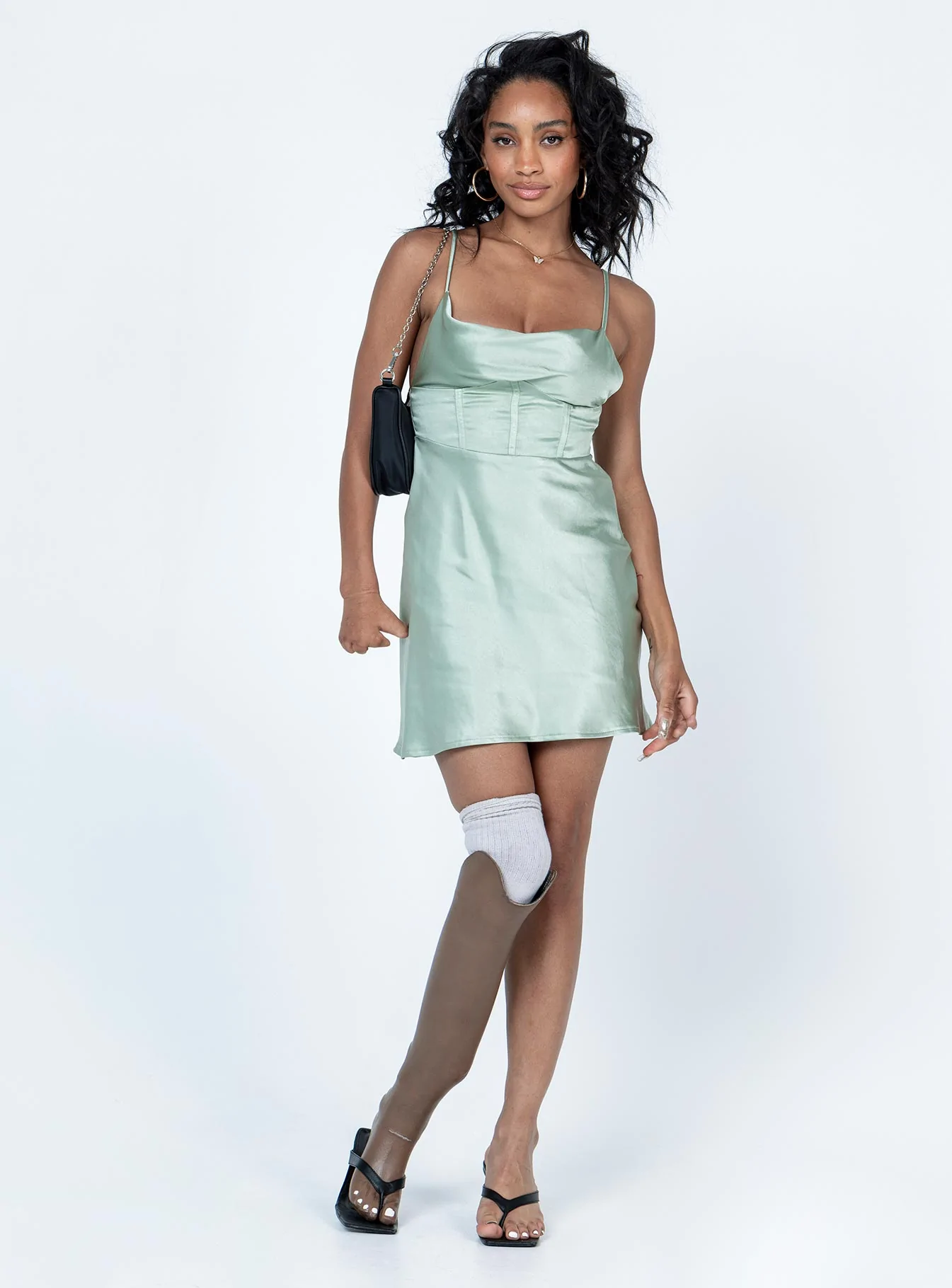 This is the perfect dress for a dance or a party, and the sage pastel green is sure to be the color of the event!
The Salde Belt
If you ever need to fashionably style your pants to be functional, the Salde Belt is the perfect go-to for an eye-catching accessory.
Shop the Salde Belt in Black/Gold here.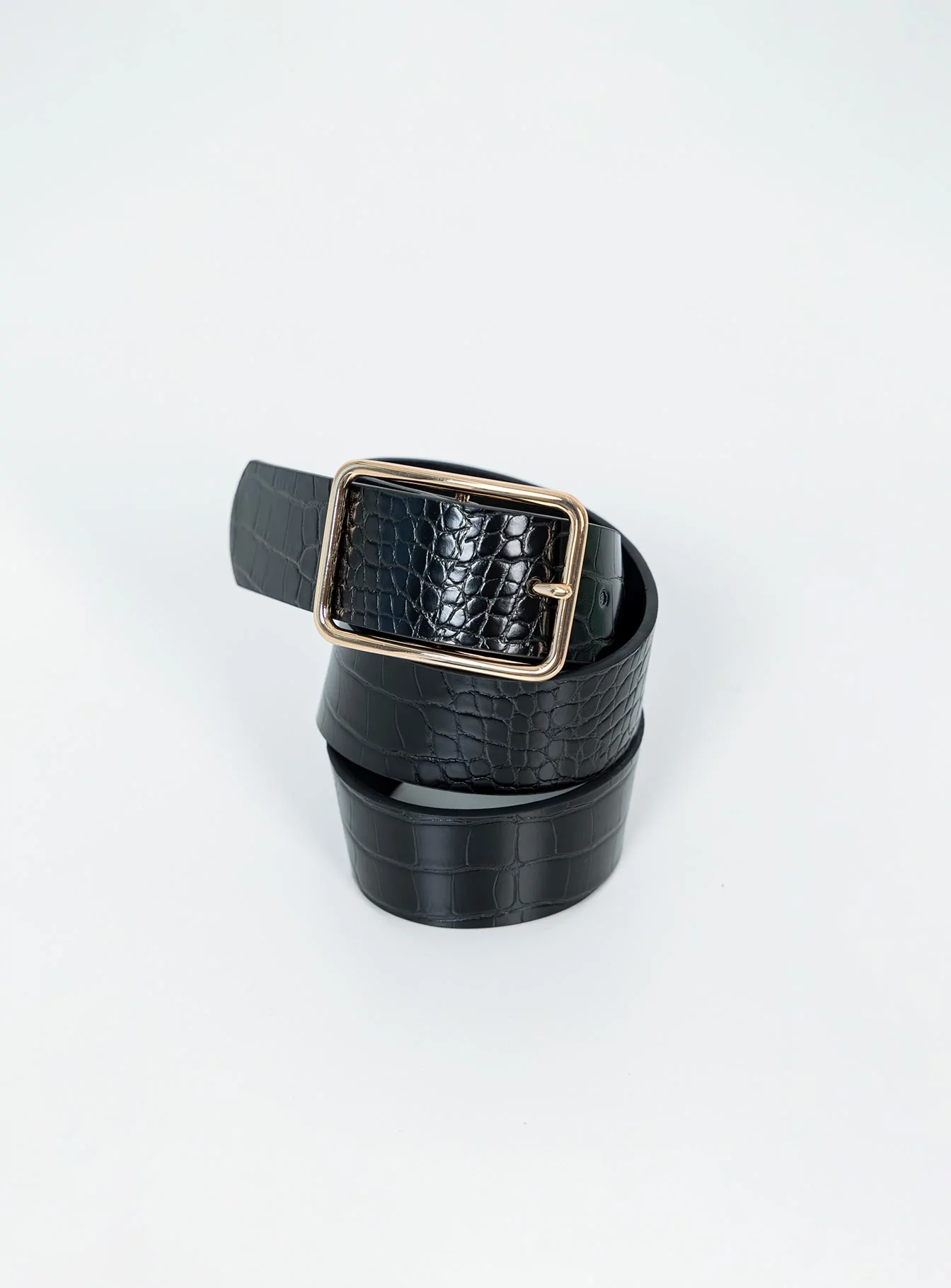 This Princess Polly Exclusive belt is all about the details with a classic yet attention-grabbing buckle. From the standout glossy black croc print to the metallic buckle, this belt is oh-so-trendy but never out of style.
The belt is on the thicker side, which makes it sturdy enough for the majority of all pants while making it a stylish accompaniment for everything from denim shorts to even tee-shirt dresses.
At the center of the buckle is a gold-toned buckle fastening, which is larger than most to give it an edge.
I love that this piece is made with PETA-Approved Vegan materials, with 80% recycled PU and 20% alloy! The faux leather feels so chic and I love the quality croc print texture that it has.
Wear this out with pretty much anything with belt loops, and it'll be sure to look stunning wherever you go! It's also the perfect piece to accessorize with other leather designs.
The Layland Mini Dress in Black
It's time to party into the night and make memories that will make memories that last forever- and this little black dress will make you shine throughout the night.
Shop the Layland Mini Dress in Black here.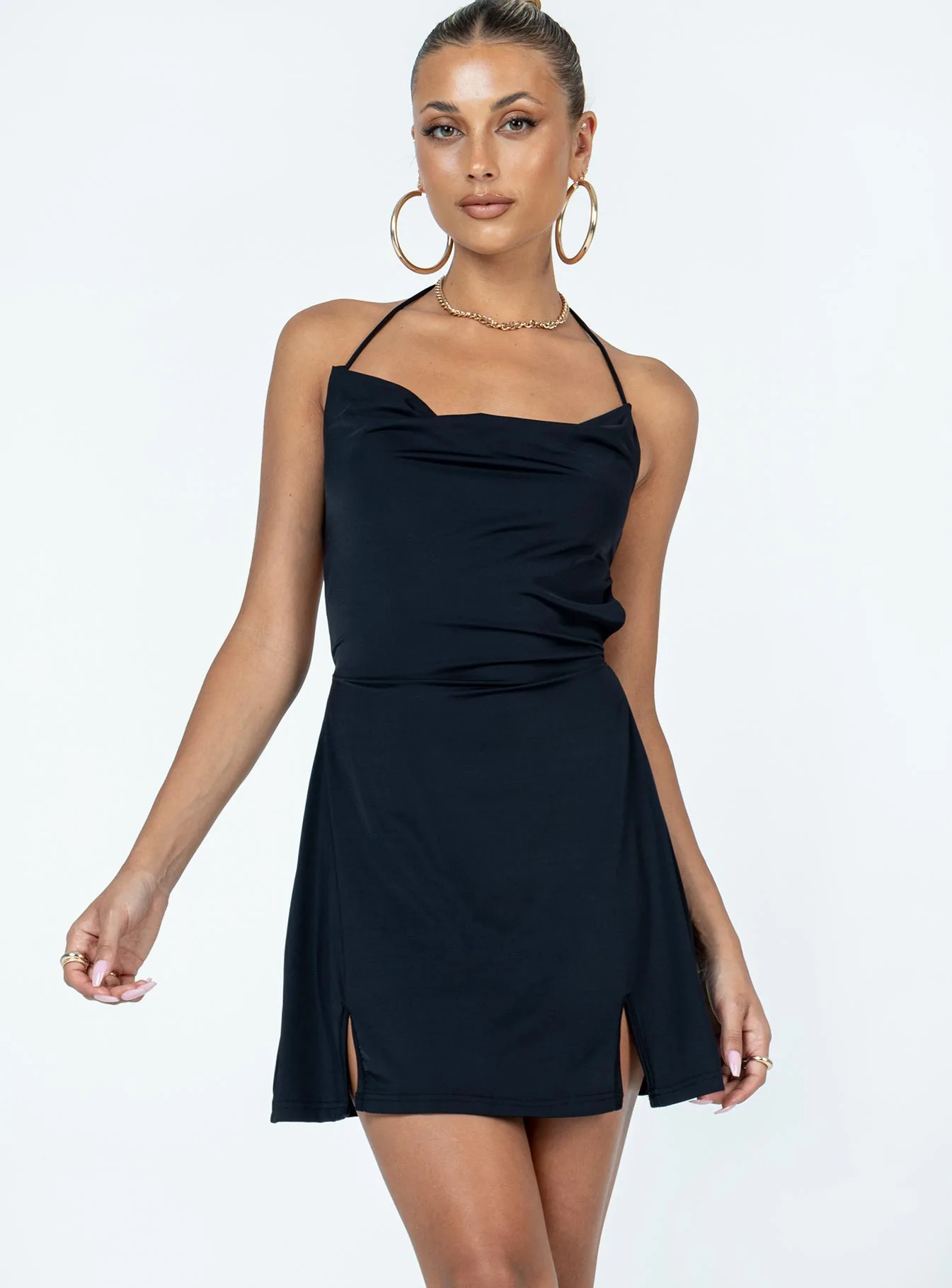 This adorable mini dress features an eye-catching cowl neck that is put together by a halter neck tie fastening. The halter tie connects to an open back, which makes this dress perfect for parties and fun events.
The back has a sturdy, elasticated back strap across the center of the back. The skirt section of the skirt has an elastic lining as well to secure the low back. I also adore the slits at the hem; this cute little design really adds onto the little-black-dress vibe of the Layland Mini Dress. Everything about this dress screams for an eye-catching look on the dance floor!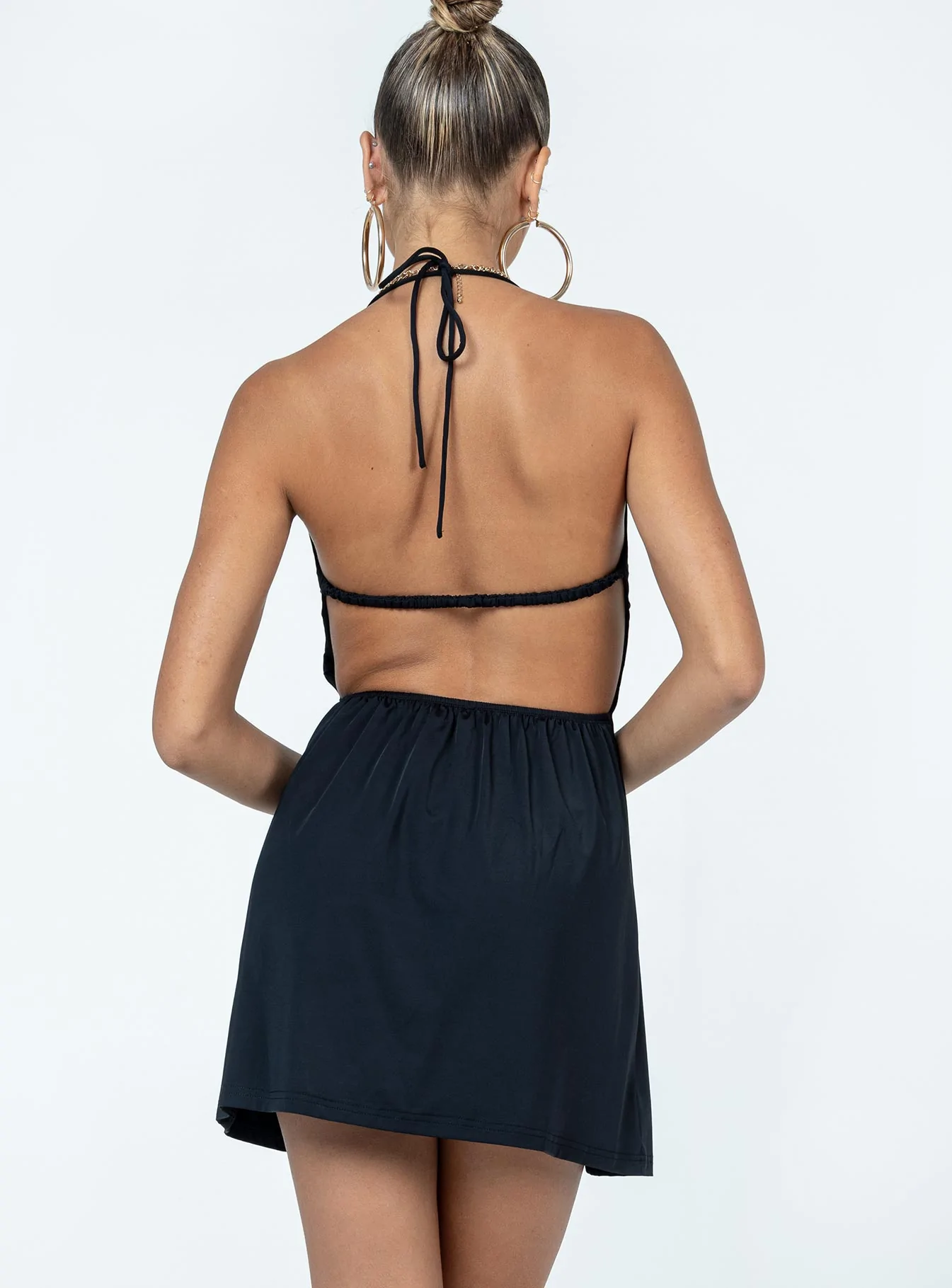 I love the slinky, movement-friendly fabric that this dress is made with; made with 88% recycled nylon 14% elastane, this fabric is cool to the touch.
Wear this out for a night you won't forget- and pair with your favorite eye-catching accessories that are sure to look gorgeous with the all-black dress!
Keep Up With Princess Polly
Be sure to keep up with Princess Polly on all socials to stay posted with their latest collections and hot girl summer outfit inspirations! Find Princess Polly on Instagram at @princesspollyboutique, TikTok at @princesspolly, and Snapchat at @princesspollyau.