Struggling to decide how to get in the party mood? What could be better than a homemade meal to celebrate this beautiful season with friends and family! Here are some go-to recipes to help get you and your loved ones in the festive mood:
Snicker cinnamon cookies doodle
Ingredients
For 24 cookies
¼ cup) sugar
2 tablespoons ground cinnamon
1 cup (0.24 L) softened butter
2 teaspoons vanilla
1 cup (0.24 liters) sugar
⅓ cup brown sugar
2 eggs
3 cups (0.71 L) flour
1 tablespoon of cinnamon
2 teaspoons cream of tartar
1 teaspoon baking soda
¼ tsp salt
Preparation
Preheat the oven to 375˚F (190˚C).
In a small bowl, stir together sugar and cinnamon until evenly incorporated. Put aside.
In a large bowl, whisk the butter with the vanilla until light and fluffy.
Add sugar and brown sugar and mix until well incorporated.
Add the eggs and stir until well incorporated.
Using a sieve, add the flour, cream of tartar, cinnamon, baking soda and salt and sift into the batter. Mix until homogeneous.
Cover with plastic wrap and refrigerate.
Using your hands, roll the dough into ping pong sized balls.
Dip the dough into the cinnamon sugar mixture and roll out, completely covering the ball of dough.
Place cookie dough on a baking sheet lined with parchment paper and bake for 10-12 minutes.
Let cool and serve.
Source – https://buzzfeedtasty.tumblr.com/post/166272252774/soft-and-chewy-snickerdoodle-cookies-ingredients
Not only is this cookie deliciously soft and chewy, but it reminds you of the fresh, crisp air of fall. Pack it in a box and go for a long walk in the beautiful surroundings of the season and find a place that complements this fall package.
Pumpkin pie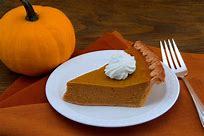 Ingredients
Pastry
1 1/3 cups (175 grams) all-purpose flour
1/2 teaspoon (2 grams) salt
1 tablespoon (15 grams) white granulated sugar
1/2 cup (113 grams) cold unsalted butter, cut into 1-inch (2.5 cm) pieces
3 to 4 tablespoons of ice water
Layer of pecans and ginger (optional)
1/4 cup (25 grams) pecans
2 tablespoons (15 grams) crushed ginger biscuits (homemade or store bought
Pumpkin filling
3 large eggs (150 grams), at room temperature
1 to 15 ounces (425 grams) pure pumpkin puree (no added spices)
1/2 cup (120 ml/grams) heavy whipping cream, at room temperature (cream with 36-40% fat content)
1/2 cup (100 grams) light brown sugar, firmly packed
1 teaspoon ground cinnamon
1/2 teaspoon ground ginger
1/8 teaspoon ground cloves
1/8 teaspoon freshly grated nutmeg
1/2 teaspoon (2 grams) salt
Whipped cream
1 cup (240 ml/grams) cold heavy whipping cream (cream with 36-40% fat content)
1 to 2 tablespoons (15 to 25 grams) granulated white sugar or pure maple syrup, or to taste
Preparation
Pastry
In your food processor, place the flour, salt, and sugar and blend until combined. Add the butter and mix until the mixture resembles coarse flour (about 10 seconds). Sprinkle about 3 tablespoons of water over the flour mixture and mix until the dough comes together when pinched.
Turn your dough over on your work surface, gather it into a ball and flatten it into a circle. Cover with plastic wrap and refrigerate for about an hour or until firm
Once the dough has cooled sufficiently, remove it from the refrigerator and place it on a lightly floured surface. Roll the dough into a 12 inch (about 30 cm) circle. Loosely roll the dough around your rolling pin and transfer to a 9 inch (about 23 cm) pie pan.
Bake at 375 degrees F (190 degrees C) until golden brown (about 10 minutes). Used to decorate baked pumpkin pie.
Layer of Pecans and Ginger
Toast the pecans in a 350 degree F (180 degree C) oven for about 8 minutes or until lightly browned and fragrant.
Allow to cool then place the pecans, along with the ginger snaps, in a food processor and pulse until finely ground.
Press this mixture evenly onto the bottom of the unbaked pie crust. Cover and return the dough to the refrigerator while you preheat the oven
Increase the oven temperature to 375 degrees F (190 degrees C) and place the oven rack in the lower third of the oven. Place a baking sheet on the rack while the oven preheats.
Pumpkin filling
In a large bowl, lightly whisk the eggs.
2. Add remaining ingredients and stir to combine. Pour the mixture into the prepared pie shell.
3. Place the pie on the baking sheet and bake for about 40-50 minutes or until the crust is golden brown and the filling is set around the edges, but the center of the pie will still look wet.
Whipped cream
In the bowl of your electric stand mixer fitted with the whisk attachment (or a hand mixer or wire whisk), whip the cream with the sugar until soft peaks form.
Source – https://www.joyofbaking.com/pumpkinpie.html#ixzz6cMmDAfLh
A typical family dessert, pumpkin pie is the best way to celebrate the start of this season.
Vampire smilies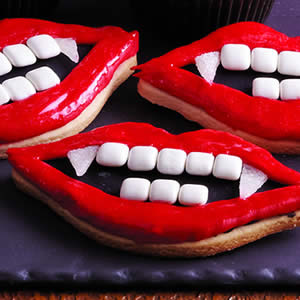 Ingredients
For 4 servings
1 apple
12 mini marshmallows
2 tablespoons creamy peanut butter
Preparation
Cut the apple into eight wedges, creating lip-sized pieces.
Cut 3 mini marshmallows in half crosswise and 1 in half diagonally.
Spread peanut butter on one side of an apple slice, then stick the cut marshmallows on the peanut butter to create a creepy smile. Spread peanut butter on another apple slice and place it over the marshmallows to create a mouth.
Repeat with remaining ingredients to create 3 more vampire smiles.
Source: https://tasty.co/recipe/vampire-smiles
A spooky Halloween dessert for a party with you and your friends on October 31, vampire smileys are a tasty way to not only recreate a typical autumnal feeling of spookiness, but it also lets you connect with your child. interior.
homemade apple cider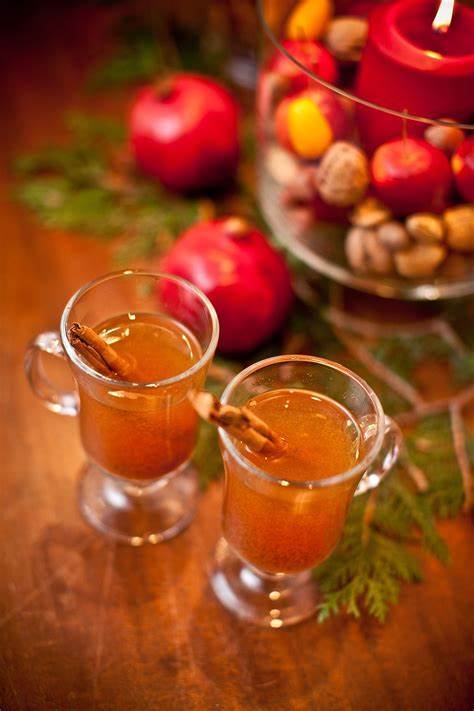 Ingredients
For 10 servings
12 gala apples or Fuji apples, cored and cubed
2 green apples, cored and diced
3 cinnamon sticks
1 ginger, thumb-sized, peeled
2 teaspoons whole cloves
1 pinch of kosher salt
8 cups of water (1.9 L)
1 cup of brown sugar (220 g)
Preparation
Place apples, cinnamon sticks, ginger, cloves and salt in an 8-quart (7.5 L) slow cooker. Pour the water over the apples.
Cover and cook over high heat for at least 8 hours or overnight (up to 24 hours).
Remove solids from cider by squeezing the pulp to extract as much liquid as possible.
Whisk brown sugar until dissolved.
Serve hot or store in the fridge to serve later. Reheat before serving.
Source: https://tasty.co/recipe/apple-cider
Fall is incomplete without apple cider, of course, and what better way to add some hearty flavor than to make it yourself?
Winner winner chicken dinner!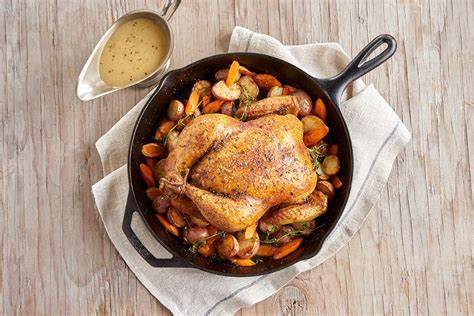 Ingredients
For 2 servings
4 tablespoons olive oil, divided
3 garlic cloves, minced
1 tablespoon fresh thyme, finely chopped
1 tablespoon fresh rosemary, finely chopped
1 tablespoon fresh sage, finely chopped
4 boneless, skinless chicken thighs
½ teaspoon of salt
½ teaspoon of pepper
1 sweet potato, cubed
1 lb (0.45 kg) Brussels sprouts (455 g), trimmed and halved
½ red onion, chopped
4 slices of bacon, chopped
Salt, to taste
Pepper to taste
Preparation
Preheat the oven to 400°F (200°C).
In a plastic zip lock bag, add 2 tablespoons of olive oil, garlic, thyme, rosemary and sage.
Place the chicken thighs on top and season with salt and pepper.
Close the bag and massage to coat the chicken well. Refrigerate.
On a baking sheet, place the chopped sweet potato, Brussels sprouts and red onion.
Drizzle with 2 tablespoons of olive oil and season with salt and pepper. Mix to coat.
Place the chicken thighs on the vegetables and sprinkle with chopped bacon.
Bake for 30 minutes or until internal temperature of chicken reaches 165°F (75°C).
Source: https://tasty.co/recipe/one-pan-fall-chicken-dinner
The perfect fall meal for you and your loved ones to celebrate the joy of the season!
Enjoy your fall experience and Happy Halloween!