We all know the constant hassle when trying to find the best hair products that are worth the money and healthy for our overall hygiene. Thanks to the spread of beauty ideals on the internet, and being one of the most visible characteristics in a human being, having flawless hair is one of the most important dreams of many women around the world. Except that with the wide variety of items available, it is often difficult to find the "perfect" product, which gets the long list of qualifying factors.
When the use of proper products is not present, it can seriously mess up your routine and well-being, making you less confident, due to hair you are not happy with.
As for the current times, the new growing trend of natural and clean beauty has brought new demand for organic hair products in the market.
Why organic?
While you may not realize the massive benefits of going organic in hair care, by using safe alternatives instead of your typical drugstore items, you'll have the opportunity to start your path to healthier hair.
When your hair products are labeled as "organic," you should expect a high-quality item without any of the hidden ingredients like parabens, sulfates, and other toxic chemicals that would typically cause harm. By limiting the amount of these dangerous ingredients, it also has a benefit by reducing the risk of allergic reactions and damaged hair.
On the contrary, when you use non-organic products, it can create significant drawbacks, including dry or greasy hair with weak split ends. Not to mention harsh alkaline found in non-organic products that break down the protective layers of your scalp. Especially for those who are adamant about using hot tools and dying hair, using the right products is crucial. Although the cost may be higher, it is worth it in the long run for the result of strong and beautiful hair!
When searching for your favorite organic hair care products, it can seem daunting at first. So, for those who don't want to waste time researching, I've also compiled a list of 10 reliable organic hair care products to try!
1. Briogeo Farewell Frizz Rosarco Milk Leave-In Conditioner Spray
Price: $20
Hair type: straight, wavy, curly, frizzy
If you suffer from frizz and dryness in your hair, this lightweight spray will provide high quality elements to bring you softness, durability, hydration and humidity control. With added rosehip, argan, and coconut oils, it delivers a heavenly scent while working to tame annoying frizz and unruly tangles! For best results, spray liberally on damp hair and blow dry or air dry.
2. Prose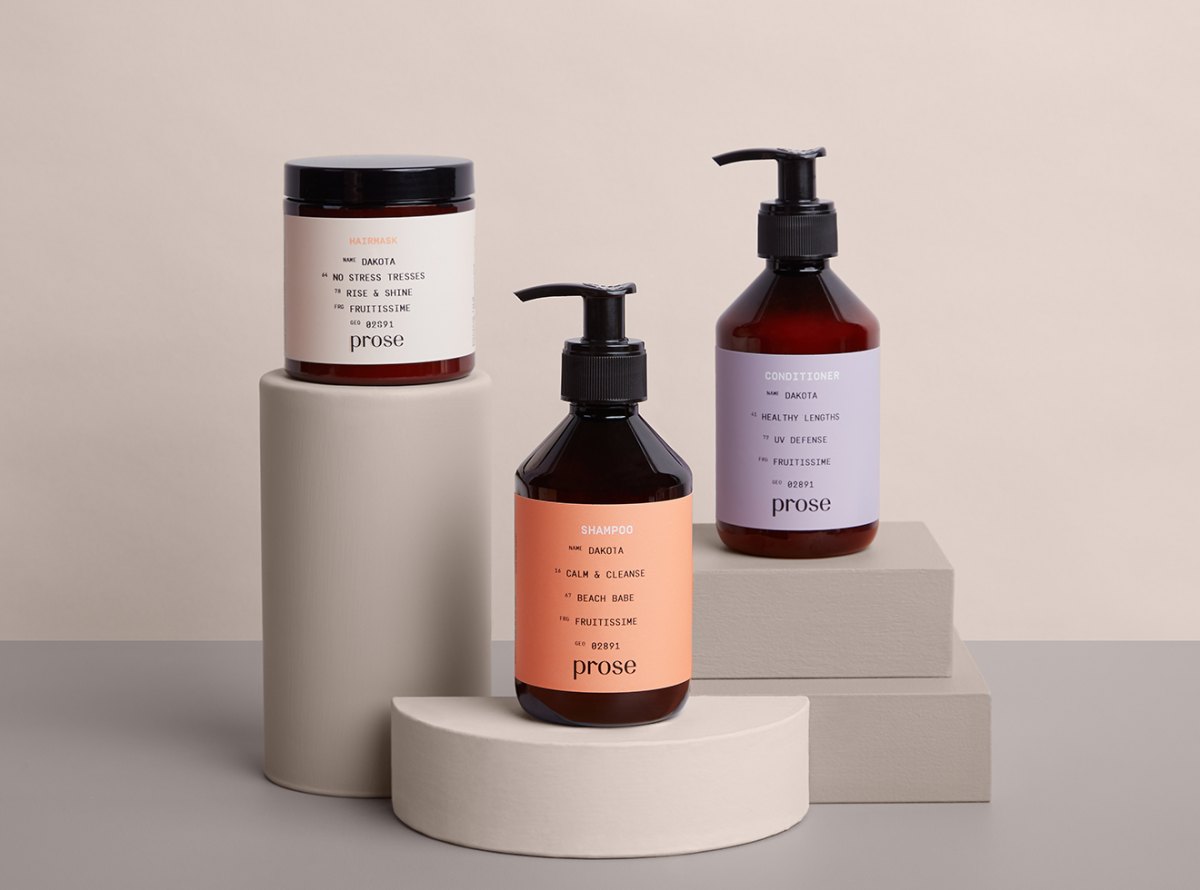 Price: $25 or more
Hair type: All
Prose offers a futuristic way to customize your own hair products with responsibly harvested ingredients. By dedicating their process without sacrifices, bringing "great hair – not trees, materials, salaries or performance", you can answer a short questionnaire based on your hair type, routine and goals to formulate the best shampoo, conditioner or mask. personalized for you.
3. Reverie RAKE Styling Balm
Price: $36
Hair type: straight, wavy, curly
This whipped styling balm helps nourish while giving your hair supple structure and definition without buildup or feeling greasy and dry. Packed with meadow moss oil, mango nut butter, and castor and pomegranate oil, this product works wonders for color-treated hair protection, shine, and voluminous texture.
4. Christina Moss Naturals Shampoo and Conditioner
Price: $20
Hair type: straight, wavy, curly, frizzy
Christina Moss' hypoallergenic, vegan formula improves the condition of your scalp and hair, without stripping or weighing down your natural oils. By lathering this rich formula from root to tip, it gets rid of frayed locks, while hydrating and deeply cleansing hair.
5. Rahua Hydration Detangler + UV Barrier
Price: $32
Hair type: straight, wavy, curly, frizzy
With a combination full of vitamins, this product allows your hair to relax, tangle-free with reduced breakage and blocks heat and UV rays. It makes your hair manageable on exhausting days, and with the healing gains, you'll feel better than ever!
6. Adwoa Beauty Baomint Deep Conditioning Treatment
Price: $36
Hair type: straight, wavy, curly, frizzy
After trying this Holy Grail item, you won't look back! With the cooling and soothing effects that come with the eclectic fusion of mint oils, this thick conditioning treatment is sure to delight everyone. Recommended for weekly use, the extra hydration and dryness relief has shoppers rushing to grab this product before it sells out!
7. Shea Moisture Coconut Hibiscus Curl Enhancing Smoothie
Price: $14
Hair type: wavy, curly
The praise on this curl-enhancing smoothie is not a hoax under these circumstances. With the curl-defining formula, it keeps curls shiny, silky and in good condition. For styling hair, this product works wonderfully with twists, braids, and wash-out styles while providing a long-lasting scent.
8. Captain Blankenship Organic Mermaid Sea Salt Hairspray
Price: $24
Hair type: All
Have you ever spent hours of your time trying to figure out how to get that perfect wave and tousled beach look? I have to admit, this salt spray lives up to its expectations! With the naturally derived ingredients of Atlantic sea salt, aloe vera, sea kelp extract and essential oils, all it takes is a few spirits and a few swipes to achieve a nourished scalp and the texture you are looking for.
9. Seed Phytonutrient Volume Shampoo
Price: $18
Hair type: All
Accompanied by the "addictive" aroma of garden mint and vanilla, this shampoo meets all expectations with fine hair types. Thanks to organic oils and rice proteins, it stimulates and grows your hair with the advantage of a highly sustainable packaging design. By locking in moisture, you can ensure a smooth, fresh texture straight out of the shower. If you didn't already know, Seed Phytonutrients uses shower safe recycled paper and cardboard with an extra packet of diverse seeds inside each bottle so you can grow your own plant!
10. R+Co Badlands Dry Shampoo Paste
Price: $35
Hair type: All
Made with just five ingredients, including Hawaiian-sourced volcanic ash, coconut oil from Brazil, zeolite produced in Japan, and argan oil grown in Egypt, this R+Co formula works to balance, define, cleanse and repair. With its matte finish on second-day hair, this product's design is also technically, a two-in-one, functioning as a dry shampoo and styling paste.
Take care of your hair
This list is just the start of your new journey into organic hair care. Going forward, feel free to take a chance on experimenting yourself so you have a personalized variety of products to recommend! When researching your organic hair products, remember to look for the USDA certified organic label to ensure you are getting an authentic item that is not falsely advertised.