A true statement: the hydration of your skin is much more important than you probably think.
The cold dries the skin, which can hold severe consequences. I know of this firsthand- this winter, my skin dried out badly, which caused some painful skin peeling and chapped lips.
I'm here to tell you this for certain: hydration of your skin is much more necessary than you think, and Cocunat will literally save you. Actually.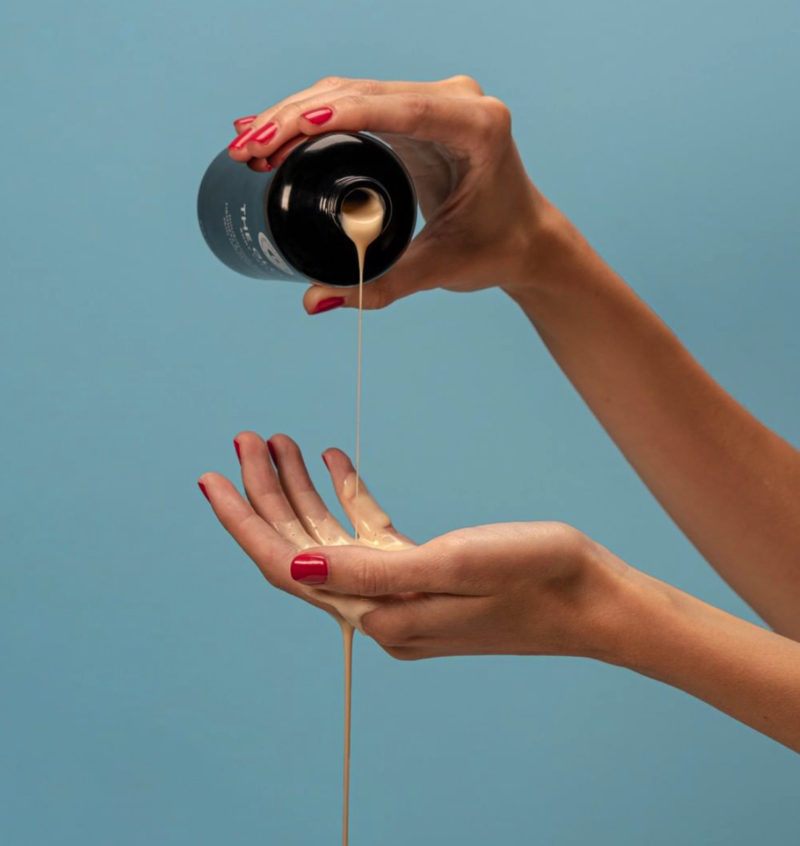 What might be sincerely one of my all-time favorite skincare brand that shows real results and is genuinely clean and pure good, Cocunat is something I can trust completely.
Shop Cocunat at cocunat.com
If I were to leave my skin's care in the hands of anyone, it'd be Cocunat- it's such an excellent investment for your skin.
Eye Contour
Late nights have been common for me lately- and so have the eye bags that come with it. At first, I wasn't too concerned, but I've discovered quite a few things:
For one: your eyes will likely get puffy and uncomfortable in the morning, and two: dark circles are difficult to get rid of.
I was feeling a bit lost, until I found hope with Cocunat's Eye Contour, which provided solutions for exactly that.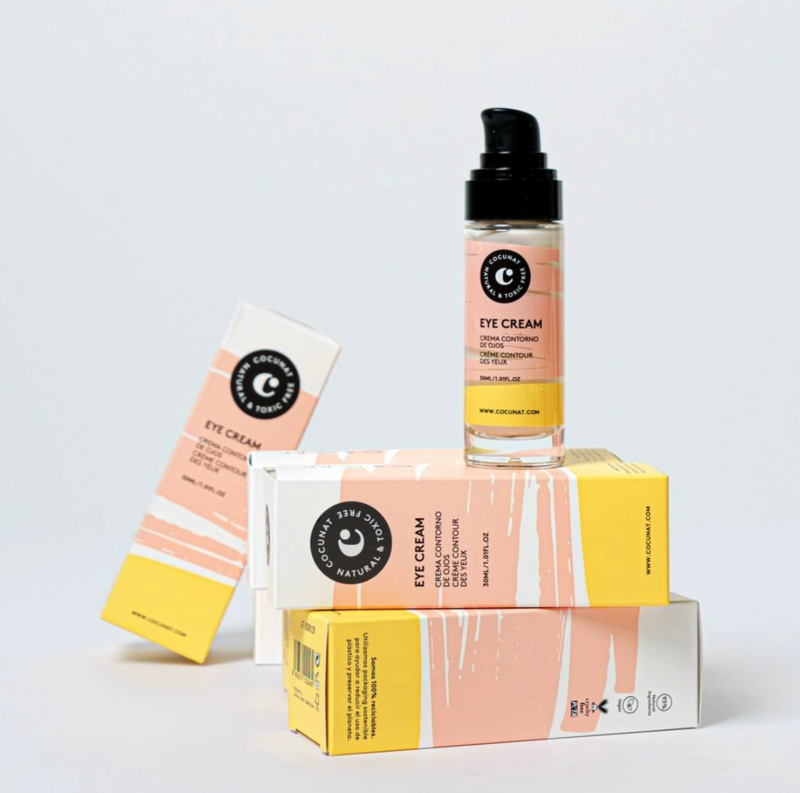 Moisturizer with a base of Caffeine, Hyaluronic acid, Camellia extract, Shea Butter and Wheat Germ.
Eyes are sensitive, and my dark circles weren't improving despite days passing. With a few dabs of the Eye Contour on my eye bags, within a few weeks, I saw a huge portion of my dark circles gone. Success!
I was amazed at how quickly it dried on my skin, leaving it nice and hydrated. Many of the other eye creams I had tried would leave a slick residue of the cream for some time, but Cocunat's eye cream did its job fast and effectively.
The cream is not thin nor overly thick and has just the right amount of consistency. I find that to be important, as thick undereye cream can tend to be a bit uncomfortable, and the thin kind to be not enough.
I loved the cool sensation it temporarily left behind as I applied it. The cool sensation is not alarming and is the soothing, gentle kind- which I found to be a bonus!
To apply the eye cream, simply tap a small amount of eye cream under your eyes like the photo below. Just a small amount will be able to cover what you need, which I loved.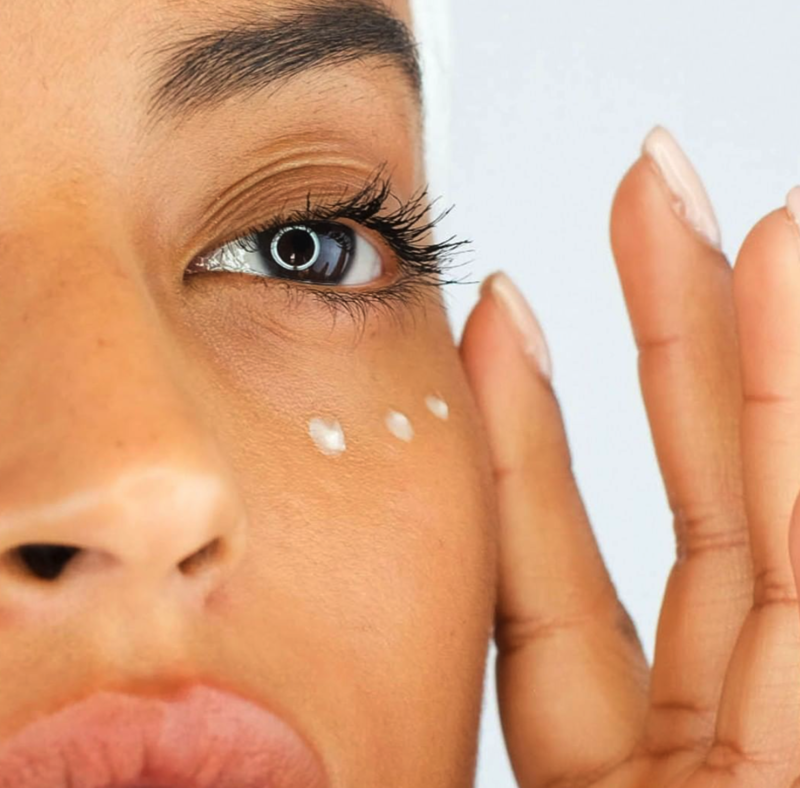 To shop the Eye Contour, click here.
Under eyes are sensitive, and this Eye Contour effectively and gently took me away from dark circles.
The answer is this!
Rich Shampoo & Conditioner
Whatever shampoo and conditioner you're using, there's a very big chance of it being not-so-good for your hair than you'd think.
I recently learned that many brands- including big names that many trust in- have toxic ingredients such as sulfates and parabens. (That's not all- there's a long list of them.)
I was incredibly shocked to have learned of this and was on the hunt for actually healthy shampoo and conditioner that would be beneficial. Without a doubt, Cocunat is the right choice, as it always is. With their Toxic Free philosophy, this is a brand I know I can believe in fully.
Cocunat offers the Pack Rich set, which is exciting and much needed: you don't have to put your hair and health at risk anymore.
To shop the Pack Rich, click here.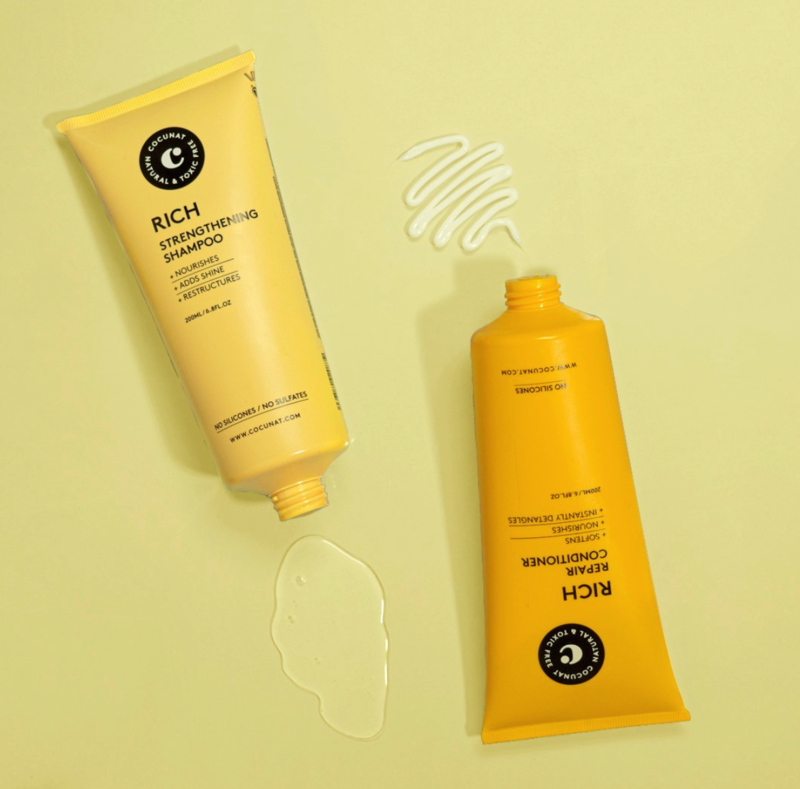 The Rich Shampoo
This natural shampoo is fit for all hair types- including dry, damaged, curly, or damaged hair. According to Cocunat:
Smooths hair cuticles and stops frizz.
Looks after your last inch. Reduces the risk of split ends
Repairs, strengthens, and protects hair fibers from within.
Provides extra shine and movement.
Cleans away toxins and residue from synthetic products.
"This incredible formula traps in moisture and revitalizes hair fibers, giving hair movement from root to tip," writes Cocunat. My hair was left feeling so nourished and purely clean. It also was left feeling as soft as ever.
This shampoo is also kind to your scalp- which is what shampoos are mainly used to clean. It's sensitive, and this gentle shampoo is a perfect match.
The Rich Shampoo will also save and protect your hair strands from being brittle and dry. All-day and night long, each fiber of your hair will be lively again.
After using, it was noticeable right away that my hair was shiny and had an intact feel to the touch.
The shampoo is completely clear colored, and with enough rubs, will lather to massage into your scalp. I also loved the amazing fruit scent that added to the overall experience.
It was wonderful knowing without a doubt that this shampoo is toxic-free and I had true results to view immediately. I was 100% satisfied with the results, and love the healthy hair feel!
To use, simply wet your hair, and massage in by creating a lather and rinse.
Although this is part of the Rich Pack, this also comes individually if you prefer.
To shop the Rich Shampoo, click here.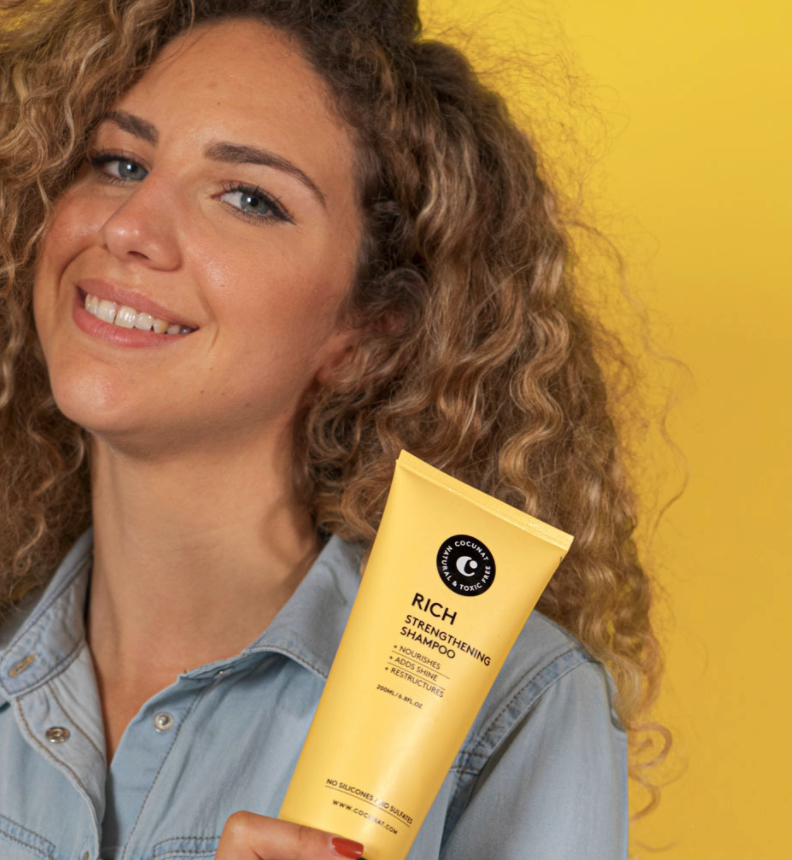 The Rich Conditioner
After shampoo comes to the conditioner- and the Rich Conditioner will pleasantly surprise you with how well it truly nourishes and moisturizes your hair strands. I don't think I've ever felt softer hair before!
The Rich Conditioner will:
Instantly detangle.
Nourishes and restructures hair from within.
Repairs split ends.
Promotes hair growth.
Delivers shine, softness, and body to every strand.
Leaves your hair full of life and movement.
Invigorating exotic fruit fragrance.
The deepest of your hair strands will be completely nourished in this powerful and moisturizing conditioner. Consider it like a mask for your hair- you leave it on for just a bit, and with a quick rinse, you'll be left with the silkiest hair ever.
As dead as one's hair could be, if anything could bring it back to life, it's this one.
Your hair will feel lively and will have a bit of bounce to them. This is possible as this "is rich in nourishing coconut and apricot oils, rich in fatty acids and vitamins that penetrate the deepest layers of hair fibers thanks to their structure and affinity for hair proteins, repairing hair damage from deep within."
I loved how the conditioner itself had a smooth liquid texture that was incredibly easy to apply to the middle~tips of my hair. A few minutes later, I was left with the softest hair strands ever- and splits ends all gone.
Like the Rich Shampoo, this also smells amazing with a tint of floral fruit.
Although this is part of the Rich Pack, this also comes individually if you prefer.
To shop the Rich Conditioner, click here.
To use the Rich Conditioner, apply to wet hair from the middle part of your hair to the tips. Don't apply to your roots nor your scalp- that is a common mistake! Then, leave on your hair for 3-5 minutes. If you'd like to leave it on like a mask, keep it on for 5-10 minutes. Then, wash off completely.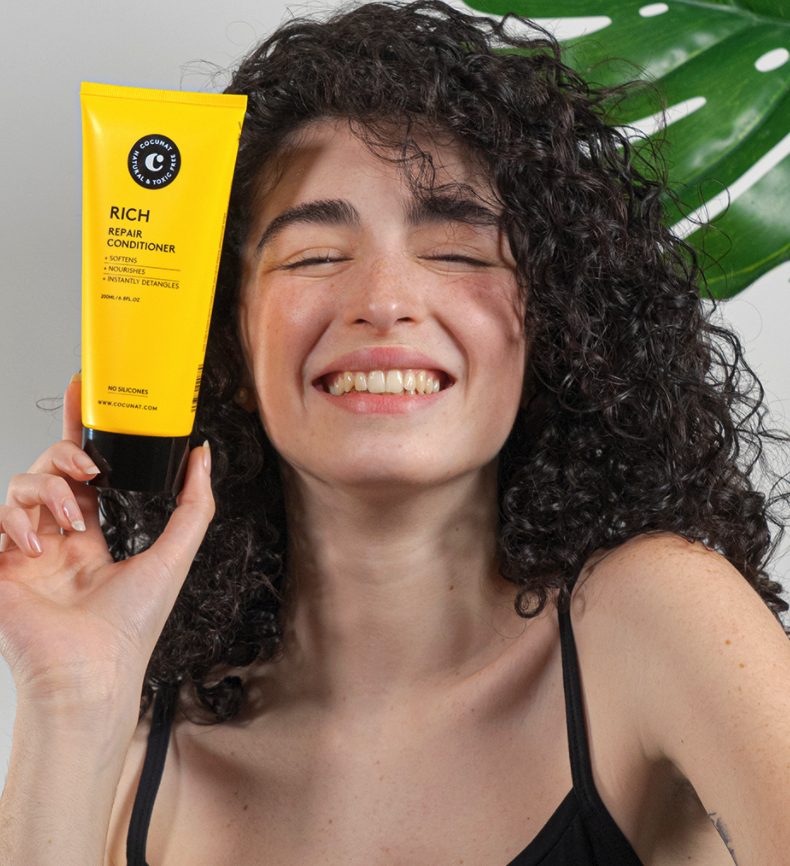 The Glow
Body moisturizing is quite overlooked in comparison to facial hydration- and this is where The Glow steps in.
This luxurious combination of coconut oil, jojoba, and shea butter will infuse your body with nutrients and moisture for incredible skin without imperfections.
To say I'm obsessed would be an understatement!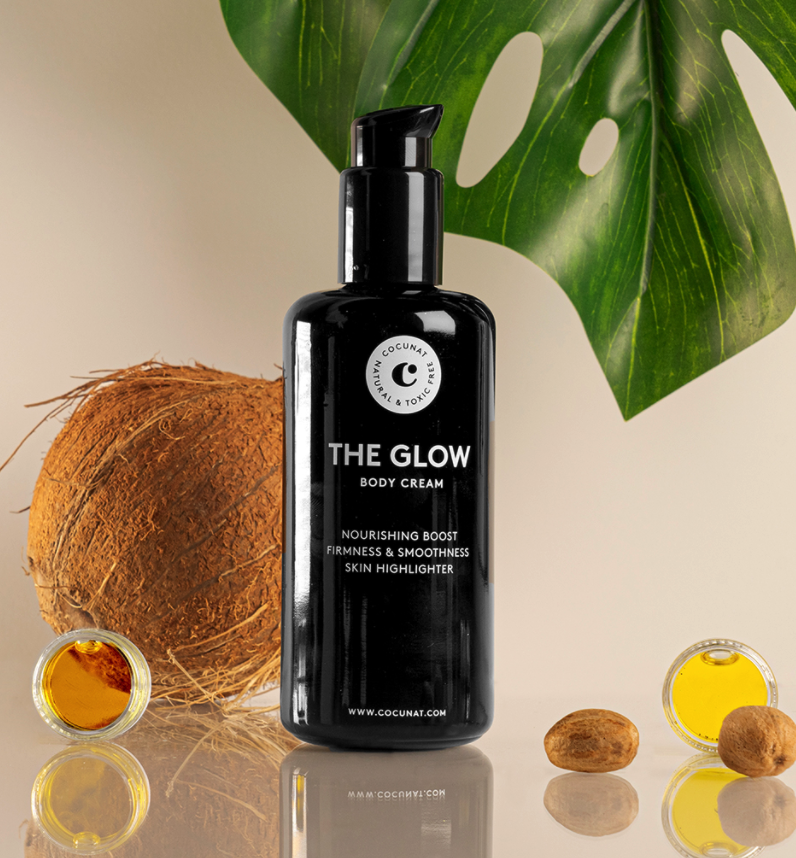 When Cocunat says this is a body highlighter, they aren't kidding! Although it won't sparkle since it doesn't have glitter additives, it will definitely give your skin a healthy glow.
I'm so in love with how lightweight the formula is; it doesn't feel heavy like other body creams and won't weigh your skin down.
The light feel also contributes to how quickly absorbing The Glow is. Not even three minutes later, my skin was left completely hydrated and smooth. It also felt the softest it'd ever been.
I also loved the beautiful intriguing vanilla scent. It is not overpowering but definitely will linger!
I was so shocked to find out how long it lasted; this won't be one of those quickly gone scents.
To shop The Glow, click here.
"Composed of an exclusive natural complex that stimulates the production of collagen and elastin, as well as neutralizes free radicals to prevent aging for firm and youthful skin."
This will keep your skin perfectly nourished and healthy.
The ingredients involved are naturally empowering; the usage of coconut oil, jojoba oil, squalene, and shea butter is integrated wonderfully to bring you the best results possible.
To use The Glow: "Shake well. Apply to damp or dry skin all over the body."
Cocunat also advises:

Beauty Tip: Apply a generous layer on the legs for spectacular results.

A Plus: Combine it with the Extraordinary Oil for an added 24-hour hydrating regimen.

The Divine Balm
This all-in-one balm will pretty much solve everything– really!
You don't have to get individual things for every small problem anymore- one jar of the Divine Balm will help you see effective results.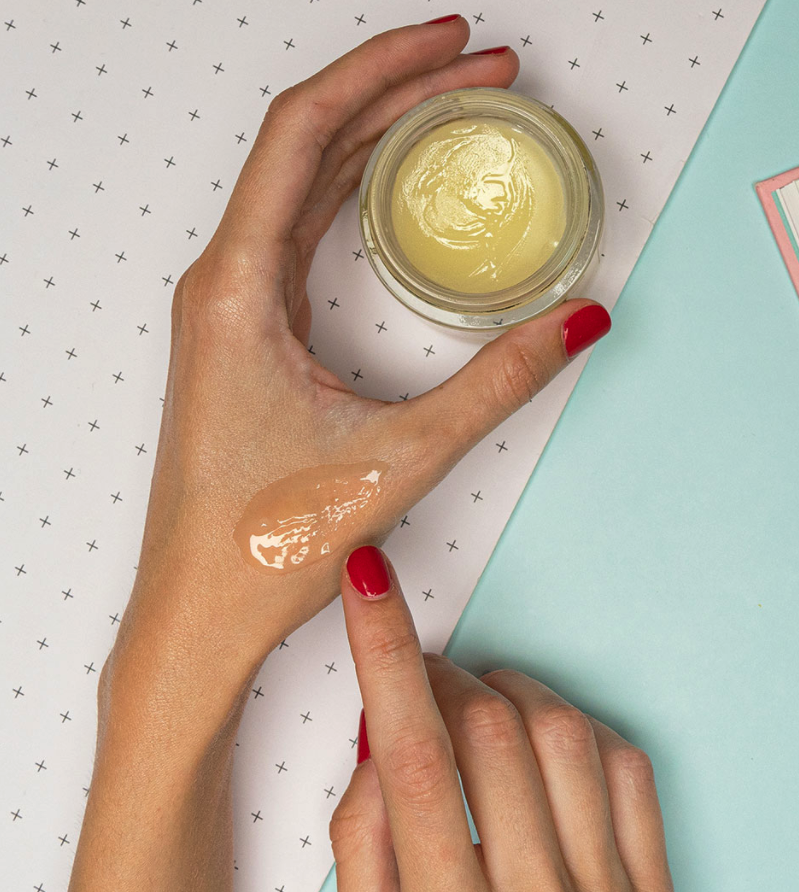 Too much fun in the sun? Apply this afterward.
Irritated skin? This one is the answer!
Soften scars with this ancient recipe.
Chapped lips? This works as a lip balm.
Moisturize extra dry areas such as elbows, chafing, heels … even tattoos!
Hand cream? Check.
If you have dermatitis, this works.
Soften burns with this 100% natural balm.
Split ends? Hydrate, treat, and nourish with this.
Use this as a facial repair mask at night (no need to rinse).
Soothe the itching and inflammation of insect bites.
This works for rashes, too!
To shop the Divine Balm, click here.
I can attest that it really does work as a solution to the above issues mentioned above.
It might seem like I'm exaggerating, but really, after a few taps on my lips, I really can say that my lips are so, so soft without any dryness.
I also applied this to a pesky mosquito bite, and I was so amazed to find that the itch was gone!
This balm feels so silky and smooth to the touch. The balm also is glossy, but I enjoyed that it wasn't glossy. Just a small rub can result in wonders!
After application to your desired area, it actually won't feel sticky nor glossy, which I loved. For one, I applied it to my lips as a lip balm, and a few seconds later, it was hydrated and completely non-glossy as I liked it!
I also absolutely love the glow it gives your face after applying. This pot really is magical.
Dry Skin Cream
Winter has no doubt brought on the seasonal dry and sensitive skin, and the Dry Skin Cream is perfect for that- all while being sincerely loaded with beneficial ingredients.
Did you know "conventional creams are loaded with petroleum derivatives and silicones that just make things worse"? You could be applying that to your face right this instant- which can't be good.
Cocunat's Dry Skin Cream is nourishing with gentle and healthy ingredients that will bring on the hydration. This facial cream will leave your face the softest it has ever been!
Dry Skin Cream: Face cream for dry and sensitive skin, with a base of Shea Butter, Calendula extract, and Soy and Apricot oils.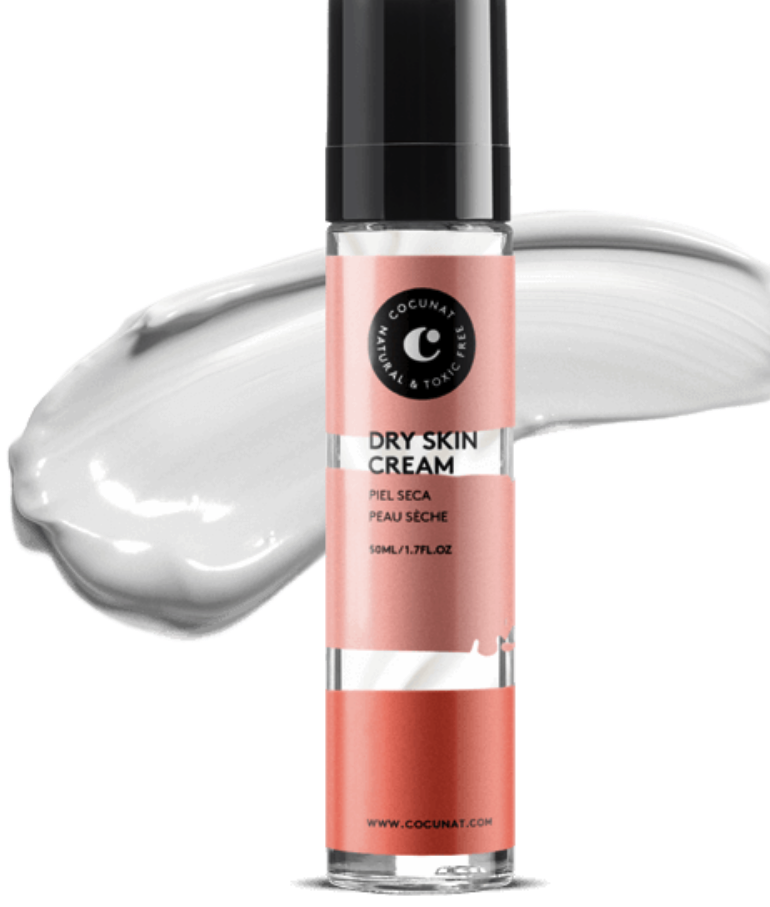 To shop the Dry Skin Cream, click here.
This facial cream is made with Shea butter, Calendula extract and Soy and Apricot oils. Your face will be deeply hydrated with soft, healthy skin.
You'll see results very quickly with this cream. Believe it or not, my dry skin turned soft within a few hours!
I absolutely loved the moist texture and smooth, creamy consistency this carried. Usually, moisturizers can be overly slick and thick, but this had just the right amount of lightness and heaviness.
It's also so easy to apply, and I enjoyed the feeling of the coolness on my skin.
This facial cream is perfect for anyone and everyone- and also if you're "vegan, breastfeeding [or are] pregnant, celiac, [dealing with] dry skin, or, deal[ing] with first wrinkles."
If your skin type is normal or sensitive, this will work for you! Also, even if you do have oily skin, hydration is always important for all. This cream is also cruelty-free.
To use the Dry Skin Cream: "clean the skin and then apply onto face, neck and neckline."
Real Clean Beauty
"Clean beauty" can be a loose term, but if you want to ensure quality skincare and beauty for your skin, Cocunat checks a checkbox in every aspect.
What might be sincerely one of my all-time favorite skincare brand that shows real results and is genuinely clean and pure good, Cocunat is something I can trust completely.

-The Teen Magazine
Sustainability
Cocunat really is perfect in every aspect; not only are they effective and toxic-free, but they're also sustainable, too.
Manufacturing With Regards To Our Planet
"The philosophy Toxic-Free goes beyond cosmetics. At Cocunat we take into account every component of our manufacturing, from 100% recyclable packaging, and recycled packaging, to biodegradable ingredients," says Cocunat.
Against Animal Cruelty
"We follow a philosophy that is completely against animal cruelty, so we would never allow raw materials to be tested on them. For this reason, both Cocunat and our cosmetics are vegan." writes Cocunat.
In hand with that, I definitely have to mention the beautiful glass packaging that is 100% recyclable. I love that Cocunat is a conscious brand that takes into account and puts full effort for everything.
It really is pure good!
Keep Up With Cocunat
Make sure to follow Cocunat on Instagram @cocunat! For the international Instagram, be sure to check out @cocunat_int.
They often host some amazing giveaways that you wouldn't want to miss out on… so be sure to turn that blue follow button white!