Winter and its cold are freezing on us, but all the warmest outfits are at White Fox. With on-trend styles that feel chic and edgy, White Fox is a bold dreamer and not afraid to make a statement.
"Our mission is simple," says White Fox, "[we] promote powerful girls around the world and inspire girls everywhere to be exactly who they want to be."
See this post on Instagram
Buy White Fox Boutique at whitefoxboutique.com.
And they do just that. With styles that don't compromise on quality and comfort, White Fox is totally fashion-forward in a way that's a trendsetter in the modern world of social media-infused fashion. Almost all of your favorite influencers and celebrities are huge fans – for good reason.
Whatever your style, whatever your vibe, it's important to us that you feel unabashedly like yourself. And that's why we've carefully designed and created your dream wardrobe, exclusively here in Australia, so you can keep doing what you want, while still looking stylish.

-White fox
Bring a dazzling new definition to glam
If there was ever a dress that was love at first sight…it had to be this one. Confused about what to wear for a formal or late night out? It's this one !
Shop the Come Back Mini Dress in black here.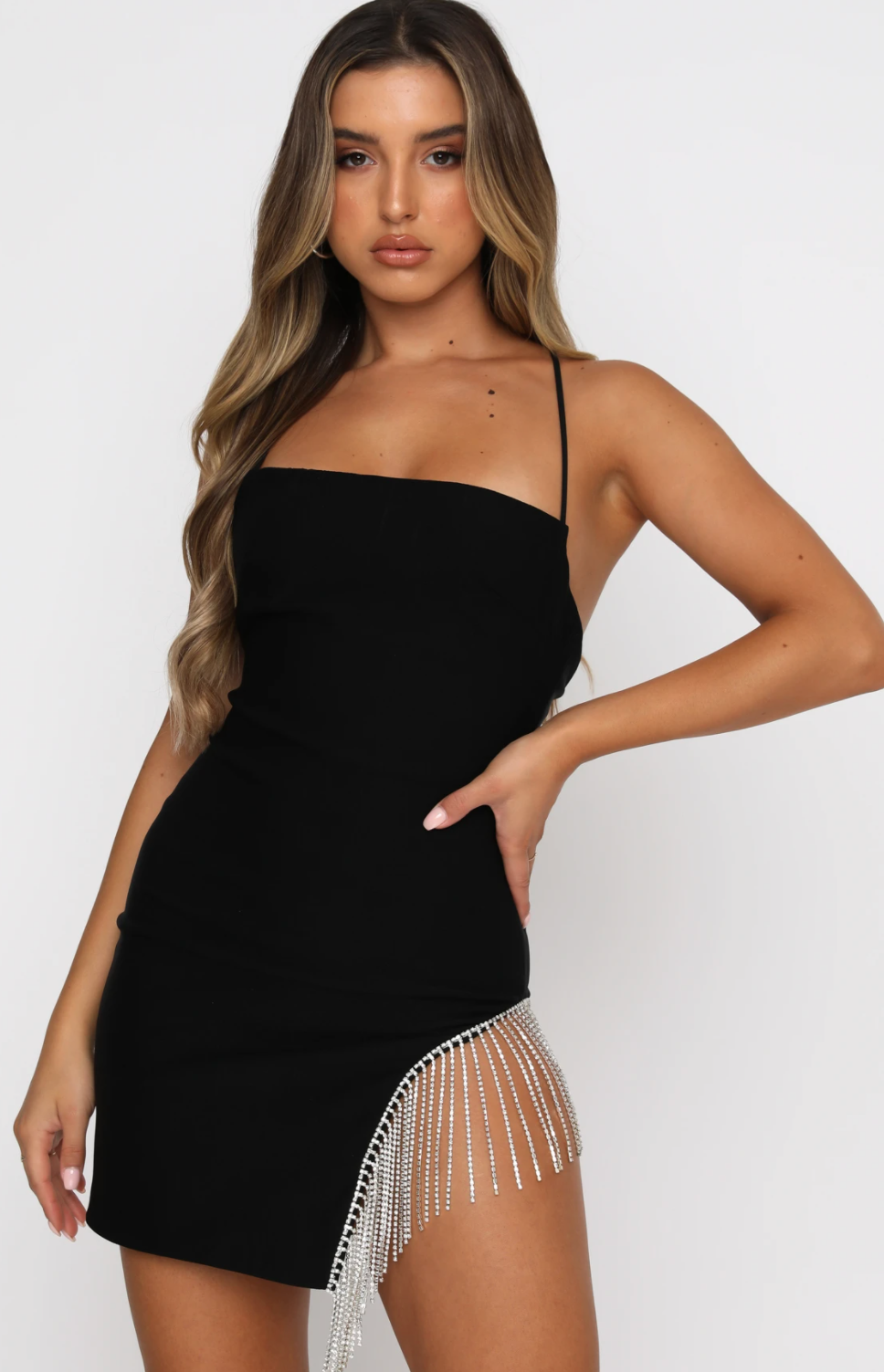 White Fox's Come Back Mini Dress is effortlessly gorgeous, but most importantly, eye-catching. Right away, we're drawn to its rhinestone pom poms on the side, where it's attached to a raised hemline to give it that flirty look. It's brilliant, it's dazzling and we're hooked.
Spin a swirl, and these diamonds will catch all the light and sparkle like glitter!
The mini dress has a fitted silhouette and an open back style with thin X-cross spaghetti straps. This is one of those dresses that is simply unforgettable and will make you feel your best.
"Complete the look with heels and jewelry to stand out in the crowd," advises White Fox. Add your favorite accessories and you will definitely be the star!
The coolest leather jacket – and some Sherpa
All other leather jackets fall short of the Wild Ride Biker Jacket. I mean, he's got this casual, suave, cool look without trying too hard – what more could you ask for?
Shop the Wild Ride Biker Jacket in Chocolate here.
With a soft, wrinkle-free look, the feel of the leather is paramount. It looks and is really so nice that the quality will make a big impression on you.
With a collared neckline, silver bucket details, sherpa-lined cuffs and silver zippers that run up and down, the Wild Ride Biker Jacket is rebelliously cool because it's not your usual leather jacket.
Especially as winter approaches, the sherpa fur-lined touch is paramount. It really is so effective at making you feel warm without weighing you down drastically. The jacket is overall oversized.
Wondering how you can make an easy outfit with this? "Complete the look with your favorite jeans and crop top for a stylish weekend look," recommends White Fox.
I mean, how cute is that?
Acid print denim for the win
Denim is something that has been around for a long time, but trends can be something new. White Fox's Escape Reality Jeans in Washed Blue Print give us something so refreshing and easily the coolest print ever.
Shop the Escape Reality Jeans in Washed Blue Print here.
These high waisted jeans are a classic straight leg style. On the sides, fronts and at specific points are the fancy prints on the denim, which give it an acid washed feel.
Jeans are all about the details – the distressed ripped details are not to be missed! Plus, it has five pockets, which is always a plus! You can secure the jeans with its attached belt loops and button + zipper closure.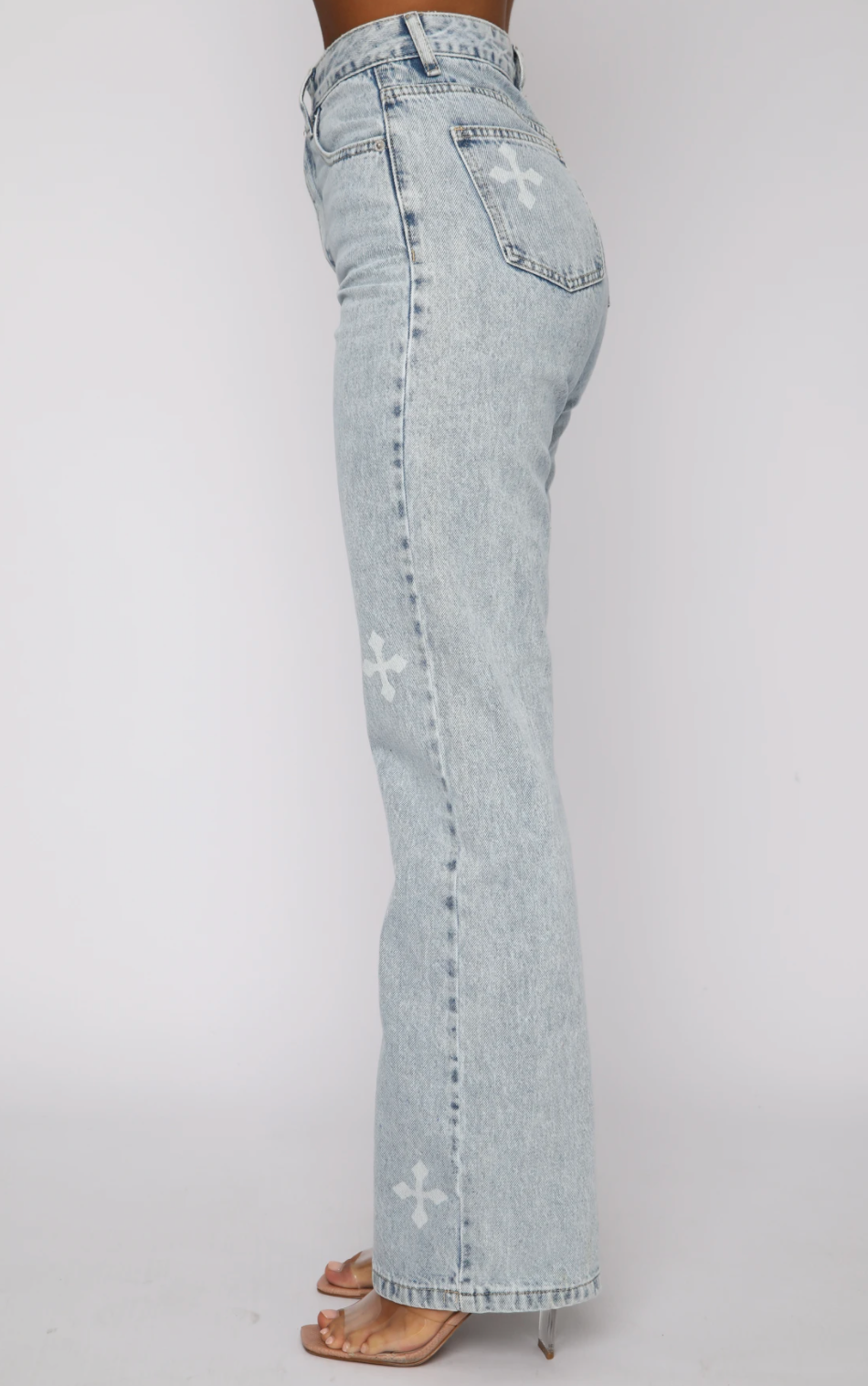 "Pair it with a crop top or t-shirt for a casual everyday look," says White Fox. You can't go wrong with jeans and a crop top. Already, I can imagine a look!
You can choose to wear it with your favorite trainers or a pair of casual heels – it's all up to you.

Write a review for an essential basic
Crop tops are essential, as are tank tops. Why not combine the two and get the cropped tank tops, but in a quality ribbed texture?
The Give Notice Crop is perfect to pair with anything and everything – and I mean it when I say it. Whether it's any shade of jeans, skirts or even leggings, it will look good.
With thick straps and a low square neckline, this tank top is moderately thick, making it tough and not see-through at all! It is also super stretchy and comfortable.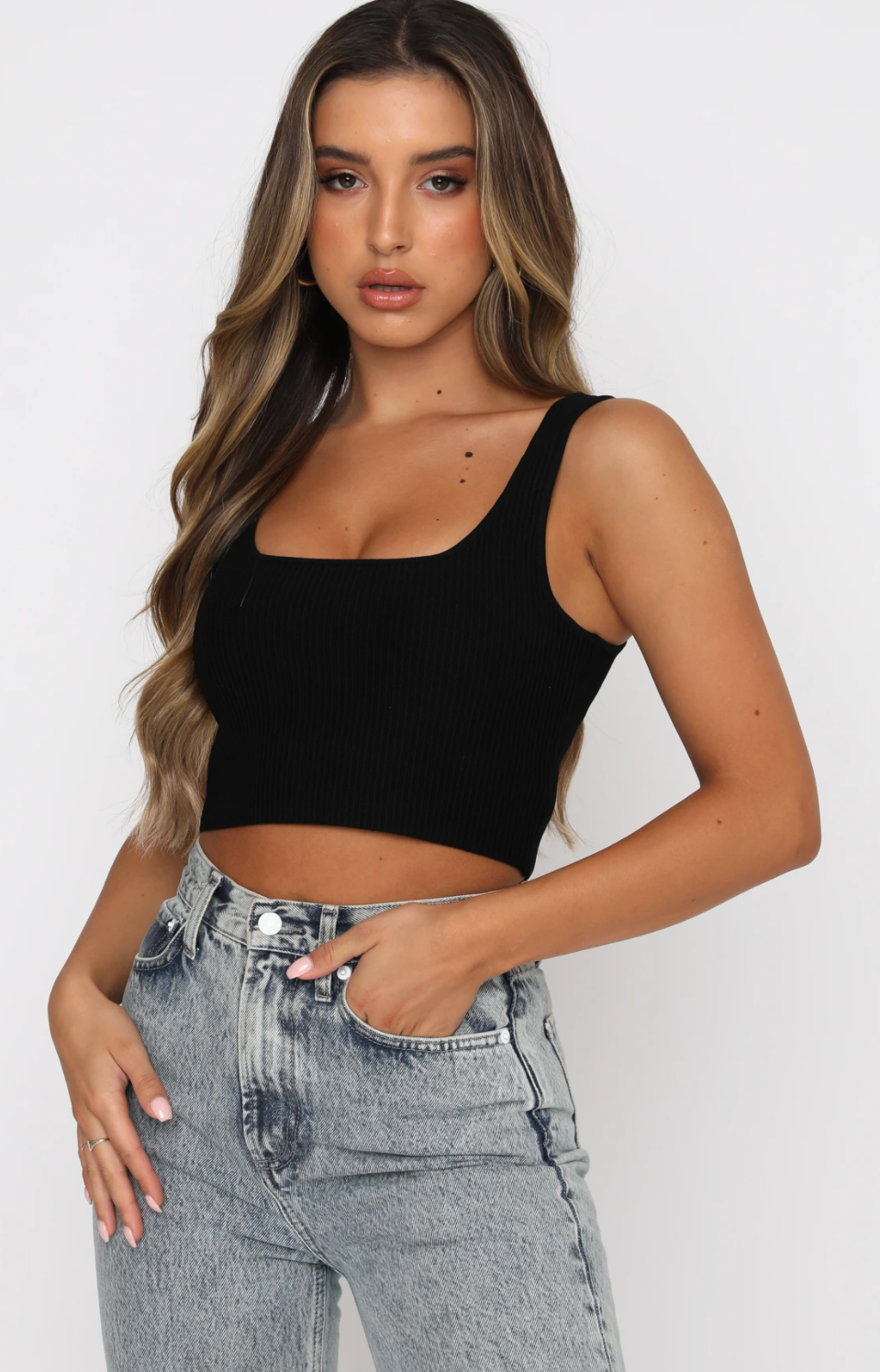 "It's the perfect basic to pair with any bottom for a chic everyday look," says White Fox, and we totally agree.
Buy the Give Notice crop in white here.
The Crop Give Notice in white is a clean, neutral color that feels light and airy, perfect for any season at any time.
Buy the short Give Notice in black here.
The black color of this crop is solidly dark and gives it the perfect complementary color for all your light colored backgrounds that you want to accent.
autumn is calling plaid
Nothing says fall better than a good plaid shirt. Especially in a color like cozy chocolate, this easygoing flannel looks like a warm latte.
Shop the Say It Again Plaid Shirt in Chocolate here.
This flannel features dark brown buttons and a lapel collar that gives such a casual feel. It's also oversized, giving you that effortless look that still looks put together.
Brown plaid is the perfect definition of fall, and the colors pair beautifully with warm colors.
You can choose to style it buttoned up or buttoned down – either way you'll look adorable.
"Wear it with a leather-look bottom and ankle boots for a look we love," says White Fox. You could even opt for a white tank top and your favorite jeans.
The reddest for the holidays
The holidays are fast approaching and nothing is more on point than this bright red dress! Cheerful and festive, this dress in bright colors is a real delight. As White Fox says, "Feel girly and feminine in our Better Now mini dress in red."
Shop the Better Now Mini Dress in Red here.
This mini dress has gorgeous ruffles on its hemline that just make me cringe, and the wrap skirt style of the dress gives it a little bow as well.
I love that it's cute but not over the top – and the dress can apply to so much more than the holidays. Wear it to your favorite dance event, picnics, fun nights and more!
With thin adjustable straps, the dress has a square neckline and a square back as well. The back has an invisible center back zipper which is always a bonus in our books. Plus, White Fox thinks about it for us – the dress is lined, making it sheer and totally danceable!
"Complete the look with heels and [an on-trend] mini crossbody bag for a chic day-to-night outfit," says White Fox.
Basic, but not so basic
The She's All That Straight Leg Denim in 90s Blue is basic, but the right kind – it's the kind of jeans everyone needs in their closet.
Shop the She's All That 90s jeans here.
90s jeans always come back strong, and this time they come back strong. The White Fox The She's All That Straight Leg Denim Jeans in 90s Blue feature a relaxed fit with a clean knee split. The little frayed details are just so cute.
These jeans are high-waisted and straight-legged – as is the case with pretty much all '90s jeans – and we're totally here for it.
With a cute "front zip and silver button closure, belt loops, 5-pocket design", these jeans pay attention to detail to make them as timeless as possible.
You can wear the She's All That Straight Leg Denim in 90s Blue with anything from your favorite blouse to your crop top. These jeans are a real classic!
AS SEEN ON… @JESSHUNT2
follow the white fox
Be sure to follow White Fox on social media, where the online store reigns supreme in its cult following of millions. Find White Fox on Instagram at @whitefoxboutique, TikTok @whitefox and Pinterest at @whitefoxbtq.
This post is a sponsored news article. Prices quoted are accurate and items in stock at time of publication.
All images courtesy of White Fox.