Can't wait for summer 2022 either? We're all already secretly planning our vacation outfits in our heads, counting the days until we can finally wear them. To give you more inspiration for your dream summer wardrobe, here are 10 of the biggest fashion trends this summer that you need to know.
#1: Crochet everything
The hook literally screams summer. Crochet tops, crochet bags, crochet hats, crochet bikinis…honestly, anything is possible with crochet! Matching sets are very popular right now, so we can definitely expect to see crochet sets as well. Crochet is perfect for summer, as it has a light and airy texture. For example, it could be used as a blanket at the beach or you could get creative and even crochet yourself a cute top. Stores like H&M, Hollister and Stradivarius already offer crochet items, be sure to check them out!
#2: Tube Top
Another trend from the 90s is returning in 2022: tube tops. These are going to be very popular this summer. They are so easy to match and are a real closet staple. A trendy combination that we will see appearing a lot this summer is the tube bustier associated with a long skirt. Super suitable for going out to dinner on a hot summer night. You can also wear the tube top in a more casual way, like pairing it with your favorite cargo pants, your best jeans, or maybe you own some satin pants you don't know what to do with? There are so many options with the tube top and you have the perfect opportunity to try them all next summer, so a summer 2022 must-have to have in your wardrobe. Some of my favorite tube tops are from ASOS, but they're also available at other stores you prefer.
#3: Long Skirts
You've seen them before, but midi and especially maxi skirts are going to be very popular this summer. As already said, they go perfectly with tube tops, but also with a corset top, with a button-up shirt (white) or you can always choose a skirt in a color that matches your bikini top. The options are simply endless. Mini skirts were a big trend last year and still remain popular, but maxi skirts are going to take their shine and momentum this summer. NA-KD has some of my favorite skirts, including cute maxi crochet skirts, so you can combine two trends in one!
#4: Knitwear
Knitting is already very trendy this winter and we will certainly see it again in summer. Knitted tops and knitted dresses in every pattern and every size are going to be very stylish. One particular design that is already very popular right now, is the dark blue and royal yellow cable knit top. You can buy this particular design from Micas. The best knitted dresses are certainly those from ASOS or Trendyol.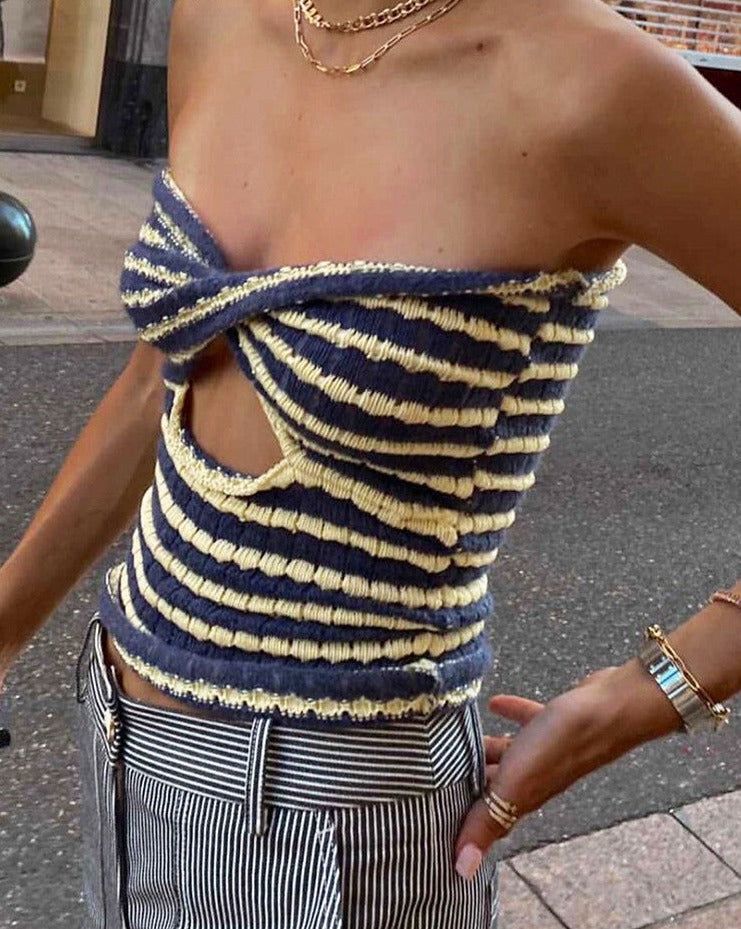 #5: Pleated Sets
These pleated sets are the best choice for you if you've always had a little trouble matching and planning your outfits. Monochromatic pleated sets are available in very popular colors, such as green, dark blue, beige and white. Sets are always very practical to have in your wardrobe and therefore an absolute must. They are super comfortable and perfect for watching a sunset with your lover or a picnic with friends on a sunny day. Pleated sets are available from H&M and there are also a few from Stradivarius.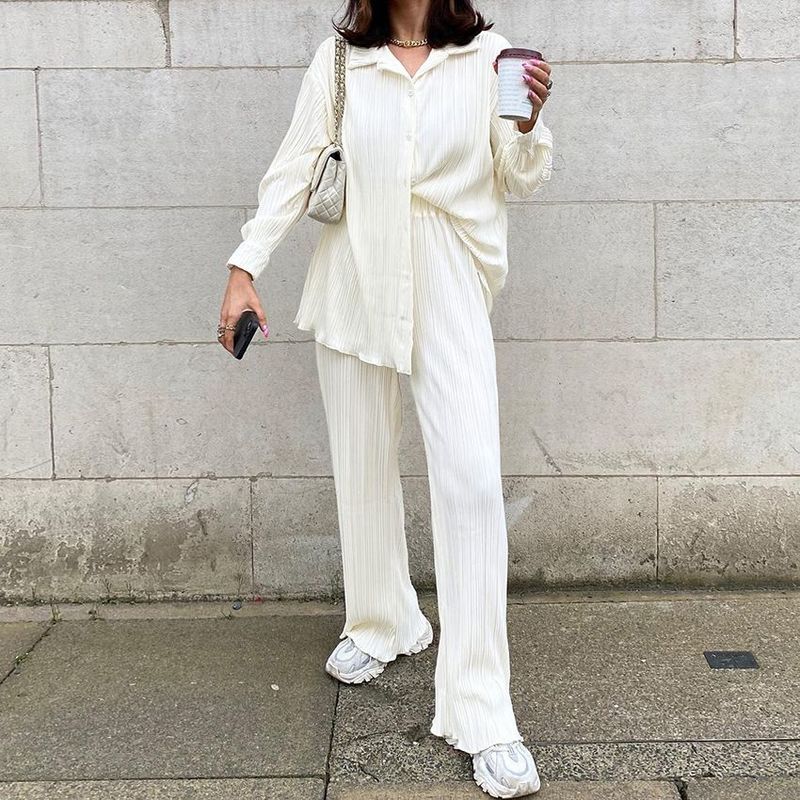 #6: Corsets
Corsets have been very trendy for a long time and will continue to be popular in the summer. During this time, many kinds of corsets have appeared, such as strapless corsets or tops where you can recognize the corset effect in them. That means lots of different designs to try. They're super cute with light blue jeans or a chic mini or maxi skirt and they'll look just as good under blazers. You can buy the cutest corsets at ZARA.
#7: Cutouts
All kinds of cutouts and splices on items such as dresses or tops have been popular for a while now and will continue to be in style this summer. Of all the kinds of dresses that will be highly sought after this summer, the cutout dress is sure to be the most famous design of them all. The problem with cutouts is that it doesn't matter how big the cutout is or where it is, as long as there's a cutout somewhere it goes. At ASOS there is a huge selection of all kinds of cutouts available.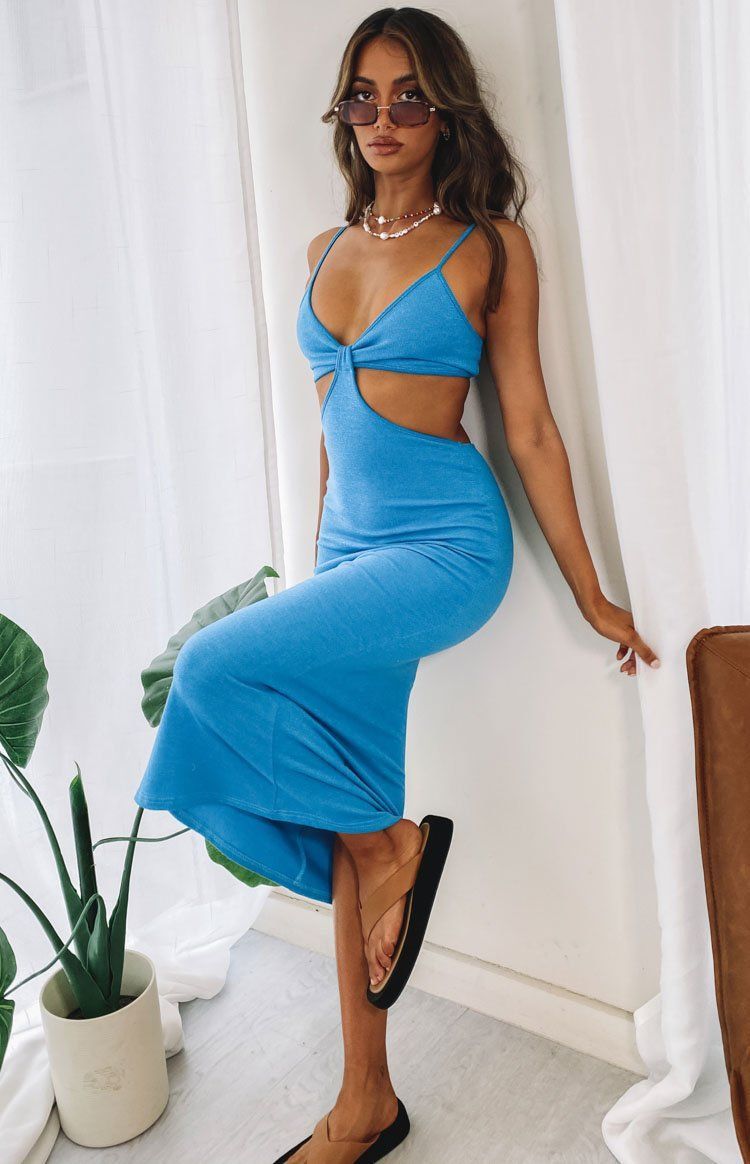 8: Platform Sandals
Probably one of the most controversial trends on this list: platform sandals. Love it or hate it, it's going to be one of the biggest fashion trends this summer. They're available in many different sizes and colors, making them perfect with any outfit you'll be wearing this summer. If you're a very alert reader, you might even have noticed that sandals are popping up along with other trends listed earlier. Kendall Jenner pairs them with a colorful maxi dress, which means this trend has Kendall Jenner endorsement. At NA-KD, you will find a pair of sandals that resemble Kendall's sandals, but you can also change and choose another type of design.
#9: Y2K Sunglasses
These sunglasses give off the greatest "it girl" vibes ever. Y2K trends have a knack for making a comeback, and these cool sunglasses are a good example. These sunglasses, like the sandals, are also very controversial and not everyone will like them, but that shouldn't stop people who love these retro shades from not wearing them. These sunglasses will look really cool with, for example, your favorite cargo pants or your favorite little black dress. The best Y2K sunglasses are available on Amazon.
#10: Orange
This summer will be all about pops of color and colors clashing here and there, so the color orange will be the trendiest color of all. Orange is a fun color to experiment with, in combination with other bright colors like yellow and pink. If you're wearing an all-white ensemble, why not add a cute orange bag to keep things interesting? How about an all orange set? Orange exudes a tropical, happy and carefree summer vibe. Watch Laura Herrier slaying the color orange.
Hope these trends inspire you for summer and you feel well prepared for summer 2022 now. Have fun styling and matching these items!