Fashion is described as constant change filled with fleeting trends and ideals. Seemingly continuous developments in fashion are notorious for attracting people who seek a sense of superiority or "high fashion", while steering others away from trends as they are deemed expensive and difficult to follow. Luckily, there is a perfect comfort zone between the two ideals that includes pieces that will always be "in" or destined to go back.
Fashion means change, replacements and new habits, but fashion is also a model representing modernity through a constant renewal of the common fashion taste.
What does that mean? It means fashion is one "myth of change" An illusion.

Photo credit
Christy Turlington at the Chanel Haute Couture Spring/Summer 1993 show (above) and Lily-Rose Depp at the 2019 Met Gala (below).

Photo credit
The idea of ​​trends and modernity is a cycle of change that repeats itself. Infinite recycling, which some say contradicts the whole idea of ​​fashion. They say it discredits and contradicts innovation and progress in the art of fashion. Not necessarily, this theory only reinforces the link between linear modernity and cyclical fashion. This is clearly seen in the repetition of fashion trends that are rediscovered with a contemporary twist.
People are known to stray from fashion trends just because they are constantly changing or hard to follow when in reality fashion is a cycle so whatever is in fashion today has been popular before and will be again.
With that in mind, there are sure to be some timeless pieces, or "fixed suits," that will continue to be a style constant and undergo very little change over time. These are the coins you should invest in.
"Fashions fade, style is eternal." -Yves Saint Laurent
Leather jackets:
Photo credit
Introduced to the fashion world in 1928, leather jackets have never gone out of style. have they evolved? Yes. From the 1950s biker look jackets to the oversized jackets of the 2020 model, the style has changed, but the look will forever remain a classic. Not to mention that most of the leather jackets seen on Pinterest, Instagram or TikTok are vintage second-hand jackets. Whatever your style and however you decide to express yourself, a leather jacket will always add to your outfit.
Trendy pants
You're probably thinking "How could trending pants be a timeless piece?", and you're right, they seem like something you might tire of quickly, BUT it's definitely a trend that repeats itself. From the 60s to the 80s, bold pants were a staple. Cool pants will ALWAYS boost your fashion credibility, so when building your dream wardrobe, don't be afraid to stray from the plain.
Photo credit
Scarves
Photo credit
The scarves scream Audrey Hepburn and the 1950s-60s Hollywood movie star. Silk or satin scarves used as hair accessories have made many comebacks over the years and have definitely been a 2020 fashion staple. will never cease to be elegant. If you are looking for trendy accessories that will never be out of place, scarves are the way to go.
mom jeans
Mom Jeans have been a staple in everyone's closet for quite some time, so there's really no need to repeat this point too much. Mom jeans look great on everyone, can be dressed up or down, and overall are such a versatile piece of clothing. They resurfaced after being hugely popular in the 80s, and are a trend that looks great and is so easy to pair with anything.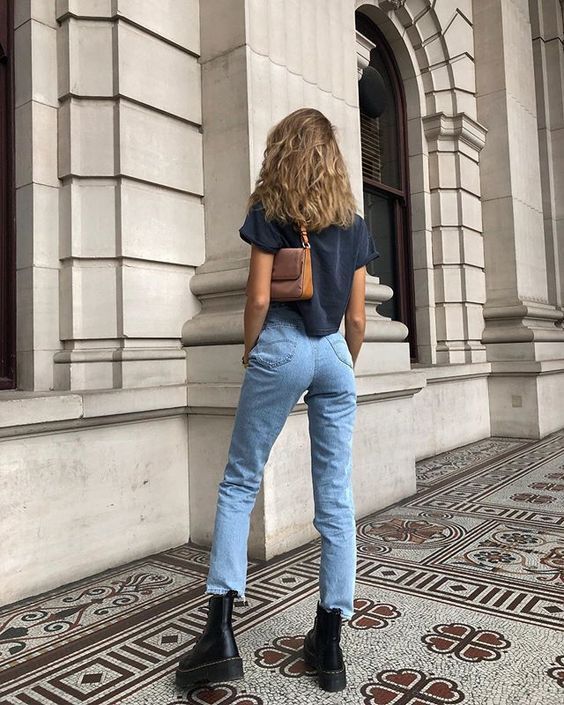 Photo credit
Puffy "princess" sleeves
Puff sleeves first appeared during the Renaissance, and have since undergone various transformations. Over time, puff sleeves have been innovated by changing the length, structure, gathers, etc., but their popularity has not yet died out. These sleeves are obviously recognizable and nothing new, so it's amazing how they have continued to reappear throughout history. In the 1800s-1900s, they were adored for their ability to create the "desirable" hourglass figure. Times have changed, but these gorgeous sleeves continue to make their way onto the catwalks.
Photo credit
Gogo boots
Of ALL these key trends, Gogo boots are the most fun. Chunky boots have been seen in recent trends, and Gogo boots are a branch of chunky boots. These 70s superhero or Scooby-Doo style boots look great in any color and with almost any outfit. Gogo boots will always be stylish, so get out there and take your pick and you won't regret it.
Photo credit
To finish, remember that style is a very personal and subjective thing. Never force yourself to follow popular trends just because they're hot. Wear whatever you want with confidence and you'll look amazing. These are just a few of the most timeless and recurring "trends" to take inspiration from.
"Don't let fashion own you, but you decide who you are, what you want to express by the way you dress and the way you live." — Gianni Versace