Everyone knows about the classic Nike Air Force 1 shoes that have been all the rage lately. They're well known for their clean, white slate – which can get boring at times – but that's where Majorwavez comes in.
Majorwavez is a custom shoe designer based in Los Angelos and Bay Area. Many notable celebrities/rapper-musicians and internet influencers have been spotted wearing shoes from this company, such as Tyga, Aces Family, and Swae Lee.
He's so popular that the Instagram account, @majorwavezz, has attracted over 277,000 followers at the time of publication – and the numbers are growing exponentially and show no signs of stopping.
See this post on Instagram
The custom shoes from this brand that struck me the most are the innovative and creative designs. It's not everyday that you see shoes with the coolest artwork ranging from detailed butterflies to portraits of influencers. Their range is everywhere, appealing to a wide audience, with SpongeBob, fire, floral and even Renaissance-inspired styling.
I just had to try this brand; I was beyond excited to try something new, something unique – and Majorwavez did not disappoint! I tried the Majorwavez Black Plaid series, and below I will share a detailed rundown of my reviews of this amazing brand.
The details
When I first opened the package, I was so impressed with the perfectly painted design. Its design has been seamlessly integrated to fit into a plaid theme, giving a look that is both classic and contemporary. The paint was definitely professional quality, waterproof and overall quite durable. I had no issues with the awesome design which is ruined. I loved the added benefits of having numbers and lines running to the side; it didn't feel bunched up at all and, in fact, made it an original design.
The plaid was simply iconic. The delicate writing of the words and numbers playing on the side, "Sample 00765Z897" made it even more unique and special.
One might worry about its cloistered appearance, but I can definitely tell you this without a doubt: it fits the design concept perfectly. The Nike Swish, numbers and brand logo have been placed in the right places to make them united and in place, but not too far apart.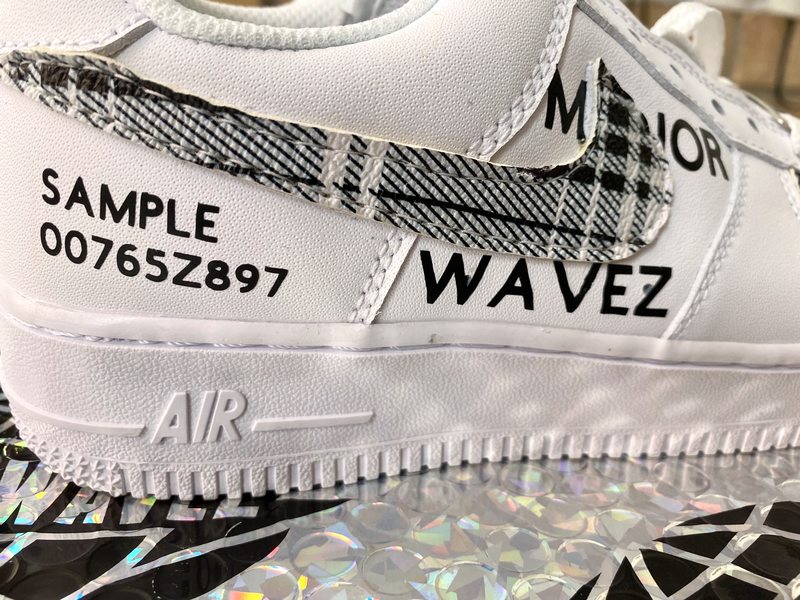 Versatility
This particular design that I loved was that it went with any outfit. And I mean it when I mean all types of clothes – any color, any pattern, shoes complement it perfectly. Especially with the Majorwavez Black Plaid series being a darker, neutral shade, it went down pretty well.
The specific styles I have chosen are certainly not the only ones from Majorwavez that will go with the multitude of your wardrobe. The brand offers simple yet stylish swoosh artwork, glow-in-the-dark add-ons, and even stitched fire designs.
Comfort
Nike's AF1s are well known for being comfortable while having an inch platform, and even with all the additional designs added by Majorwavez, they remained as comfortable as ever. You will be able to walk for miles, if not jog, without a single pain in these shoes.
The cost
Majorwavez includes in a durable drawstring bag (thick, semi-opaque plastic) with logo printed next to your shoe order. Your shoes are untied, giving you the flexibility to tie the laces your style, your way.
The Black Plaid series sells for $220 in USD, but believe it or not, there are plenty of other shoes out there that are in a lower price range. Some are even around the price of just $125, and Majorwavez also offers stickers for just $4 for your future DIY projects.
You can browse the site here to discover some of the stunning designs from a wide range of costs which makes it easy to select.
Overall, this brand that integrates art with practicality is affordable and absolutely worth the price. You will not regret it !
You'll Feel Cool™
It's not just the usual coolness you'll feel when walking around in these shoes; you'll feel cool™.
These shoes are unlike any other and will truly make you feel special. Chances are you're the only one in town wearing these amazing and creative shoes, if not the only one! Vintagewavez also offers custom designs, officially making you the sole owner of the shoes. You will also be able to choose the appearance of the shoes and how they look. How cool is that?
Honestly, what makes Majorwavez stand out and officially amazing is that they're not just practical shoes, but actual art. Once you take a close look at the artwork on these shoes, there is no doubt that it is a professional artist's work.
Carry on!
It's not just a trend, it's a movement that will last for a long time. Boring mundane shoes are the old ones; say hello to new-shoes with art- Majorwavez!
Be sure to follow @majorwavezz on Instagram to see their jaw-dropping new releases and to place your future order, check out their online store at https://www.majorwavezz.com/.
See this post on Instagram