Satt Naturals is a luxury lifestyle brand rooted in the intrinsic magic of Ayurveda. Through their authentic, natural products, they have combined the old-age Ayurvedic practices with the modern aesthetic. Their products are curated to deter maladies through a holistic approach to healing. Sourced from nooks & corners from across the nation, they ensure to bring the best plants, seeds & leaves to make our pure grade products with 100% cruelty-free processes. 'At Satt naturals, we make ancient science relevant to the modern world,' mentions their website.
There are a lot of businesses running commercially out there selling cheap quality oils to gain profits. "Of course we are here to earn profits too, but not at the cost of defrauding customers." Says Gopal Partani, owner and founder of Satt Naturals. Hence, Gopal felt the need to come up with an authentic brand that takes care of the same.
Recently, I got two essential oils from the brand, Tea Tree Essential Oil and Sweet orange essential oil.
The Packaging
The oils are delivered in small wooden boxes giving it a vintage look. The 15mL bottle is small and cute in size with a wooden rotating square cap. With the oil comes a mini brochure that gives details on how to use that particular oil.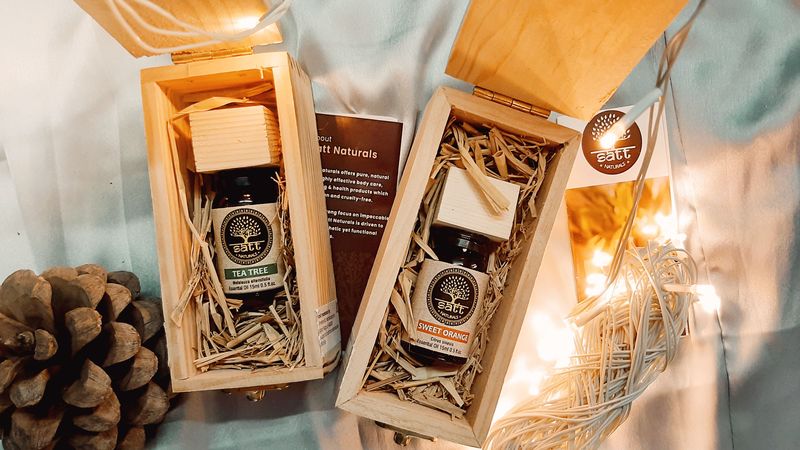 Tea Tree Essential Oil
Tea tree is one of the most famous oils out there with amazingly diversified uses. This essential oil has various uses. "Adding tea tree oil to your body lotions, or regularly followed skincare routine, will keep your skin healthy and improve its condition." Gopal Partani suggested.
Satt Naturals Tea Tree Oil is cruelty-free, paraben-free, sulfate-free, and 100% natural with no added synthetic chemicals. The ingredient list of the oil contains 'Steam Distilled Melaleuca Alternifolia Oil' which is just the scientific name of Tea Tree Oil. The steam distillation of tea tree oil is a multi-component distillation in which the dominant mechanism controlling the rate of recovery of each component in the oil depends on the nature of the component.
Healthline mentions fourteen primary uses of this oil:
Hand Sanitizer
Insect Repellent
Natural Deodorant
Antiseptic for Minor Cuts and Scrapes
Boost Wound Healing
Fight Acne
Get Rid of Nail Fungus
Chemical-Free Mouthwash
All-Purpose Cleaner
Soothe Skin Inflammation
Control Dandruff
Treat Athlete's Foot
Banish Mold on Fruits and Vegetables
Relieve Psoriasis
Cautions while using Tea Tree Oil:
It should not be ingested or swallowed
Should be stored out of reach of children
Avoid using if you are pregnant or breastfeeding
If using for the first time, it's best to do a patch test before using it.
Sweet Orange Essential Oil
Sweet orange is again very famously used against acne. It is a very good oil to get rid of spots and blemishes. "However, one should know that it is a phototoxic oil, which means, after application, direct exposure to the sun might cause little burns. It is advisable to apply it at night and wash face before sleeping so that you are ready to go out the next day."
Says Gopal. Satt Naturals website claims sweet orange essential oil will give you a burst of exuberance, pressed from the peels of ripe oranges, lifting your spirits and refreshing your mood. They advise you to diffuse it to maintain a stimulating and optimistic atmosphere for you and your family. Like all their oils, Satt Naturals Sweet Orange Essential Oil is cruelty-free, paraben-free, sulfate-free, and 100% natural with no added synthetic chemicals.
Orange essential oil is extracted from the rind of the sweet orange, Citrus sinensis. This is done by a method called cold pressing, which uses pressure to squeeze the oils from the rind. Sometimes, the leaves and flowers from the orange plant can be used as well.
The main chemical constituents of Orange Oil are: Limonene, Monoterpene Hydrocarbons (β- Myrcene and α-Pinene), Alcohols (Citronellol, Geraniol, and Linalool), and Aldehydes (Neral).
Trainforher states 10 benefits and uses of Orange Essential Oil:
Improves digestion
Nourishes dry, irritated and acne-prone skin when mixed with a carrier oil.
Promotes a feeling of happiness and warmth when used in aromatherapy
Helps to eliminate toxins from the body
It helps in stimulating lymphatic action to promote balance in water processes and detoxification of the body
Contains all-natural antimicrobial properties.
Natural remedy for high blood pressure
Has anti-inflammatory properties.
Reduces anxiety and boosts mood.
Natural anti-depressant
Orange oil has been used as a mild tranquilizer for centuries.
Cautions to maintain:
Don't apply undiluted essential oil to your skin.
Keep the oil away from your eyes.
Store the oil out of reach of children and pets.
If you use the oil for aromatherapy, make sure that the space you're in is ventilated well.
Using Tea Tree and Orange Essential Oil on skin:
Now, there are a lot of beauty influencers who think essential oils should not be a part of our skincare routine. The famous skincare junkie, Hyram Yarbro, mentions that fragrance is not good for skin, and "essential oils are fragrant aspects of the plant." He believes the main problem is that essential oils have 90% which can dry out and irritate the skin in the long term. But, he does mention that skin can handle up to 0.1% of fragrant essential oils. Paula's Choice, a skincare brand also mentions the same in their article.
Gopal took his time to talk about this. He believes that the statement is half true. Essential oils should not be used undiluted on the skin or anywhere else. Usually, 2-5% dilution is what is preferred. "One should use essential oils by mixing it in a carrier agent in which the oils are soluble. For example, essential oils blend well with carrier oils like Sweet almond, Jojoba, Coconut, etc." He says. So basically, in simple words, it is very important to reduce the concentration of these oils by diluting them with carrier oils before using them on skin. DO NOT use them directly, undiluted on the skin.
View this post on Instagram

Let the antimicrobial properties of sweet orange essential rid you of acne & give you clear flawless skin. #SattNaturals #SattNaturalsIndia #EssentialOil #Beauty #Natural #Naturesgift #organic
Essential oils when diluted in proper proportions are safe on skin. However, some oils can irritate certain people. So, always perform patch testing if one has sensitive skin before the application.
Gopal also warns us. "I would also like to mention that a lot of bloggers also mention to mix these oils in water. That should never be done as essential oils do not dissolve in water and it will be as good as direct application."
I used Satt Naturals Tea Tree oil by diluting 2 to 3 drops of the oil in 1 tsp coconut oil. The resulting oil works great on the skin and can do wonders to give you acne-free hydrated skin.
View this post on Instagram

Here to make your Quarantine sweeter, with immunity and bacteria killing. #SattNaturals #SattNaturalsIndia #EssentialOil #Beauty #Natural #Naturesgift
Sweet Orange oil should also be diluted before applying on skin, but as Gopal mentioned before, it should not be used in your skincare when under sunlight. Orange oil contains Vitamin C and citrus and the combination of these with sunlight can cause margarita burns. It is perfectly safe to use this oil during night time.
Essential Oils on Hair:
Tea tree works as a miracle against any sort of infection including fungal, explains Gopal. Since dandruff is sort of caused by the fungus it is one of the best remedies out there against it. Just ensure a few drops in your shampoo every time you do it. Having regular head massages with jojoba and tea tree oil helps improve hair quality and reduces dandruff, leaving a healthy scalp.
More about Satt Naturals:
We talked with Gopal regarding the startup of his brand. Amazingly, this brand has a very inspiring story behind it. Gopal mentions that he was into a corporate job and doing quite well as well. But in India, corporate jobs come with their pressure that can take a toll on your lifestyle and living decision. "I faced similar issues myself. Right from having body aches, to staying mentally exhausted all the time, it was negatively impacting my routine." He remembered.
When he started looking for solutions, he stumbled upon essential oils. Having read more, he found himself so fascinated by them that he went out to try all of them. "I started with Lavender essential oil and it honestly had a positive effect on my day and the next thing I knew, I was actually liking it!"
As he researched more, he found out how some oils are hugely effective and others a total waste. "It got me thinking how can one oil be beneficial and one utterly useless. It took me a little more research to understand how adulterated, hence the degraded quality of oils run so abundantly in markets in the name of essential oils." It was then that he decided he wanted to make the pure and natural oils available to everyone out there. So was born Satt Naturals.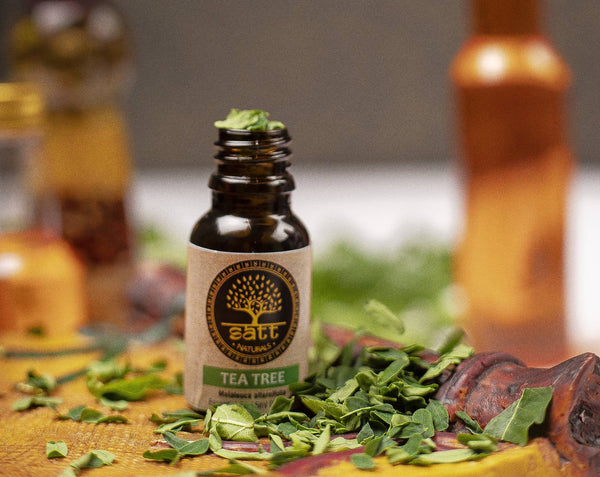 "We have been catering over a thousand customers, right from the beginning, who have not only given us positive feedbacks but also multiple repeat orders." Gopal told us, "As a growing brand, having met our customers' expectations thoroughly, was overwhelming."
He shared some upcoming projects of the company with us. So, if you are a fan of the brand, this might get you excited. Satt naturals will be coming up with 'Condition-based kits' specially curated for people who are looking at remedies for specific conditions like acne, etc. Also, they will keep on expanding their oils portfolio. "We have intentions to add two more essential oils by the end of August so that we can cover a wider range of issues and also add beautiful fragrances to everyone's homes!"
View this post on Instagram

We are not unknown to the goodness of Orange in our day to day life. Helping with a lot of physical issues our pure sweet orange oil works wonders for mental health as well.⠀ ⠀ ⠀ ⠀ #SattNaturals #SattNaturalsIndia #EssentialOil #Sweetorange #Beauty #Natural #Naturesgift
At last, Gopal answered some frequently asked questions about essential oils:
1. As a consumer, how do I identify good quality essential oils?
So usually we get oils lab-tested to check their purity and quality, but that is unfeasible for wider use. There is a very basic testing that any layman can do at home called the white paper test. In this, you put a drop of essential oil on a plain white paper and let it dry. After it dries out, if you can see a ring of oil on the place where you put a drop, it means the oil is adulterated or not of the best quality. If the oil is pure, it will not leave a trace on the paper and will completely evaporate. This works in case of most oils, but For oils like sweet orange, that naturally stain, this test doesn't work
2. Which of your oils are best for someone suffering from anxiety or depression? How should they use it?
The best oils for these are Sweet orange and Lavender. Sweet orange is known for its uplifting and mood changing scent. It is a happy oil and will instill a sense of happiness in everyone. Applying it with a carrier oil on your chest can help you keep happy and away from anxiety and depression. Lavender oil is also known for its de-stressing properties and is a wonderful relaxant. It will not only help you de-stress, but also help you sleep better at night. You can diffuse it in your room half hour before sleeping, or put a drop on either side of your pillow ( will not leave a stain) before you sleep, or the best way is to add it in a carrier oil and apply on temples and back of the neck before you retire to bed.
3. Where do essential oil come from and how are they extracted? Essential oils come from plants and flowers.
Some come from bark of a tree, some from flowering tops, some from leaves, and some from fruits! They are usually extracted using steam distillation process. In this steam is used to extract oils out of the leaves, twigs, barks, etc of the particular plant. Some oils are cold-pressed while others are extracted via solvent extraction.
Q4. What is the difference between "aromatherapy oil" and "essential oil"?
Aromatherapy is a science and essential oils are its tools. Essential oils are quintessential to aromatherapy. Aromatherapy means therapy based on aromatic oils (essential oils). Essential oils are used in various blends for various therapies to help individuals with their problems.
Q5. How long should a product be used on skin and hair before they start to show effect?
Healing is a slow process. If followed with dedication for a few weeks, the results are tremendous and positive! It usually takes 15 days of regular application before anything can show even the slightest of change. However, it will differ for each individual as everyone has a different metabolism and skin type.
Q6. Is it safe for essential oils to be consumed internally?
Essential oils are highly concentrated plant extracts and are not advised to consume internally.
Q7. What is the best method of using essential oils: applying to the skin or diffusing?
It is considered subjective and depends majorly on the end-use. However, topical application is the best way to go about it. One should note that the fastest way to get them into your body is via inhalation, but it will be dispersed randomly and might not reach the point which needs attention. Thus topical application is the best advice.
View this post on Instagram
Overall, the oils from Satt Naturals are pocket friendly and good! I would recommend it to anyone who is searching for a good essential oil brand. Visit their website now to get a look at all their complete range of oils. Check out their Instagram here to keep updated with them!