On May 11, how about preparing a special menu for your mother only? So go straight to the kitchen, to prepare a good meal, please our mother…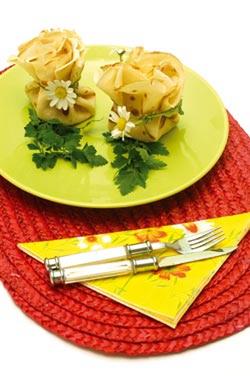 BREAKFAST
Daisy Pancakes
Material
For the pancake batter
2 cups flour
2 cups of milk
2 eggs
1 teaspoon olive oil
Interior material
1 cup cottage cheese
1 teaspoon of cheddar cheese
Half a bunch of fresh basil
1 teaspoon paprika
for decoration
chamomile, parsley
Preparation of
1. For the pancake batter, mix all the ingredients except the oil in a bowl with a mixer until it becomes a smooth batter.
2. Heat a large Teflon pan with 1 teaspoon of olive oil and pour a ladle of pancake batter to cook. When one side is golden, flip it over with a spatula and cook the other side. Repeat this process until there is no pancake batter left.
3. To prepare the stuffing, combine the cheeses in a bowl.
4. Wash the basil and chop finely. Mix them all in a bowl with the chillies and cook them lightly.
5. Place the pancakes on a plate, add the cheese mixture to them. After rolling it up in small bundles with chamomile, garnish with parsley. It looks very elegant doesn't it?