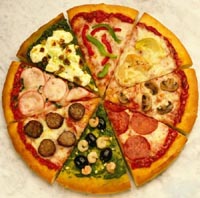 Do you like pizza? How about doing? This dish requires care and effort. TO DO most of the time it's difficult. But it's easy with us!
Mixed pizza
Material
200 g ready-to-use bread dough
Half a packet of sausage
10 salami
8-10 mushrooms
2 tomatoes
olives
cheddar cheese
1 red pepper
Preparation of
1. Begin by preparing all the materials. Slice the sausages, cut the tomatoes into small pieces, separate the olives from their seeds.
2. Lightly knead the bread dough on a flour-dusted surface and roll out to a half-inch thickness. Place the dough on a lightly greased baking sheet. Start putting the materials on it. Sprinkle only cheddar cheese on top after grating it.
3. Bake in a preheated oven at 200 degrees for 15 minutes. Slice and serve hot.