If you don't know how to style your hair in the heat of summer, apply the style of Pelin, the original of the Kavak Yelleri series! Don't miss the beauty secrets of our cover beauty!
Is your hair color colored?
No. I used to paint all the time, but now I prefer to keep its natural color. Actually, I can't change the color too much because of the series.
I think you like long hair 🙂
I'm thinking of getting a haircut soon 🙂 But I like my hair more when it's long.
We always see his straight hair…
Because of my role, my hair has to be straight. I prefer to blow dry my hair, but I also get a slightly wavy curling iron for special occasions.
How do you take care of your hair?
I use shampoo and conditioner separately. I receive special care once a month. I do not neglect to remove fractures often.
You often wear earrings on the show. Is it due to the role?
In real life, I also like to wear bobby pins and headbands. I have a variety of color buckles 🙂 I think the buckle is something that changes the person's mood and is practical.
Asli has a natural style in Kavak Yelleri. What is your relationship to makeup in your daily life?
I don't really like wearing makeup. I favor simplicity. Mascara and blush are enough for me. Most of my time is spent on the set of the TV series anyway. Since Asli's character is simple, there isn't much makeup on set. The rest of the time, if there is a particular situation, I make up a little more intensely, that's all.
So how do you prepare your skin for makeup?
Before applying makeup, I abundantly nourish my face with a moisturizer. Otherwise, my skin dries out and makes makeup look bad.
What area do you like to highlight the most when you do your makeup?
My eyes 🙂 I especially like to darken and define the outline of my eyes with mascara and eyeliner.
What are your makeup bag essentials?
Mascara, blush and wet wipes. I would struggle without all three.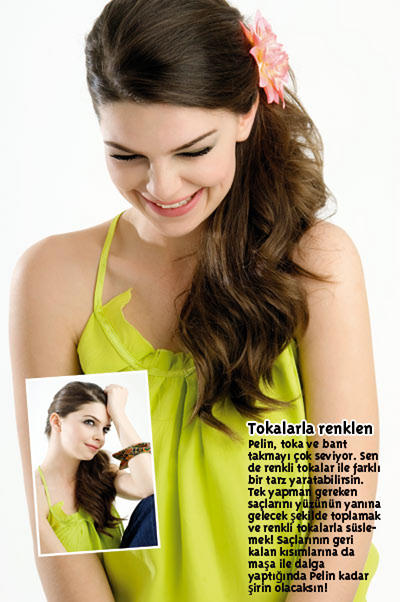 Which brand do you prefer the most in cosmetics?
I prefer the Mac brand because it is permanent and long lasting.
How do you clean your skin?
When I come back from the set, I do my daily cleaning. I regularly use the moisturizer that my doctor gave me. Because my skin is allergic. I have to use alcohol-free moisturizers. I apply baby oil after every bath. Other than that, I don't need to take care of my skin.
Do you use false nails?
No, I never use it. I love short nails.
So how do you take care of your hands?
During the day, I wash my hands very often and I apply a moisturizer. When choosing creams, I prefer those that take care of my nails as much as my hands.
What is your choice of nail polish?
I love doing "French". But because of my job, I couldn't do it for almost a year.
Do you have tattoos anywhere on your body?
My life is very precious 🙂 That's why I can't get a tattoo. Also, a player should be very careful when getting a tattoo. Because it may not be visible. I think it's not suitable for me, let those who are suitable do it 🙂
The most beautiful wallpapers of Pelin Karahan!