Is your closet messy? Not sure how to rearrange your clothes? Here are 7 ways to help you in your cleaning quest!
1. Invest in quality hangers
Whenever I'm shopping for clothes I always find myself saying yes to keeping the hangers because, well, they're free, but also you can never have too many hangers at home, right ? But in reality, these hangers could be doing your clothes more harm than good. Hangers come in all shapes and sizes and when you place a garment on a hanger that is not the right shape, it can warp and mess it up.
Wooden hangers are a great investment because they are sturdy and well made, rather than the cheap flimsy plastic hangers you get in stores. Velvet hangers are also suitable if your clothes tend to slip off the hangers. Both of these options are also cheap and all match, which makes the closet look much nicer too.
2. Organize by color
Many people swear by this method because it looks good and makes it easier when you like to color coordinate your outfits. Many celebrities choose this method, including Eva Longoria and Khloe Kardashian. How crazy is Khloe Kardashian's color-coordinated hair extensions closet? !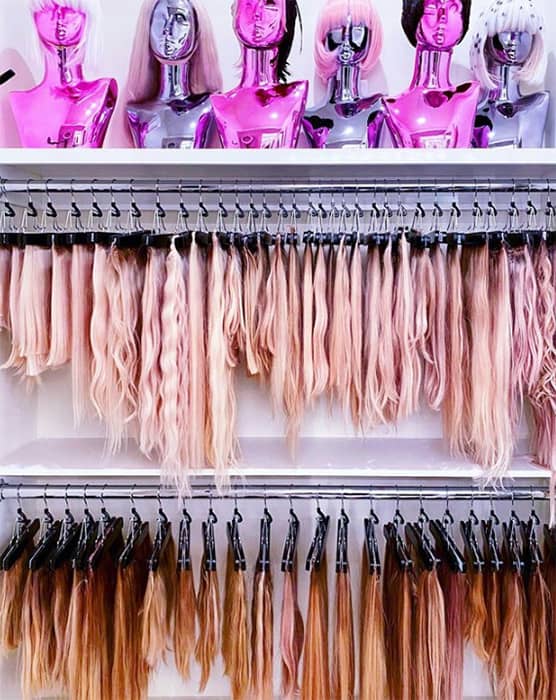 However, if you're like me, you won't have as many clothes (or hair extensions) as the celebrities, so maybe you don't need to organize yourself so specifically by teal, turquoise and aqua and just opt ​​for blue instead!
3. By type of clothing
From my own experience, I think it's the most efficient way to organize your clothes, and that's how I've had mine for years now, as I find it by far the most efficient way to organize your clothes. simple to navigate in my clothes. By separating your clothes into sections of sweaters, pants, tops, etc., it's very easy to know where each item is, so if you're cold, you can easily reach for a sweater.
4. Consider your storage options
Organizing your clothes can be tricky when you don't have a lot of closet space to hang your clothes or if you have more room in a set of drawers rather than a closet. It might seem impossible to organize your clothes if this is the case, but there are things you can do to try and make the most of what you have.
If you're limited on closet space, you should go through all your clothes and set aside items that wrinkle easily, are fragile, or that you'd rather hang up. This way, you'll only hang the clothes that absolutely need it. The rest of the clothes can be stored in drawers, closets or wherever you want.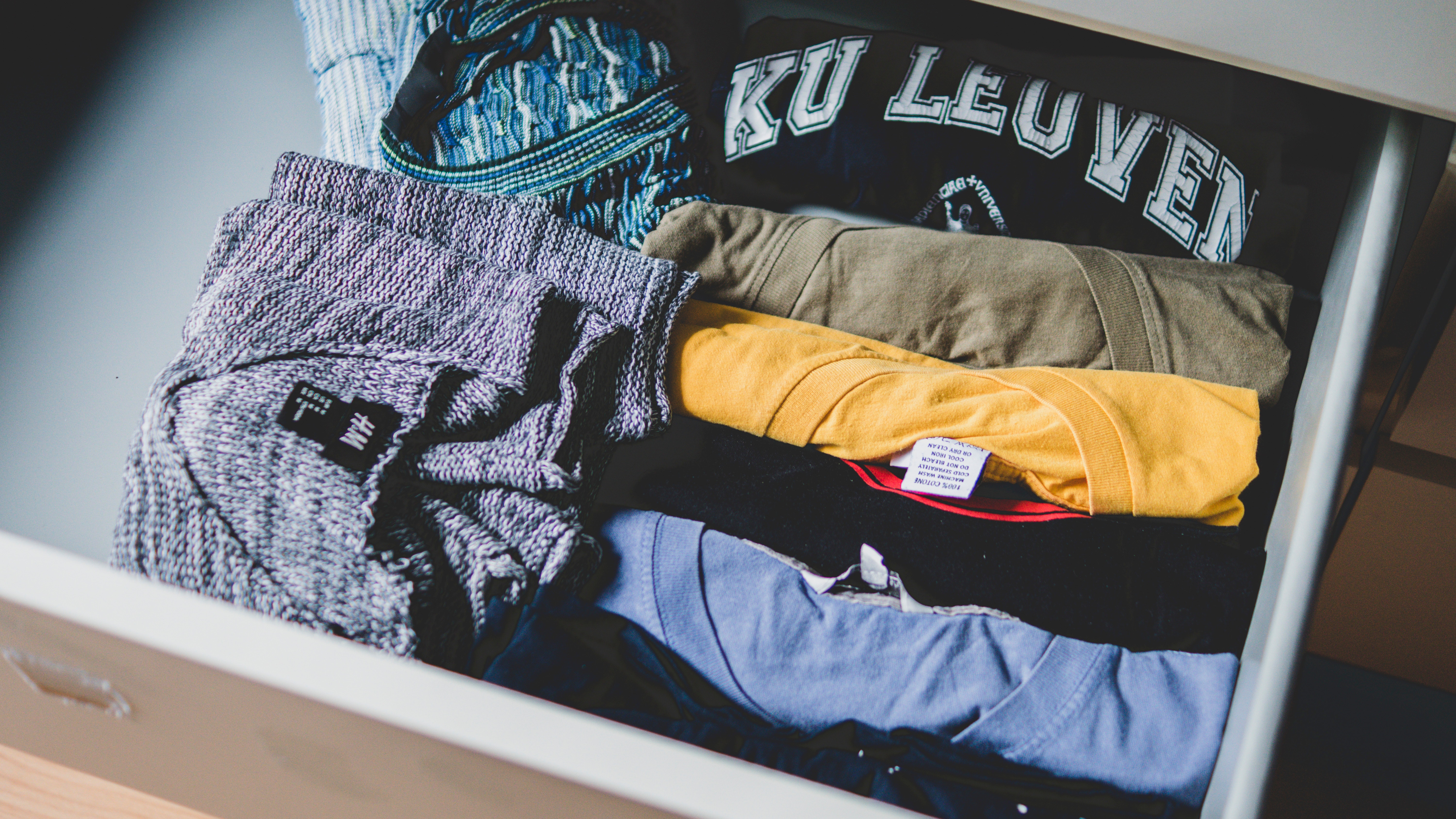 5. Drawers don't have to be boring
Clothes organization isn't just about the wardrobe! You also need to show the drawers some love. I find the best clothes to store in drawers are pajamas, underwear, and loungewear: clothes that, if a little wrinkled or messy, don't matter as much. Rolling your clothes before putting them in drawers can make them look prettier and give them the best chance of being wrinkle-free instead of folded.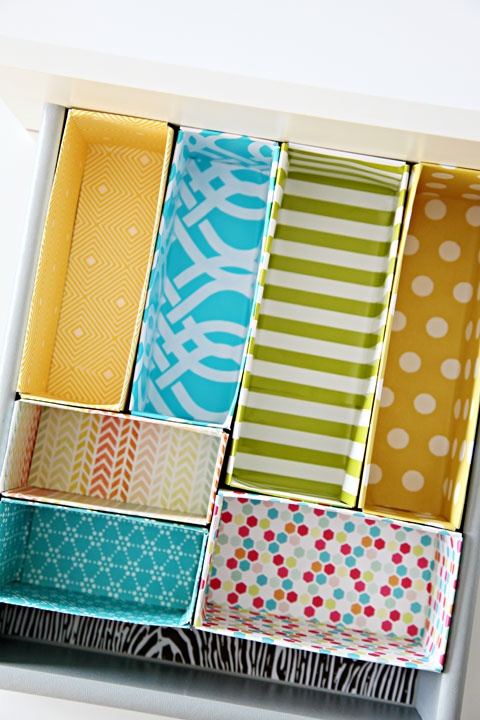 A recent organization hack I've found is drawer dividers. These are an amazing help in separating your drawers and come in different colors and styles so you can get exactly what you like. I find these work particularly well for a sock drawer, as you can easily separate your socks, whether individually, by color, or by sock type (eg, ankle socks, fluffy socks, athletic socks).
6. Declutter
Here's the boring… No one likes the idea of ​​decluttering, it's one of life's tedious tasks, BUT the feeling you get after it's all been done and you're much more organized l definitely outweighs the process itself. Decluttering clothes is pretty easy, picking out clothes you don't like, don't fit anymore, are stained/damaged, etc. There are different options you can do with these clothes to get rid of them.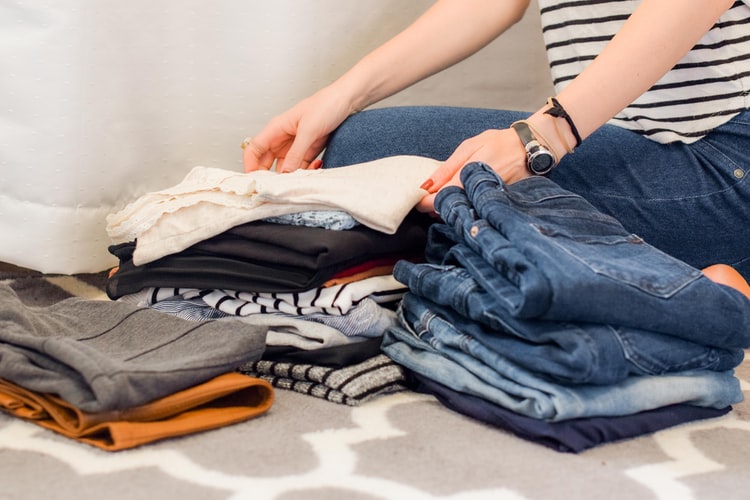 You can just throw them away, which isn't the most environmentally friendly solution, but if the clothes are damaged, this may be the only option.
Another option is to give them away. Maybe your friend complimented a jacket you wore and you now have the option to leave it to them, or maybe your sibling continues to wear your clothes that you can now give them for good. . Donating clothes to charity is a great option because it not only gets you rid of the clothes, but also gives you a sense of purpose for people who really need it.
7. Don't ignore your accessories
Accessories are just as important to your wardrobe revamp as your clothes, because there's no point in being able to easily put your outfit together without finding a bag or necklace. Installing shelves in your closet is a great way to display handbags and shoes, making it easier to choose them.
If you don't have enough room to add shelves, using wasted space behind the closet door might be the answer. Adding rails or a hanging shoe storage bag can give you lots of extra space you didn't know you had. It doesn't just have to be for shoes, you can also store handbags, belts, hair accessories or socks in it.
Reorganizing your closet not only makes it easier to find your clothes, but it can also help clear your mind. With these tips, I hope you find a solution that works for you and your wardrobe, because I understand that not all of us have our own walk-in closet with tons of space or even a closet in the everything. Whatever the situation, you can always make the most of what you have!