We are halfway through October, the month of ghosts, skeletons and all things scary. And if you're like me, someone who loves hot chocolate, falling leaves, sweaters and a good pumpkin pie, you probably also love thrillers and mystery novels. The fiery suspense and heartbreaking twists of thriller novels are not for the faint-hearted. But if you're like me and like the unknowing, you're going to love this list of thrillers and mystery novels I've put together. So without further ado, here is a list of my favorite thrillers.
1. The Woman in the Window by AJ Finn
If you read thrillers avidly, you've definitely heard of this captivating novel. However, for those of you who are just dipping your toes into the world of chilling and suspenseful reads, let me be the one to introduce you to this tour de force.
In The woman at the window, agoraphobic Anna Fox peeks into the lives of her neighbors through her window and a pair of binoculars. Anna used to be a child psychologist, but now she spends her days indoors alone and sometimes with her therapists. Anna has separated from her husband and her young daughter has left with him, and so she is completely alone in her home, forced to rely on the lives of her neighbors to thrive.
However, things change when the Russells move in across the street. Lovely couple Alistair and Jane and their young son Ethan seem like the quaint family, at least at first. Anna has interactions with kind Jane and sweet Ethan before one day she sees through her window, a knife to Jane's heart. The very next day, after she reported the murder to the police, a very different woman appears posing as Jane Russell. And neither Alistair nor Ethan recognizes that this Jane is different from the one Anna spoke to before.
As you can see, this book is psychologically thrilling, keeping you on your toes from plot to plot until the ending leaves you in shock. The woman at the window is a must read for all mystery lovers.
2. One of Us Lies By Karen M. McManus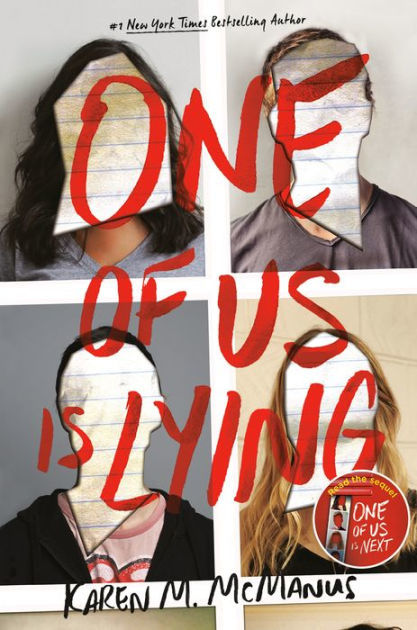 one of us is lying has been on shelves and bestseller lists all over the world, and for good reason too. McManus' debut novel will have you laughing and crying, taking you on an upside-down high school roller coaster, all with a twist of murder mystery.
In one of us is lying, which is impressively told from four different points of view, five students enter detention. And that fateful afternoon, only four come out alive. Bronwyn the nerd, Addy the princess, Cooper the jock, and Nate the criminal are all high school stereotypes. And when Simon Kelleher dies in custody, eyes are cast on the four of them from all corners of the school as the killers. After all, who else could it be?
To ask us, as the title says so well, which of them is lying. How did Simon die? And is one of the characters that you love and encourage over the course of the novel the killer?
one of us is lying is a great read for teens who love realistic fiction but want to try a lighthearted crime novel.
3. … and the sequel, One Of Us is Next by Karen M. McManus
One of us is Next, Following one of us is lying, does not present the views of our four favorite students. But it does feature cameo appearances from each of them.
In One of us is Next, a mysterious text is sent to the students. It's a string of truth or dare, something quite common in a normal high school. But this game of truth or dare isn't so normal. Because first it's blackmail, and then it turns to death. Told from three perspectives, Maeve, Phoebe and Knox try to figure out who the mysterious texter is before their lives are turned upside down by the texting chain and its horrific rumors.
If the murder and mystery aspect is less important in this novel than in one of us is lyingMcManus still pulls off an outstanding feat of plot twists that will keep you on the edge of your seat.
4. Sadie by Courtney Summers
Sadie will make you sad. Maybe even cry a little. But that's how you know it's well written. Courtney Summers does a fantastic job of incorporating two completely different viewpoints into this heartbreaking saga of revenge and love.
When her little sister Mattie's body is found, Sadie seeks revenge. Their mother is away and Sadie is tough. She has risen and she loves her sister more than anything. Armed with a blade, Sadie travels the country to find the man who killed her sister, determined to bring him to justice. At the same time, radio show host West McCray is informed of Sadie's disappearance and Mattie's death. He is immediately intrigued. West begins a podcast chronicling Sadie's journey, following her journey, trying to figure out what Sadie had already pieced together.
Sadie is a poignant and beautiful read that will have your heart racing long after the final pages of the novel.
5. Claire McFall's Last Witness
Located on the Irish coast, The Last Witness will change your mind, ping-pong back and forth, until the very last page.
When Heather and four of her friends go camping on the beach, the last thing they expect is for only two of them to survive. Told in flashbacks of the asylum where she's housed, Heather recounts the story of her friends' deaths, telling her psychologist how she couldn't have caused their demise. Her psychologist doesn't believe her. You're going to go back and forth between believing Heather and doubting her, and eventually your brain is going to get tired of guessing.
Luckily, the ending is going to be something you never guessed. McFall does a terrific job of creating characters that are both likable and unpleasant, and an even better job of making the reader doubt themselves. A great read for those who enjoy the psychological aspects of thrillers and mysteries.
6. Liars, Inc. by Paula Stokes
Liars, Inc., is not your detective novel for teenagers. This is an electric and thorny detective story. And it's fantastic too. Stokes has plotted a novel of intricate beauty where every little detail isn't one you want to miss. The characters are unique and the plot is so well designed that you will be shocked at the end.
In Liars, Inc., adopted Max Cantrell spends his time on the beach, or with his beautiful girlfriend Parvati, or his jock best friend Preston. He doesn't know where he stands with the two of them, other than the fact that all three of them like to intrigue. And when they settle down Liars, Inc., a way to make a quick buck where they falsify sick notes and clearances for students at their school, Max has no idea what it's going to get him. Because one day, Preston asks for a blanket, so he can go to Vegas to meet a woman.
He never comes back.
The police believe Max is the number one suspect in Preston's disappearance. And since Preston is the son of a state senator, this case is all the more hurtful to Max's reputation. Max and Parvati rush to save Preston before it's too late for either of them. But what they discover next turns Max's world upside down.
you are not going to put Liars. Inc., down, I promise you. Stokes is a genius plotter, and it shows through this reading.
7. That Night by Cyn Balog
Kirkus Reviews calls this one a "twisted and gripping tale", and I have to agree. Tonight is a dark and twisting story that you won't be able to put down until you find out what really happened to Declan.
Declan, Hailey's boyfriend, died over a year ago. Suicide is what everyone says. But Hailey doesn't think so. There seems to be a problem, however, and that is that Hailey has blocked the memories of Declan's death in her head. Completely erased, as a means of protection. But when she discovers something strange in Declan's room, the memories resurface and Hailey is amazed at what she finds.
This story is great if you're looking for a murderous thriller that combines with the realistic fictional element of high school drama. Whether one of us is lying calls on you Tonight will also, it's a slightly darker theme of the same kind of book.
Tonight keeps your heart racing and your brain active, and you'll be thinking about it long after you've done it.
8. Truly Devious, The Vanishing Stairs and The Hand On The Wall by Maureen Johnson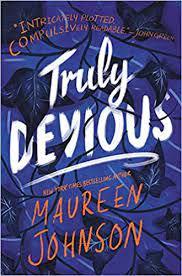 I could go on and on about this beautiful, electric and complex beauty of a book series. For your sake, I'll be brief. But if there's one I recommend on this list more than any other, it's this series. Not only is it compulsive, drawing you in with its beautiful and eloquent writing, the plot is then intricately woven, I wonder how Johnson put it together. He had to demand various bulletin boards.
The Really sneaky The series tells the story of two mysteries. Or is it one? The first concerns the abductions of tycoon Albert Ellingham's wife and child in the early 1900s. The other is a series of murders at a remote boarding school in Vermont in 2019. How are these two mysteries connected? That's what Stevie Bell needs to find out. When she first joins the selective Ellingham Academy, her goal is to solve the Ellingham murders. A true crime aficionado, Stevie is determined to find out who kidnapped Iris and Alice Ellingham. His plans are turned upside down when his classmate Hayes Major is killed.
Told through three equally well-written novels, Johnson kept us hooked for three years with the release of her books. Luckily for you, they've all been released already. And if you like them as much as I do, which you will, you'll want to finish them all in one sitting. I wouldn't blame you. These books are the very fiber of why I love thrillers and mystery novels, and they sparked my love for the genre. I highly, highly recommend them.
I hope you enjoy these reads, sitting in your blanket with a cup of hot chocolate and a roaring fireplace nearby! It's the best (and in my opinion the only) way to devour a mystery.