Summer is finally in full swing: the ever-bright days are giving us a sunny glow, and the fun times have officially begun. Whether summer means a beach vacation, a trip to the bustling city or some quiet relaxation for you, MANGO's Teen line has the perfect range of casual yet on-trend outfits for this season.
MANGO's Teen line is part of the main MANGO line, but designed to fit the current style of today's younger generation while maintaining the brand's distinctly timeless style. "The designs were created by embracing current trends, while leaving room for the personal expression of young people, as they begin to define their own style," explains the brand.
Buy MANGO at www.mango.com.

Buy MANGO Teen at shop.mango.com/us/teen.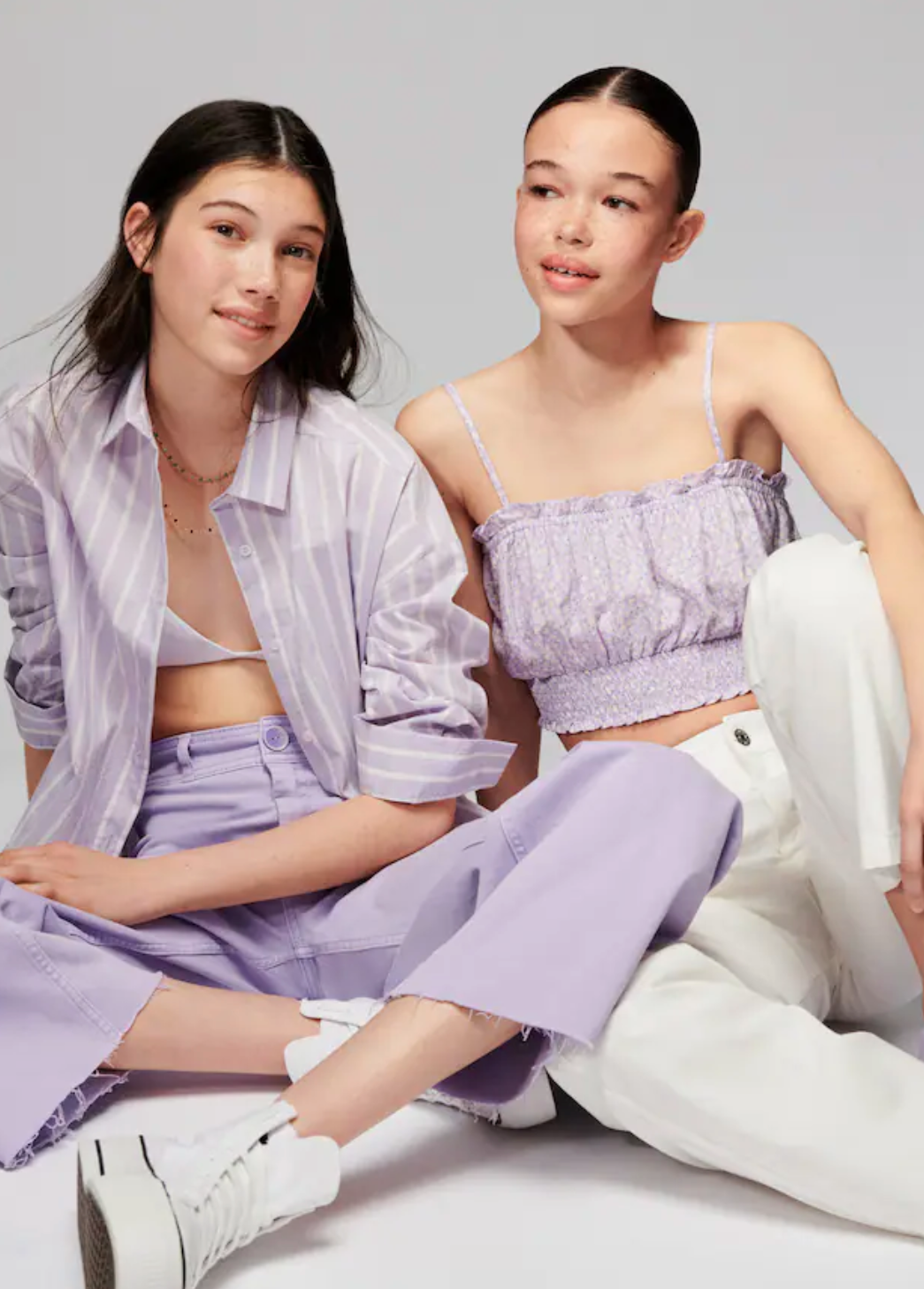 From light pastel tones to fun textured prints, the Teen line's summer collection encompasses everything that feels free and exciting. Each piece has a stunning design, and below you'll find the perfect outfits to wear for your next summer adventure.
Floral print top
Nothing captures that lazy summer feeling more than sweet picnics, and this gorgeous print top is perfect for warmer weather and a nice day in the grassy park.
A halter neck top that has a retro vintage flair, the floral print top in pastel green is the perfect summer top for both casual days and dressy times.
Shop the floral print top in pastel green here.
This floral print top features an all-over print of pale green flowers with hits of chartreuse and blue. Floral patterns are abstract, so they look fascinating and artistic.
I love how this halter top has a great tie feature at both the neck and the back. The back has an extendable segment but also another link for more security. I love how the tie simply drapes over creating a dramatic effect. If you want to add a feminine look, go for a huge bow!
I also love the texture of this top; it has an allover ruched design and the fabric is so light and cool to the touch, making it perfect for hot days.
The top has a cropped design, making it perfect for pairing with any of your favorite high waisted bottoms. Opt for white jeans with platform sandals for a cute enough look for brunch!
High-waisted denim shorts
If you're looking for a casual day out, that usually calls for a simple shirt and shorts combination. To add a little more chic to your look, opt for a pretty pastel pair to truly embody that summer feeling!
Shop the high waisted denim shorts in lilac here.
High waisted denim shorts are your perfect comfortable shorts to wear without being too casual. With its pretty color and classic design, it's perfect for dressing up in a pretty top or going all the way with a tank top. I love that these shorts give you the freedom to do it your way.
The shorts are cut short, giving you the perfect time to sunbathe and run wild. It has a straight design, so it's a simple yet flattering silhouette. It is also high waisted and includes five pockets!
I love the little side slits and the features add a classic look that will never go out of style.
This denim style cotton fabric is also made with our planet in mind. As MANGO explains, "Engaged labeled garments are products that have been manufactured using sustainable fibers or processes, reducing their environmental impact. Mango's goal is to support the implementation of more engaged practices towards the environment, and therefore to increase the number of sustainable garments in the collection." The commitment to keeping our earth clean is applauded, and I love that these shorts not only look stylish, but help make a difference!
Moreover, these denim shorts are available in a variety of colors. Besides lilac, there are also pastel pink, pastel green and light blue color options. These shorts are so versatile, you can practically wear them with any crop top for a comfy look on the go!
T-shirt with contrasting border
If you're looking for a timeless tee that reminds you of the classic 90s, look no further than the Contrast Trim Tee. This casual shirt goes well with any outfit and is so easy to wear for anything and with anything.
Shop the contrast trim t-shirt in sky blue here.
This cropped shirt features a round neck and short sleeves. The crew neck and sleeves are edged in white, creating a neutral yet eye-catching contrast to the navy blue.
The navy color of this shirt is so soothing and colorful without being too flashy. I love that it's a great understated color that goes with both light colored bottoms and dark colored bottoms.
This cotton shirt is the most comfortable shirt ever. It's so comfortable and snug, and looks flattering too! In addition, this shirt is labeled Committed, which means that it was "produced using sustainable fibers or processes, reducing their environmental impact".
I love that there are so many ways to wear this shirt. You can wear it with your favorite white jeans, white loafers, denim shorts with classic sneakers or just over a bikini at the beach.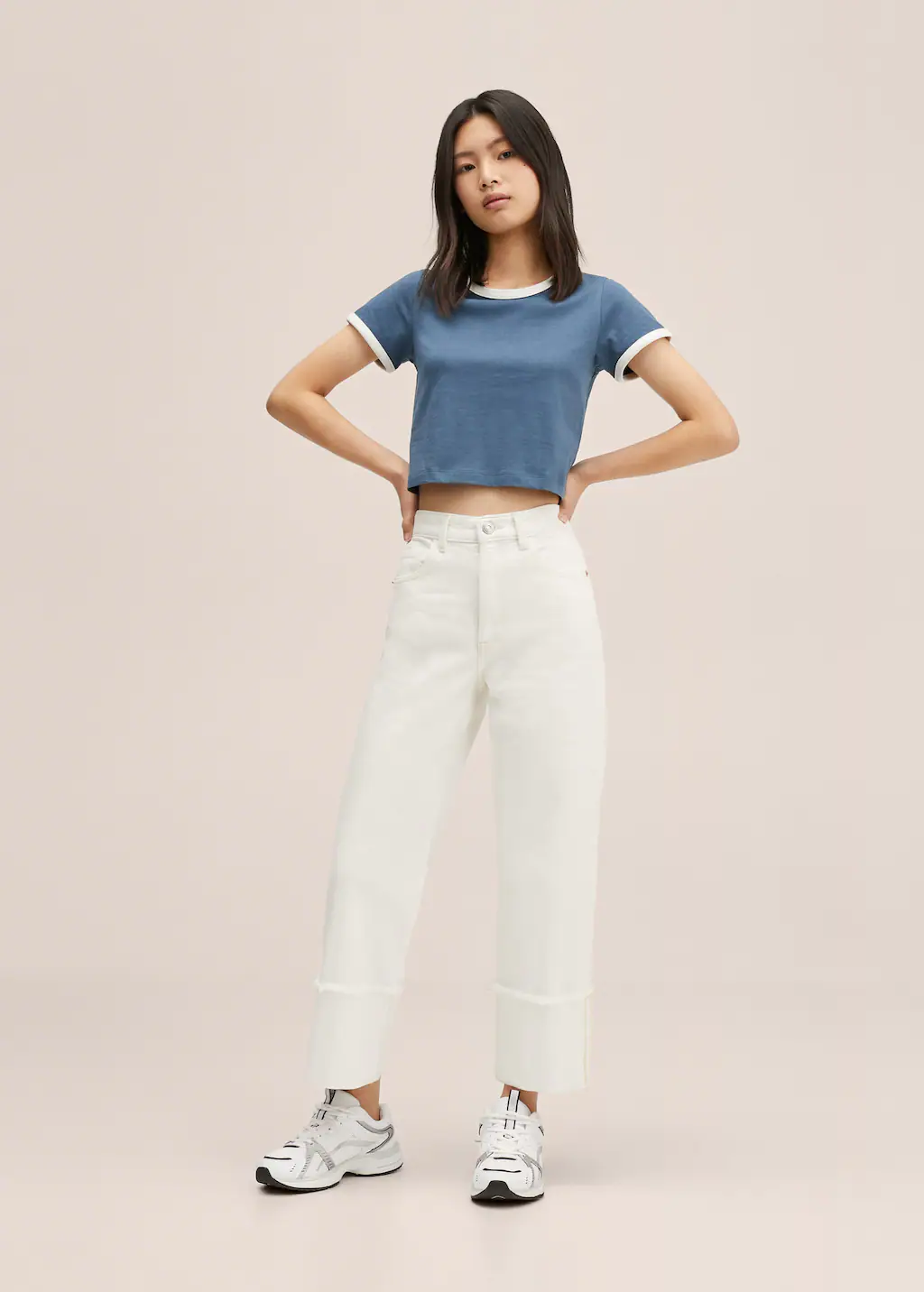 This is seriously the basic staple that needs to be in your summer wardrobe!
Floral print shorts
Sometimes all you need is something smooth and free so you can really live your adventures.
The floral print shorts are exactly that; These cute pink shorts are so comfortable without sacrificing style and are perfect to wear for an active day.
Shop the floral print shorts in pastel pink here.
I love the print on these shorts – it's an allover pattern of abstract pink and red flowers with white accents, giving it a light but understated color tone. It looks bright enough to be summer but also at the same time ideal for fall, making it a beautiful, limitless seasonal piece.
These shorts are very fluid and loose around the legs while being snug around the waist. They are also quite short, making them a must for particularly hot days. These shorts are also durable, which is a definite plus!
I also appreciate that it doesn't have a defined silhouette, and from a distance it almost looks like a skirt.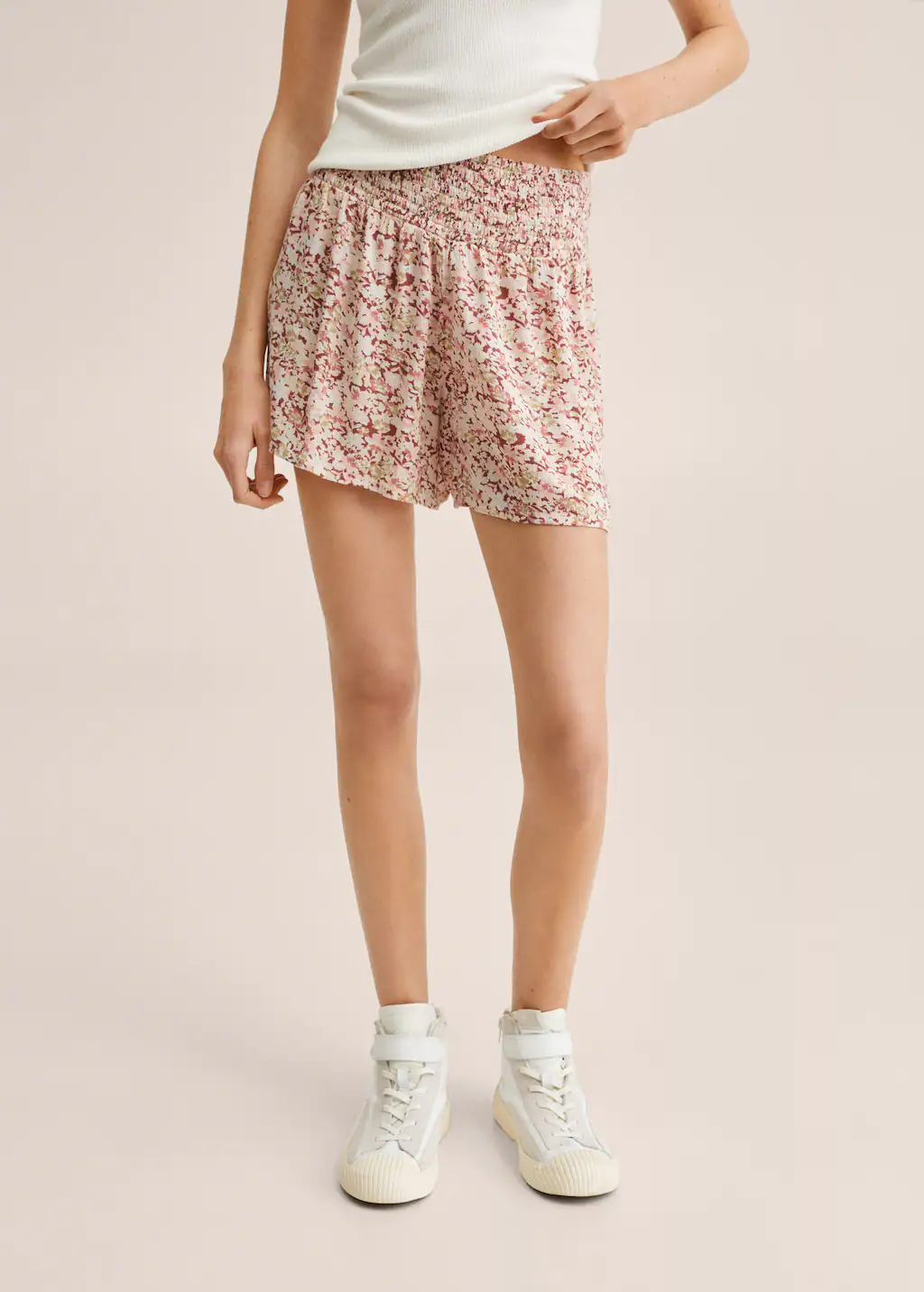 I love pairing these shorts with something bright to really bring out the light and laid back nature of the shorts. Opt for a white tank top, and if the weather turns cold, layer a red cardigan!
Flower-embroidered top
She's petite, she's cute and she's delicate: discover the top with embroidered flowers, your future reference for brunches. This gorgeous crop top is super soft and packed with detail.
Shop the Flower Embroidered Top in Pale Pink here.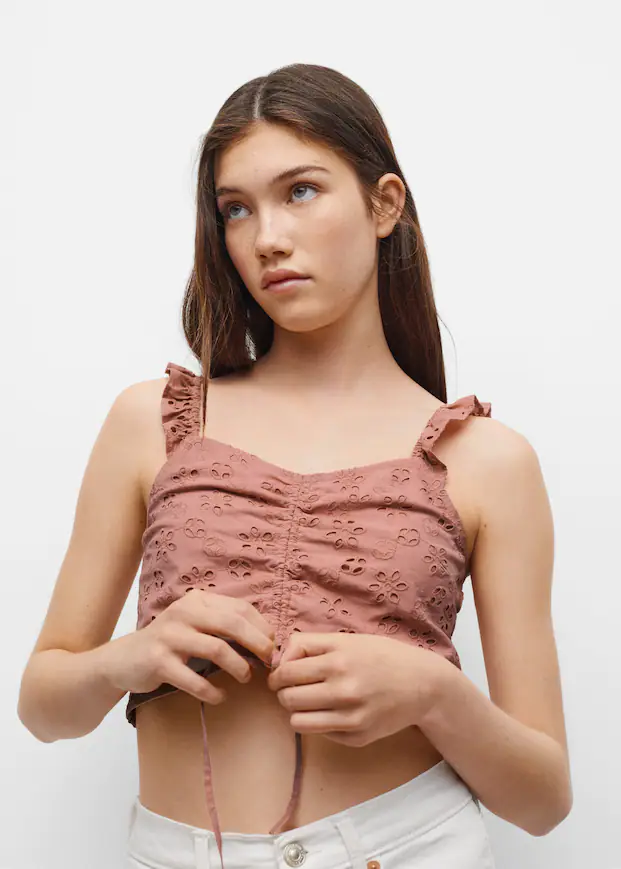 This stunning crop top features a ruched center section that folds down the middle, creating a cool folded textured effect. At the bottom of the gathered section is an adjustable tie.
The straps of this top are just right without being too thin or too thick; it's also ruffled, with layers of pleated lace throughout.
The back of the top features an elastic back that has a cool texture throughout, making it another intriguing design. I love all the cute features of this top, and the attention to detail is amazing!
Throughout the upper, the fabric features lace cutouts in the shape of a delicate flower. I'm totally obsessed with this look, and it really adds to the feminine and pretty aesthetic!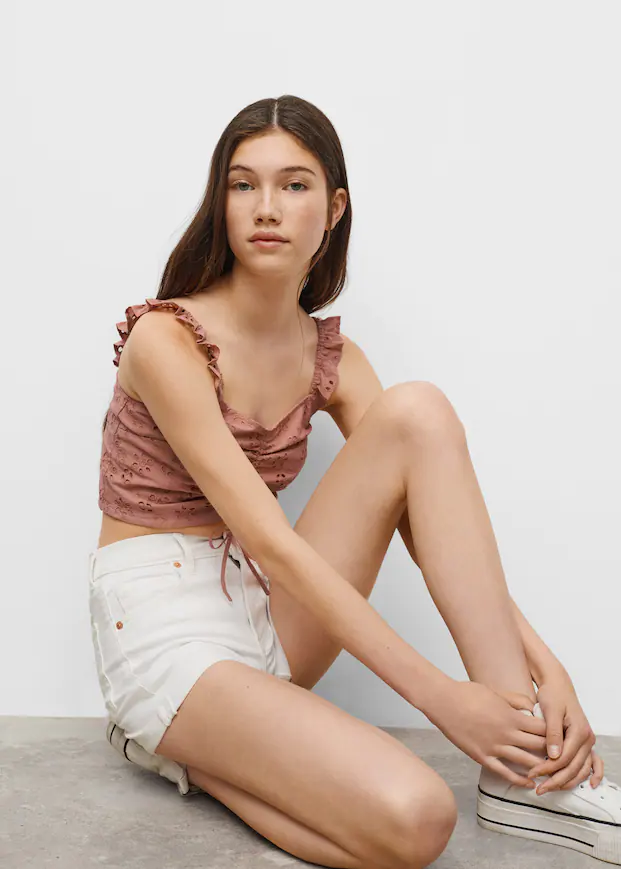 I love the gorgeous pale pink color; it is rather pastel mauve and goes wonderfully with white jeans or a pink ruffled skirt. Pair them with your favorite sandals and voila!
Faded fabric tank top
Every wardrobe needs a good classic tank top, and the stonewashed fabric tank top is such a summer dream with its classic fit and pretty blue hue.
Shop the Washed Fabric Tank Top in Sky Blue here.
This tank top features a cropped design that isn't too short or too long and is perfect for pairing with good ol' denim shorts or jeans.
The washed cotton fabric has a waffle structure and texture all over. I love how cool it looks, and the texture has a criss-cross look which is an incredibly neutral yet unique design.
The top has a scoop neck that sits comfortably above the neck and is completely sleeveless making it perfect for summer wear.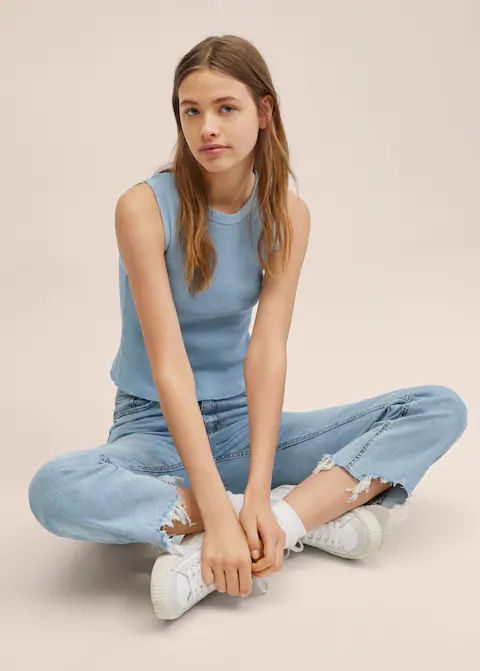 This top is Committed, which means it's also sustainable! It's the true definition of a must-have, and I'm sincerely obsessed with this basic but not-so-basic top.
Long denim overalls
Overalls are such a classic look, and they will definitely never go out of style.
The white dungarees in particular can be such a timeless look, but also mixed with a trendy look! Whether you pair it with a playful crop top or a patterned tube top, it can be a totally chic look.
Buy the long denim dungarees in white here.
I love these denim overalls because they are flattering. It is both laid back and put together at the same time.
The white color of the overalls is such a classic and pure color. I love how it's a simple solid color, and it's so clean like it's a beautiful weekend morning by the lake.
This dungaree has detailed features throughout, including adjustable tie straps, two side pockets and two rear flap pockets. The two main suspenders of the overalls cross at the back and are adjustable to clip on the front.
These dungarees are part of MANGO's Committed collection, which makes them durable. I love their style and the fact that they are also a good choice for our planet!
These overalls can be dressed up or down. It looks stunning with a pair of heels and looks great with classic white sneakers. Either way, it's sure to look gorgeous on you!
Follow the news of MANGO
Be sure to follow MANGO's Teen Collection on social media to stay up to date with all their latest collections and classic yet cool style inspiration. Find the brand on Instagram at @mangoteen and on TikTok at @mango.