With May marked on the calendar, summer has officially arrived. One thing that is a must for this season is drinks! Whether it's after a night out with friends or a game night, refreshing drinks make everything better. Moreover, the drink you take may also suit your needs. From sugary drinks to chocolate explosions, the variety is endless. You can try something new every day! Here are the 5 most popular summer drinks to spend this summer!
Alcoholic cocktail with cherries
The cherry cola mocktail is the perfect drink, especially after calling it a day; all exhausted, you want something to revive you, imagine taking a sip from a cool glass, which stimulates your senses as soon as you feel it on your tongue. There it is, the perfect blend of grenadine and cola. To do it yourself, take a glass and pour as many ice cubes into it as you want. Next is grenadine, which is an extraction of sweet pomegranate juice. Finally, you finish it off with cola. Since cola itself is sweet, you can always adjust the sweetness by deciding the amount of grenadine. For the final touch, you can decorate it with a maraschino cherry!
Mango Spritz
If you're looking for a fruity drink to add to your list, the mango spritzer is worth it! While you might think it would take time to craft, it certainly isn't. In fact, this drink is suitable for teenagers and you can prepare it in a few minutes. First, start with chilled mango juice and pour equal amounts into the number of glasses to be served. Next, pour sparkling water into each glass, followed by fresh lime juice. Don't forget the ice cubes! And you're done – wrap it with perfectly sliced ​​lime.
Indian lemonade
Famous for its varied cuisine, India is home to one of the most beloved cuisines in the whole world. Born in northern India, I grew up mashing lemons for the tangy yet sweet lemonade that has become my family's summertime tradition. There are many ways to prepare it – using soda water, coconut water or spices. Personally, I like it without the spices, but you never know what works for you until you try! This drink is perfect for casual couch potatoes; you don't have to spend too much time mixing or sifting anything. Start right away by adding sugar to the water. Softness is up to you. Plus, when the sugar dissolves completely, add some lemon to it and you're already halfway there! Finally, pour it into glasses with ice cubes and garnish with a thin slice of lemon. Your drink is ready!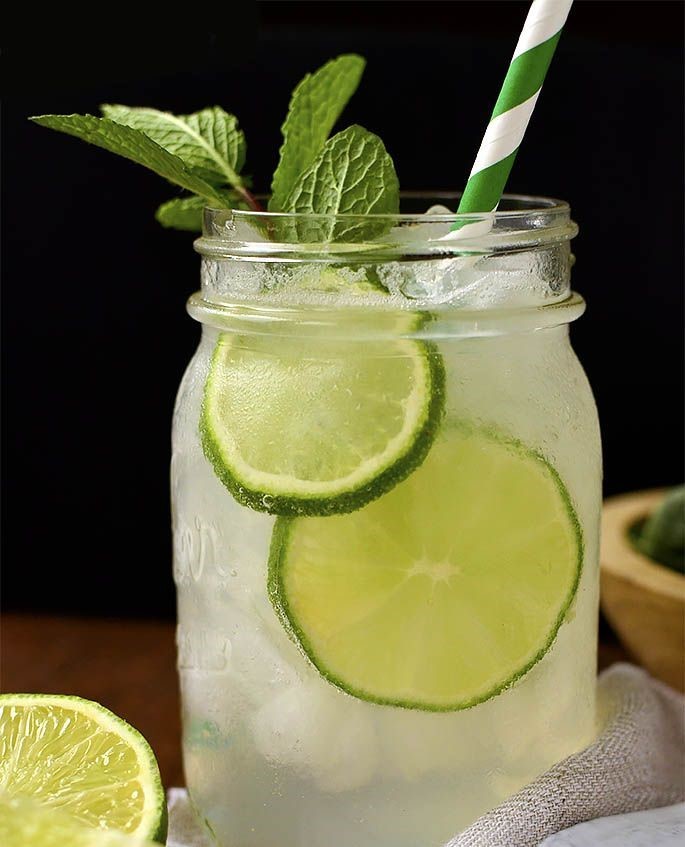 Galaxy non-alcoholic cocktail
Have you ever been fascinated by the hues of a galaxy? If so, this drink is for you! Whether you have game night or just friends coming over, make it special with the galaxy mocktail. This drink encapsulates the wonderful blue-violet hues and breaks all artistic barriers when it comes to being creative with drinks. The stars of the show are the blue curacao syrup and the orange and lime juice. For the blue layer, put in a blender the blue curaçao syrup, the grenadine, the lemonade, and above all, ice. Mix until you get the blue slushie. Follow this same procedure with orange and lime syrup, blue curacao syrup, lemonade and ice. Once the two different colored slushies are ready, put them in alternating layers in glasses. As for the garnish, choose what you like!
Watermelon and Cucumber Mojito
If you had been asked to think of two fruits that most remind you of summer, I'm sure the answer would have been either watermelon or cucumber. Well, this mojito lacks nothing and has the heavenly accord of watermelon and cucumber, making it an all-summer favorite. First of all, the mixing is how you start with the drink. Add in a blender: watermelon, cucumber, lime juice and mint leaves. As soon as the puree is ready, sieve it and pour it into chilled glasses with ice cubes. Then let the sparkling water bring the cubes to the brink. Add some maple syrup and finally top it all off with watermelon in whatever shape you want! Enjoy!