With longer days filled with wilderness adventures and a sunny glow for our tan, the summer season sets the stage for tropical adventure. No matter which beaches or poolsides you explore this summer, one thing always remains constant: the perfect summer isn't complete without an iconic and fun TRIANGL costume that matches your vacation vibe.
Buy TRIANGL at triangl.com.
See this post on Instagram
The beloved Australian brand, well known for its innovative stylish fits, intriguing prints and eye-catching textures, is taking summer in stride and reinventing how a relaxing beach holiday can be. With their latest drop, TRIANGL reimagines a nostalgic yet timeless summer in a modern take with bold colors and cuts that aren't afraid to be bold.
As TRIANGL's tagline says, summer never ends – and that's true with these two stunning pieces that will have you looking and feeling your best when lounging in warm weather.
Thatched ASTER
Light up your summer in the most avant-garde way: the ASTER is synonymous with a new look that is sure to turn heads. This lime-colored bikini has a flipped top and is paired with flirty strings that call for a memorable summer.
Buy the Thatched ASTER here.
Right away, the ASTER attracts all the attention with its elegant and fascinating roof. This halter bikini top features a figure-hugging look with a deep V-line neckline. The tie is fully adjustable and can be tied.
The back of the bikini top features a clasp back in a bold yellow-green hue; I love how comfortable it is and the fact that it doesn't soak into the skin at all!
The bikini bottom is thin and high cut, making it the perfect pair to show off the legs. The sides of the bottoms are long ribbons, which can be self-tied. I love that the ribbons are stretchy which makes the bottoms easy to adjust!
The Thatch makes the bikini visually appealing and interesting to look at; with its green geometric print, it is recognizable even from afar. Looking closer, the Thatch features triangles placed together in a pattern, repeating a bright teal color with a soft chartreuse color.
This bikini comes with a neoprene zip bag, making it convenient to carry just about anywhere. Days at the beach just got so much easier!
The ASTER is a piece that encapsulates the nostalgic swimwear era of decades ago with a twist of today's modern trends, making this piece a must-have for swimwear that stands out. It's perfect to wear poolside with a piña colada by your side!
VINCA in Trudy
Live your dreams of a nostalgic getaway with the VINCA in Trudy; this unique print features delicate florals that have a mature hue, all wrapped in a sleek triangle bikini that's sure to be flattering.
Buy the VINCA from Trudy here.
The Trudy is an all over floral print with flowers in shades of medium pink, peach and matcha; I love their vintage look while still maintaining a contemporary fashion sense. It feels very retro-inspired and oh-so-dreamy.
The bikini itself has a very smooth and stretchy fabric and has no foreign textures. The style of the bikini is all about high cuts and the triangle shape, which is simply breathtakingly beautiful.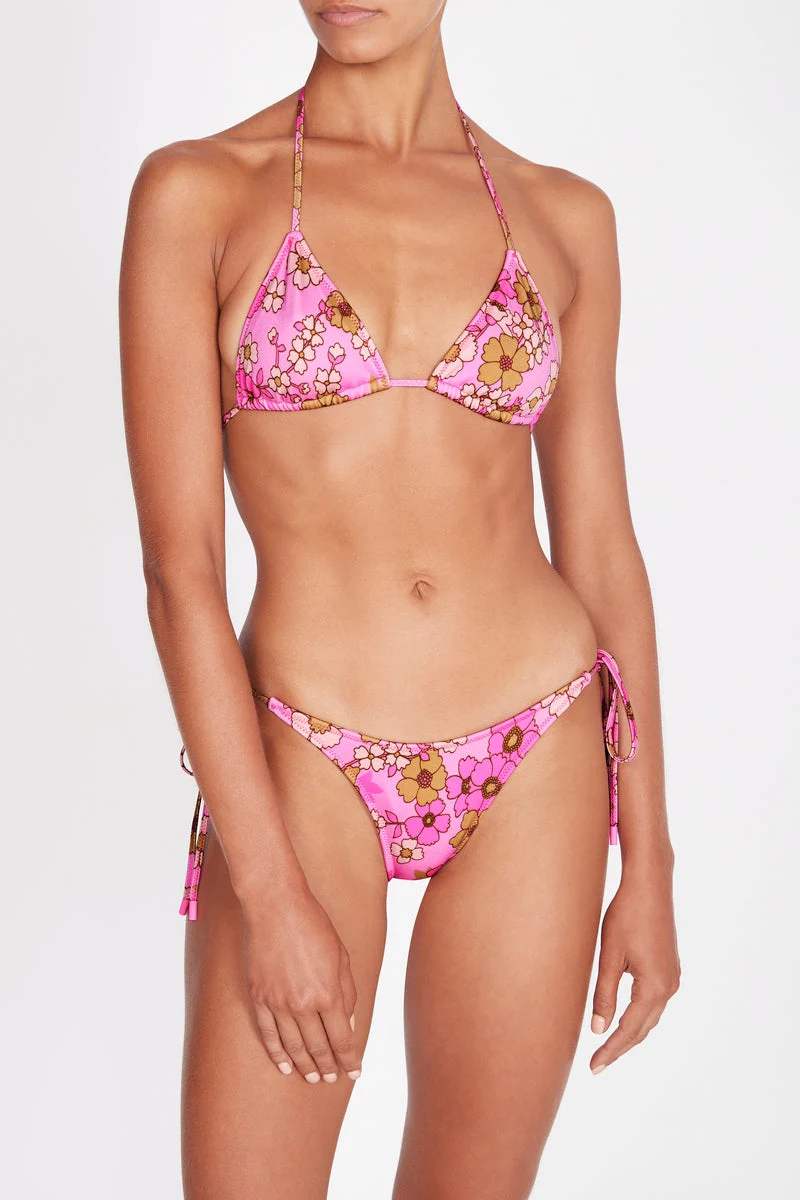 The VINCA bikini top features a triangle top with a halter neckline. The back and neck ties are fully adjustable and it has no clasps making it completely comfortable to wear.
Just like the top, the bottom has tie closures on both sides. I love the high cut of the VINCA stockings and the way they really elongate the legs. The ribbons on the side add a touch of femininity and make it look so sophisticated.
Wear the VINCA in Tracy for chic days on a quiet, relaxing beach, and bring the RACY in Trudy for the complete look in the included neoprene bag!
The RACY in Trudy
A swimsuit look isn't complete without a cover-up, and the RACY takes it in a completely fashionable, it-girl approach. The sarong trend has been sweeping social media lately, and this gorgeous floral piece is the perfect companion for dress-up moments.
Buy the RACY from Trudy here.
This high waisted mini skirt is designed to be snug but easy to wear with your favorite bikini or one piece. Featured in an incredibly stretchy sheer fabric, this skirt is easy to pull on.
The skirt is all about the details; Although the beautiful floral print immediately captures our attention, tiny yet intricate details make this piece truly stunning. A side slit on the skirt gives the look a wonderfully captivating appeal.
The waistband of the skirt is elasticated and can be worn higher to give you full upper leg coverage and a flattering fit with your bikini top.
The Trudy print of this skirt gives it a nostalgic touch, and its intricate design makes it perfect with simple swimsuits too!
MICA in Moreno
Beach days can be active, but crop top bikinis don't have to be bland. With the MICA, this strappy but supportive style lets you have fun!
Buy the MICA in Moreno here.
The beloved MICA style offers modest yet playful coverage, making it suitable for any occasion. However, that doesn't make up for comfort with style; this gorgeous piece is all about simplicity with a keen eye for detail.
The Moreno print is a textured pink zebra print with various pretty light blush colors creating an optical illusion. It's so gorgeous and leans towards a monochromatic look without being too minimalistic.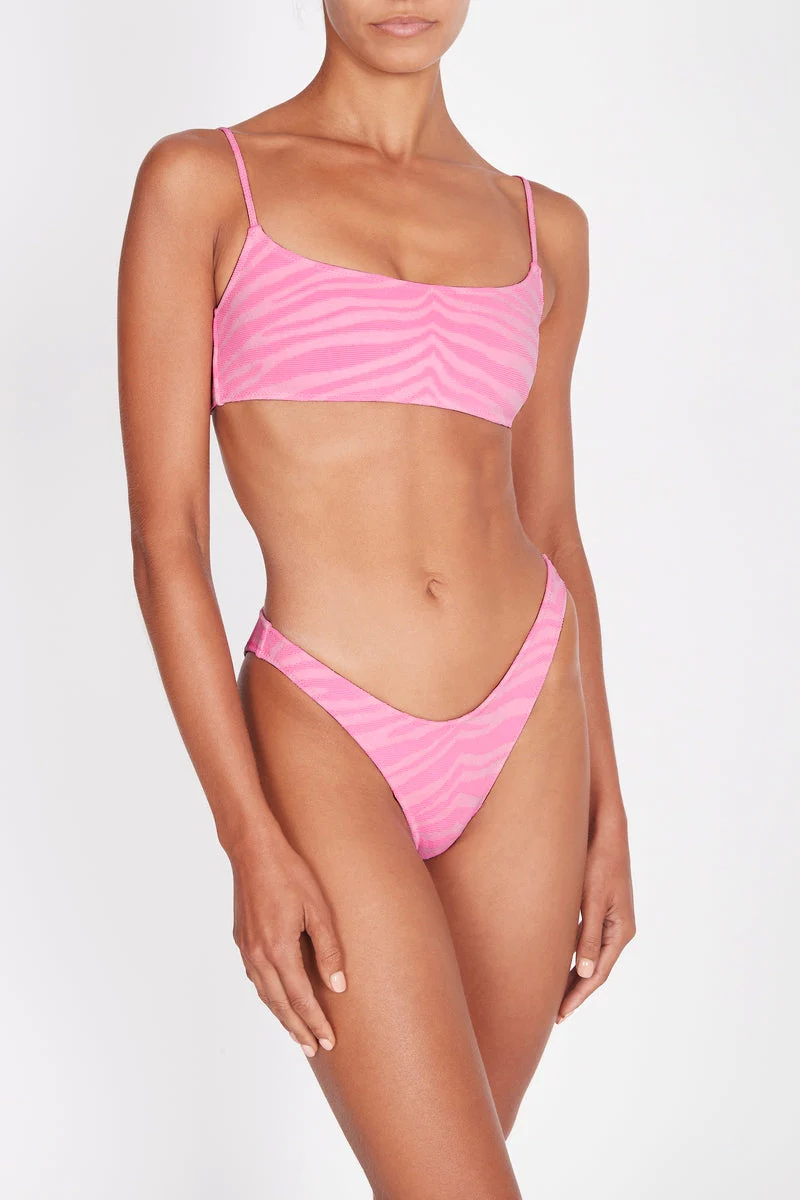 The cropped high cut bikini top features a long length that draws attention to the waist and has thin straps that hold the top in place. The straps are adjustable which makes it more customizable. The back of the top has a light pink clasp.
The bottom of the bikini set is a high-cut pair that feels flirty and has a nice contour that is great for outdoor activities. The bottom is available in either a cheeky or normal style, giving you the option to choose between less or more coverage. At the top of the bottom is the iconic TRIANGL logo in black, giving it a subtle design detail.
Moreno's MICA comes with a neoprene zip bag in a matching pink hue; the bag also has an attached TRIANGL logo in the same simple yet chic style.
Wear the MICA in Moreno during your favorite water activities, from surfing to jet skiing; This bikini set is sure to stay in sport mode while giving you that effortless glow from the inside out!
Follow the news of TRIANGL
To follow TRIANGL on social media, follow them on Instagram at @triangl and TikTok at @triangl for tropical summer inspiration for your next dream vacation.