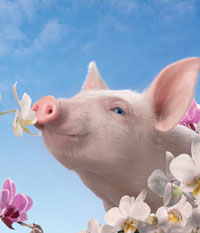 What to do and what not to do? This serious illness is spreading day by day, but it should not be forgotten; We must take our precautions! Here's what we can do against swine flu…
The importance of soap and water
The most effective and safest way to prevent swine flu is, of course, to get vaccinated against this disease. But of course, getting vaccinated is not enough. Because we face not only swine flu, but also many infectious diseases. Therefore, even if we have been vaccinated against swine flu, we cannot waive general protective measures. The most important general measures to take are:
• You should wash your hands frequently with soap and water, especially after coughing or sneezing.
• When you cough or sneeze, you should cover your mouth with a tissue and throw the tissue you use in the trash.
• After coughing or sneezing, or after shaking hands with someone who may be sick, until you wash your hands; You should never apply it to your eyes, nose or mouth. Because the virus can be transmitted very easily this way!
• If you don't have a tissue or haven't had a chance to use one, you should cover your mouth with the back of your hand when you cough or sneeze and wash your hands thoroughly with soap and water without wasting time.
• Avoid close contact with sick people. If contact is mandatory, you should use masks and gloves and wash your hands with soap and water immediately after contact.
• If you have flu symptoms, you should seek immediate medical attention or hospital care.
Washing your hands with soap and water is the most effective, cheapest and easiest way to protect yourself from germs. However, for it to be effective, it must be washed thoroughly for at least half a minute, including between the fingers. Alcohol-based hand sanitizers can also be used instead of soap and water.
Memorial Hospital Clinical Laboratory Coordinator Assoc. Dr. We would like to thank Kenan Keskin for the information he provided.