With Halloween right around the corner, I wanted to show you 31 movies to watch every day this month to get you ready for the holidays. This will be a recurring theme, as Halloween is my favorite holiday, and next year I plan to do some more mature horror films. Feel free to recommend the ones you like, maybe next year you'll see yours on the list. Now, without further ado, 31 kids movies to watch in October!
1. Hocus Pocus
Rated: PG
This movie is a cult classic, and I doubt I really have to tell you about it. If you're in the minority who haven't seen it, please do yourself a favor and watch it now. If you've seen it, it's still worth rewatching.
2.Casper
Rated: PG
Casper the Friendly Ghost! This movie never failed to make me smile as a kid, and no shame I'm still watching this year. He just has this beautiful energy!
3. House of Monsters
Rated: PG
Now I remember when this movie first came out. My dad brought it from Blockbuster – did I unlock a memory? – and the graphics were just too good for 2006. It was something I had never seen before, and I had to sleep with my parents that night. Years later, the script is still good and I recommend this movie every year.
4. Nightmare Before Christmas
Rated: PG
This film is another cult classic. The story combines two of the best holidays, in my opinion, for a scary but sweet story. The visual execution is also phenomenal, but that's just my art geek talking.
5. The Great Pumpkin, Charlie Brown
Rated: Not Rated
The Peanuts Gang raised me when no one else would. I have a special place in my heart for Snoopy, Charlie Brown and the rest of the crew and the love grows deeper for this holiday themed short. Although only 25 minutes long, the October Day 5 countdown should have a glimpse of childhood.
6. Halloween Town
Price: TV-G
This movie had 4 installments, but the original rules over me. I just remembered it's a Disney movie, and so on Disney Plus… Excuse me while I just relived my childhood.
7. Beetle Juice
Rated: PG
I remember ordering this movie from Netflix around 4th grade after seeing a musical performance at Universal. The film's graphics scared me a little – go figure – but it was hands down one of the best films I'd seen. To this day, it's still one of my favorite movies.
8. The Little Vampire
Rated: PG
I watched his film with my cousin one year in a cabin and it immediately became our film. It's a cute and heartwarming story with a little vampire Halloween action.
9. Edward Scissorhands
Rated: PG-13
This movie is not necessarily a Halloween movie, but I included it because the director is the King of Halloween: Tim Burton. Plus, the movie just has Halloween vibes, and it's still a very emotional story. Also, don't tell anyone but I had the biggest crush on Edward. Then again, who hasn't?
10. The Addams Family
Rated: PG-13
I watched the series as a kid, religiously watched this movie, and was excited for the animated reboot. For this, however, I recommend the original. They are scary and they are crazy.
11. Shaking
Rated: PG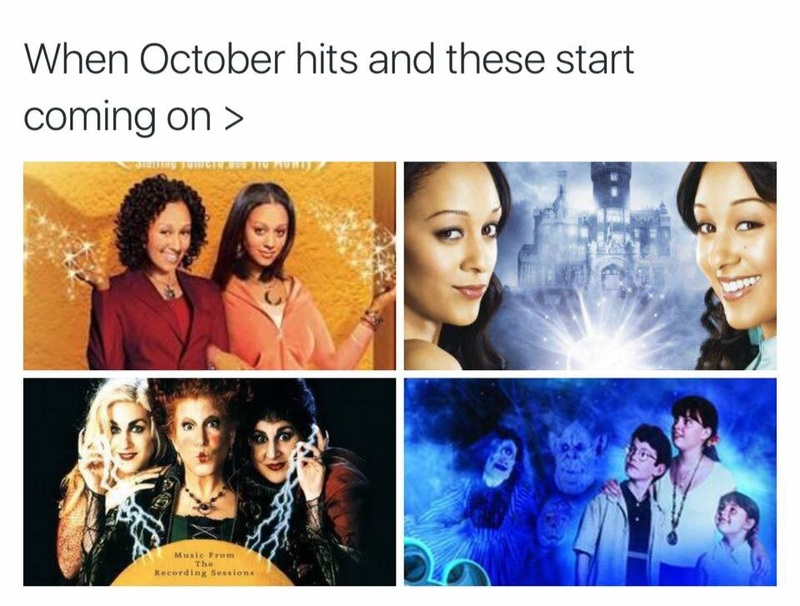 Watching this movie as a low-key kid feels like a fever dream, but once I realized my friends watched it too, we quickly bonded. My best friend and I agreed that we were jerks from an alternate universe. I'm the sister of the moon if you were wondering.
12. Gremlins
Rated: PG
Even though it's more of a Christmas movie, I always considered it a Halloween movie because I was scared of it when I was a kid. My brother showed it to me when I was about 5, and I never forgave him for that nightmarish fuel.
13. The Corpse Bride
Rated: PG
As I write this, the song "Die, Die, We All Pass Away" is playing in my head. Do you think there's ever been a Corpse Bride themed wedding? Should I make future arrangements with Edward?
14. Goosebumps
Rated: PG
I saw this film with my cousin and my mother. It was a beautiful nostalgic moment to see an actor from my childhood play with characters from one of my favorite book series when I was a kid. If you're not watching the movie, do yourself a favor and watch the show or read one of the books. Night of the Living Dummy is my favorite, Slappy is so scary!
15. Mostly Ghostly
Rated: PG
I just found out while researching for this article that there is a reboot that was done in 2014? I'll definitely check it out, but I'm talking about the 2008 version right now. I saw it when it first aired on Disney, and I have to watch it again. I've always been jealous of Max, I want to find ghost friends in my basement!
16. Spooky Godmother: Halloween Spooktakular
Rated: Not Rated
I saw this movie a few years ago and loved it so much I begged my mom to buy it. Again, I was extremely jealous of the main character, wishing I had my own spooky godmother witch who would take me to a Halloween party at her house where I was introduced to a bunch of cool monsters. Someone else?
17. The house with a clock in its walls
Rated: PG
Again, I saw this movie because of Jack Black. I was impressed with the visuals and really enjoyed the way the director, Eli Roth, chose to bring the story to life. Although it's not really a Halloween story, it makes the list because of the characters you meet in the movie.
18. Paranormand
Rated: PG
I saw this movie at the cinema with my Girl Scout troop. There were some jokes that I really enjoyed at that time, and an unlikely alliance that I found refreshing. I'm going to give this movie another watch this year.
19. Frankenweenie
Rated: PG
This movie reminds me of a PG version of Pet Cemetery. I saw it around the same time I saw ParaNorman, and it hit me right in the chest. At the time, I didn't yet have my best friend in my life, my cat, but I could only imagine the love the locals and Victor had for their animals.
20. Toy Story of Terror
Rated: TV-G
Even though it's short, I still enjoyed it. I grew up with the Toy Story franchise and it's by far my favorite movie series. Even their shorts never fail to entertain me, and this one is no exception.
21. Coraline
Rated: PG
This movie should be rated R. Remember when I said Monster House scared me? Yeah, well this movie takes the cake. I can now watch Monster House without fear, but this movie? No, that spider woman still gives me nightmares. I tried to see it last year with my friends, and I just couldn't make it. I recently received the book, so we'll see how it goes.
22. ET the Extra-Terrestrial
Rated: PG
Again, this movie isn't really a Halloween movie… but come on, let it slide. He's a cute alien! I blame this movie for my love of riding bikes with baskets and candies.
23. Ghostbusters
Rated: PG
If you could read the name without singing the song, I'll give you five dollars. For the rest of you, congratulations you are a person of taste. No, but really, I make so many references to this movie and none of my friends understand. Please watch this movie, so we can bond. You will not regret it !
24. Ghostbusters 2
Rated: PG
Ok, I know what you're thinking, but I really need you to watch this movie! I've always wanted to be a Ghostbuster, so I'm thinking of being like them this year, but I need three more people. Someone? Nope? Alright, that's right.
25. Hotel Transylvania
Rated: PG
Any movie where monsters do human things always makes me laugh. It's like when a cat likes to be tucked or a dog's howls sound like "I love you", it gets to me every time. This series is really adorable and I recommend it if you need something wholesome.
26. Alice in Wonderland
Rated: PG
Live action is always so much scarier. I saw this movie 10 minutes after seeing Diary of a Wimpy Kid in the cinema, and immediately asked my mom for an Alice costume. Again, this may not be a Halloween movie, but it certainly feels like one. You can't tell me that the caterpillar didn't scare you a little.
27. Coco
Rated: PG
I'm not the only one who thinks this movie is gold. I watched it the other night and I still love it so much. It's not Halloween, but it's Day of the Dead, which is such a cool celebration that I encourage you to learn more about it.
28. The Twilight Zone
Rated: PG
My mom watched the show with me growing up and insisted it was scary for her as a kid. It's hard to believe now, but I found it just as enjoyable. This show and this movie is a good insight into the history of cinema. I haven't watched the new show yet which came out in 2019, but I'm hopeful.
29. The Haunted Mansion
Rated: PG
This movie is priceless! It still makes me laugh and reminds me of kindergarten when we watched it at snack time. This movie has nice family relationship, so I suggest you watch it with your family.
30. Scooby-Doo! scare the camp
Rated: Not Rated
Don't lie, Scooby-Doo has never let us down. These movies are the reason I have journals filled with "mystery" about what the weird stain on the laundry room floor is – spoiler alert, it was bleach – or why I wanted a van just so my friends and I can paint it as the mystery Machine. While any Scooby movie could be on this list, this one is my all-time favorite.
31. Scary Stories to Tell in the Dark
Rated: PG-13
And finally, the movie you will watch on Halloween is this one. I think it's very appropriate whether you plan to go Trick-Or-Treating or stay indoors, this movie should help you stir your own scary stories.
So what do you think of this list? Are there any you haven't seen before or would add to the list? Sound off in the comments, and don't forget to follow me on Instagram and Twitter to stay up to date with upcoming uploads! PS, if you have any scary stories feel free to DM or email me, I'd love to hear them!