If you're like me and the majority of people who celebrate Christmas, you won't be afraid of Christmas movies. As soon as December rolls around and the mall Santa pops up for his annual appearance, you'll probably want to watch (or binge…) some festive movies to get you into the holiday spirit. Netflix already has endless amounts of Christmas movies to watch, so grab all your snacks and popcorn and get ready to catch a glimpse of the best, worst…and cheesiest Christmas movies of this year.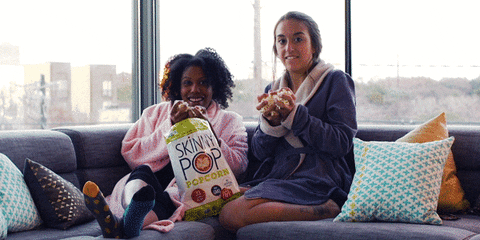 1. Christmas with the Kranks
My absolute favorite Christmas movie and it's a must see if you fancy a lighthearted festive comedy. A family sees their daughter having to work over the Christmas period, and they seem to have the house alone for the holidays. The couple decide to "skip" Christmas, causing an uproar in their street.
Rated: PG Rating: 10/10
2. Dash and Lily
I know you're here for the Christmas movies, but this short one-season show is definitely worth seeing. The twist on teens who find love over the holidays is a heartwarming show that just premiered on Netflix. A loner who hates Christmas… and a girl who loves Christmas fall in love, but they've never met. Lily left a notebook on the bookstore shelf in hopes of finding her Christmas love. As the holidays approach, they swap countless entries in this notebook as well as a few challenges along the way.
Rating: PG-13 Rating: 10/10
3. Elf
Continuing with a Christmas classic, if you haven't seen this movie… what are you doing?! An Elf from the North Pole discovers that he is human and goes in search of his "non-elf" father in the Big Apple. It's a bit controversial, some people love it and some people have seen it too many times so they start to hate it. You can't go wrong with Elf. It's funny, there is an original plot and it's worth the detour!
Rating: PG Rating: 9/10
4. Holidays
If you're more into the romantic Christmas genre, add this to your list if you haven't already. We see two women from the United States and the United Kingdom agree to find…or avoid love at Christmas. They swap lives: houses, cars, everything, but they can't control who they fall in love with. It's an interesting plot and the characters we meet and how they connect are well done, as well as the great cast choice!
Rating: PG-13 Rating: 9/10
5. A Christmas Prince
Now, that movie is a Netflix Original and it's a great take on the prince of a royal family falling in love with a seemingly normal girl, who lives with them – but not for the real reason they think. Falling in love with the prince was never part of her mission, but she did it anyway. And I have great news, if you like the sound, you'll be happy to know that there are two more episodes that are all currently on Netflix!
Rating: PG Rating: 8/10
6. The Princess Switch
Following the royal festive theme, The Princess Switch is another Netflix Original that has been on my list since it arrived on Netflix. Two girls with completely different lives meet and realize that they are, well, identical. They decide to change places, but will this facade work? This movie is a feel-good romantic movie and a good movie to curl up on the couch with a cup of hot chocolate.
Rating: PG Rating: 8/10
7. Fred Noel
It wouldn't be Christmas without Santa Claus… and Fred Claus, Santa's older brother; but when the most disappointing child in the family shows up, could he end up saving Christmas? It's a great film, a little clumsy and sometimes extremely sincere. Definitely, a watch if you want a change from the traditional Santa Claus story.
Rating: PG Rating: 7/10
8. The Knight Before Christmas
A Netflix Original I saw the trailer for and was really excited for! Unfortunately, I found it a bit disappointing. This movie had the potential to be extremely great, but it just didn't happen for me. The story follows a medieval knight who is taken to the 21st century and falls in love with a high school science teacher, and while it's not my favorite holiday movie, it was still fun to watch.
Rating: PG Rating: 5/10
9. Christmas Legacy
Your classic version of the big city car whose full of cash takes on a small but a little festive town. I was not surprised by this movie and felt once again that it could have been better. It wouldn't be on my list of Christmas movies to rush to, but it was still a bearable, cheesy romantic festive movie.
Rating: PG Rating: 4/10
10. Leave It, Snow
One of the movies I was most looking forward to watching when it came out on Netflix last year, the cast was great and it seemed like an interesting story for a Christmas movie, it had some originality. Considering it's at the bottom of my list, dare I say more? The plot for me was all over the place and it was a shame because it had the potential to be a really great movie.
Rating: PG-13 Rating: 2/10
It's not the holiday season without the month being filled with good, bad and bad Christmas movies. Netflix has the best selection of Christmas movies and the hours you could spend searching take time and you might even notice you've eaten all your popcorn before the movie starts. So now you can sit down and hopefully you're already on your way to pushing one of these movies. This is the time when you can take advantage of the amazing time of year that is Christmas and get involved in one of the many festive stories ready to be watched.