Summer is almost here, and I'm SO ready for it! Time to break out those old summer clothes and embrace the warm weather! This summer is especially exciting because unlike last summer, we can finally be out and about, enjoying the sunny days and showing off our much-neglected wardrobe. Here, I've compiled a list of nine wardrobe staples from swimsuits to clothing to accessories that you need this season! I've also included tips for each, so you can feel confident in these trending styles.
1. Neutrals
Neutral colors obviously aren't new, but they're making quite the appearance this summer! Even if you prefer reds and purples to browns and whites, neutrals are a must for your wardrobe because of how easy they are to mix and match. Not only do they look great with each other, but they pair really nicely with more colorful clothing as well! Since neutrals are so versatile, you can combine them for a subtle, elegant look, or you can keep it casual by opting for neutral lounge sets that are perfect for summer mornings. If you would rather make a statement without being a walking color wheel, don't wait to hop on this summer trend!
And don't feel limited to just the standard neutrals; go all out with beige, ivory, gray, mocha, and charcoal—really any color that doesn't have any undertones! Look for items that seem dull or almost washed-out (this isn't a bad thing!) to pair with fun accessories that will make you pop. You can pretty much find neutrals wherever you buy your clothes, so be sure to check out the neutral sections at your fave shops!
Tip: As I mentioned, the "neutral" title isn't reserved for just black, brown, and white. There are tons of color options that fall within this category, and for this reason, I recommend picking neutrals that work well with the patterns, colors, and styles you already own. I depend on mixing and matching, and if you're the same, assess your closet, then decide what kind of neutrals you might want. Also, have fun with it! Most neutrals pretty much go with everything, so you can really go wild with your choices!
2. Colorful Trousers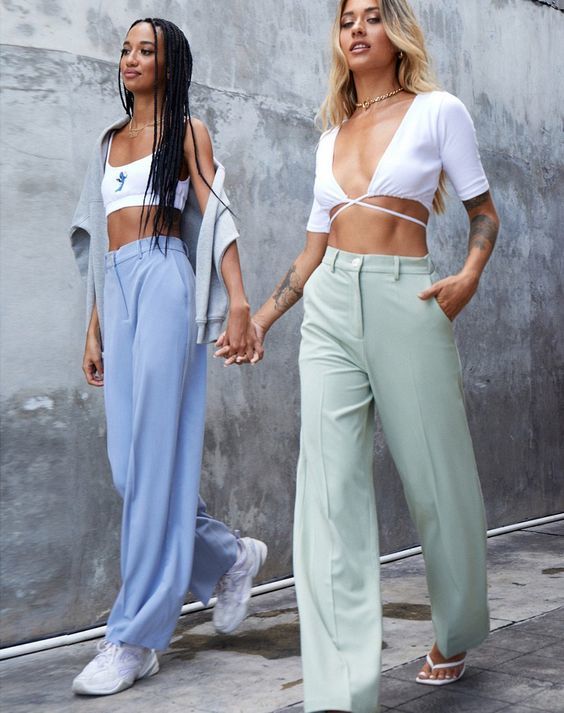 No, I don't mean middle-aged work pants! Straight-leg, wide-leg, dress pants, trousers, whatever you want to call them, I'm talking about the loose-fitting pants that are a definite must this season. These pants are stunning with anything from a crop top to an oversized tee, and not only do they look great, but they also probably feel even greater with their flowy fit. Try a high-waisted pair with a short shirt or tank top; I'm seriously not kidding when I say they make your legs look super long! Here's another bonus: many of them come with real pockets (crazy, right?!) and stylish button detailing that you can dress up or down this summer. Like neutrals, they are super versatile and easy to mold into your unique style.
My personal favorite trouser-style pants are the pastel pairs from Motel Rocks (they look amazing with neutrals!!), but you can also find them in tons of other colors, patterns, and textures. You can find them at places like Paradox, PrettyLittleThing, Express, and Target. Also, check your local thrift store! Even men's trousers can look awesome altered, and you won't have to spend a fortune on this summer trend.
Tip: While this isn't necessarily a much-needed tip, you may want to think twice before buying those heavy-duty cotton trousers. After all, it is summer, and you don't want to boil alive in uncomfortable pants. Before you buy, check the tag to see what kind of material it is; good lightweight fabrics are rayon, silk, polyester, spandex, and blends of several of these.
3. Three-Piece Bikinis
If you've been on TikTok at all this spring, you've probably noticed that 3-piece bikinis have become increasingly popular. The extra piece that comes along with the top and bottom varies between matching wraps, skirts, or coverups, but all of them are stylish add-ons perfect for by-the-pool or by-the-beach flair. And these sets aren't just fashionable—they're also functional when you need to cover up or give your skin a break from the sun! Most of the photos I found on Pinterest are pretty showy, but there are plenty out there that are more PG and cover up more than others. For example, you can find matching terry cloth shorts for your bikini from PacSun! You can find similar items at Buy a Dream, Glambear, Blackbough Swim, Shein, and Suncain.
If you're looking for a way to spice up your summer suits, I would definitely suggest keeping up with this trend. With so many opportunities to mix and match, you can get several summer looks out of just one swimsuit, especially when the set comes with a scarf-type piece that can be made into a skirt, wrap, top, or whatever else you want.
Tip: Lots of stores that sell/specialize in bikinis actually also sell matching prints in shorts and tops. You might not find a set, but who says you can't build your own? These items are rarely placed in the bikini section, so make sure you check other clothing categories if you are interested in matching your suit!
4. Everything Beads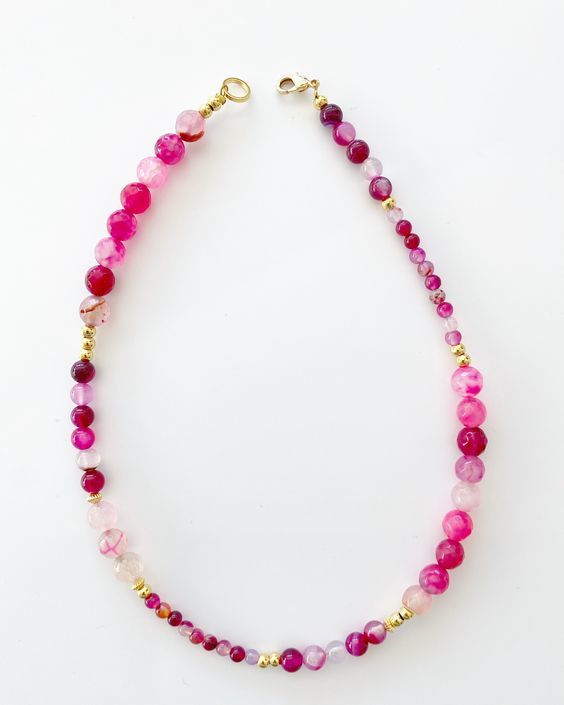 With many people embracing the comeback of Y2K fashion, colorful beaded jewelry and accessories have a well-earned spot on this list. This time period was characterized by bright colors, shopping, tech optimism, and the rise of many female pop stars. To embody the Y2K era, you'll need accessories that are equally unique and colorful: beaded clutter necklace stacks, beaded, clay, and wire-wrap rings, phone charms, and plenty of beads.
Play around with different bead types and textures, pearls, chunky charms, and seed beads to create a look that is sure to stand out. Release your inner child with nature-inspired looks or bright plastic pony beads that you can match with split chains, metal charms, and sparkly clasps. This type of jewelry is a must this summer for those of you who are die-hard indie or 2000s aesthetic fans, and it can be super fun to experiment with different colors and styles. You can find these necklaces at Urban Outfitters, PacSun, Amazon, and Etsy! And don't forget about phone charms and rings! These unique trends can be found all over Etsy (which I HIGHLY recommend because you'll support a small business and get tons of other perks) or you can easily make your own by hitting up your local craft store.
Tip: If you are looking for this type of jewelry to last, I don't recommend pony beads or any other beads that have been painted on. Painted beads typically rub off and lose tarnishing easily, especially if you are sweating (it is summer, after all!). For more durable styles, just pay attention to the material of both the string, beads, and chain. Personally, I prefer jewelry that lasts through the summer at least, so just be aware that this type of jewelry isn't always the best quality!
5. Floral
Floral always seems to be in style, and this season is no exception! Not your grandma's curtain type of floral (except if that's what you're into, you never know!) but the dainty patterns on tops, dresses, and skirts. Get all cute and fancy with ruffles and floral outfits, so you can really be one-with-summer. These patterns also go great with neutrals, denim, and some of the other trends I've mentioned in this list.
You can't get any more spring/summer than flowers, so why not wear them? Keep it casual with flower printed shorts and shirts from Forever 21, Abercrombie, American Eagle, and Target, or dress to impress with skirts and mini dresses from Hollister, PacSun, Aeropostale, and Old Navy! I think this is the perfect style to wear to a party, to the pool, or to a summer lunch, and with so much variety, it's also super easy to put your own spin on the style by adding layers and accessories. For all you floral fans, this trend is right up your alley and great for the warm weather.
Tip: You can make super easy tops and bottoms from the many types of floral fabric at your local craft store! Or head to the men's section and snag a few floral dress shirts that you can use to make super simple skirts in under an hour. Another thing to keep in mind is how see-through the material for this type of clothing can be. I know a lot of the material used to make these patterns are pretty thin, so be sure you know how see-through it is before buying.
6. Open-back tops
Open-back tops are all the rage this summer because of how good they look AND feel on a hot and sunny day. These tops take the form of scarves, corsets, and scrunched fabric, and they are perfect because they cover just enough in the front while giving you effortlessly detailed ties and exposure in the back.
I love this style because you can keep it ultra-casual by wearing tie tanks, halter tops, or beachy ruffle long sleeves, or you can make it dressy with scarves and corsets. Whatever your style, these types of tops are great for summer (just make sure you wear sunscreen!) You can find them at places like Princess Polly, Misguided, Adika, and Beginning Boutique. Or, you can try making more simple, cheaper versions on your own by finding patterns off of Pinterest, or craft stores and websites! You can even temporarily modify your existing clothing to make these tops. TikTok also has a bunch of tutorials on how to make these types of tops—just search #diysummertop or #diytop.
Tip: Tops with built-in bras are of course really nice, but if you can't find any, go to YouTube, TikTok, or even Instagram! There are a ton of videos on how to style open back tops and how to hide your bra with them as well.
7. Corset tops
I mentioned corset tops a little before, but they definitely deserve their own category! These tops are weirdly in style, and I'm kinda here for it! There are a ton of different types of corset tops, with some being real satin corsets (steel whale bones and everything!) to more simple corset-looking tank tops perfect for everyday wear. You really can't go wrong with this style because of how personalized to your own style they can be.
You would think a style from the 1800s wouldn't be popular among a generation that prefers a less constrictive lifestyle, but Gen Z-ers have made corsets their own and transformed how we see them! Go for a vintage look with gorgeous strapless patterned ones that lace in the front or back, or opt for the modern look that simply uses the old fashion statement as inspiration for leather tanks and mesh tops. These looks, which pull from the lacing, bust details, or even just the shape of the corset in their design, are relatively inexpensive and look absolutely phenomenal.
You can pretty much find these tops anywhere you shop including Princess Polly, Glambear, PacSun, Misguided, White Fox Boutique, and many more. Or, you can easily make your own! I've seen a bunch of really neat patterns and tutorials on YouTube that juxtapose a vintage look with modern, colors, patterns, and fabrics that are sure to impress.
Tip: Check out vintage shops (if that's a thing or if you have them), antique stores, or thrift stores! Vintage corset tops can be super expensive, but you can probably find used ones for a lot less! You may even be able to find vintage dresses that you can alter or cut the corset top from! And of course, making your own is always a good and cheap option!
8. Hardware jewelry
For those of us that prefer a more subtle style, accessories are the go-to way to spice up outfits. "Hardware" is the name I've given to jewelry that uses textured chains, bulky toggles and clasps, carabiners, and the popular lock and key charms, among other things. This type of jewelry differs from dainty pieces in that it often featured eye-catching metals and chunky details. Unlike conventional jewelry, hardware jewelry loves to use chains as its focal point and the closures as its charm or center.
This makes for a dazzling look that is both unexpected and sure to please all jewelry lovers. Hardware jewelry not only adds pizazz to any look, but this type of accessory can also be layered with more dainty styles or added to beaded or pearl designs. Try split chains, uniquely charmed chains like female figures or vintage/antique pendants and lockets, herringbone or snake chain necklaces, zirconia diamonds, and drop chains, all of which add a dash of elegance to any item of clothing! Like most things on the list, you can find hardware jewelry virtually anywhere. I've seen some great stacks at Urban Outfitters, Forever 21, Claire's, and PacSun, but there is also a myriad of selections on Etsy!
Tip: When it comes to jewelry, check the metals before buying! Stainless steel won't tarnish, and gold-plated stainless steel is slow-tarnish, meaning if you take good care of it, it will take a long time to turn colors. Platinum will never tarnish, but it's really expensive, while brass and a good amount of gold plating is cheap but will tarnish quickly. Your safest bet is probably stainless steel, but titanium and some alloys are not bad either. When buying hardware jewelry especially, the metal type may differ so just make sure you know what you're getting before buying.
9. Matching sets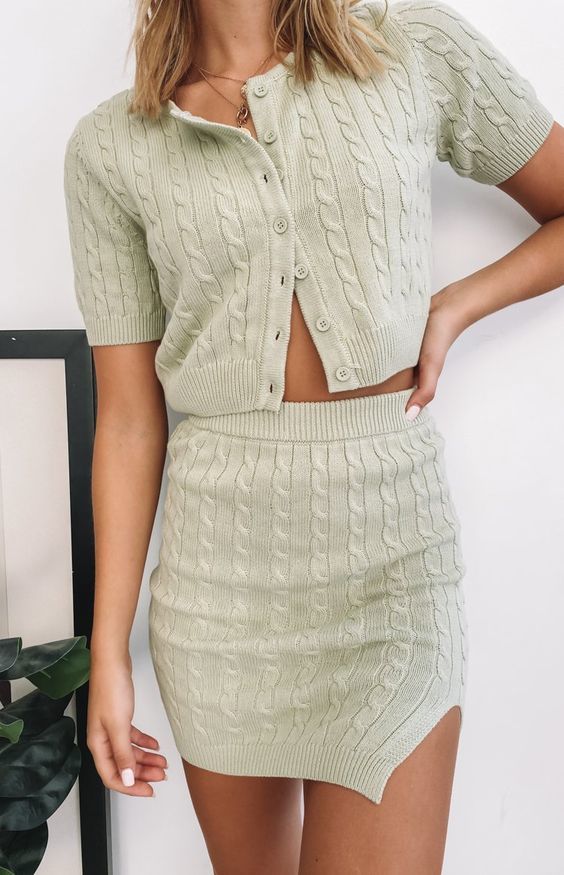 This is similar to the 3 piece bikini/swimsuit sets I talked about, but you don't have to be waterside to take part in this trend! Matching sets are so in because one, they look cute, and two, you can really play around with the style and level of formality. Take your pick from matching tanks and skirts, coordinating t-shirts and shorts, or even identical jackets and bralettes. This trend really gives you a lot of room to express yourself, and it makes it easy to find a matching outfit for those of you that struggle to put cute items together!
Dress casual with a beach-inspired crop top and flowy shorts, or stay stylish with a blazer and matching bralette/tank top. You can even make your own matching set by turning an old dress or oversized t-shirt or sweatshirt into a top and bottom. Another great thing about this trend is that it can encompass so many other seasonal styles in this list! You can match florals, neutrals, combine Y2K colors, add hardware jewelry, match your corset or open-back top to a pair of trousers, and so much more! Find tons of matching sets at places like Lulus, Princess Polly, Nasty Gal, PacSun, and Showpo, just to name a few.
Tip: You don't have to find an actual set to get matching clothes; most stores sell a variety of items (including masks!) in the same patterns and styles, especially for active wear. It doesn't even have to be identical; you can find coordinating colors or patterns that go well together if you know what you're looking for. Since many stores focus on one specific style, it isn't hard to find matching items!