2022 is here and our new wardrobe too! A new year is a perfect excuse to invest in new wardrobe pieces. Prepare your shopping list because here are the 10 trendy and stylish items you need to start your year in the best possible way.
#1: Distressed Knits
The knitwear trend comes back every year, with different styles. In 2022, I have a feeling that distressed knits will be really trendy. Knitwear is something that is worn a lot in fall and winter, but distressed knitwear can be worn and matched in every season. Distressed knits come in many shapes and forms, but my favorite type is definitely the one below. These are perfect with, for example, a white blouse underneath or with a black skirt and boots. Now, distressed knits aren't available in every store yet, but Emmiol is a good place to buy them.
#2: Cargo Pants
Now, cargo pants have been around for a long time, but they will surely be revisited in 2022. They are known as wide, baggy, and pocketed pants, but many variations have formed since. Pants are usually worn in the color khaki, but olive and black are also popular. Check out Emily Ratajkowski wearing the olive colored cargo pants! Cargo pants look great with crop tops, but will also look super cute with an oversized tee. You can get cargo pants at almost any store, but my favorite place to buy them is definitely Stradivarius. They have many different colors and formats to choose from.
#3: Miniskirts
Mini skirts have already been a big trend in recent years, but can you blame them? These skirts are so elegant and really cute. They are ideal to wear in the summer, but you can also wear them in the spring of course. Pair it with a baby t-shirt (long sleeve) or other cute top. If you don't own mini skirts yet, you will definitely need them for 2022! Take a look at the slit mini skirt below. Mini skirts are very popular, so you can probably buy them at your favorite store too. I like the Brandy Melville ones the most.
#4: Pearl Core
From pearl necklaces to pearl hair clips, the pearl core is going to stay in 2022. The pearl core is growing and I love to see it! Pearls come back in all forms; pearl earrings, pearl stapled clothes, pearl rings… I can cite lots of examples, but you get the idea. So pearls are a perfect thing to invest in for 2022. You can add them to any outfit you want, I think they would look really good in black. Pearls can be found in many jewelry stores, personally I like the ones from Evry Jewels the most. They are sometimes combined with a pretty gold piece or with colored beads.
#5: Lots of Leather
Honestly, you can't go wrong with leather! We all know the famous leather jeans and long leather jackets. As trench coats are becoming more and more popular, I'm sure there will also be a trend of leather trench coats in 2022. Jeans and jackets have become fashionable in the black color, but now they are also worn a lot in brown, olive, etc. Bella Hadid shows us how fabulous leather can be when she wears a full brown leather outfit. I think the leather goods at ZARA are really cute, check them out!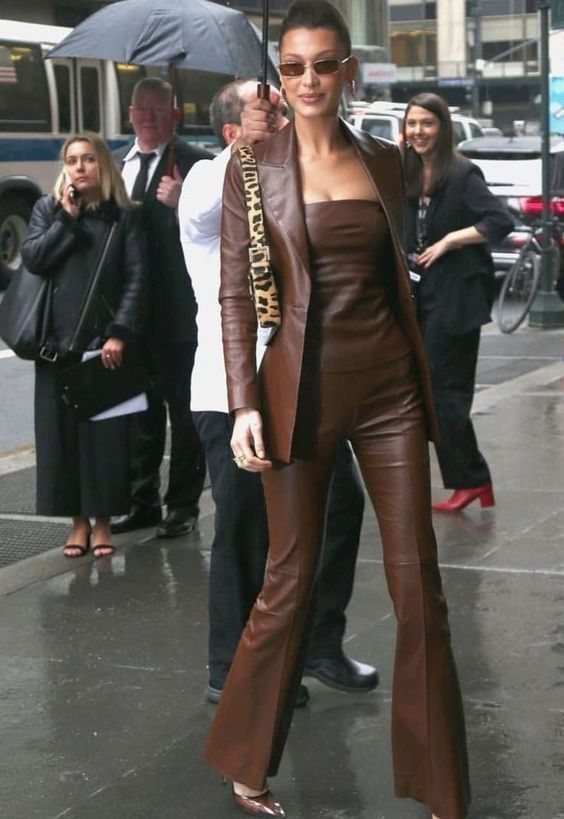 #6: Chain Belts
Another trend from the 90s; chain belts. These are the perfect addition to an ordinary outfit. You can use them on your jeans, skirts, dresses, etc. They give the outfit a cool touch and make a boring outfit much more interesting too. Take a look at the picture below, the gold chain is really the best addition ever. Missoma has some really cute ones, but they're a bit pricey. Try the ASOS ones instead!
#7: Plaid Skirts
You absolutely need plaid skirts in your wardrobe because they will remain iconic forever. They best match the fall and winter season, but the brightest colors can also be worn in spring and summer. With so many colors and patterns to choose from, you'll never be bored with these. You can match them with a knitted sweater or a nice cardigan. Some knee-high socks will fit them just as well. Plaid skirts are probably available everywhere, but my favorites are from Princess Polly and Hollister!
#8: Larger Shoulder Bags
Over the years, cute little shoulder bags have become a huge trend. In 2022, it's time to let the greats shine too. They're just as cute and stylish as the little ones, and actually, a whole lot more practical too. You can't hear me saying no to more space. In 2022, bright colors will be really in style so you can get your biggest shoulder bags in fun colors if you want. You can get them at ASOS.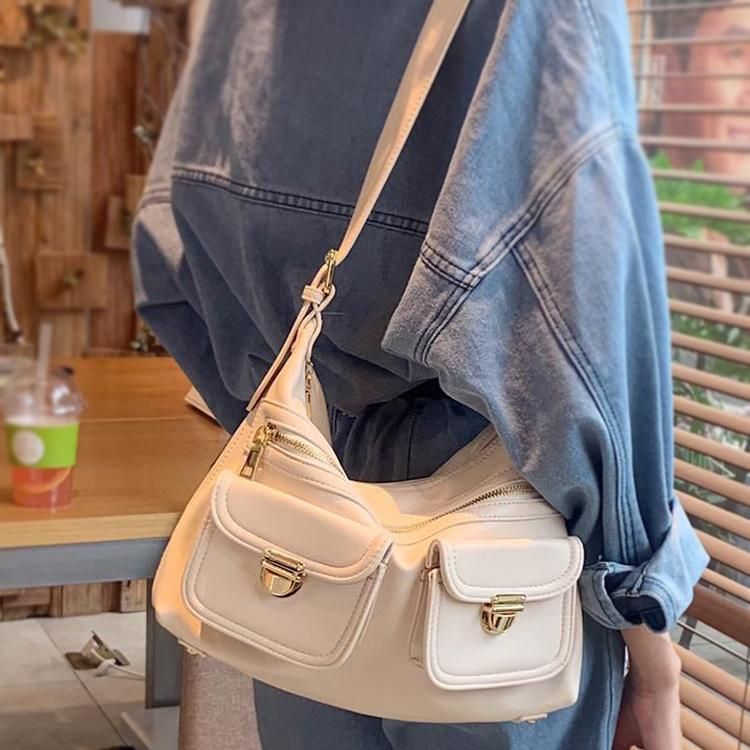 #9: Feathered Cuffs
We'll definitely see feathers appear in 2022, but what I love the most are the feathered headlines. You can find them on jackets, blazers, dresses, etc. They spice up the outfit a bit and look really cool. It adds a bit of detail to your whole look, which is only a good thing. Feather cuffs are available in many different colors. Try the ones from Missguided, they have lots of other feathered items too.
#10: 70s Glasses
Some elements of the 70s fashion style will make a comeback in 2022, such as jumpsuits and also chunky glasses. What I like about these glasses is their oversized format. Yes, they're going to look like they're going to fall out of your face, but they're way too good to put off. These glasses are perfect for summer colors, they will look really cute with bright colored outfits. Shop these glasses at ASOS.
Have fun matching and styling these must-haves. Let's go for 2022!