Summer is finally in full swing, and that means it's time to get ready for the hot girls summer. This involves not only shining in the sun, but also taking care of our well-being.
Whether embracing the best version of yourself means a light yoga stretch in the morning or relaxing with your favorite people, SET Active is all about getting a polished look that combines function and fashion.
Buy SET Active at setactive.co
See this post on Instagram
For those looking to achieve a 'clean' look that's both trendy and timeless, SET Active is the place to be for minimalist essentials. From flattering crop tops to leggings in understated yet vibrant hues, SET Active brings out our radiant, confident side.
This summer, opt for SET Active's fan-favorite activewear or their exclusive 4th anniversary collection (celebrating four years since the brand was founded!) for a cohesive look that will have you feeling and looking good.
SET Active's Core Collection features ever-present and ever-popular colors with annual refreshes, but their latest collections feature new colors and pieces for a wider range of activewear styles. With the anniversary launch of SET Active, here are our favorite summer picks, plus the classic pieces from the Core collection we'll always love:
The Sculptflex® ribbed V-bra
I just might have found the most comfortable bra that can play both sides: Whether you're looking for everyday essentials or sportswear that can withstand multiple workouts, the Sculptflex® Ribbed V Bra will be your new favorite.
This hybrid between a bra and a crop makes gym days so much easier. This supportive top is perfect for everyday wear and for intense workouts; as SET Active puts it, this top "goes straight from your work day into a workout."
This bra features a V-front neckline that makes it easier to wear tops with lower necklines and fully supports the bust despite being unpadded. It's really so comfortable that I sometimes forget its presence!
The top has thin straps well fixed on the shoulders. The straps meet in a Y-neckline in the back, which makes it so much easier to wear since there is only one strap in the back. On the front of the top, a silver SET logo sits at the bottom; I like the subtle yet noticeable design.
With the Sculptflex® Ribbed V Bra, you don't have to trade comfort for function, and I'm totally obsessed with it!
Limited Edition: Twilight
The Twilight shade is part of the 2022 4th Anniversary Edition of SET Active.
Shop the Sculptflex® Ribbed V Bra in Twilight here.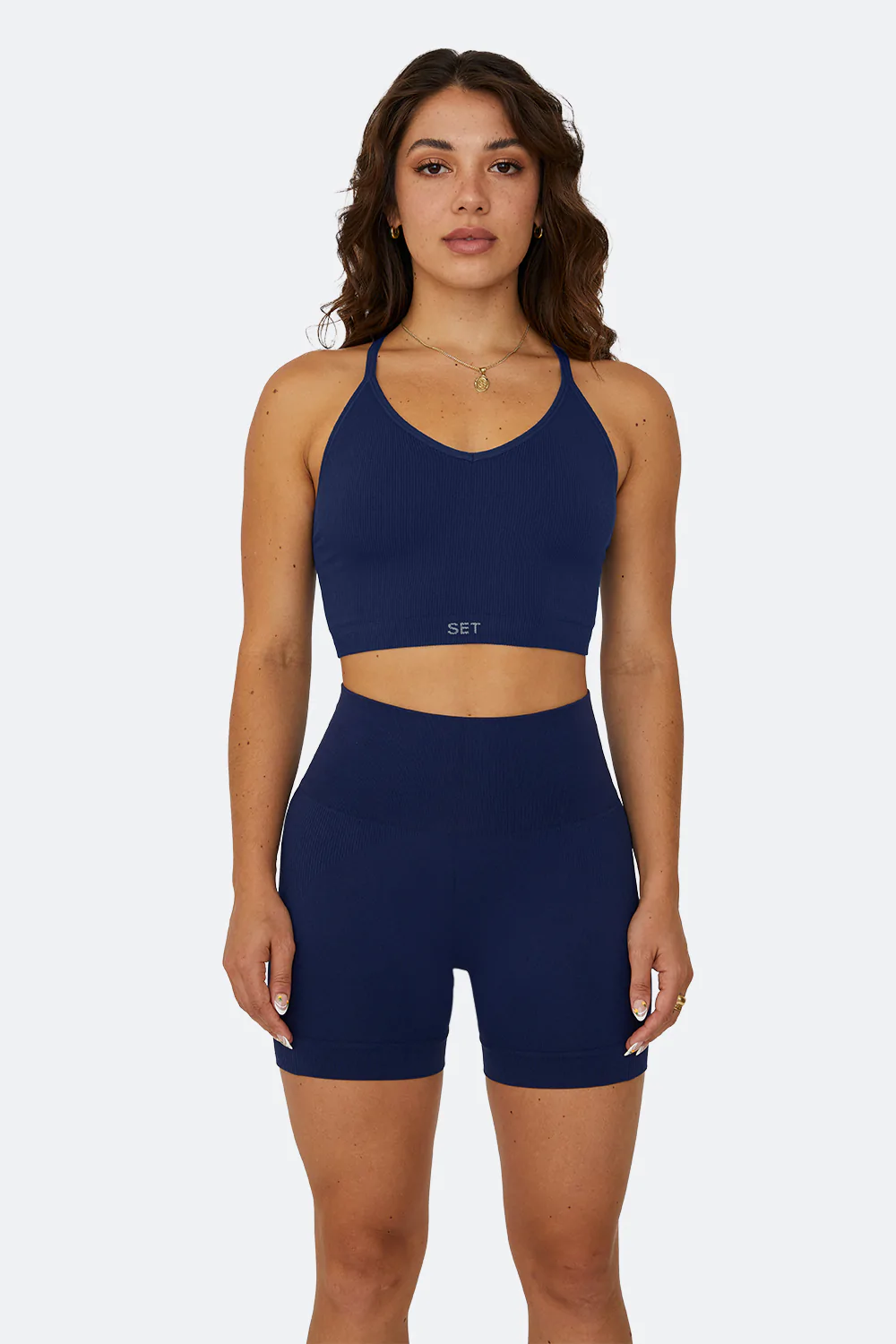 This beautiful navy color is so dark it's almost purple. I love that it's both bright and dark enough to be a neutral shade, making it easy to style with just about any color!
Limited Edition: Guava
The Guava shade is part of the Hawaii 2022 edition of SET Active.
Shop the Sculptflex® Ribbed V-Bra in Guava here.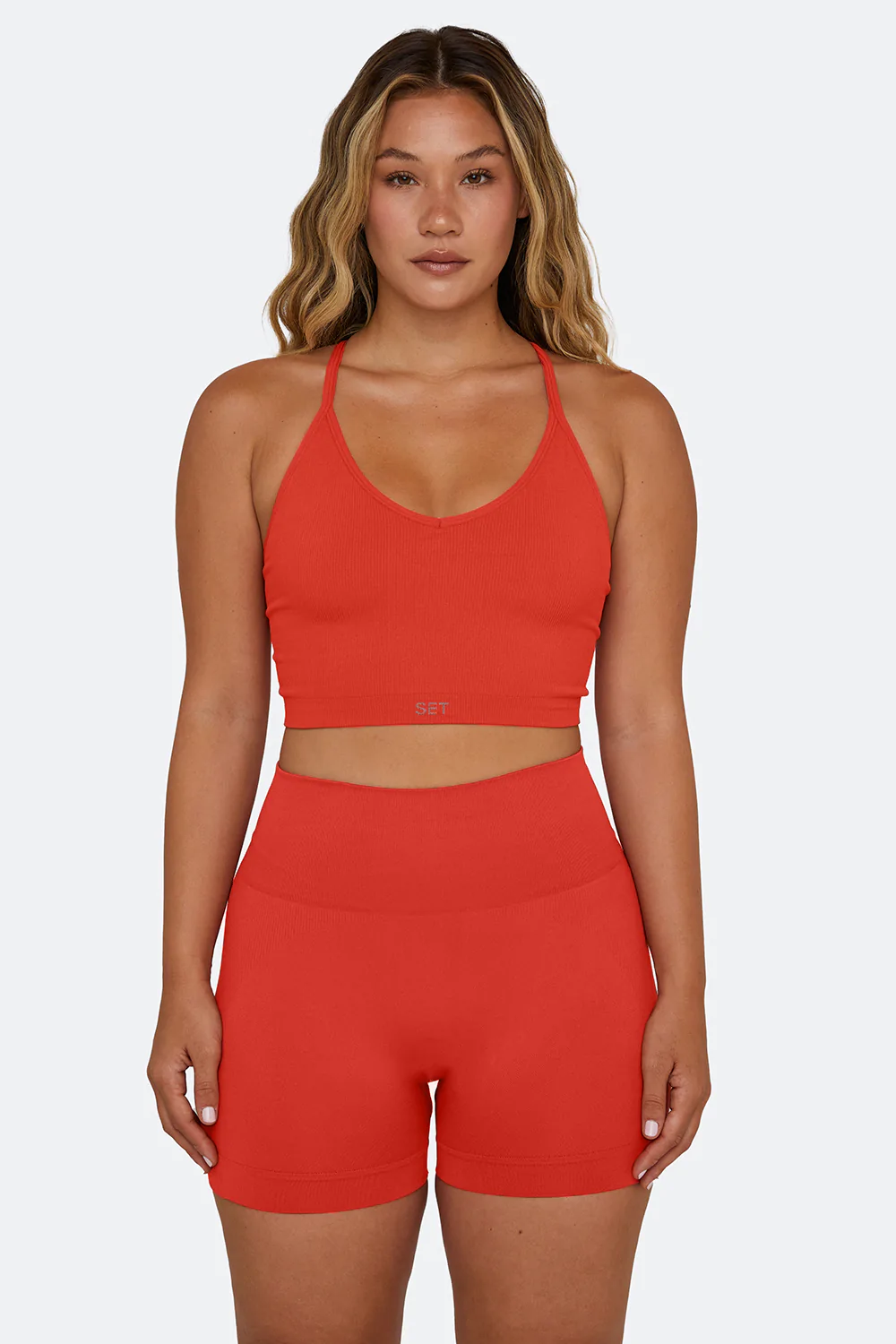 This stunning color is the most vibrant saturated orange-red that complements a good sun-kissed tan. I love how it makes you pop and how bold and refreshing the shade is.
Core Collection: Mojito
The Mojito shade. is part of SET Active's Core Collection 2022.
Shop the Sculptflex® Ribbed V-Bra in Mojito here.
This moody green is exactly the shade of a deep forest and looks like a mature version of bottle green. It's the perfect shade to wear when you want to keep a neutral closet but want to rotate some unique shades.
The baby t-shirt
If you're looking for the perfect top for just about anytime and anywhere, SET Active's baby t-shirt is for you. This simple yet totally functional top is made to fit you in the best possible way.
As SET Active says, this top has been "tested on too many torsos to count" and that "the fit of this top is one of the most flattering fits we've ever worn" – and we're all for it. Okay.
Buy the Baby Tee in Scuba here.
The beautiful cross between a navy blue and ocean blue color is from SET Active's Hawaii 2022 collection and has such a deep and lovely color. I love how blue is such an easy piece to wear with just about any bottom.
This ultra cropped crop top has a relaxed fit, so although it keeps the frame of the baby t-shirt slightly fitted, it doesn't completely hug you and is comfortably loose.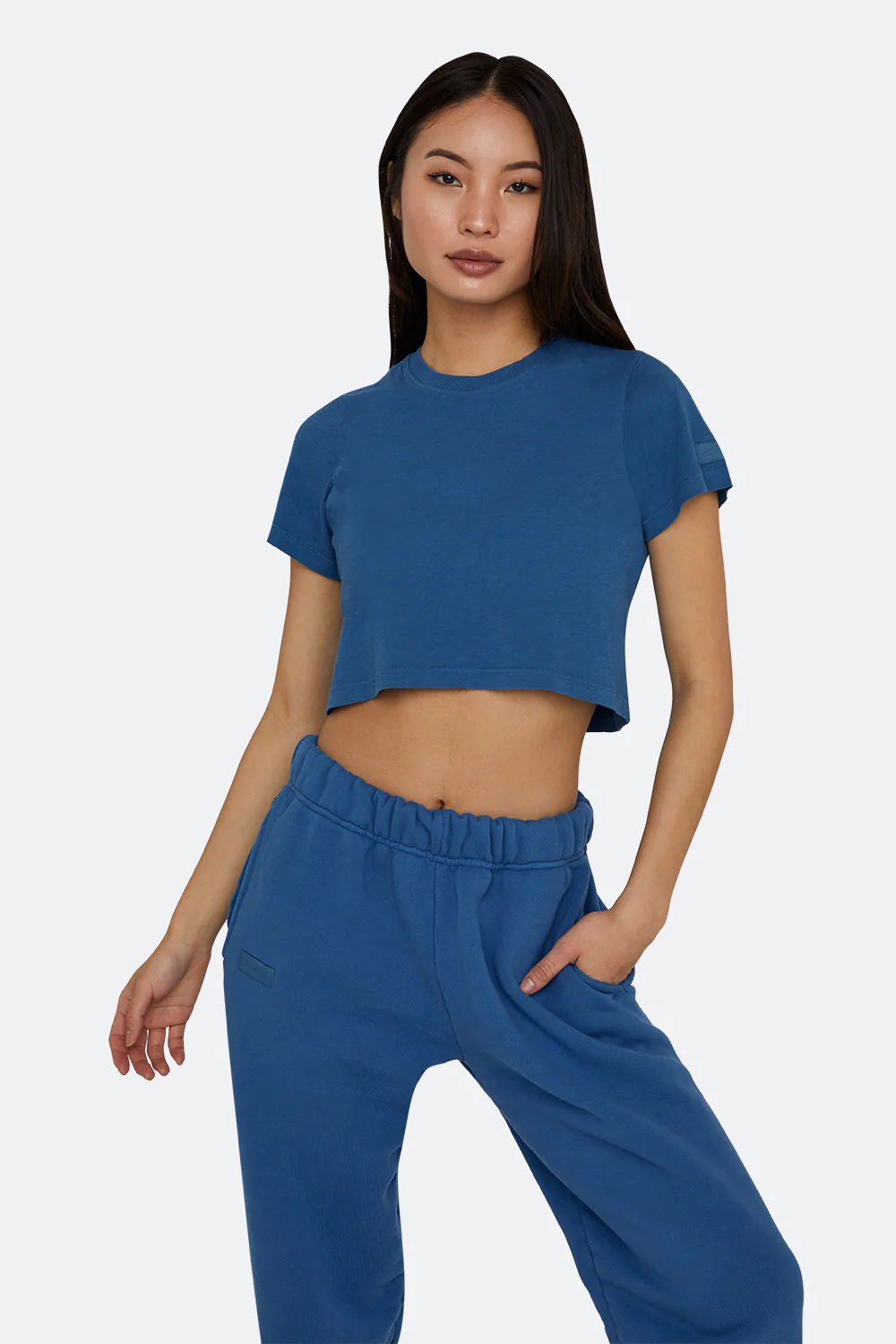 The Baby Tee is totally relaxed and laid back, and is perfect for lazy days and rest days. Pair it with your favorite SET track pants, or even opt for faded blue denim jeans!
Form cropping
Minimalism just got so much more chic with the Form Crop: a crop top that accentuates your figure in the softest material, this top is the perfect accessory for active days.
Buy the Form Crop in Palm here.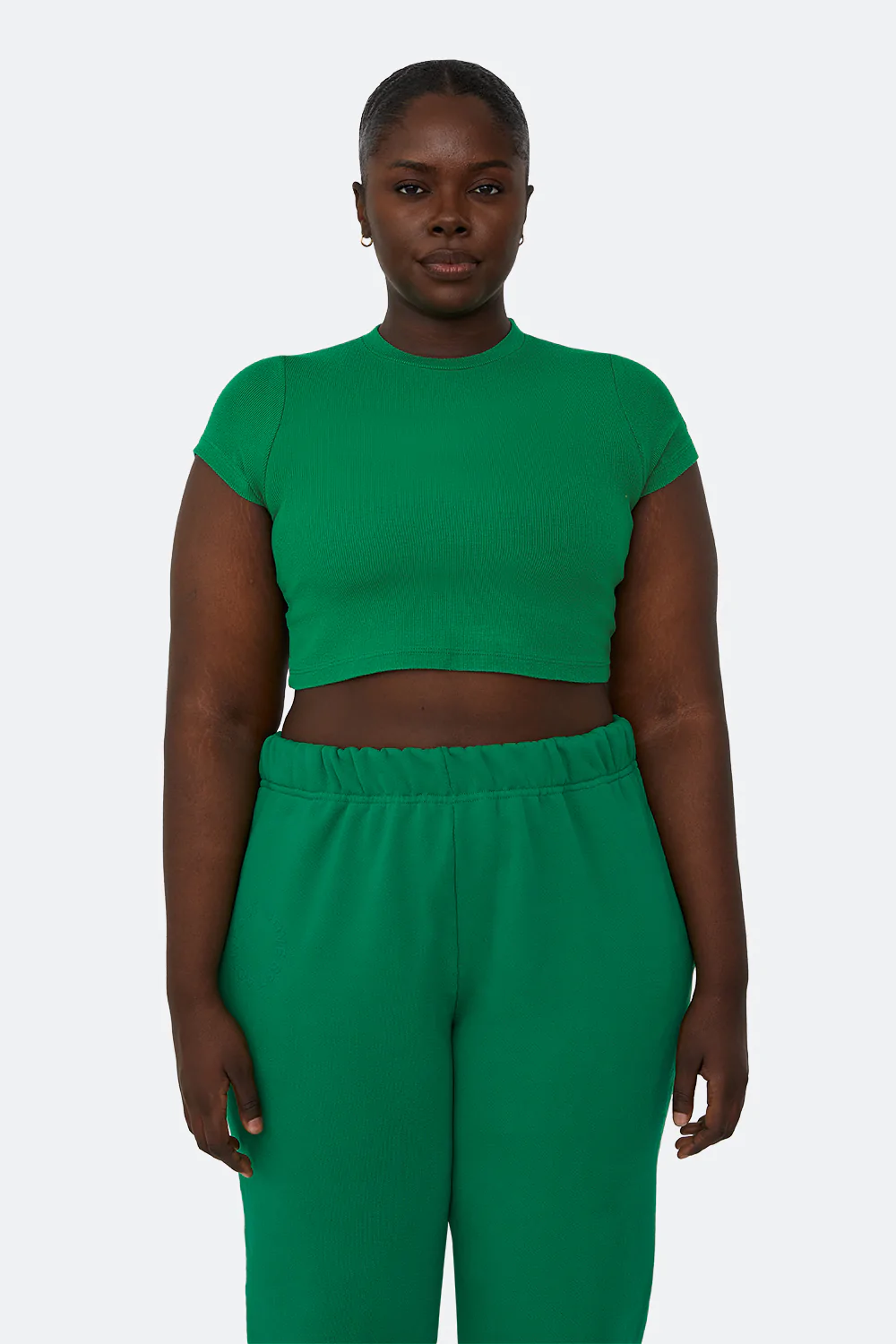 This Form Crop comes in an eye-catching bright green shade. The color is part of SET Active's 2022 4th Anniversary Collection and is both a unique and classic color to wear.
This adorable top comes in a form-fitting top that has stretch knit fabric that goes in all directions and moves with you. I honestly think this might be the softest material ever; it's so soft you could just wear it to take a nap. I love how comfortable this top is and it provides such support.
The top of the dungarees will make your figure so flattering; With its ultra-short length, it offers the perfect opportunity to pair it with your favorite high-waisted bottom.
Plus, the attention to detail in this top is simply everything. On the side of the shorter cap sleeves, the left sleeve features a SET logo patch which is also in a similar Palm shade. The design is subtle but adds a unique touch.
This top is the perfect shirt for going out in an active place without sacrificing the comfort of a good crop top. Pair it with your favorite SET bra with bike shorts or leggings, and you're ready for your ride of the day!
The active SET effect
You've probably seen your favorite celebrities, social media influencers, and high street fashionistas dressed in SET Active from head to toe, and that's no surprise, given the aesthetic appeal and high quality of SET Active. .
There's something about having an organized, color-coordinated look that instantly puts us in our best mood and makes us feel productive and put together. With SET Active, there is such a positive correlation with how their sportswear meets our daily needs while remaining stylish and ahead of the trends.
See this post on Instagram
We're community first and brand second, which means we value open conversation, continuous innovation, and genuine connection with our customers. We live to create what you want, because we are at our best when you feel like you.

– SET Active
A brand that parallels the it-girl lifestyle invading our social media feeds, SET Active truly encourages us to take the healthy path to achieving our goals and nurturing ourselves.
Track Active Set
Be sure to follow Set Active on all social platforms to stay up to date with their latest workout gear collections and inspirations! Find the brand on Instagram at @setactive, Twitter at @set_activeTikTok on @setactive and Pinterest on @set_active.